Taking care of another human is exhausting.
It's hard to find the time to take care of yourself. From the time I wake up am woken up, until about 8PM my day revolves around Teddy. I make sure he is clean, clothed and fed. I go un-showered, in the same leggings and T-shirt I wore to bed and if I am lucky my breakfast is a cup of coffee and whatever slimy piece of cheese or fruit is leftover from Teddy's tray.
I'm not claiming to be a martyr. I'm a mom. That's just what we do. Some mom's are better at juggling their children's well-being with their own, but I am not. I am pretty terrible at taking care of myself.
Even my teeth, which I used to take care of meticulously, had suffered. Pregnancy gave me my first-ever cavity and a year of coffee-fueled days left my teeth dull and stained.
Maybe I didn't have the time to maintain my highlights or keep up with a beauty routine, but I should be able to make my smile a priority. I mean, I do a lot of smiling these days!
This post contains affiliated links for your convenience. I only write about products I love and all thoughts and opinions expressed are my own. I received the whitening kit for free in exchange for my honest review. See full disclosure here.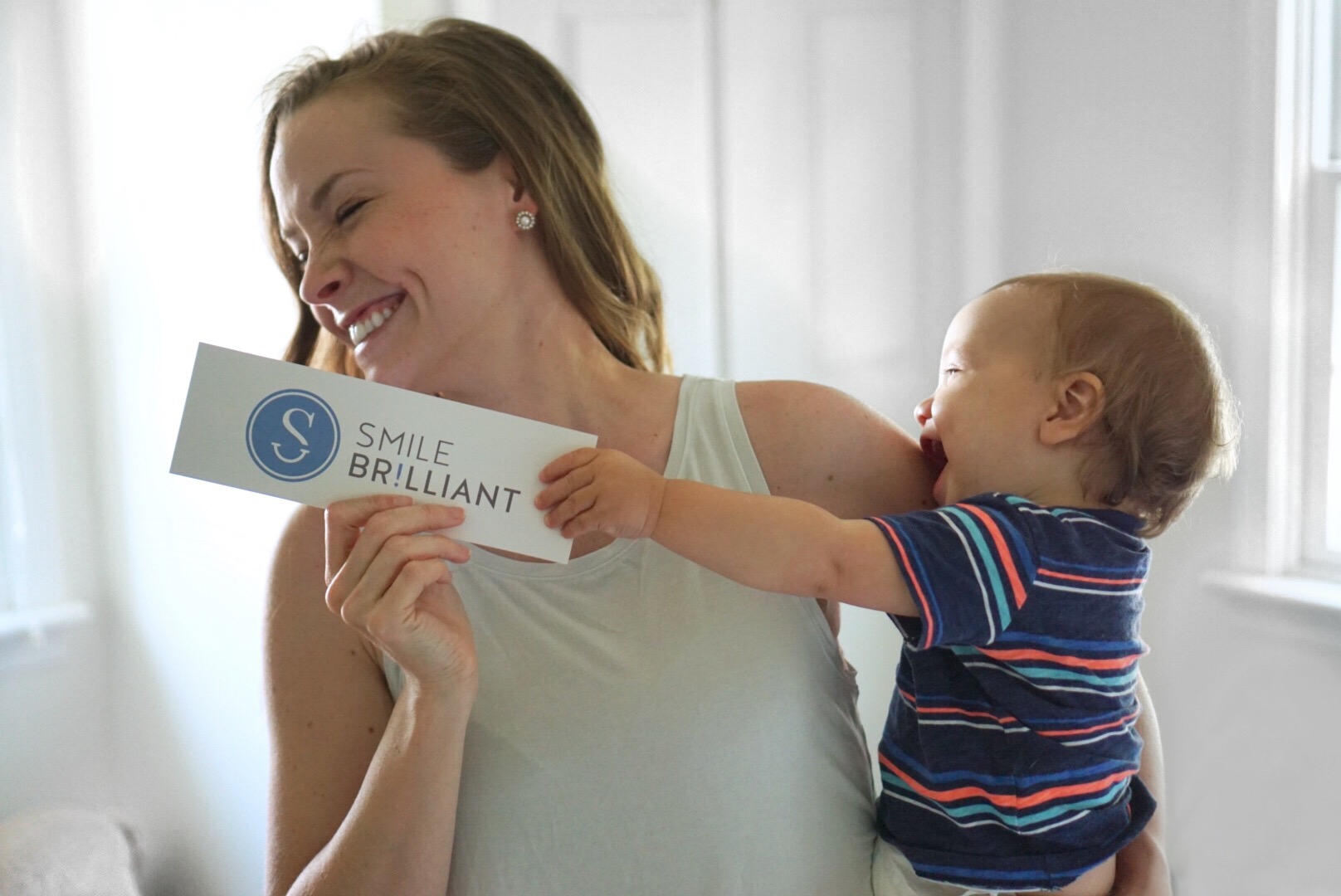 I was really excited when Smile Brilliant asked me to try their at-home whitening kit. I've done other teeth whitening in the past, but other whitestrips always got gross gel all over my mouth and hurt my throat. They didn't whiten the spaces in between the teeth very well. I didn't have time to schedule several office visits at the dentist to do in-office whitening treatments. I needed another solution that would fit in better with my new mom lifestyle.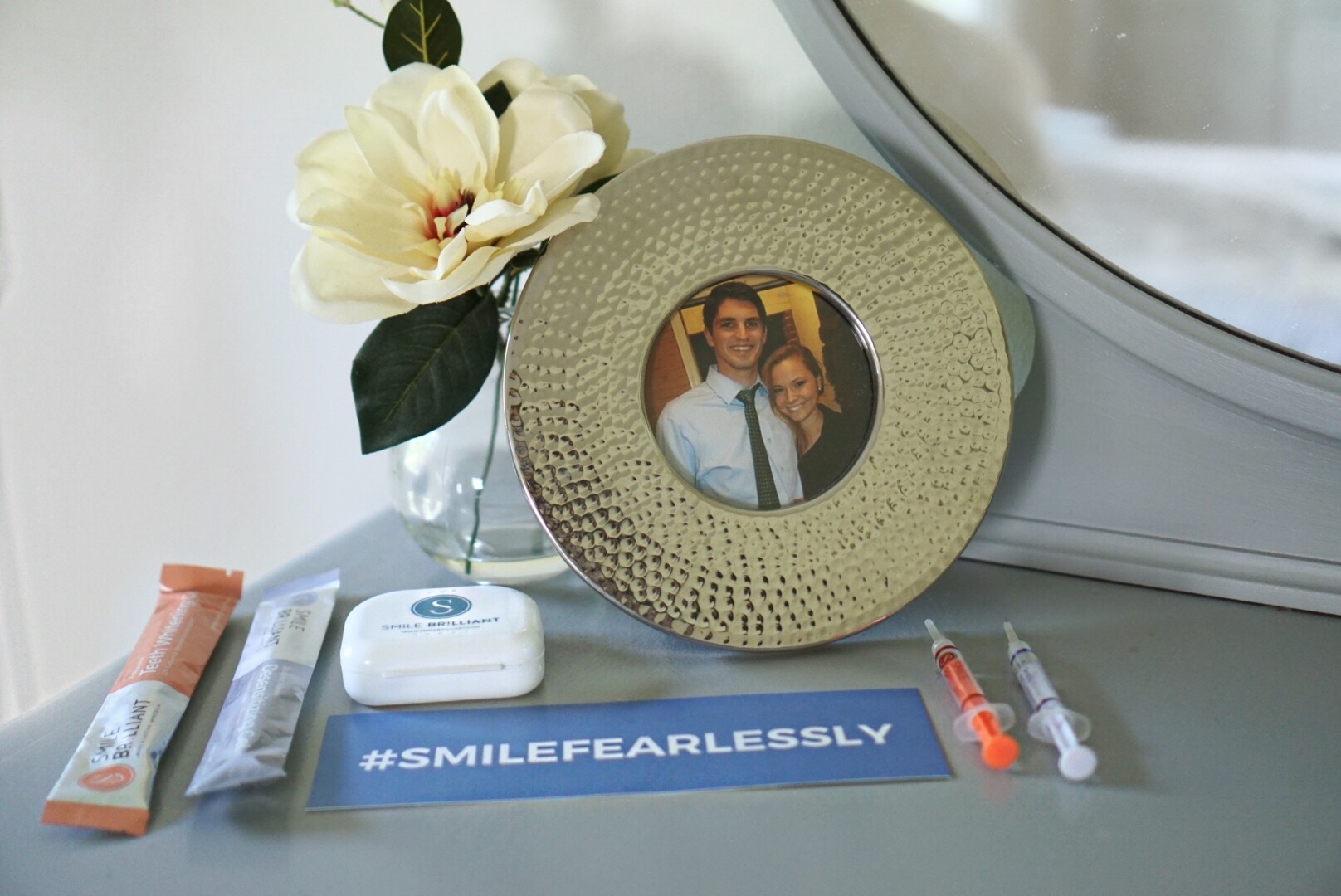 HOW SMILE BRILLIANT WORKS
The Smile Brilliant Kit comes with everything you need for a whiter smile. It includes three containers of a base paste and three containers of a catalyst paste. You mix the pastes together like play dough and stick in into a top tray and a bottom tray. Then, you bite down into the tray with your top teeth and then into the second tray with your bottoms to make a mold of your teeth (the other pastes are incase you mess up). Finally, you mail the trays with the paste molds to Smile Brilliant in a pre-paid envelope and they will send you your custom-fitted whitening trays.
Also in the kit there are several syringes with whitening gel. If you get the sensitive kit there are also syringes with desensitizing gel.
Check out this tutorial video: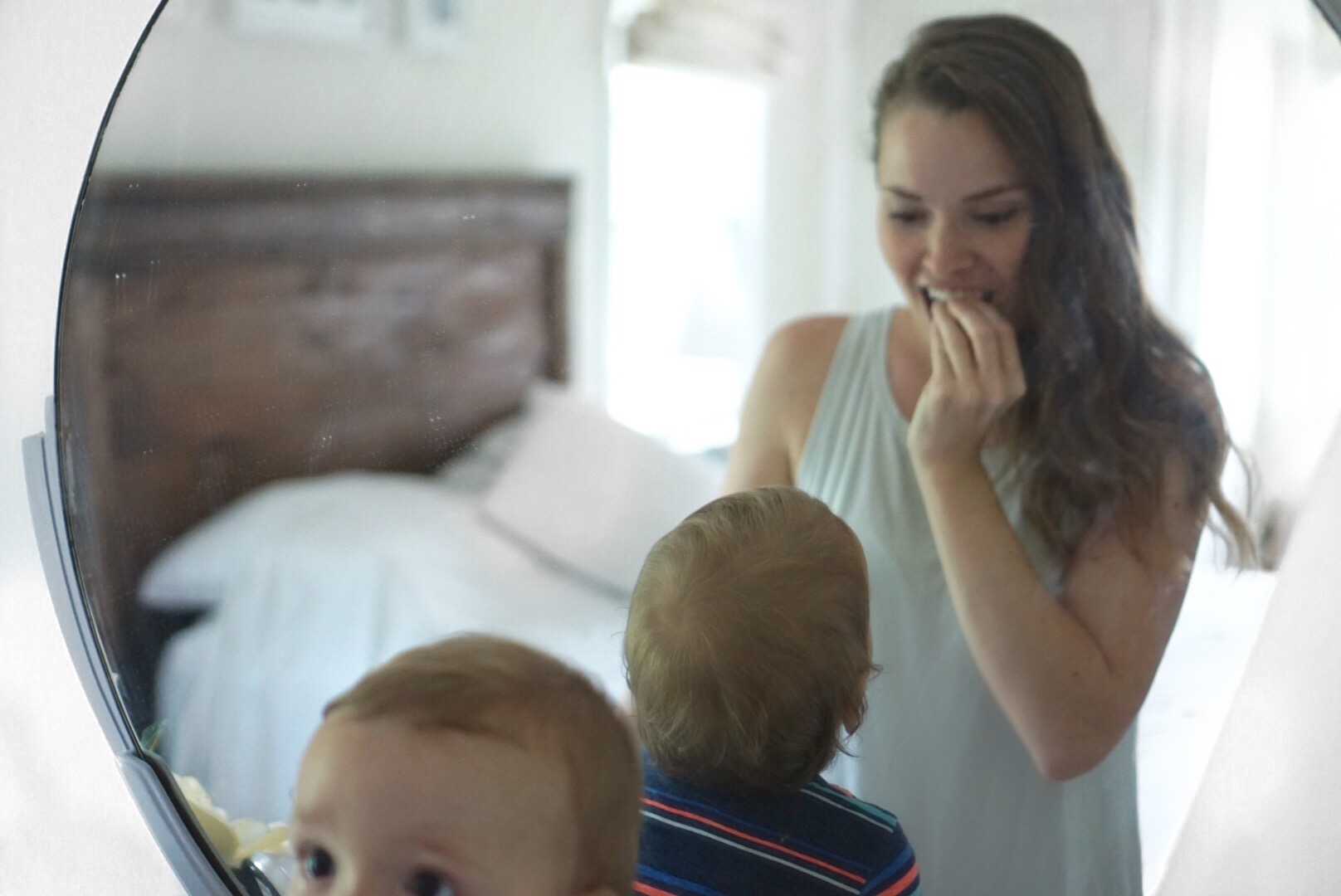 MY EXPERIENCE WITH SMILE BRILLIANT
You can wear the Smile Brilliant molds for 30 minutes-three hours a day. I used them I found that using them after dinner and during Teddy's bedtime routine worked the best for me, but after lunch during nap time also worked really well (it also stopped me from snacking haha).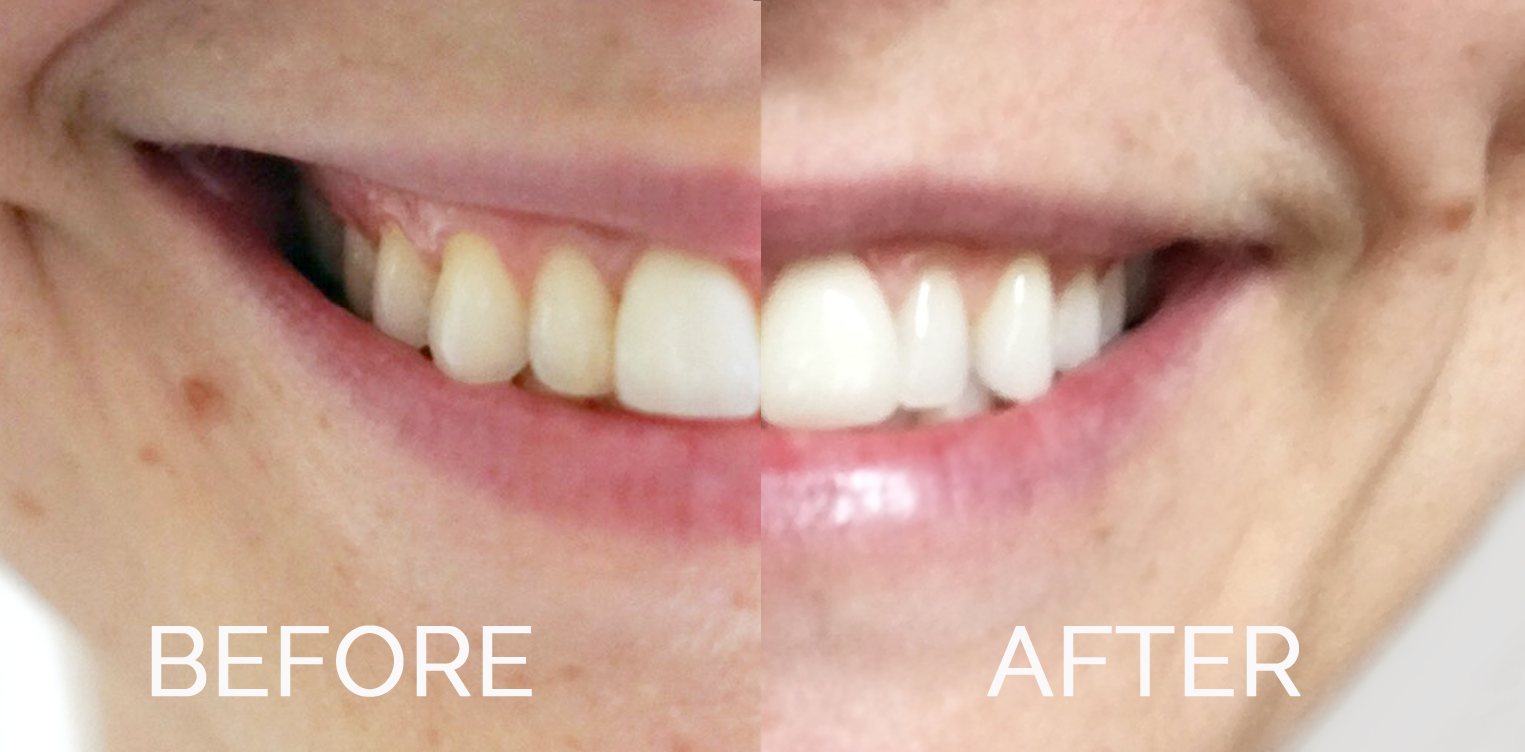 I really noticed the difference after just two whitening sessions. It is a little hard to tell from the before and after picture, but you can see the yellow stains between the teeth and near the gums are gone. The teeth that are further back near my molars, which had never been whitened before, are so much brighter.
My front two top teeth are crowns (a rollerblading accident when I was younger) and although Smile Brilliant can't whiten a crown, it was able to remove any stains that have built up on the crowns over the past few years.
**Talk to your dentist before attempting to whiten your crowns or veneers.
PROS
Dentist-quality whitening without having to find the time to schedule a dentist appointment
Affordable
The custom molds keep the whitening gel snug against your teeth, so it really worked to remove stains between my teeth and near the gums (even the hard to whiten crooked ones).
The molds wrap around the back of the teeth to contain the gel from getting all over your mouth.
They cover more of your molars than a Crest Whitestrip.
CONS
Like any whitening I've tried, it made my teeth sensitive after three days of whitening. I took a break and then did three more days at a time. The second time I had the sensitivity I kept the sensitivity gel on my teeth for longer and it really helped.
You shouldn't eat or drink right after whitening, so whitening at night really cut into my wine time.
Can not be used while pregnant or breastfeeding.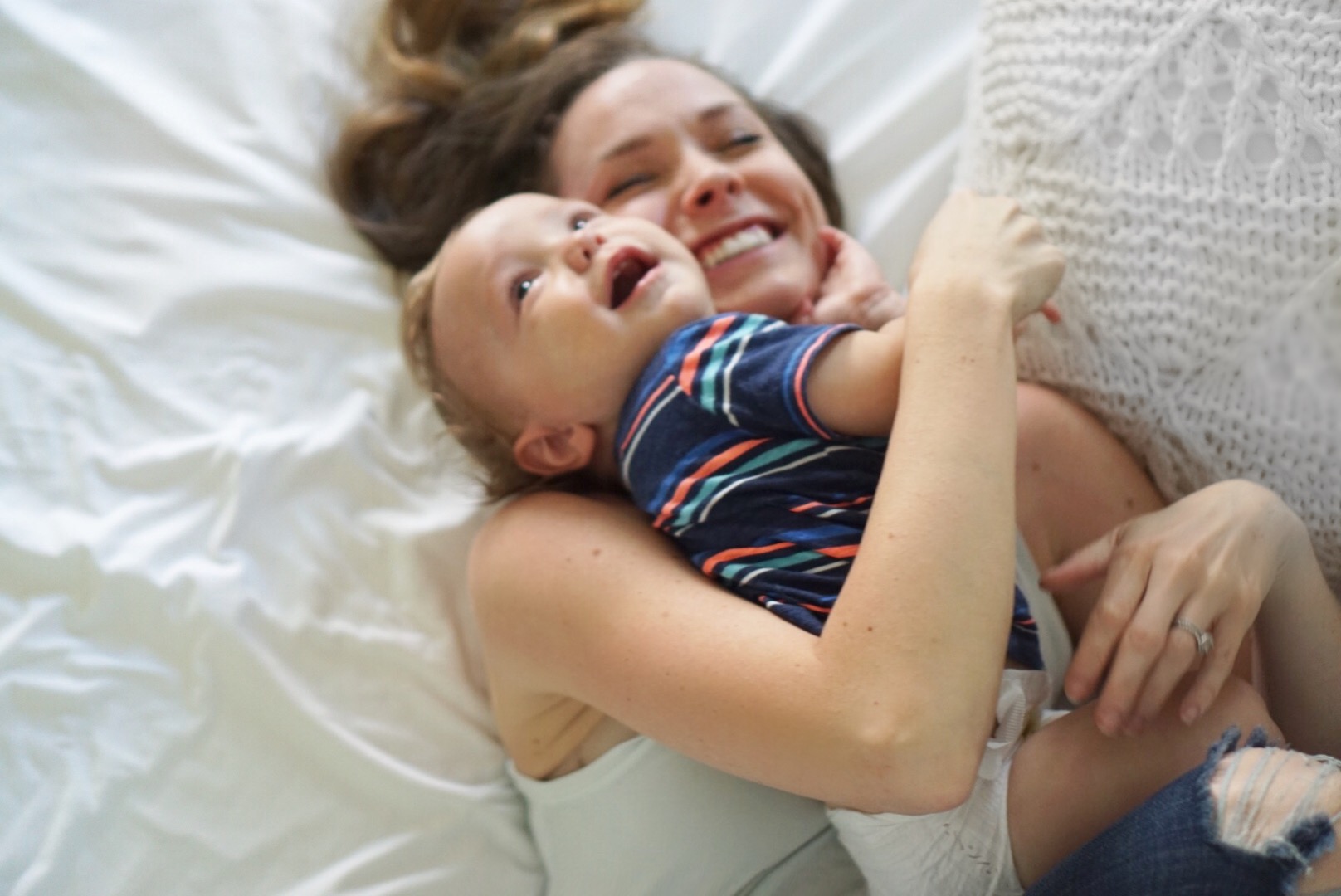 Being a parent is tiring, but it is filled with so much joy. Even on the roughest day Teddy still makes me smile. Now I can #smilefearlessly because I don't have to worry about my teeth looking yellow.
DISCOUNT + GIVEAWAY
Are you interested in trying out Smile Brilliant's custom teeth whitening kit for yourself? Smile Brilliant has very generously offered my readers a $15 off discount with promo code UREADYTEDDY15 .
One lucky reader can win a set of Teeth Whitening Trays a $139 value. All you have to do to enter is click on the link below. The giveaway will close on June 20 and the winner will be contacted directly by Smile Brilliant. Good luck and remember… #smilefearlessly.

---
Check our GIVEAWAYS tab to see what other giveaways we have going on!