I don't know about you, but when I first heard that overalls were back in style I was ecstatic. Overalls are by far my favorite piece of fashion from the nineties. I fondly remember a pair of neon green corduroy overalls I used to rock in the 5th grade. I've been searching far and wide for the perfect pair of overalls and I finally found them in a rather unlikely place.
This post contains affiliated links for your convenience. I only write about products I love and all thoughts and opinions expressed are my own. I received the overalls for free in exchange for my honest review. See full disclosure here.
PinkBlush was one of my favorite places to shop for cute maternity clothes when I was pregnant with Teddy. I bought all of my summer maxi dresses and formal event dresses from PinkBlush. When I was first contacted by PinkBlush for a collaboration I wondered, do they think I am pregnant?...I have been eating a lot of Easter candy lately... I was surprised (and excited) to learn that PinkBlush wasn't just a shop for maternity clothes, it was also a trendy online boutique for women. They have so many pretty sweaters and dresses, but I saw these light blue distressed denim boyfriend overalls and my inner tomboy 90's child had to have them.
Now, how to style these overalls without looking like a giant toddler or a teenage boy at a Pearl Jam concert?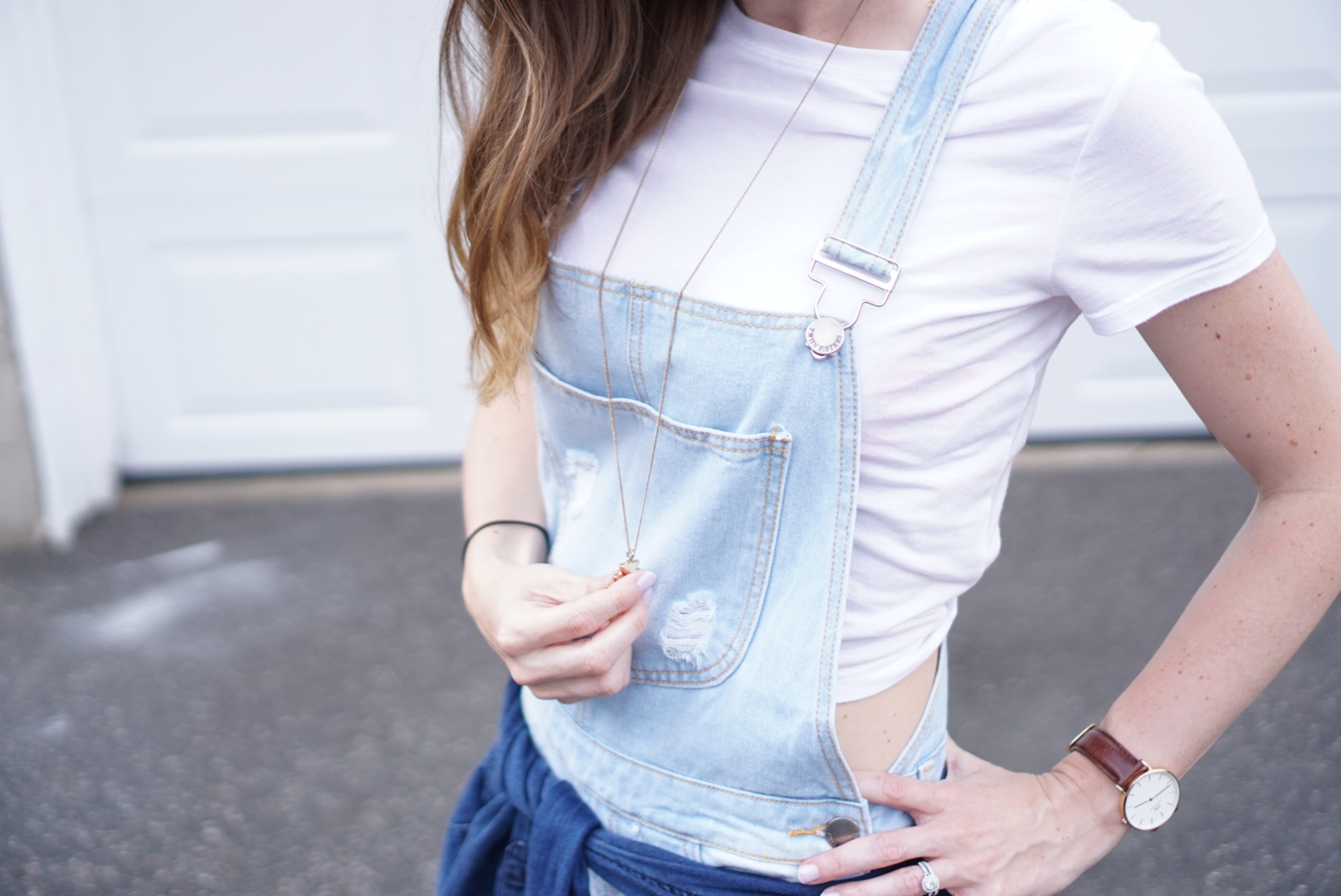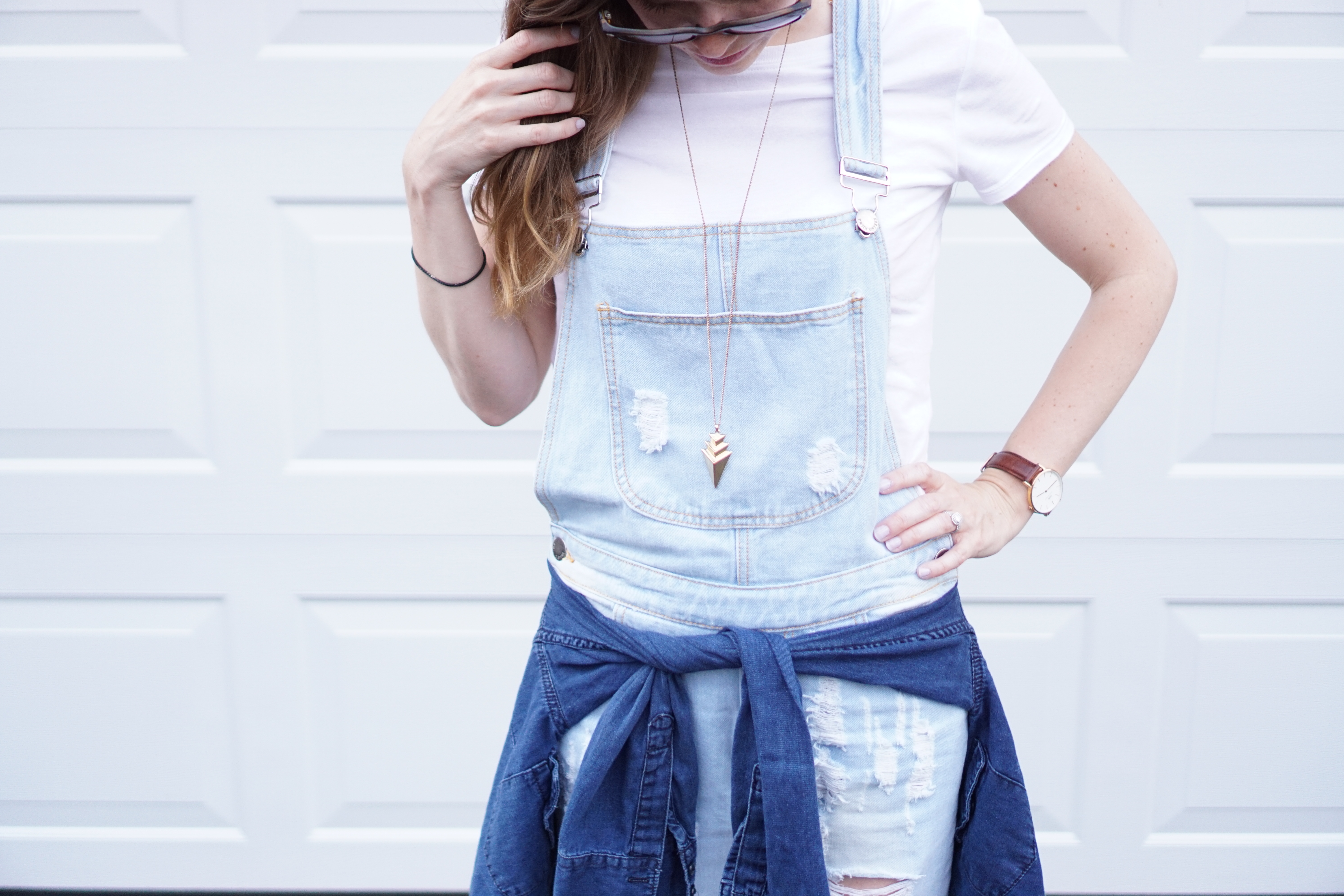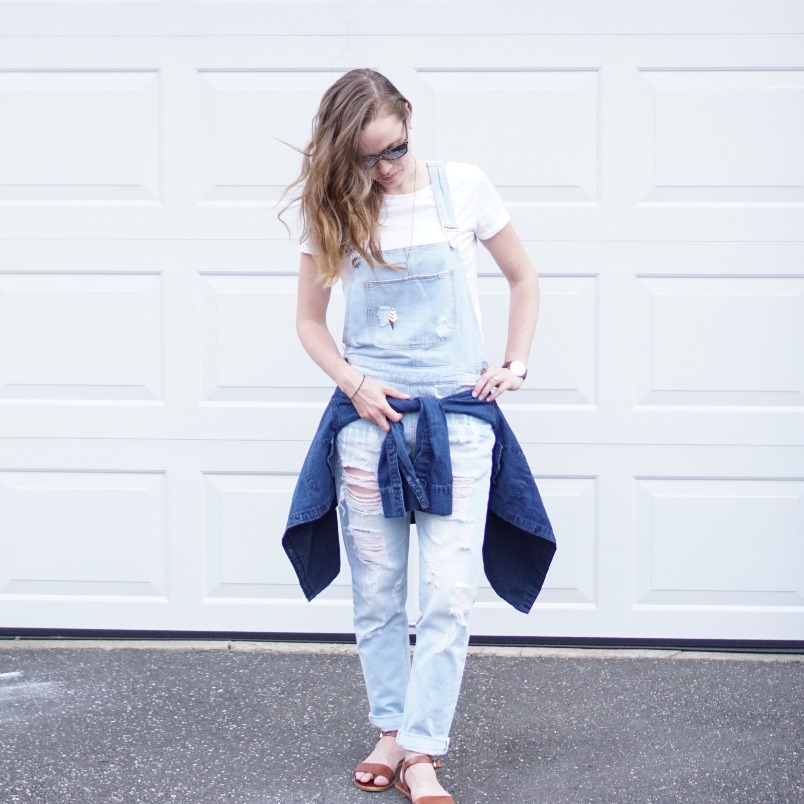 PinkBlush Light Blue Distressed Denim Overalls | Forever 21 Crop Top (similar here) | Daniel Wellington Watch | Forever 21 Pendant Necklace (similar here) | Express Indigo Wash Denim Shirt (similar here) | Steve Madden Leather Sandals | Anthropologie Earrings (similar here) | Essie Nail Polish in Virgin Snow (similar color here)
For the first look I chose a white crop top. Crop Top!? You are probably thinking, but, you're a MOM!? If you would have told me 9 months ago that I would ever want to wear a crop top I would have said you are nuts. My body definitely doesn't look the same after having a baby, but the area I am most self-conscious about is around the belly button. Oh, how I miss my old belly button. Anyway, the overalls cover all my problem areas in the front and give a little peek-a-boo of skin on the sides for a hint of sexiness/non-toddlerness. The crop top and overall combo is also perfect for nursing moms, because its easy up and easy down without exposing yourself too much. I accessorized with leather watch and sandals, a long gold necklace and finished the look with a darker denim button down around the waist for a beachy, casual look.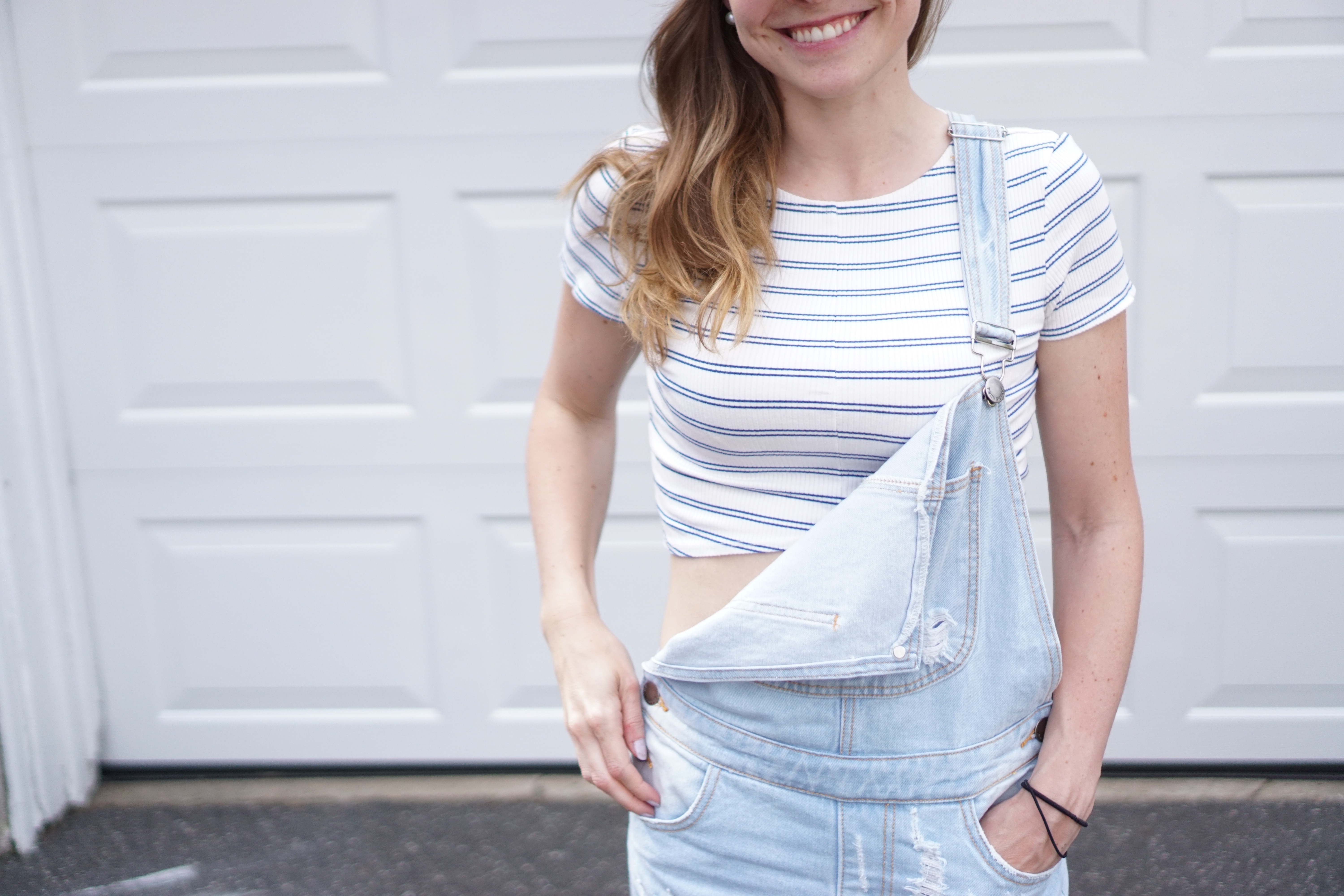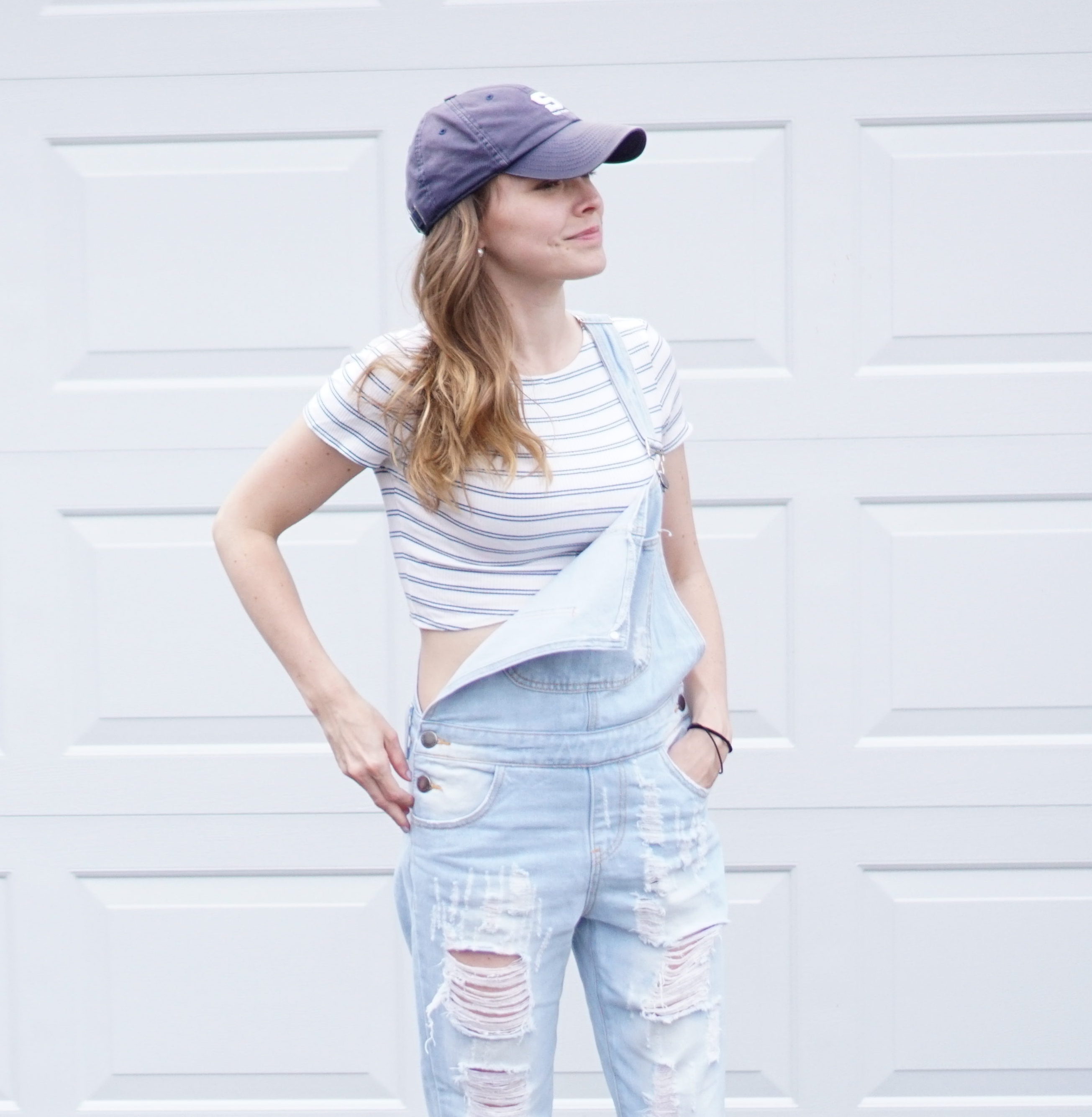 PinkBlush Light Blue Distressed Denim Overalls | Forever 21 Crop Top (similar here)  | Ralph Lauren Polo Canvas Sneakers (similar here)
For the second look I went even more casual with yet another Forever 21 crop top (Am I too old to shop at Forever 21? Probably, how can you beat basic tops like these for under $10?) and I paired it with an old faded blue Penn State hat and white sneakers. I pretty much live in baseball hats thanks to limited time for showers, PP hair loss and grabby baby hands so I will definitely be rocking this look a lot...probably more than is socially acceptable. I accessorized the outfit with mismatched/discolored fake pearl earrings and two stretched out hair ties I forgot to take off my wrist. I am actually very impressed that I was able to find more than one hair tie for once in my life.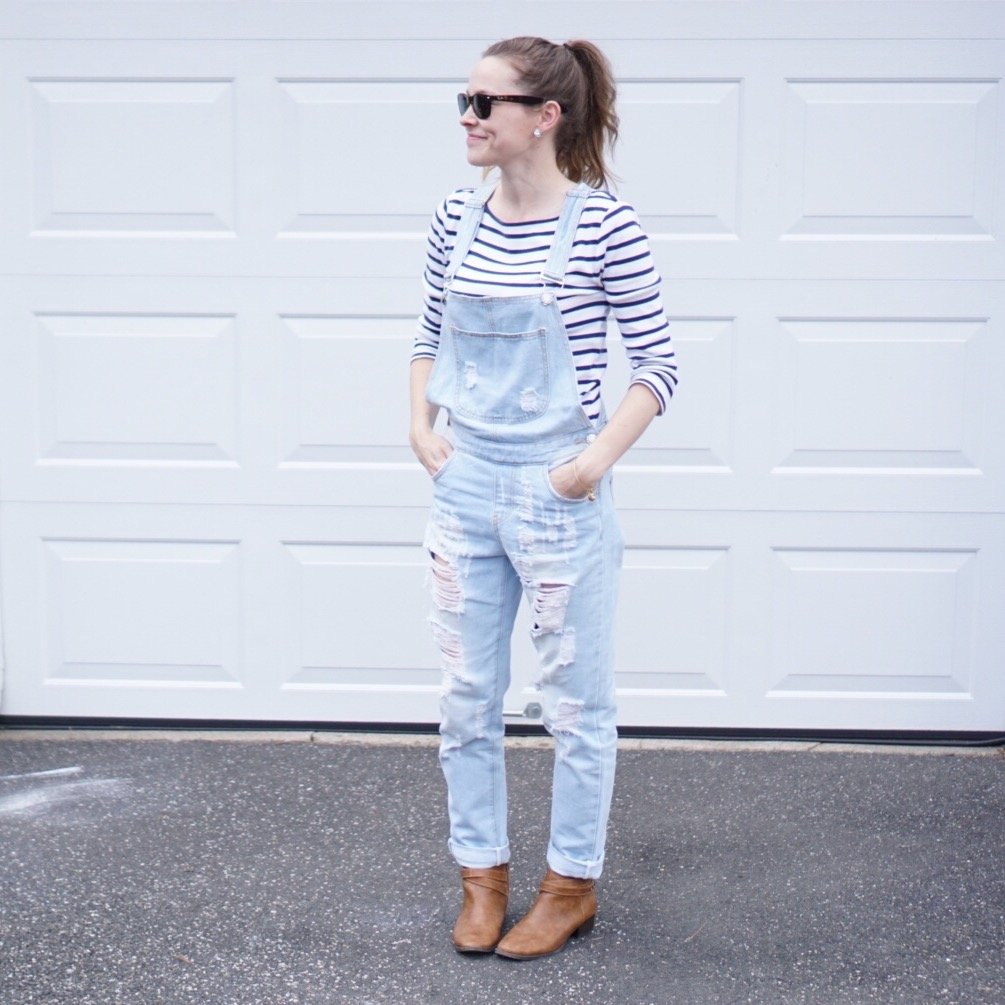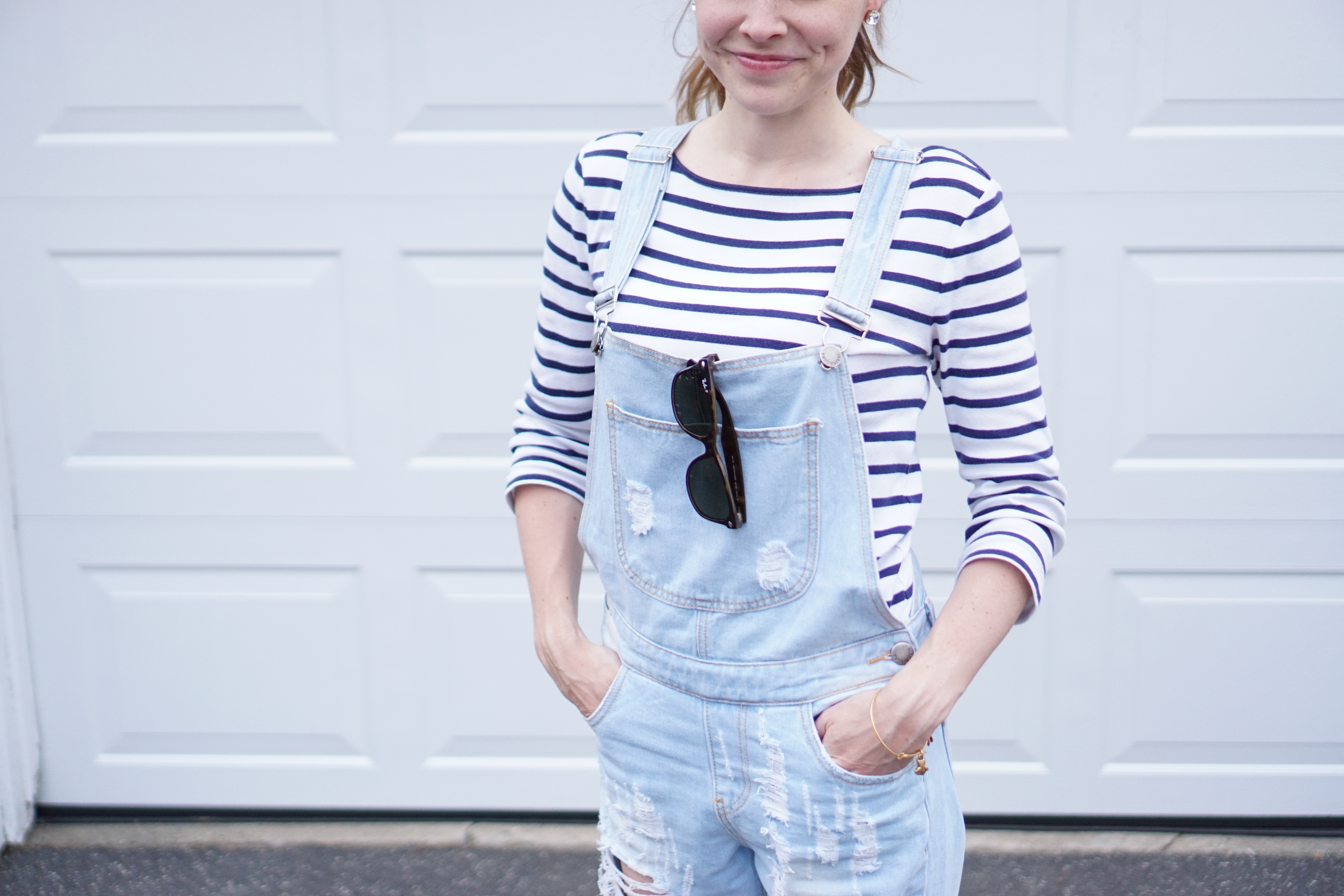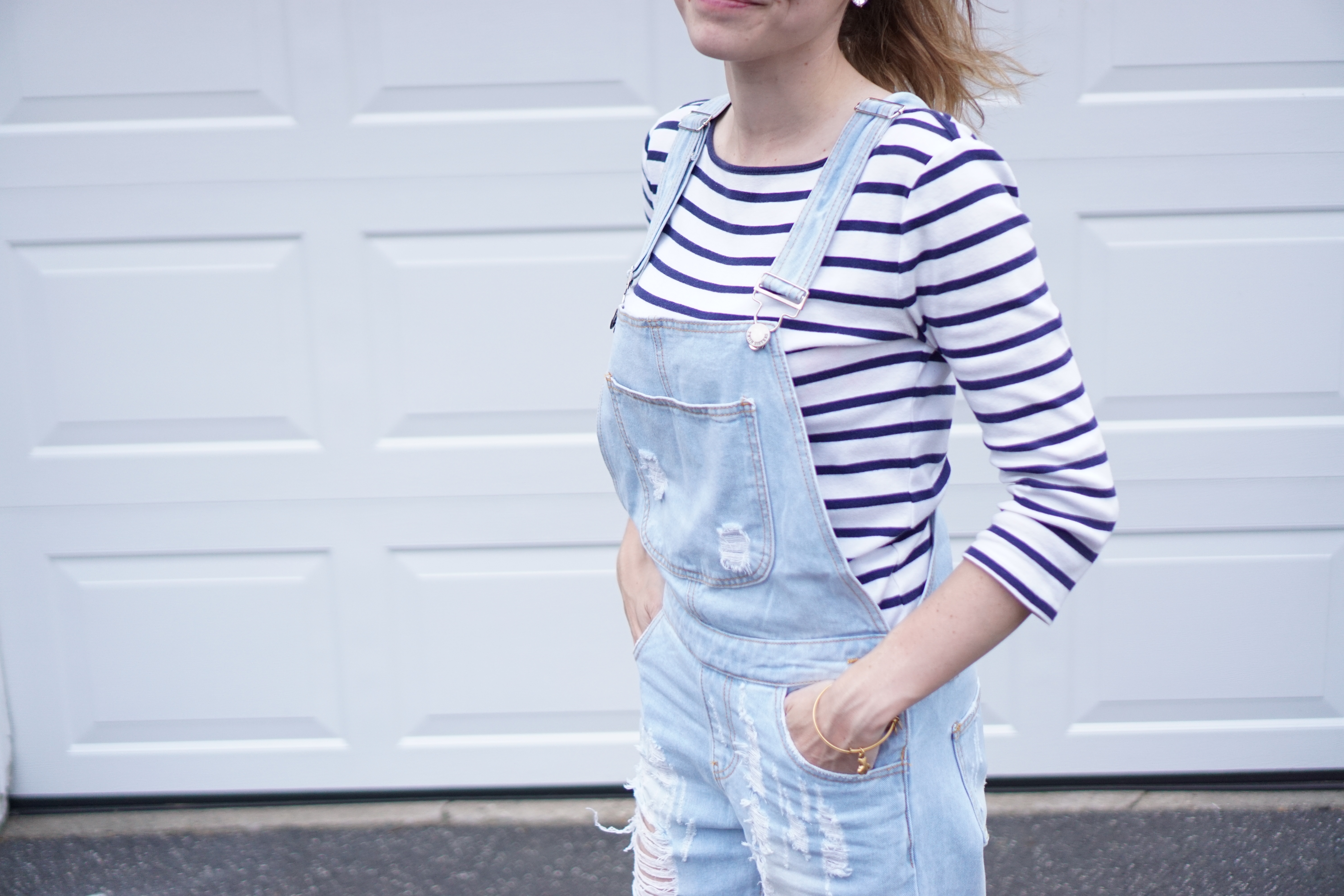 PinkBlush Light Blue Distressed Denim Overalls | Forever 21 Striped 3/4 Length Shirt (similar here) | Lauren Conrad For Kohl's Ankle Booties | RayBan Wayfarer Sunglasses | Alex and Ani Bear Bangle | Kate Spade Stud Earrings
For the last look I thought I would class it up a little bit with striped 3/4 length shirt, oversized stud earrings and a gold bangle. I chose a pair of brown leather booties, but this look would pair really nicely with a pair of wedges or heels too. Top the outfit off with a a high pony or a top knot. Then stand awkwardly in front of your garage door while your husband takes your picture.
So, overalls...what do you think? A staple in your spring/summer mom wardrobe or a distant 90's memory only to be worn by babies? How would you style these Pink Blush overalls?
---
$50 Giveaway has ended...Congrats @Makenna.Kathleen
Check our GIVEAWAYS tab to see what other giveaways we have going on!