My husband planned a trip to San Francisco, California for my 30th birthday. It was meant to be a romantic trip for just the two of us, including a trip to Napa Valley. I couldn't imagine being away from Teddy for that long, so I insisted we bring him along.
Flying across the country with a one-year old was maybe a little crazy, but I am so glad we did. Teddy was really well-behaved on the flight and all things considered he was good the whole vacation. San Francisco was a great place to vacation with a toddler! There were great children's museums and aquariums, beautiful beaches, awesome playgrounds and parks, and doggies everywhere. Teddy loved taking walks around the city in the stroller, his parents on the other hand were a little bit tired pushing the stroller up those steep hills...
We did sooo much during our 8 day/8 night trip. We spent the first 5 nights in San Francisco at the Intercontinental-Mark Hopkins in Nob Hill and then we took a short two night trip to Monterey and Carmel-by-the-Sea where we stayed at the Hyatt, and we ended our trip with one last night back in San Francisco at the Kimpton-Sir Francis Drake near Union Square.
CHECK OUT OUR 8-DAY SAN FRANCISCO ITINERARY + RECOMMENDATIONS BELOW!
DAY 1
A little jet-lagged from our 4.5 hour flight we woke up and packed up for a trip across the bridge to spend the day at Muir Woods, Sausalito and the Presidio area.
MUIR WOODS
Muir Woods is a few miles north of San Francisco and known for its giant redwood trees. The path that runs along the Redwood Creek is beautiful. We used the backpack carrier for Teddy, but he spent a lot of his time out of the carrier, walking along the path. The main path was a nice, wide boardwalk with rails. Some smaller paths were high up in the hills, very narrow with no barrier, so young children would not be able to safely walk on their own.
After Muir Woods we walked around Sausalito. We grabbed lunch at a sandwich place and ate in a little nearby playground.
HIGHLIGHTS
The highlight for us was seeing the redwoods and posing inside of one. The Cathedral Grove part of the trail that was my favorite because it was really peaceful and quiet.
COST + ADDITIONAL INFORMATION
$10 Adults, Children under 15 FREE
Free parking, but it is limited so arrive early
No cell-phone reception
Some trails are not stroller accessible
It was a little chilly and foggy in the morning, but got a little warmer later on so dress in layers!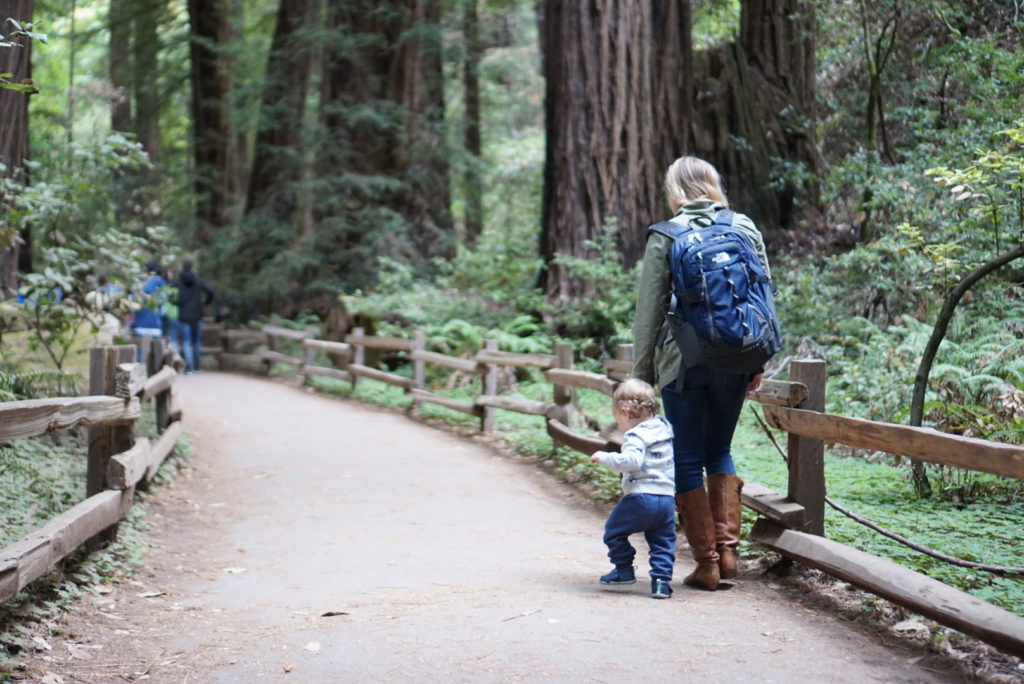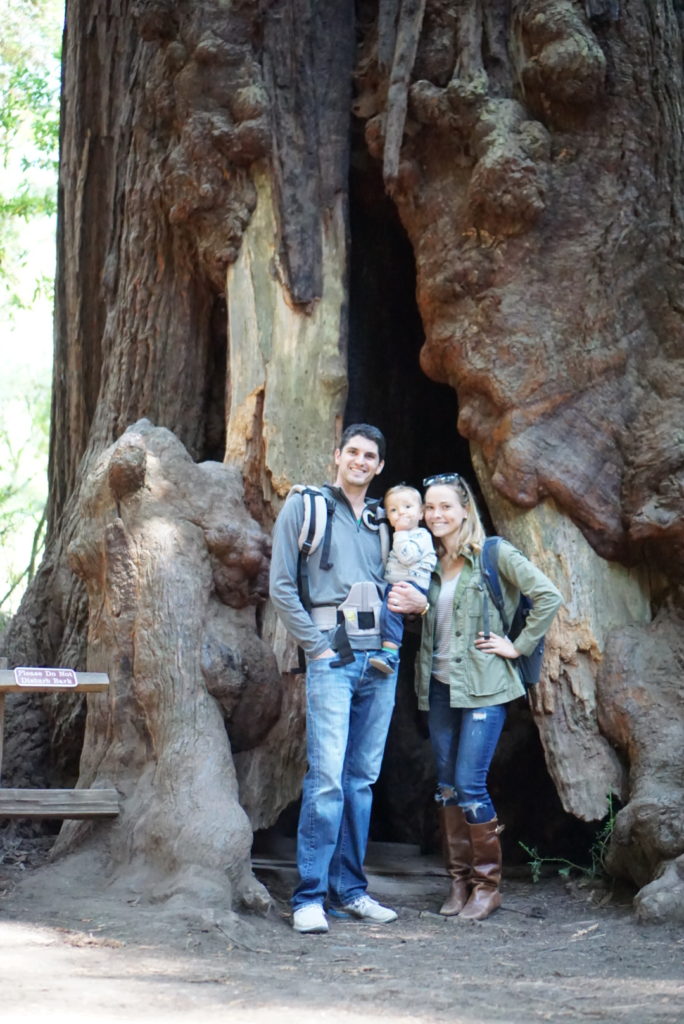 BAY AREA DISCOVERY MUSEUM
Next on our list was the Bay Area Discovery Museum in Sausalito. It was unlike any museum I have ever seen. The building looked like more like a bunch of farm houses set against a beautiful backdrop of mountains on one side and an amazing view of the Golden Gate Bridge on the other side. I don't know if you'll find a museum with a better view.
HIGHLIGHTS
We started out in the outside area of the museum playing with hula hoops, foam blocks, chalk and musical instruments. I loved the Reggio-Emilia approach to learning. The museum activities facilitated open-ended discovery without specific prompts that can limit children's creativity. We visited the Grr-iffic exhibit where you could play inside a model of Daniel Tiger's neighborhood and a Gaudi exhibit where kids could create a colorful paper mosaic on a cardboard village. Teddy loved the story time program, the water play area and the playground. We loved seeing how excited he was and we really enjoyed the view!
[Click to read full review of the BAY AREA DISCOVERY MUSEUM]
COST + ADDITIONAL INFORMATION
$14.95 Adults + Kids, $13.95 for Babies (6 mo-11mo)+ Seniors
Free Parking
Stroller-friendly
A lot of areas are outdoors so don't forget a sun hat or SPF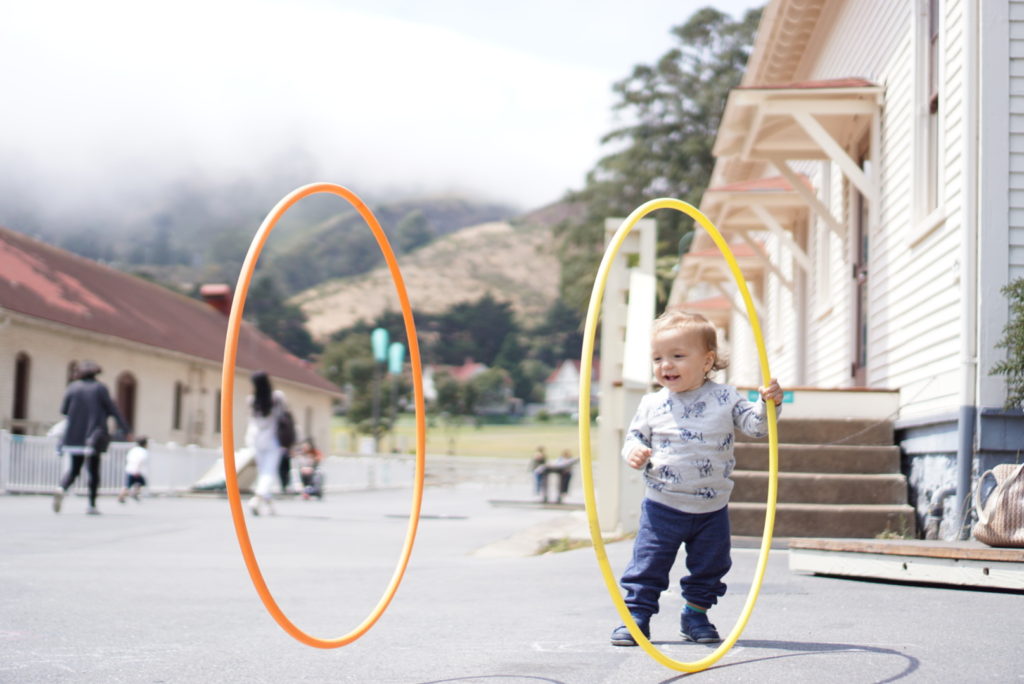 GOLDEN GATE BRIDGE
The view of the Golden Gate Bridge outside of the Children's Discovery Museum was amazing! We also drove up around the mountains and drove over the bridge for some different views. Back over the bridge to San Francisco, we headed to the beach for anooother awesome view of the bridge.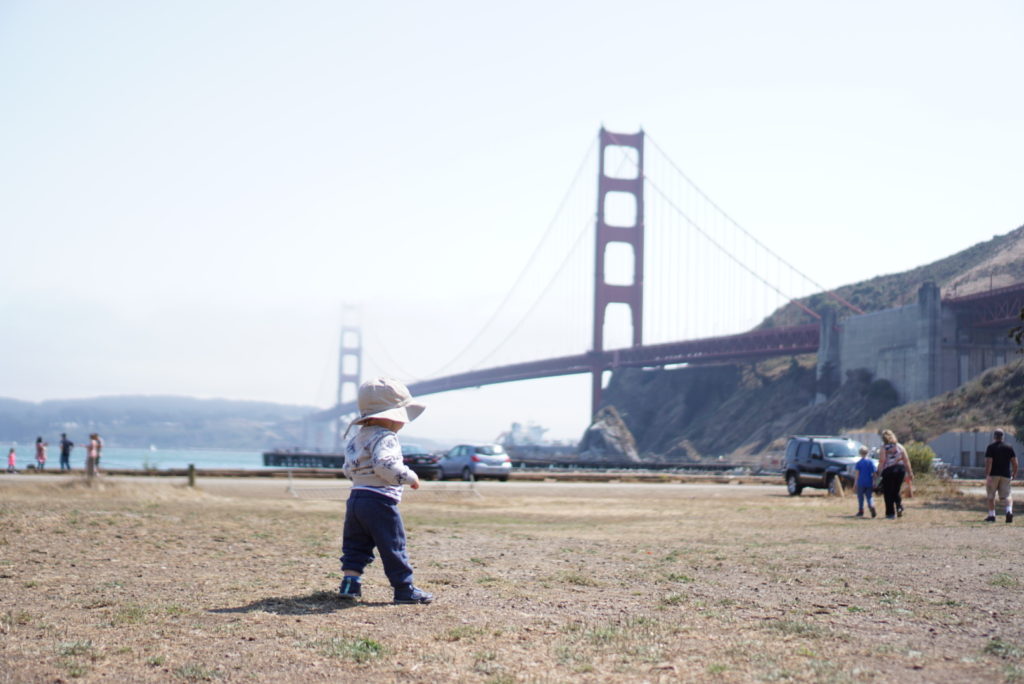 BAKER BEACH
Baker Beach is located in north west San Francisco on the coast of the Pacific Ocean in an area known as the Presidio. Teddy was ready for a nap so we pulled into the parking lot and enjoyed the view from the lot until he woke up. Then we brought him down to the beach. He was not a fan...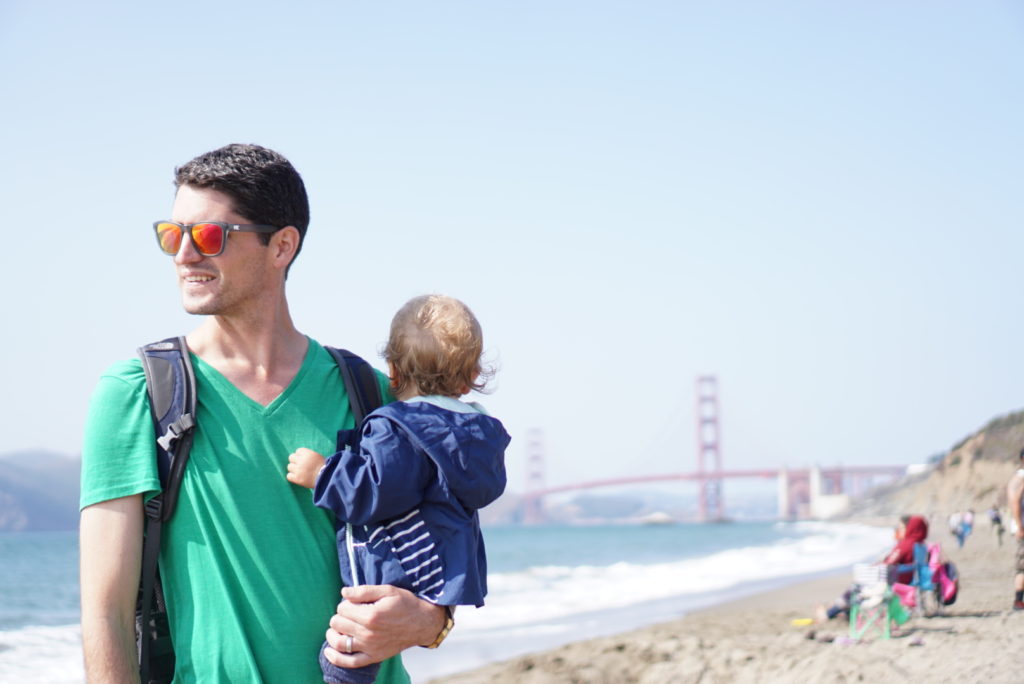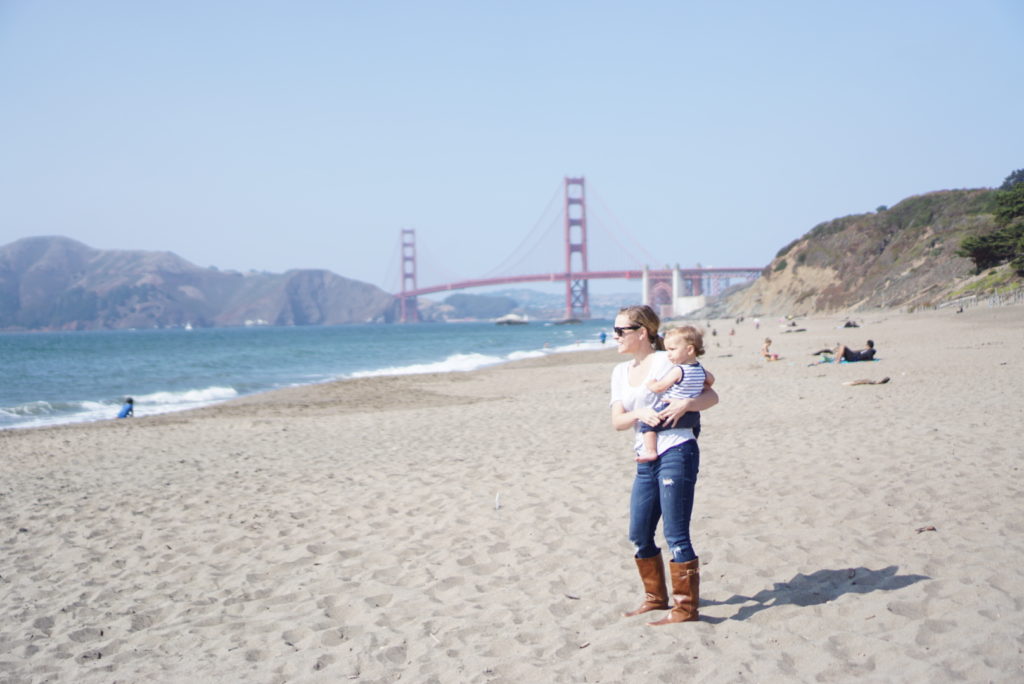 DAY 2
On Day 2 we woke up and grabbed some Ghiradelli chocolate croissants and Lattes at Cafe Cento at the bottom of the Fairmount Hotel. Then we headed to the Embarcadero area for the Exploratorium, Teddy fell asleep in the stroller so we decided to use that quiet time to eat some lunch. We got tacos at Tropisueño and then went to the Children's Creativity Museum, Leroy King Carousel and Yerba Bueno Children's Gardens.
EXPLORATORIUM
The Exploratorium in the Embarcadero area of San Francisco was one of our favorite museums. It was just as entertaining for us as it was for Teddy (maybe even a little more). We got there just before it opened and skipped ahead a few exhibits so we pretty much had part of the museum to ourselves. It was awesome! The exhibits illustrated some complex scientific principles in really cool ways. Please don't head to San Fran without visiting the Exploratorium. It is a must-see for adults and kids!
HIGHLIGHTS
Teddy loved the lights, the mirrors, the sounds, the building area and pushing buttons on anything he could find. There was a really cool exhibit called Wild Card (June 17-Sept. 4, 2017), an artist installation made entirely out of cardboard. I loved how the exploratorium combined the Arts with Science! Other highlights for us were the Shadow Box, the Giant Mirror and the Colored Shadows.
[Click to read my full review of the EXPLORATORIUM.]
COST + ADDITIONAL INFORMATION
$29.95 Adults, $24.95 Seniors, People with Disabilities, Teens, Teachers + Students, Children $19.95, FREE for Children under 4
Walkable from many hotels, near a street car stop, discounted parking in nearby garages
Stroller-friendly
Get there just before it opens and then skip ahead to the Seeing and Listening Gallery so you don't have to wait your turn!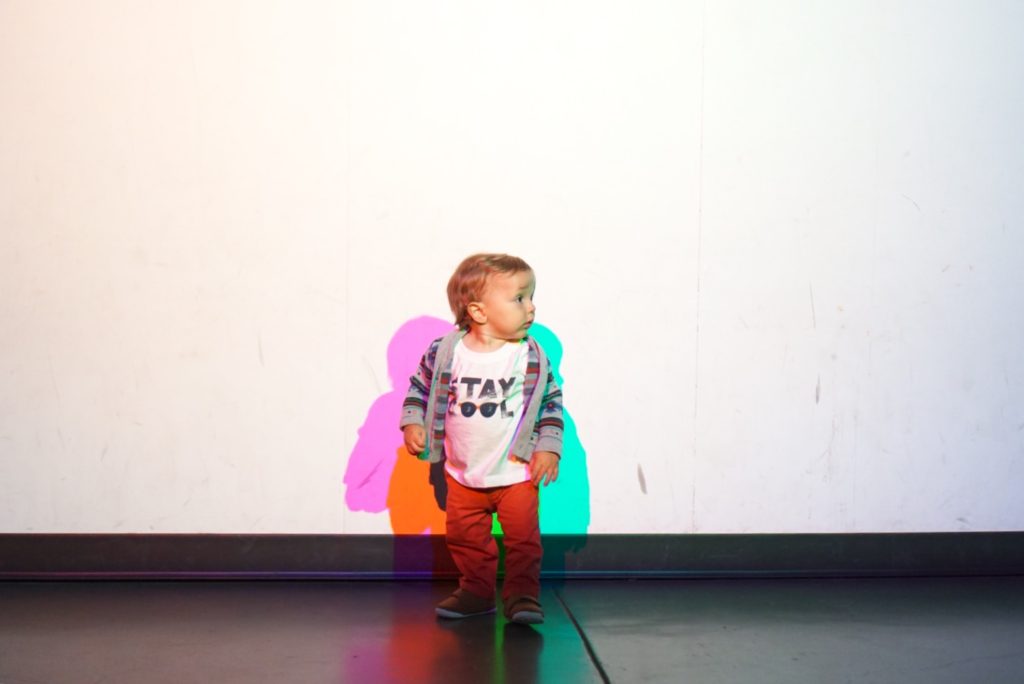 CHILDREN'S CREATIVITY MUSEUM
The Children's Creativity Museum was about a 25 minute walk from the Exploratorium, located in the SOMA district of San Francisco. I am really passionate about promoting creativity so I was really excited to check out a whole museum dedicated to children's creativity. In such a small museum there were so many things to build and create. There was a lot that Teddy could do, but the Children's Creativity Museum would be even more interesting for an older child who could participate in the robotics lab, animation studio and various craft projects.
HIGHLIGHTS
Teddy could have stayed there all day with the Imagination Playground blocks and the Giant Lincoln Logs  on the Play Patio. He also loved the Music Studio where there were costumes, a green screen and music. He made a music video of himself dancing to Pharrel's Happy in front of a beach background. It was unbelievably cute. My husband and I thought the coolest parts of the museum were the Augmented Reality Sandbox, and Sketchtown. In Sketchtown, kids could color a building or vehicle, scan it and see it projected around them on an interactive virtual neighborhood. You also can't miss the historic Le Roy King Carousel outside of the museum!
[Click to read my full review of CHILDREN'S CREATIVITY MUSEUM.]
COST + ADDITIONAL INFORMATION
$12.95 , FREE for Children under 2
Carousel tickets are $3 with museum admission
Walkable from many hotels, limited parking can be reserved online before visit
Stroller-friendly
Don't forget to visit the Yerba Buena Children's Gardens next door!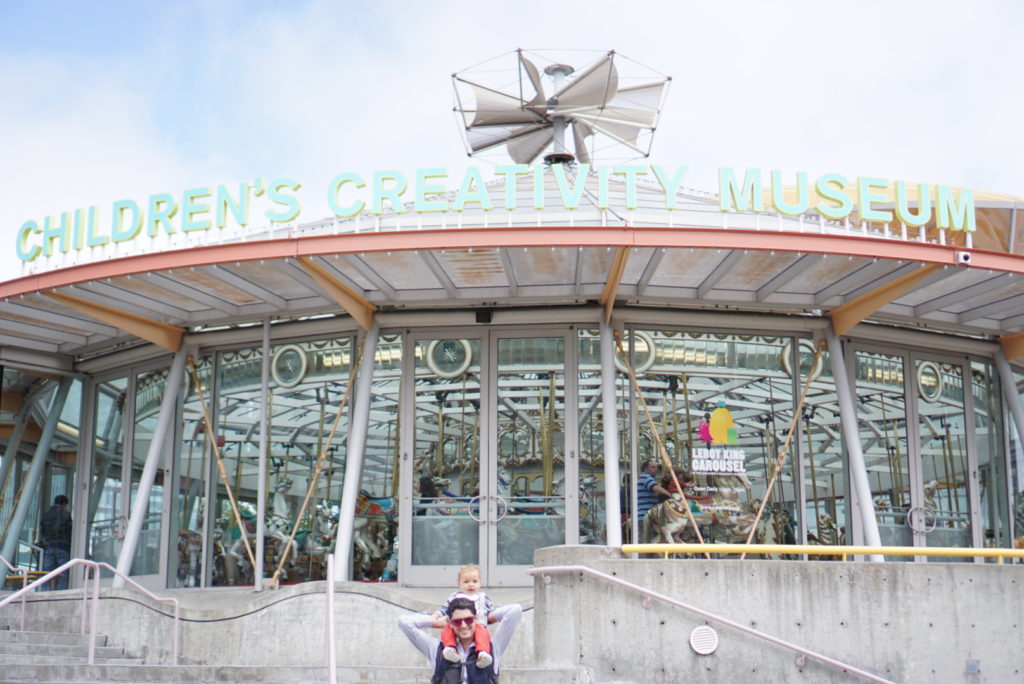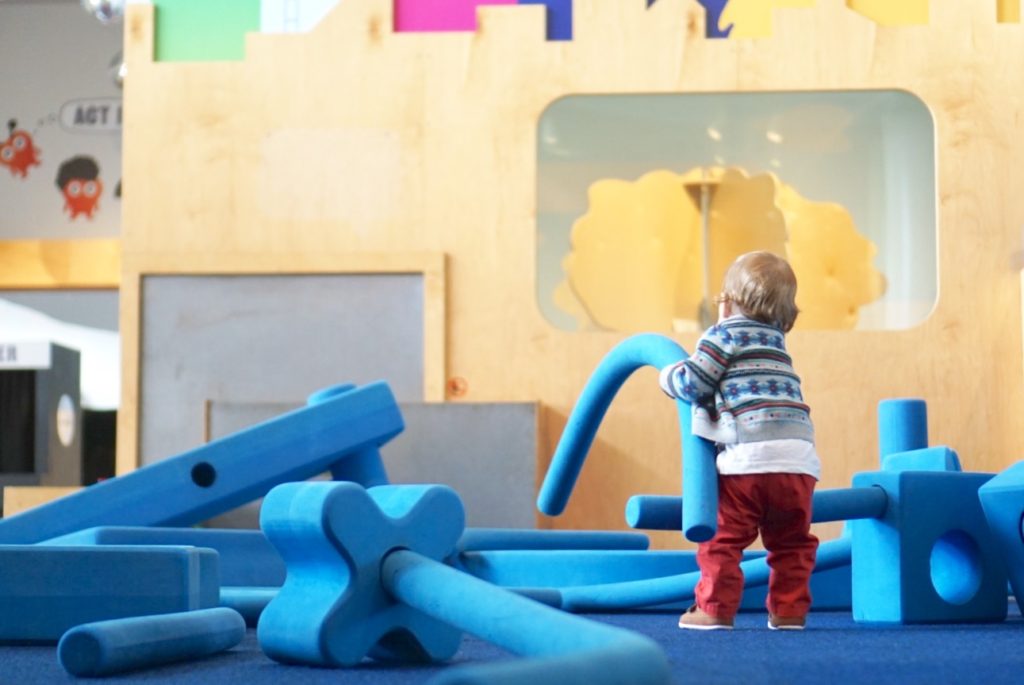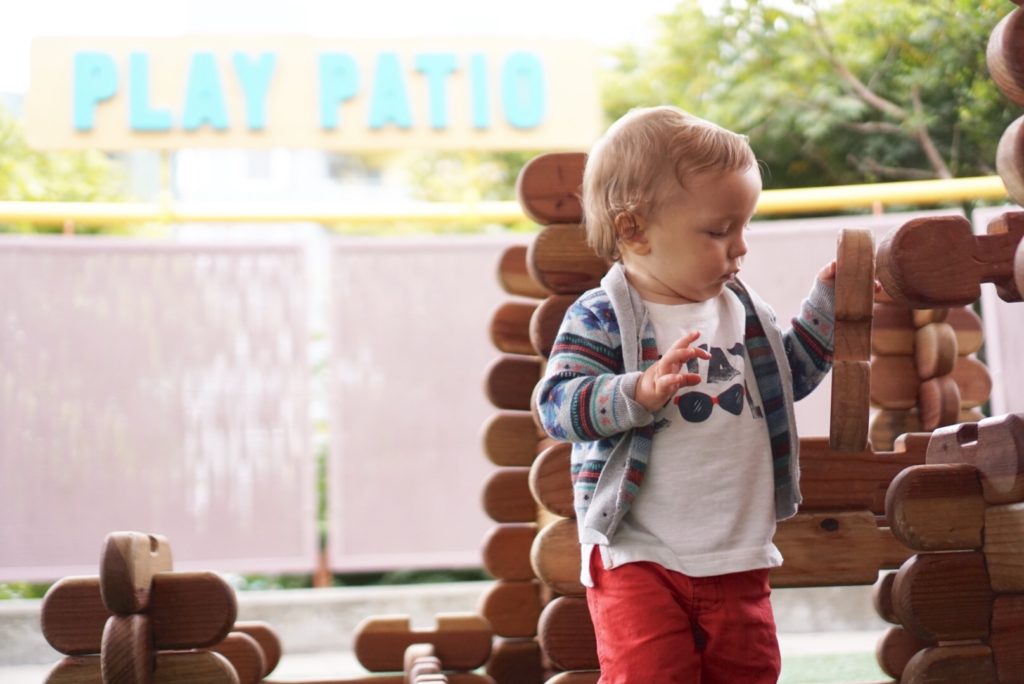 YERBA BUENA CHILDREN'S GARDEN
Yerba Buena Children's Garden was a happy surprise we stumbled on while leaving the Children's Creativity Museum. There was a little splash/garden area, and cool slide and climbing wall on a play-safe rubber surface. There was also an indoor ice skating rink and a bowling alley!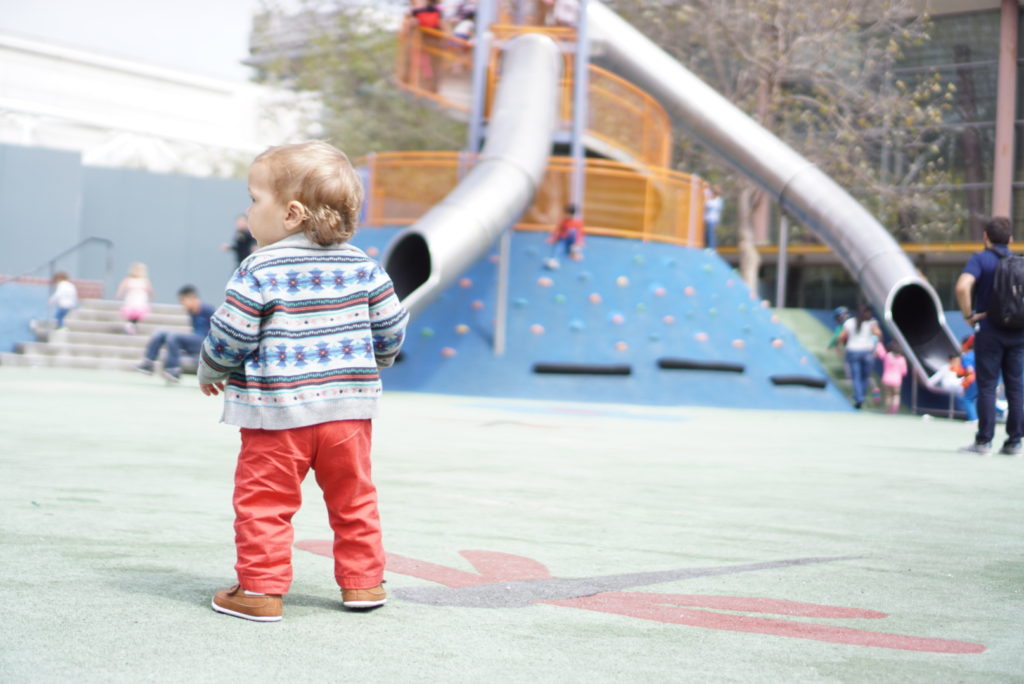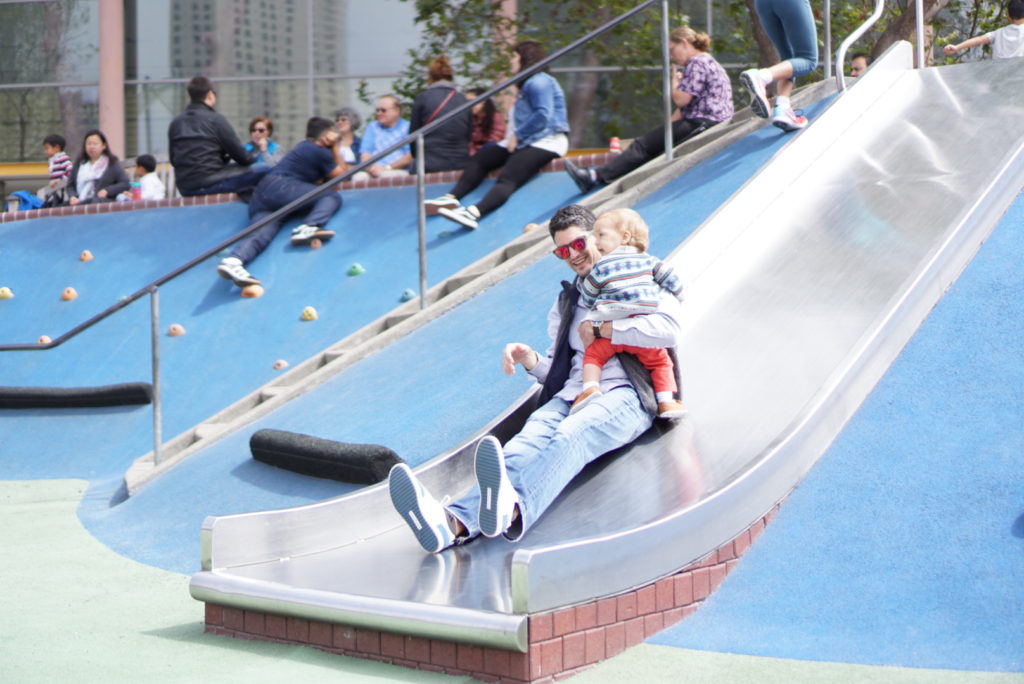 DAY 3
On our third day we woke up and went to The Mill for some artisanal toast and lattes. We had the cinnamon sugar and sea salt on country bread and the avocado mash on whole wheat everything bread.  We also got a chocolate banana scone. Everything was delicious. Definitely worth the $4-$8 for toast.
After breakfast we walked to Alamo Square Park to see the Painted Lady houses. Then on our way to Golden Gate Park, we drove through Haight-Ashbury, an eclectic neighborhood, home of the Grateful Dead .
In Golden Gate Park, we checked out the California Academy of Sciences and the Koret Children's Quarter but because of a big music festival we missed the Japanese Tea Garden, the De Young Museum and the little boat lakes.
PAINTED LADIES
The architecture in San Francisco was one of my favorite things. No SF houses are more well recognized than the "Painted Ladies" a row of colorful painted houses. Contrary to what I heard someone saying on the phone, this is NOT where the people lived on Full House (face palm). This view is from Alamo Square Park. It would be a great place to have a picnic. There was also a cute little playground area where we didn't get to the chance to play.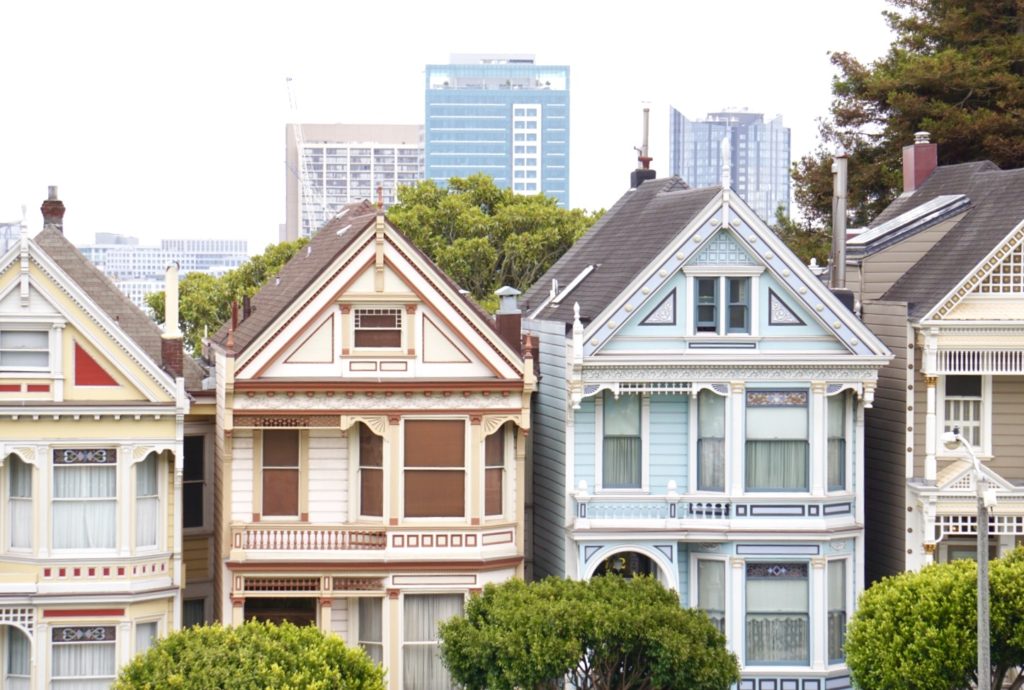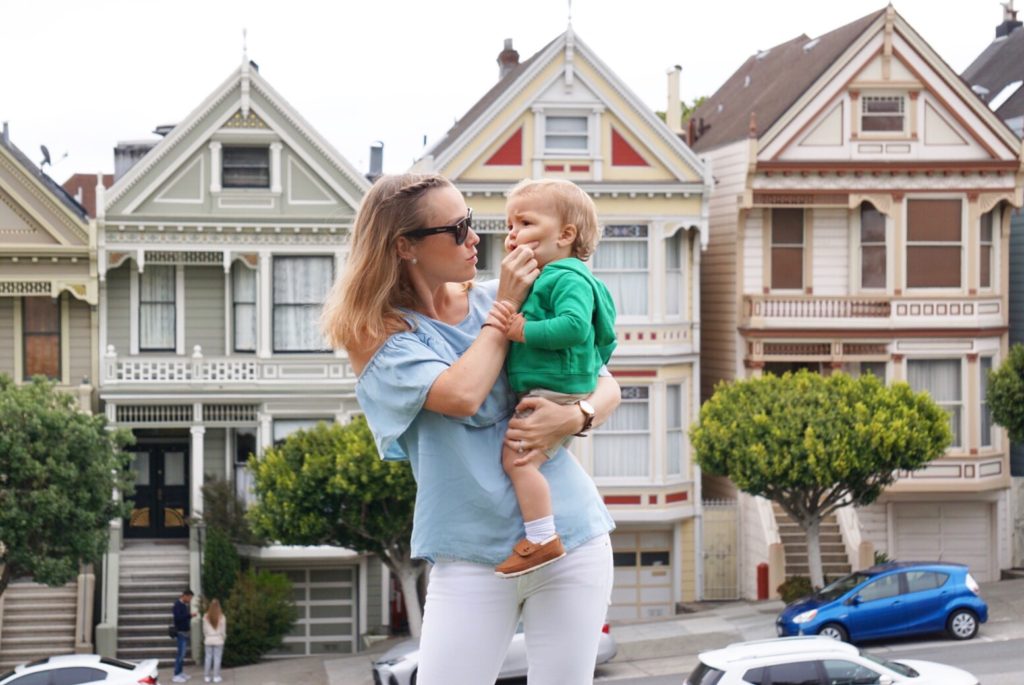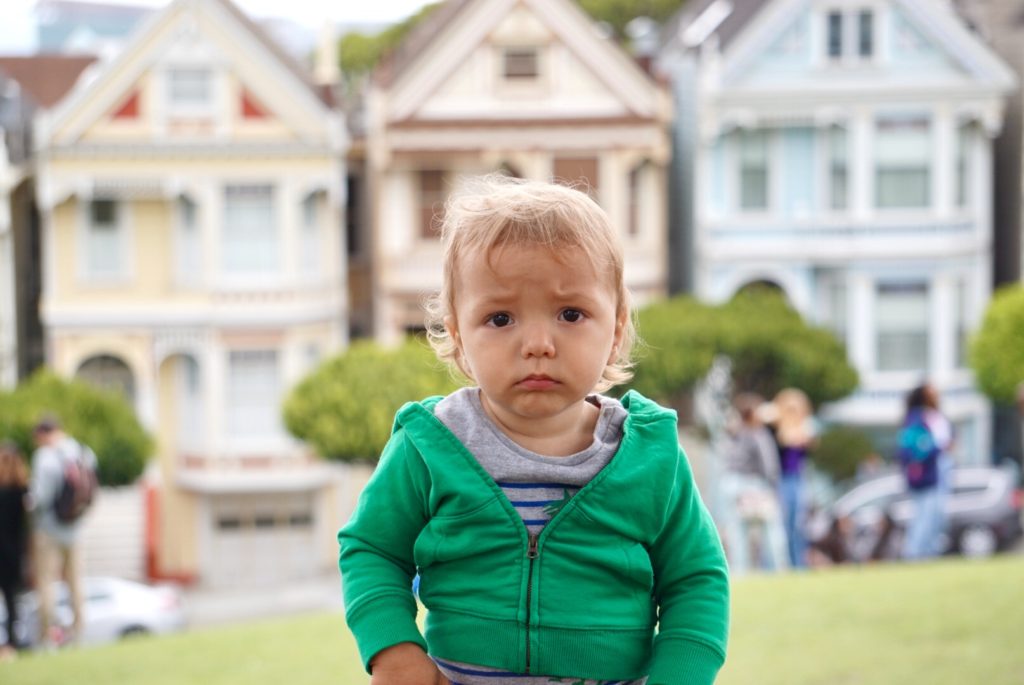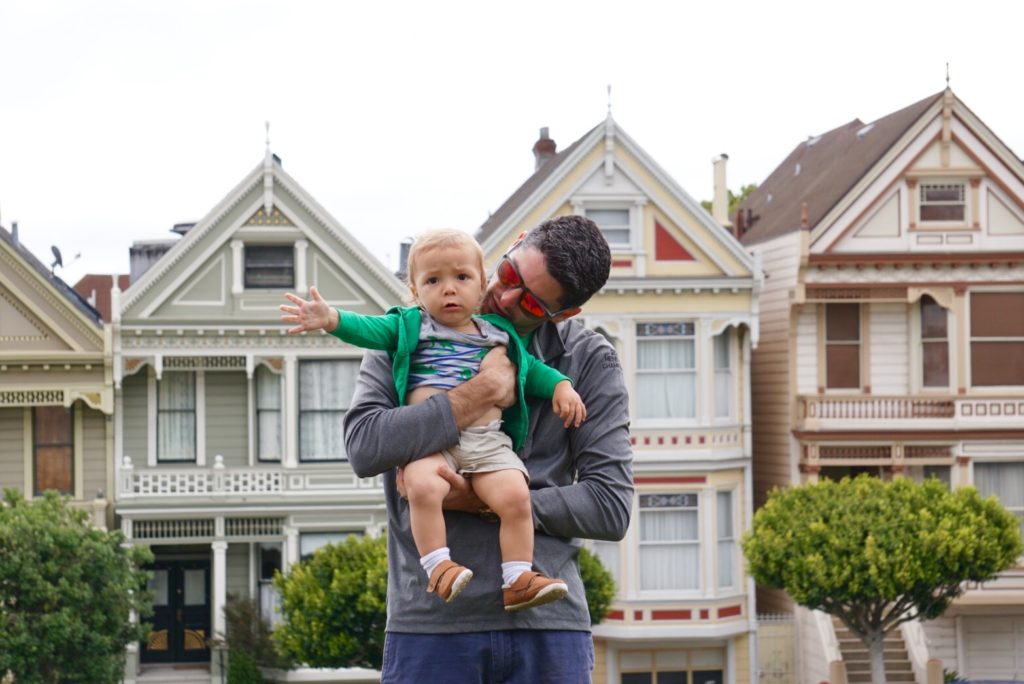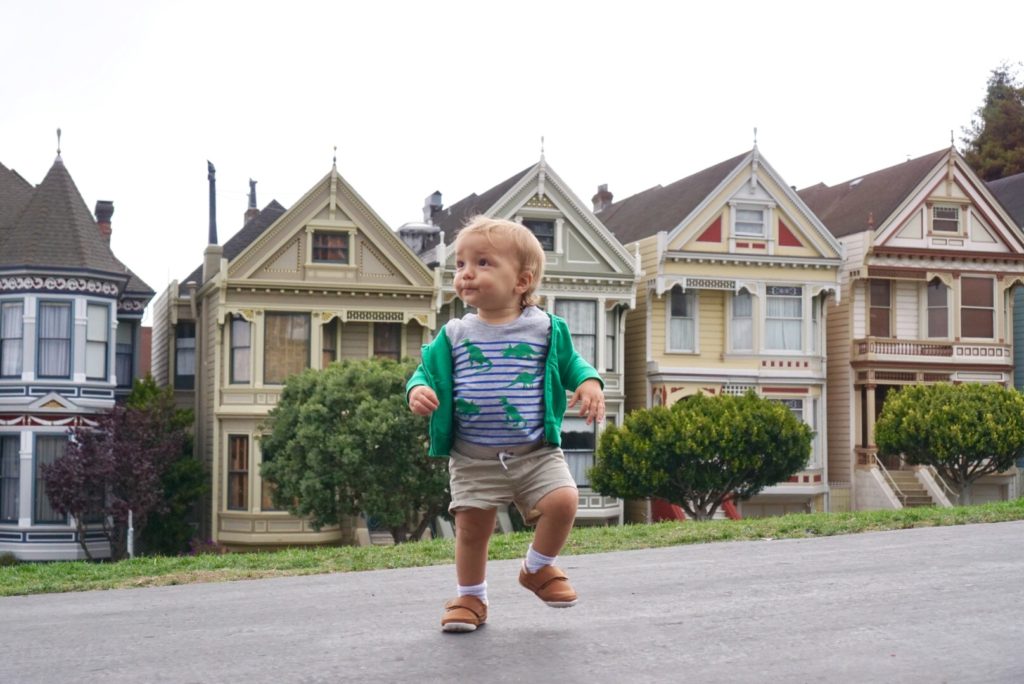 CALIFORNIA ACADEMY OF SCIENCES
The California Academy of Sciences is located in San Francisco inside of Golden Gate Park. The museum is an aquarium, planetarium, natural history museum and a rainforest all in the same building! I was disappointed that we weren't allowed into the planetarium with Teddy, because I know he would have loved it! I wish there were more hands-on activities for kids, but there were a few interactives and demonstrations that were more geared towards older children or adults.
HIGHLIGHTS
We loved the aquarium part of the museum the best. Teddy got to touch a starfish at one of the touch tables and we got to go through an underwater tunnel. Our other favorite parts were the albino alligator, the earthquake exhibit and the dinosaurs.
[Click to read my full review of the CALIFORNIA ACADEMY OF SCIENCES.]
COST + ADDITIONAL INFORMATION
$35.95 Adults, $30.95 Youth+ Students with ID (12-17), $25.95 Children (4-12), FREE for Children under 4
Parking Garage does not validate.
Stroller-friendly
No kids under 7 were allowed in the Planetarium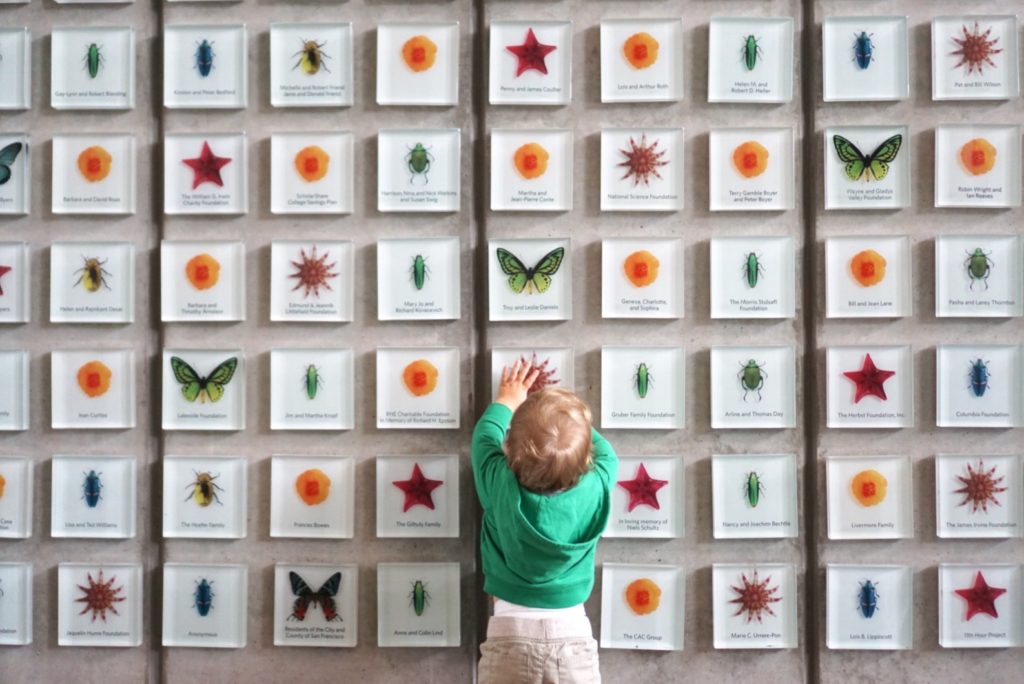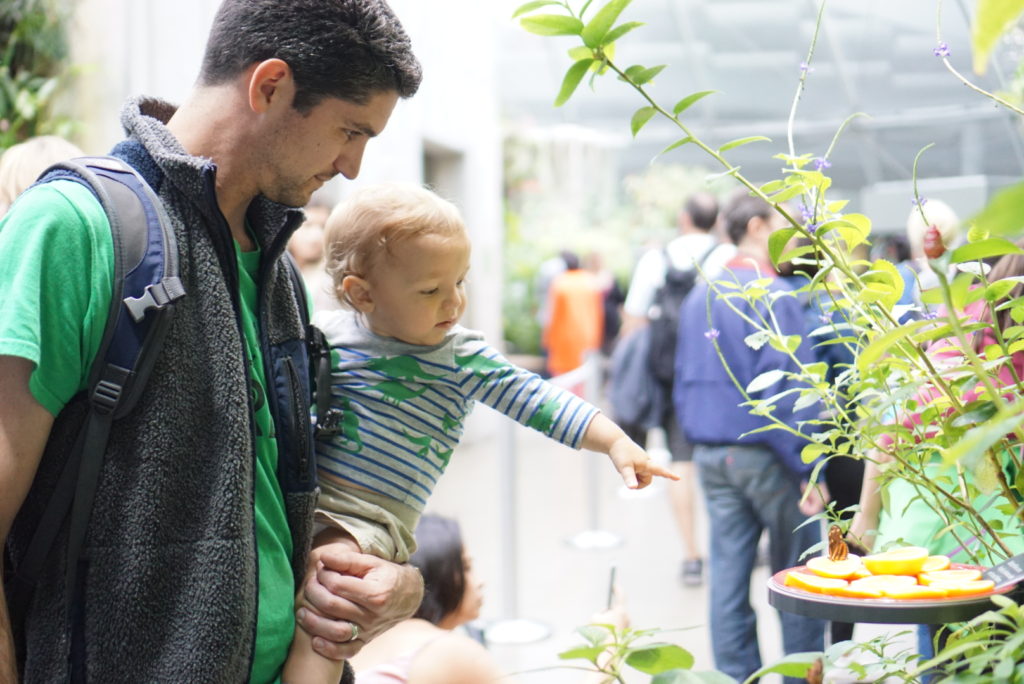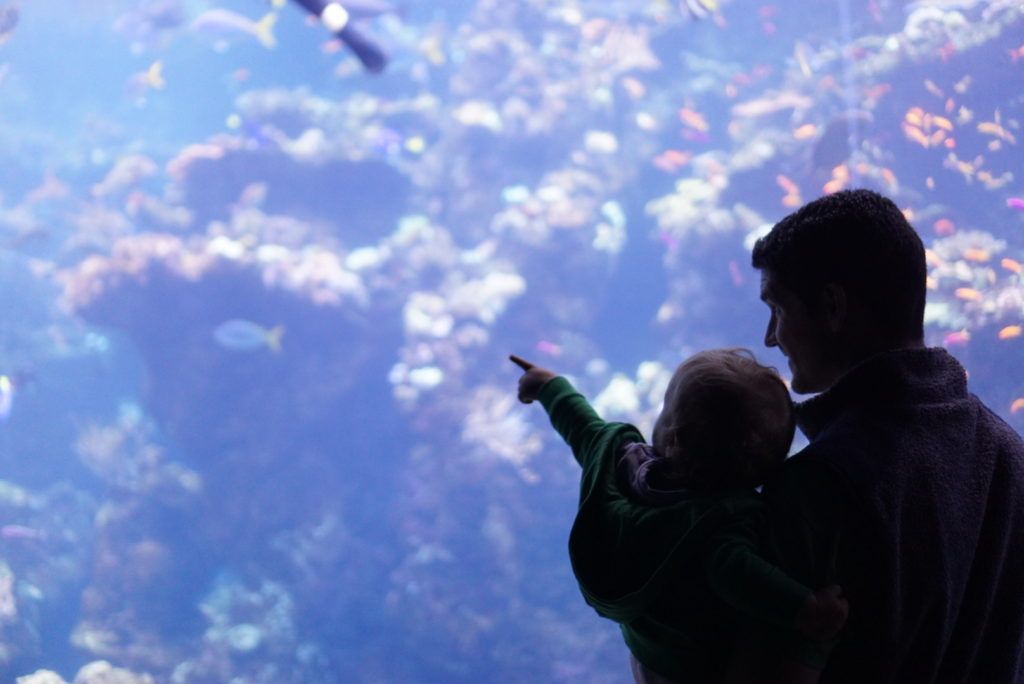 KORET CHILDREN'S QUARTER PLAYGROUND
The Koret Children's Quarter Playground was another really cool playground. There were really long cement slides that kids were sliding down on scraps of cardboard. A large part of the playground was under-construction so we only got to play on a small part. Teddy had fun, but this playground would have been way more fun for an older child.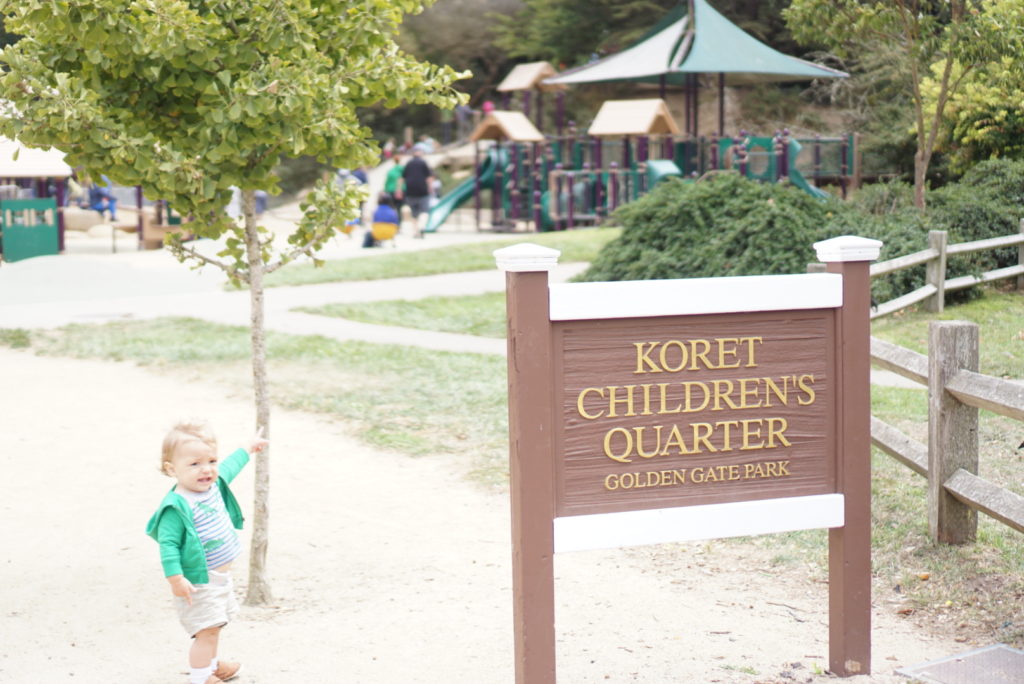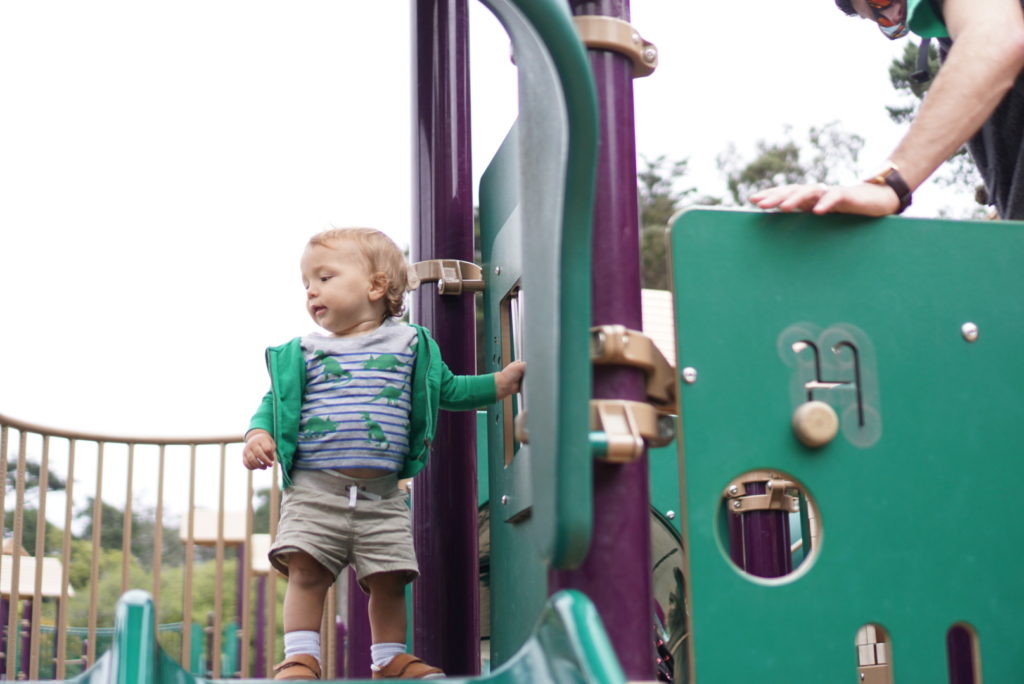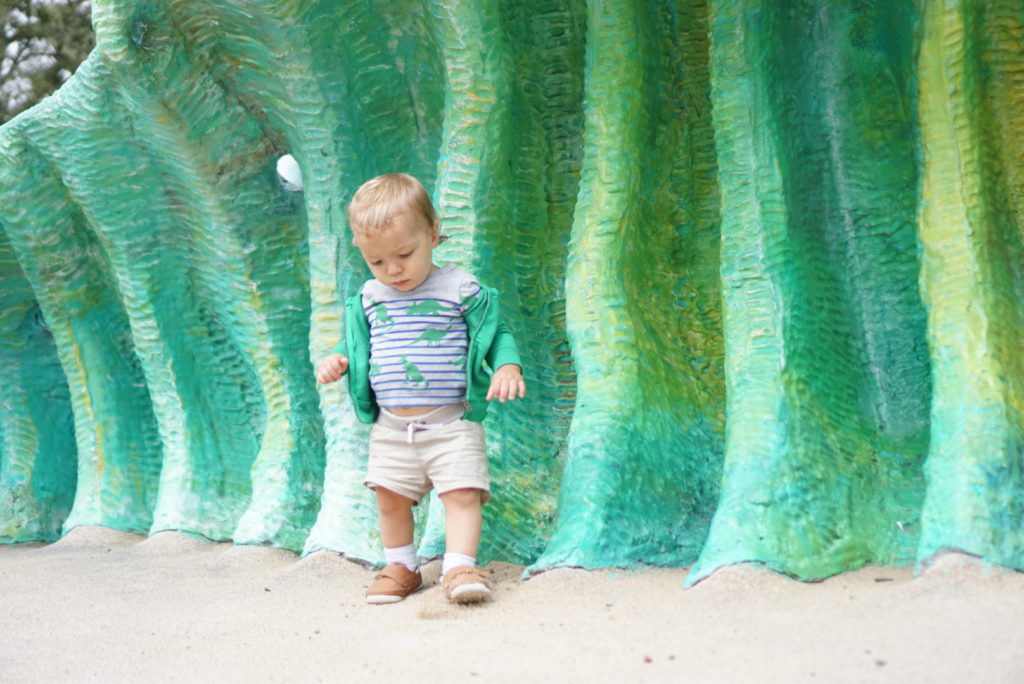 DAY 4
On day 4 of our trip Teddy woke up at the crack of dawn so we got an early start. We got breakfast and then took a cable car down to Fisherman's Wharf. I was really excited to ride a cable car because nothing says San Fran like swinging from the rails of a cable car.... I was super disappointed to be herded on to a crowded trolley and forced to sit on an inside seat since I was holding the baby. I could barely even see out a window.
We started at Ghiardelli square, Fisherman's Wharf, saw the sea lions at Pier 39 and then took the ferry over to Alcatraz.
GHIRARDELLI SQUARE
There's nothing like starting your day with a chocolate milkshake for breakfast! Then we walked around and checked out some cute souvenir shops.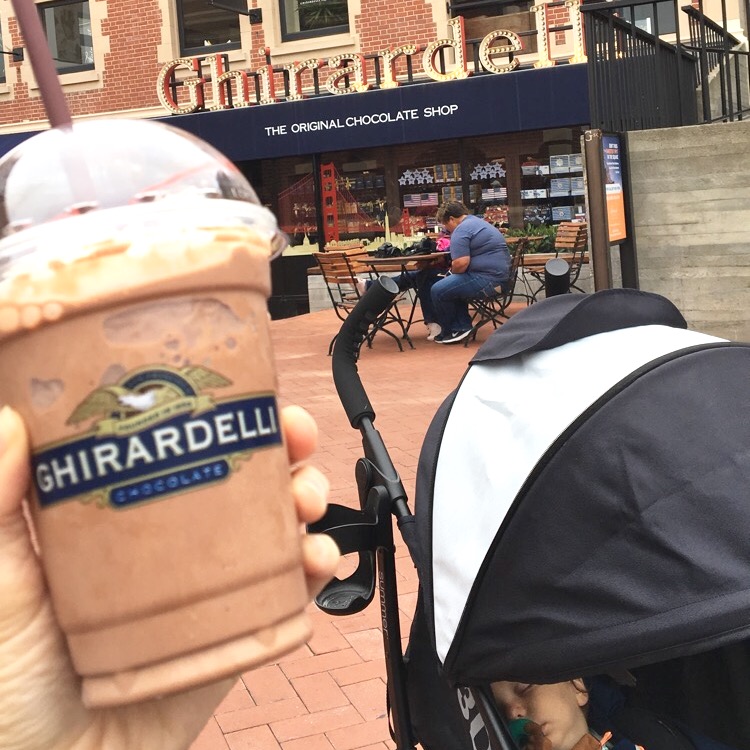 FISHERMAN'S WHARF
We went to Boudin at the Wharf for some delicious sourdough bread bowls with clam chowder. The food was great and they had outdoor seating which was nice for bringing the stroller. Then we walked around, Teddy chased some pigeons and seagulls and then we headed to Pier 39.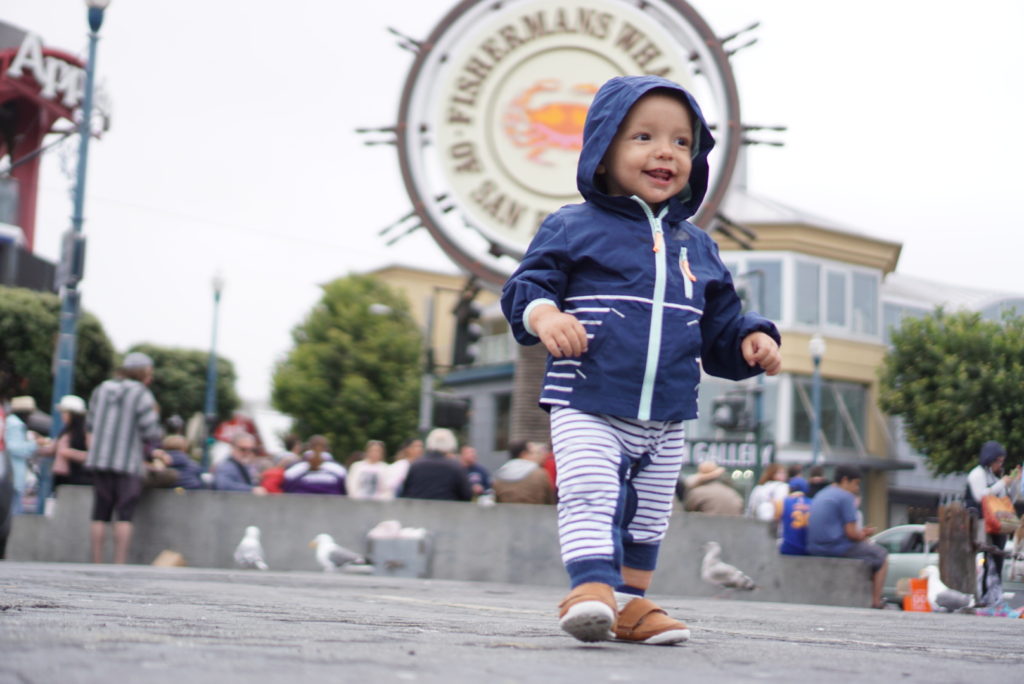 PIER 39
Teddy loves animals so we had to make a stop at Pier 39 to see the sea lions. Boy, did they stink! It was a little crowded to get a good view, but it was crazy to see so many of them all laying around and playing. There was a little cart there where you could feel real sea lion fur.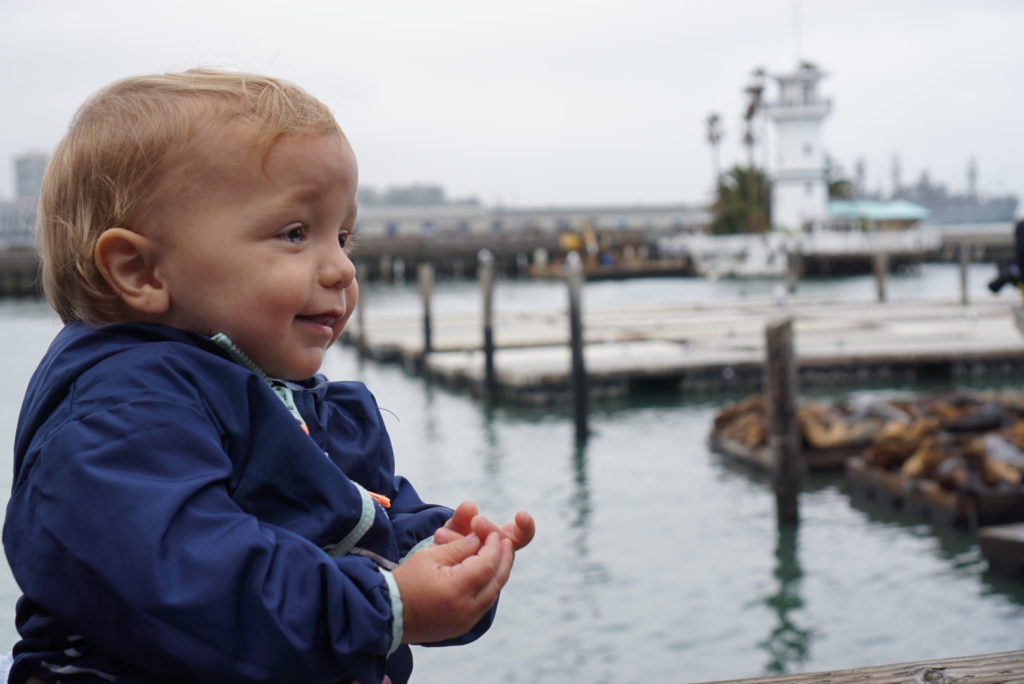 ALCATRAZ
We took a ferry over to Alcatraz for a tour of the prison. I got a little sea sick on the ferry, so I wasn't in a great mood for our tour. The staff at Alcatraz was so nice and accommodating for our stroller, but I would not recommend Alcatraz for toddlers or young kids. We did the audio tour which I thought was kind of boring, but my husband liked it. It was crowded, Teddy was fussing and a lot of the prison was under construction. I bet under different circumstances I would have liked the tour.
HIGHLIGHTS
uhm...
COST + ADDITIONAL INFORMATION
$37.25 Adults + Teens, $23 Children (5-11), FREE for Children under 4
Check the return schedule for the ferry so you get to leave when you want, because the return ferries fill up fast.
Stroller-friendly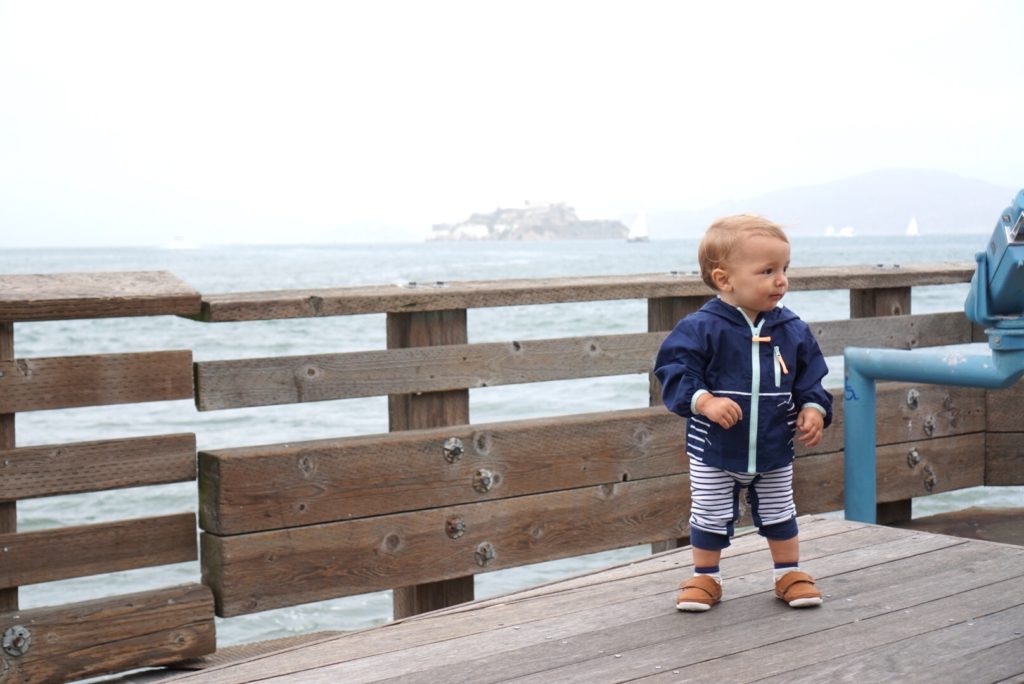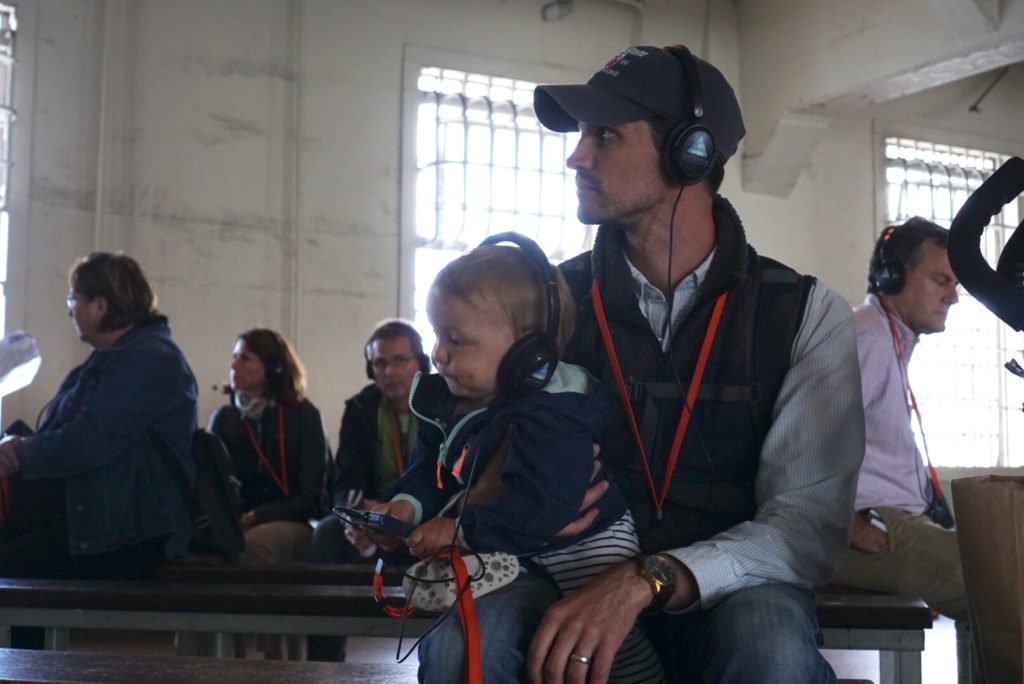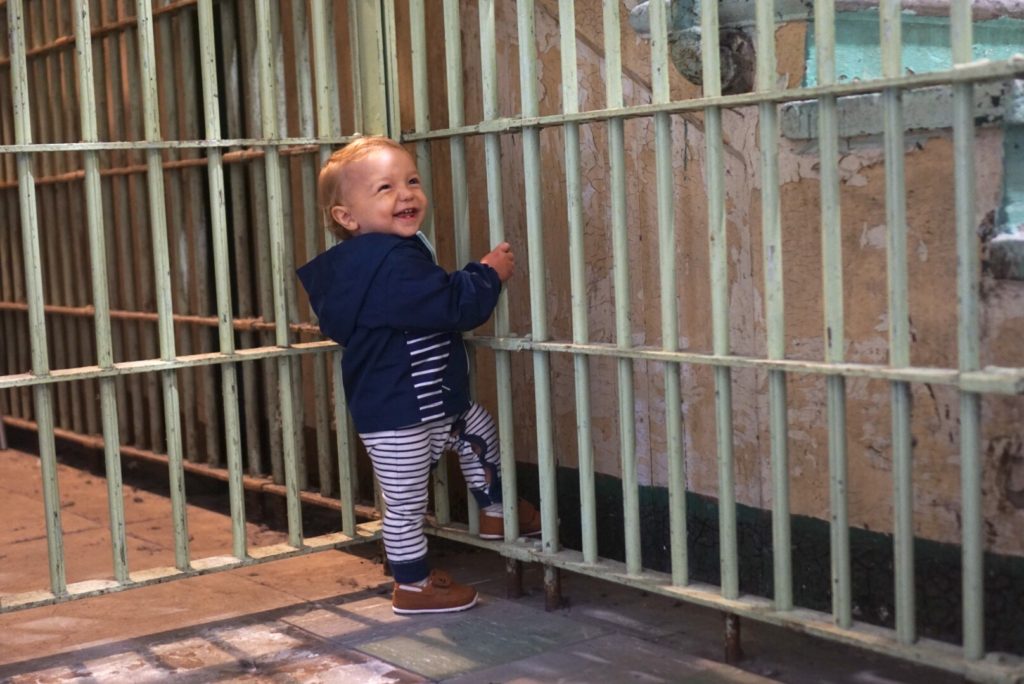 DAY 5
We woke up and packed up our suitcases and the rental car and got breakfast at Mr. Holmes Bakehouse before heading down the Pacific Coast Highway to Monterey. The view along the highway was really cool. We couldn't check in to our hotel yet so we stopped at Monterey's Fisherman's Wharf where we found a lot of very un-child friendly restaurants, so we ate at one of the only ones that allowed kids. The food at the Big Fish was meh but the spicy jalapeño margarita was really good and we had seats with a great view of some seals and sea otters in the bay. Our hotel still wasn't ready so we went to the Butterfly reserve. We checked in at the hotel and then left for a ride along 17 mile drive, checked out the beach and got dinner in Carmel-by-the-Sea.
MR. HOLMES BAKEHOUSE
We had to try the famous "cruffin" at Mr. Holmes Bakehouse. It is like a croissant and a muffin had a baby. The flavor of the day was chocolate passionfruit and it had a little macaron on top. It was good, but we liked the churro croissant and the chocolate croissant even better! There is no eat-in space which was fine because we were taking the coffee and pastries to go anyway.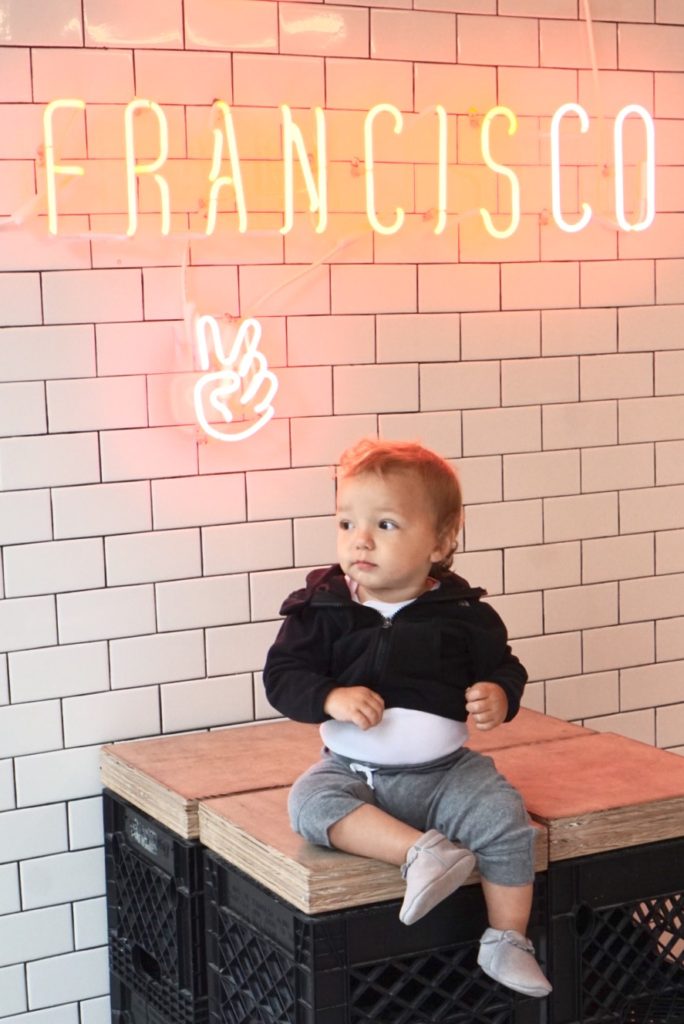 BUTTERFLY TREES
The butterfly trees are found on a Monarch Butterfly Sanctuary in Pacific Grove. It's supposed to be a bunch of cypress and pine trees with every inch covered in monarch butterflies....BUT we soon learned that the butterflies only live there October-February when they are overwintering. There were still nice trees and flowers and Teddy entertained himself for about half an hour just playing with a stick.
HIGHLIGHTS
The highlight would have been the monarch butterflies obviously, but for Teddy it was his stick and for me it was the the cute pink hotel next door.
COST + ADDITIONAL INFORMATION
FREE, donations encouraged
Visit in October-February...
Dirt path but smooth enough to be stroller-friendly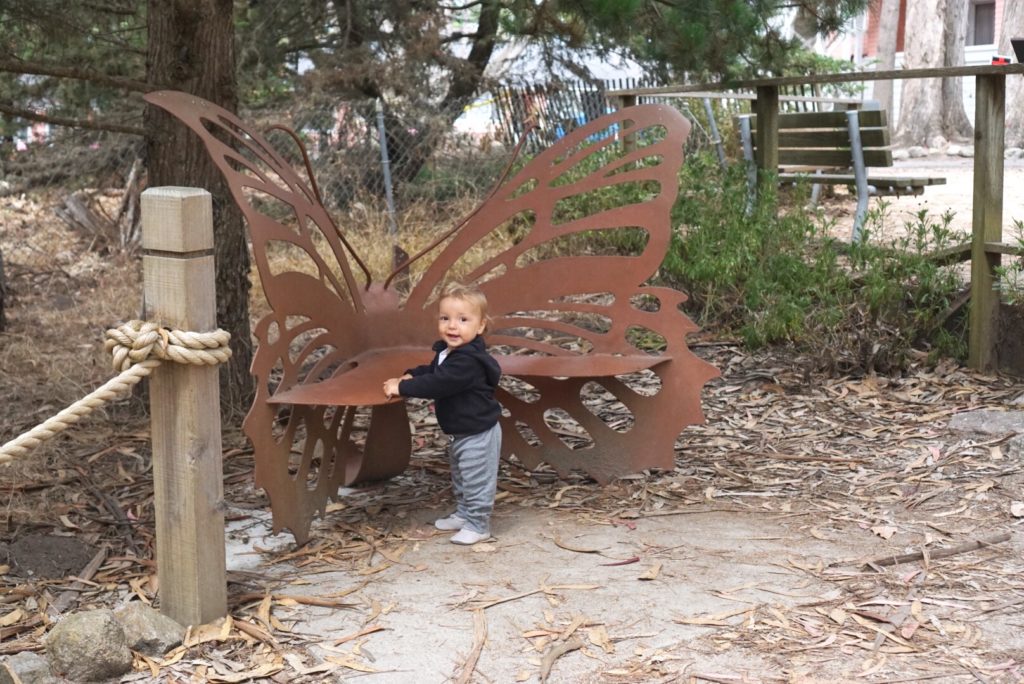 CARMEL-BY-THE-SEA
We took a ride along 17 Mile Drive (a $10 toll) before heading to Carmel-By-The-Sea. This cute little beach town is a favorite of former mayor Clint Eastwood. It had such a quaint feel with charming little houses. The beach was awesome with a view of Pebble Beach golf course. There was a cool fort built out of drift wood and the water was crystal blue.
It happened to be Car Week when we were there so we saw a ton of really fancy cars and ate at a yummy Mediterranean restaurant.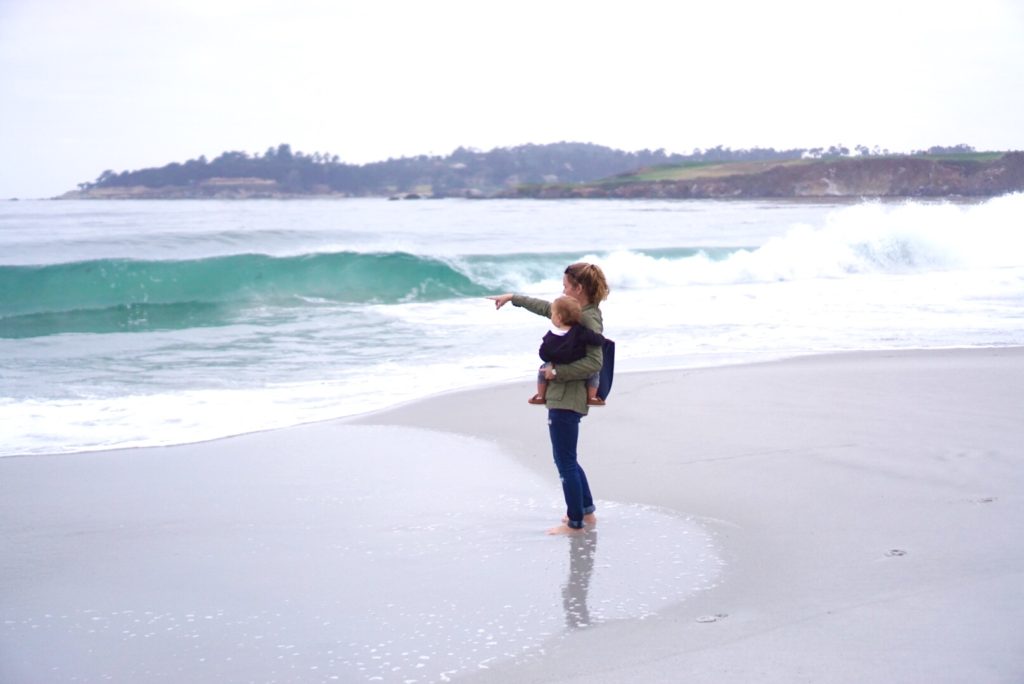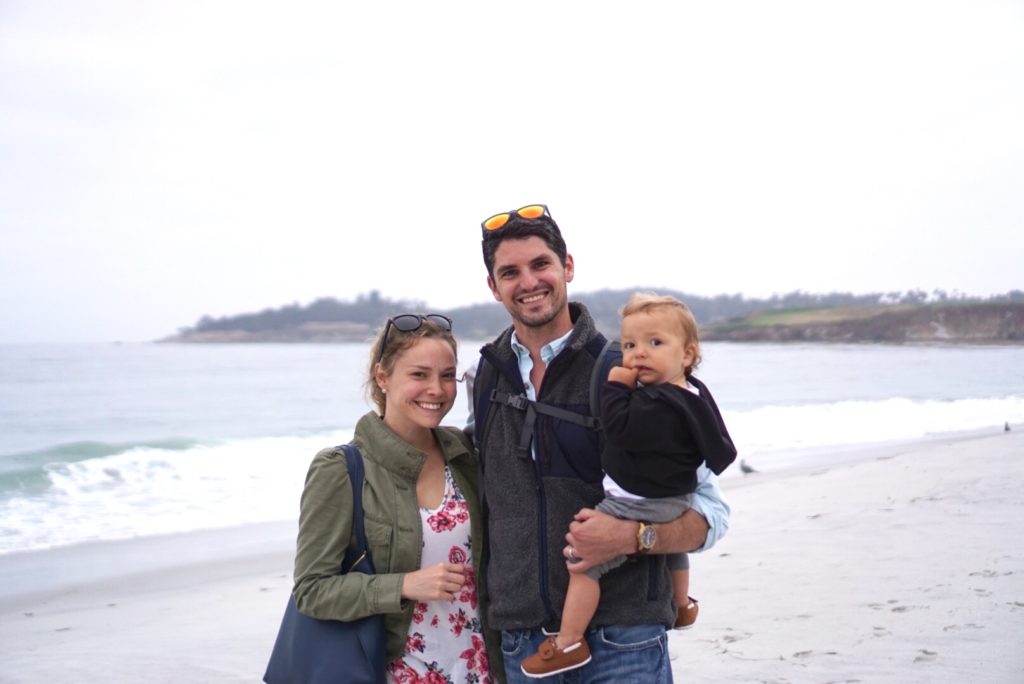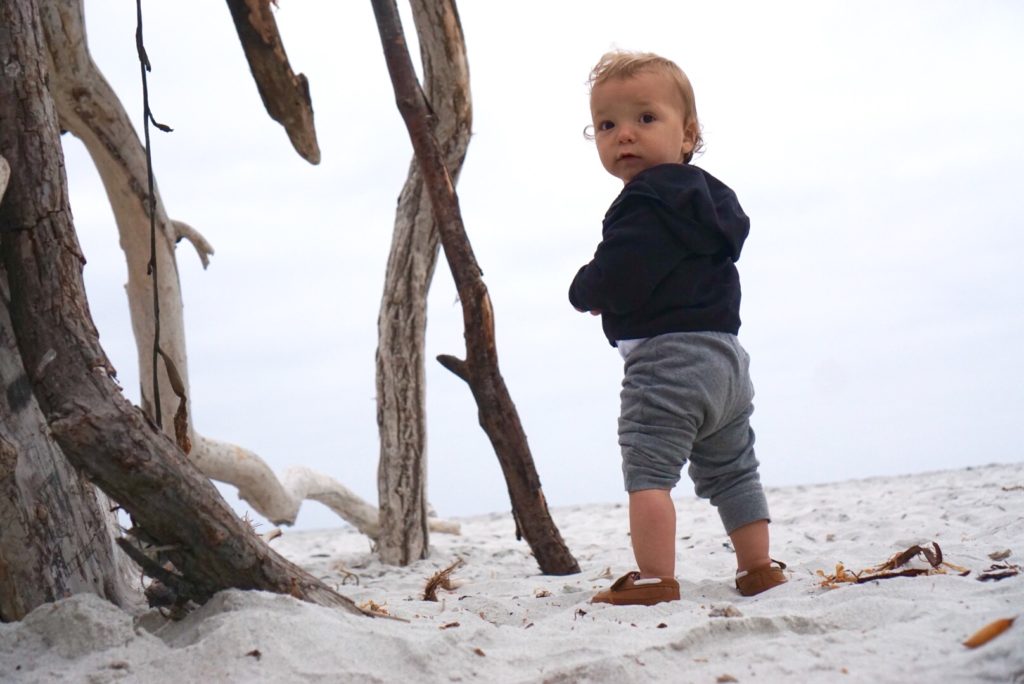 DAY 6
MONTEREY BAY AQUARIUM
I was really excited for the Monterey Bay Aquarium, because it is supposed to be one of the best aquariums in the world. It was great, but not as impressive as I had built it up to be. There were a lot of hands-on children's activities and a splash area that Teddy really loved. It was nice that he could run around without having to worry about getting stepped on by an adult.
We got there about an hour after it opened and by the end of our visit it was starting to get really crowded, so the exhibits became less enjoyable for me. We planned to come back the next morning and see the exhibits when it was less crowded, but Teddy chose an inconvenient naptime so we didn't make it back.
HIGHLIGHTS
The jellyfish were definitely the coolest part of the aquarium. They had so many varieties and they glowed in the dark. We also liked watching the penguin feeding. Teddy really liked touching the sea lettuce and hermit crabs at the touch table.
COST + ADDITIONAL INFORMATION
$49.95 Adults, $29.95 Children (3-17) or Students with ID, FREE for children under 3
Ask your hotel if they are a partner of the aquarium, because we were able to buy tickets through the hotel and get a 2-day pass for the price of a 1-day pass.
Get there early when it opens
Stroller parking around the aquarium but the stair/elevator situation was kind of annoying.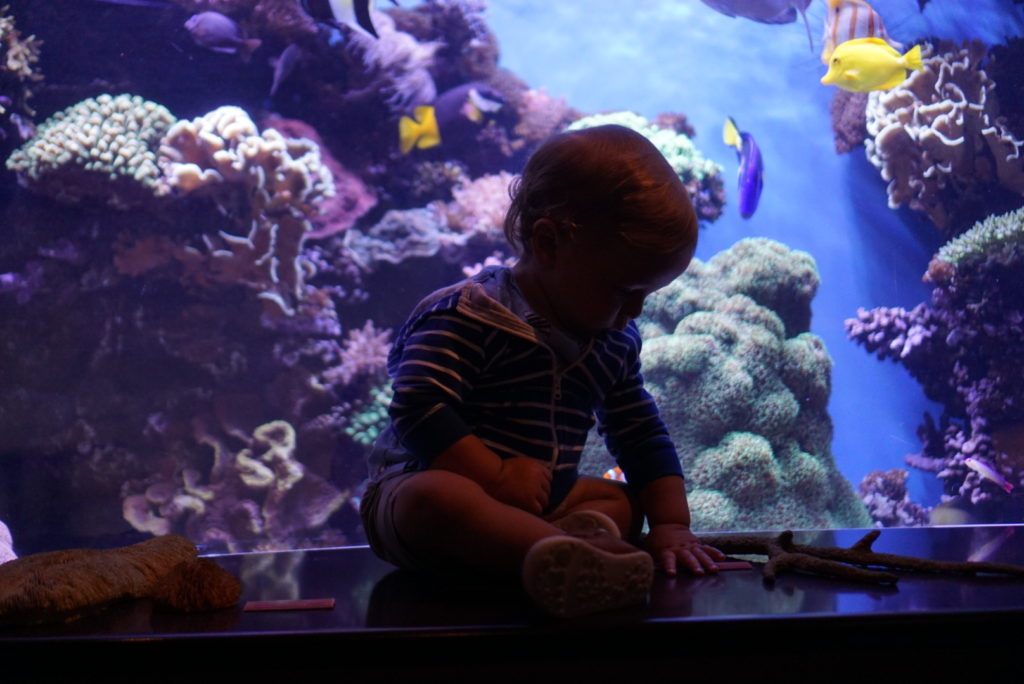 BIG SUR
Driving down Big Sur was really cool. It feels like you are driving right on the edge of a cliff....because you are!  There were incredible views all along the road. Mudslides have part of the road closed a few miles past Bixby Bridge, but it's still totally worth the drive. It's a great activity during naptime. Teddy slept like a baby the entire drive.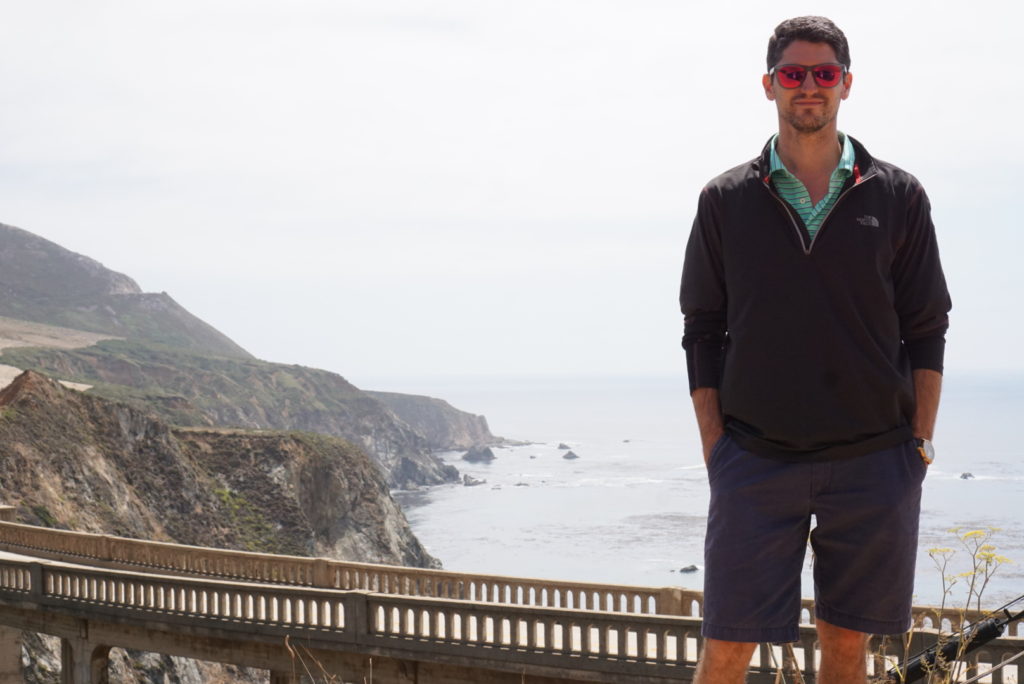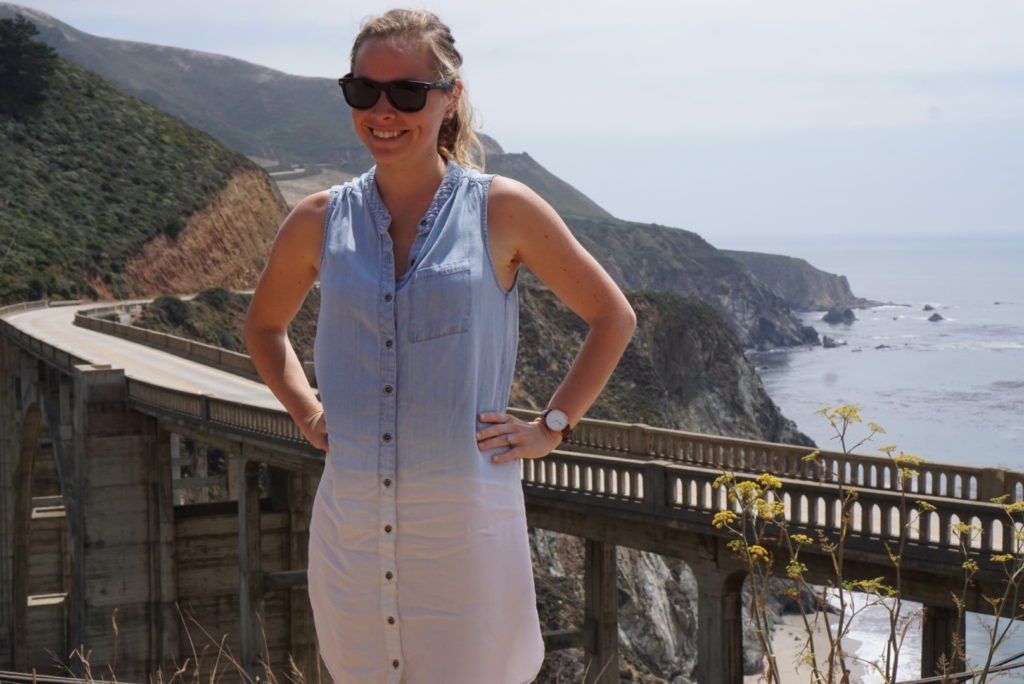 PEBBLE BEACH GOLF LINKS
Then it was time for the part of the trip my husband was the most excited for, Pebble Beach. First we took a drive on 17 Mile Drive again and then stopped at the Pebble Beach Golf Course. We did a little souvenir shopping and then went to find a place to eat.
For lunch we ate at The Bench on the 18th hole. It was hands-down the best meal of the trip. The weather was beautiful, we sat outside by a fire pit where Teddy could actually walk around and the view was amazing. We ordered a watermelon, tomato and feta salad and a flatbread...so gooood. I got a drink called Thai One On (Vodka, Mint, Cucumber and Ginger Syrup) and no exaggeration it might have been the best drink I've ever had in my life.
Then we did walked around some of the holes before driving to Spanish Bay Golf Course to hear the bagpiper who plays every day at 5:30PM.
HIGHLIGHTS
Our lunch at The Bench was definitely the highlight of Pebble Beach.
COST + ADDITIONAL INFORMATION
$10 to drive on 17 Mile Drive, but if you spend $35+ on golfing or food they will reimburse it.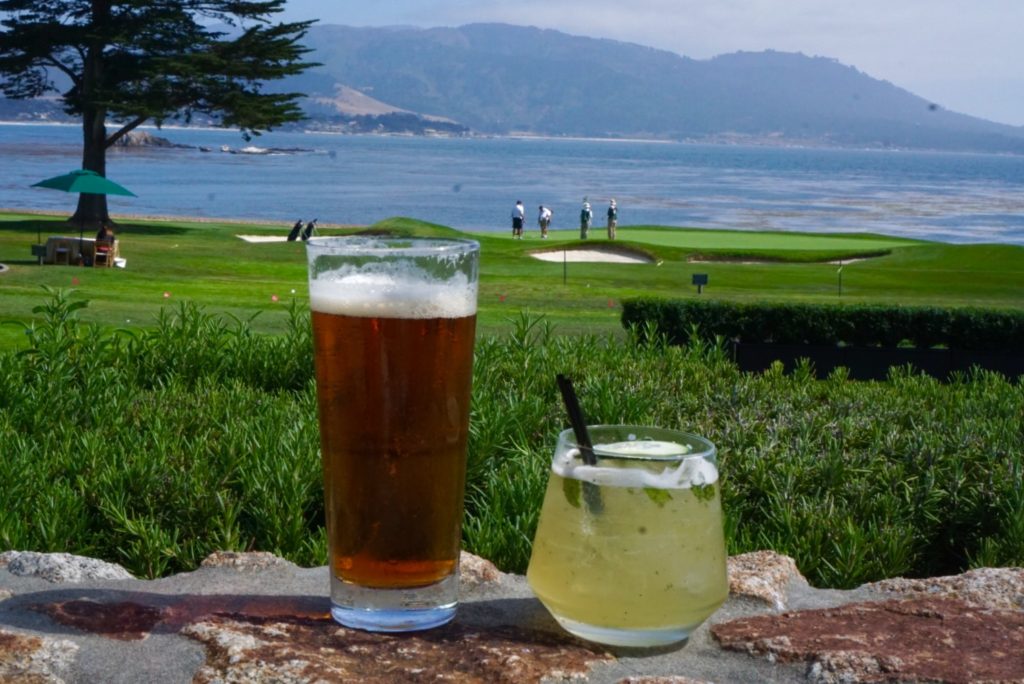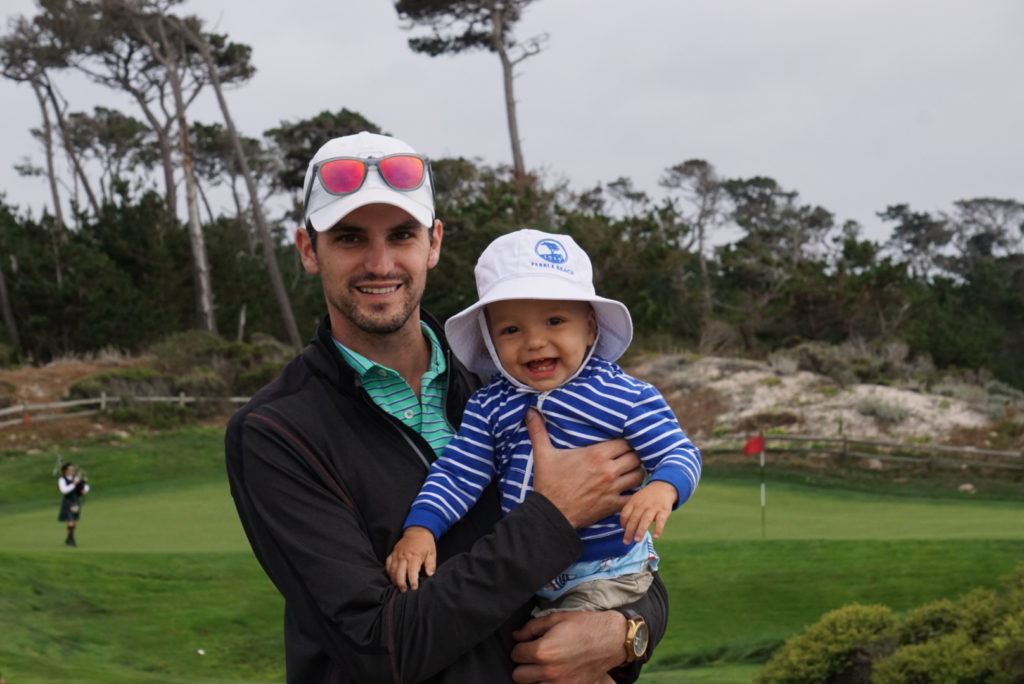 DAY 7
We attempted to go to the aquarium for the second time, but Teddy fell asleep in the car so we started our drive back to San Fran a little earlier than planned. We had to make a stop at In-N-Out burger. A double double for Tyler, a cheeseburger for me and fries. Teddy woke up and needed to stretch his legs so we made a pit stop at Stanford to let him run around. Round 2 of San Francisco we stayed at The Kimpton, Sir Frances Drake.
We made a quick trip to SF Moma and then went to the 21st Amendment Brewery because I LOVE me some Hell or High Watermelon beer. There was an outdoor beer garden which was a nice option for bringing Teddy. Unfortunately, we didn't get to finish our beers or our delicious tater tots because he decided to have a meltdown.
SFMOMA
I work in an art museum, so SFMOMA was definitely on my list of places I wanted to see, but I was the only one that wanted to go there. I didn't really get to enjoy the artwork because Teddy was refusing to nap and just fussed in his stroller the whole time. Even though I was rushing through I thought that the collection was amazing and featured so many of my favorite Modern artists.
VISITING ART MUSEUMS WITH BABIES + TODDLERS can be a great experience, but they need to be well-rested. If he had napped I think he would have liked the museum because all of the art was bright and boldly colored, there were reflective sculptures, giant mobiles and neon lights.
HIGHLIGHTS
The highlight for me was the collection. Teddy liked the outdoor sculpture garden with the living wall and the Calder sculptures, because it was the only time he was allowed out of his stroller.
COST+ADDITIONAL INFORMATION
$25 Adults, $19 Young Adults (19-24), FREE for visitors under 18
Closed on Wednesdays

Stroller-Friendly

Bring your little one well-rested and if you bring a toy to keep them occupied make sure it is tethered with a stroller strap so it doesn't get thrown into an artwork.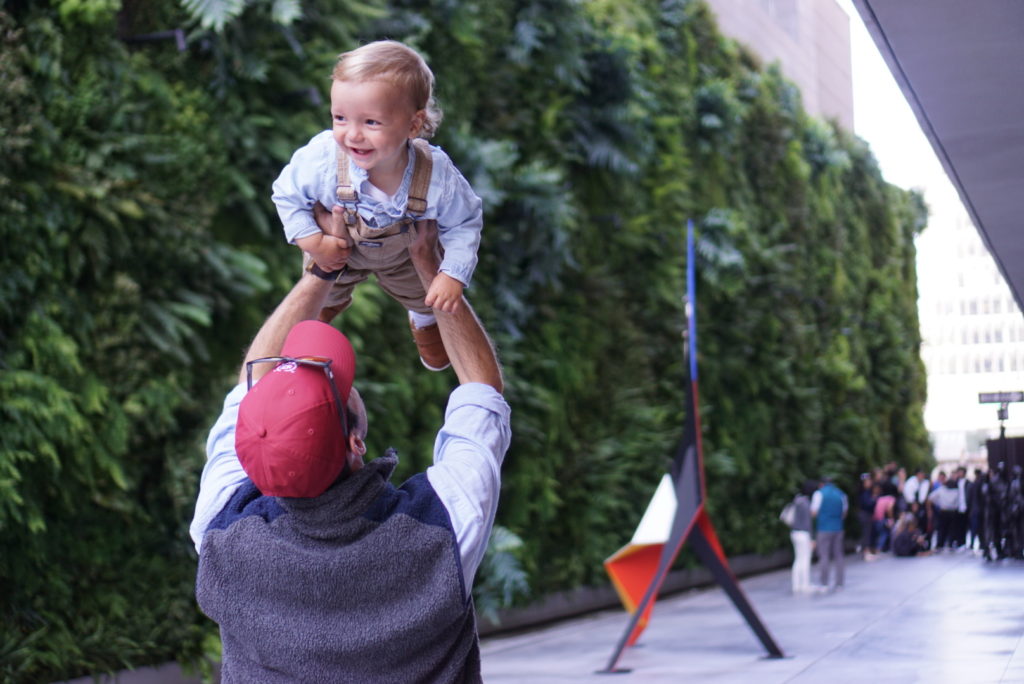 AT&T STADIUM FOR GIANTS VS. PHILLIES
After a missed nap and about three hours of fussing we did not have high expectations for Teddy at the baseball game. He ended up being so good and he watched the first five innings pretty intently, clapping every time the crowd clapped. He loved getting to eat a soft pretzel and some pizza.
The stadium had an awesome view (are you noticing a theme here with our San Fran trip...awesome views everywhere!). Tickets were reeeally cheap and there was a really cool kids area that we didn't get a chance to visit.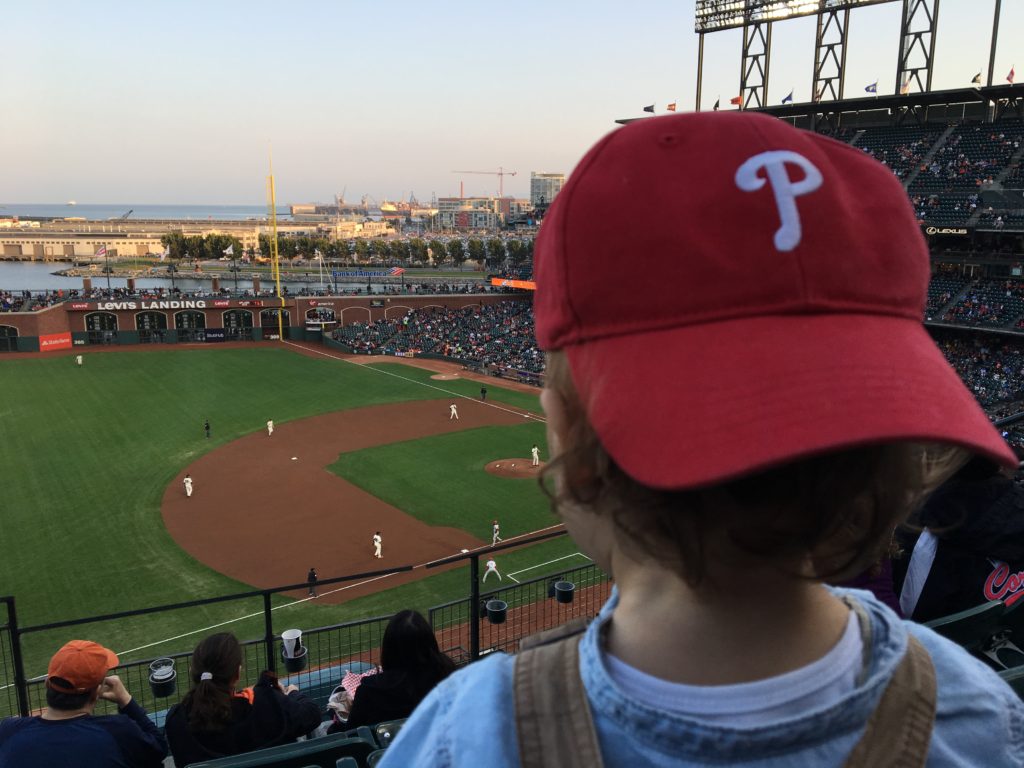 DAY 8
CHINATOWN DRAGON GATES
We had some takeout Chinese food earlier in the week but never made it down to the famous Chinatown dragon gate until our last day. We grabbed breakfast at Cafe de la Presse (not Chinese food... obviously) I had the Smoked Salmon Eggs Benedict which is one of my new favorite brunch items. Then we packed up our stuff one last time, checked out of the hotel and headed to the Mission District for the rest of the day.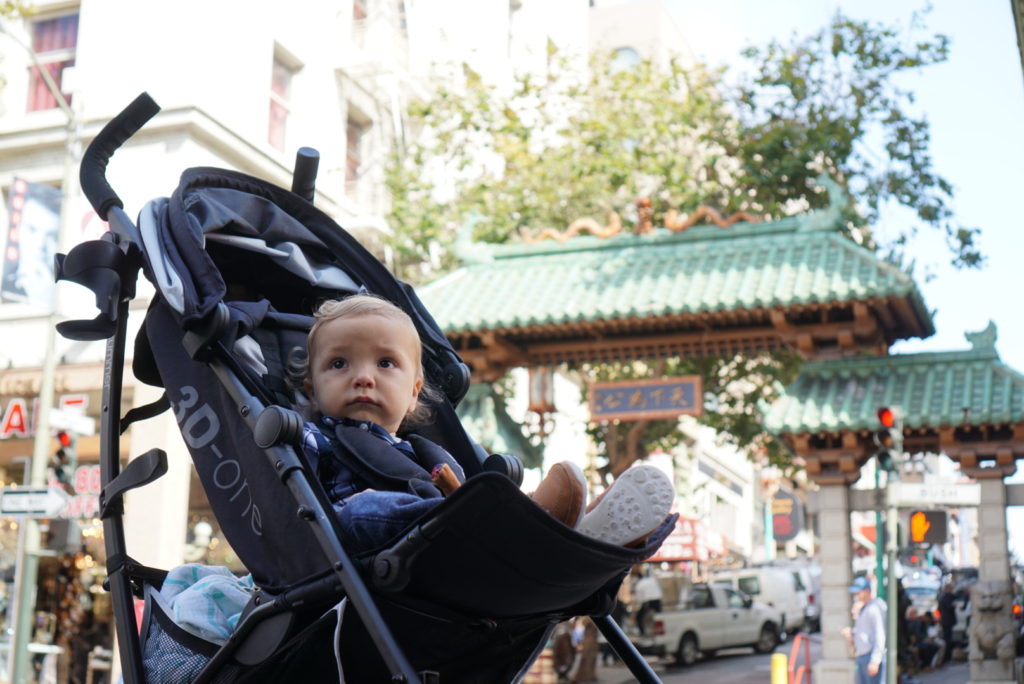 HELEN DILLER PLAYGROUND AT DOLORES MISSION PARK
This playground and park was one of our favorite places we went to during our visit to San Francisco. I used the travel app Lokely to ask locals where the best places were to bring a toddler and someone suggested Dolores Mission Park. It was the most beautiful park I've ever been to and the weather was the best we had all vacation.
The playground was every kid's dream. The giant metal slides looked so fun I couldn't even keep my husband off of them. Teddy loved all the bouncy and spinning things in the tot area of the playground.
Then we got some fruit and cheese at the nearby Bi-Rite Market and had a little picnic in the grass. Teddy ran around being cute and waving to pretty girls and playing with all of the dogs. It was the perfect day.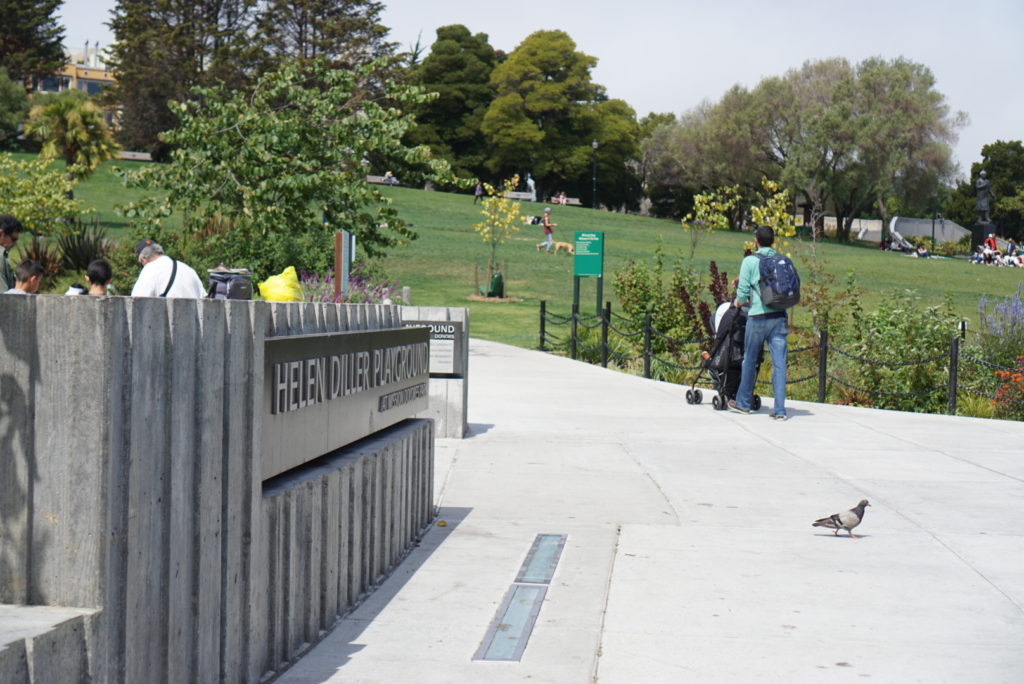 BI-RITE CREAMERY
You can't visit the Dolores Mission park and not get yourself a cone from the Bi-Rite Creamery! They had all sorts of crazy flavors like Basil, Sesame and Honey Lavender, but I went with one scoop of salted caramel and a scoop of coffee toffee.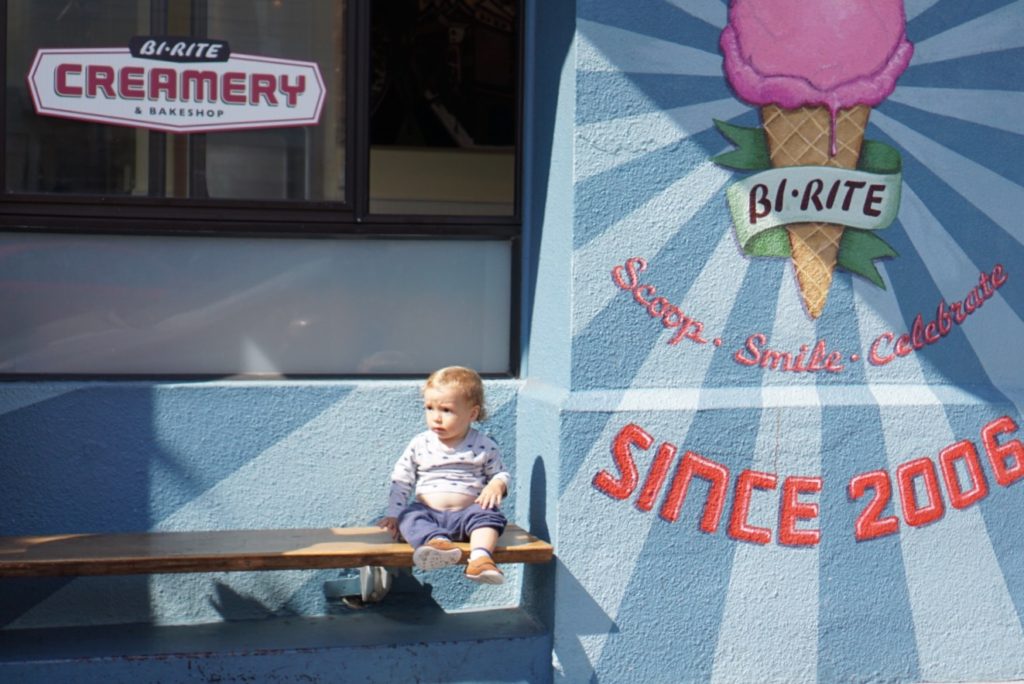 MISSION DISTRICT MURALS
San Francisco reminded me a little bit of Philadelphia with all of the murals and street art. I love checking out public art in cities I visit, because it is like visiting a free museum. The trendy mission district is has a ton of little alleys that are covered in cool graffiti and murals. We drove through some of the alleys while Teddy was asleep in the car and then we walked back to some of our favorites. Check out the official "mural alley" called Clarion Alley, Ames Alley and my favorite one, Balmy Alley. Almost every little side street around there has at least one mural.
The mission district is also known for it's Latin American cuisine and the famous "mission style" burritos. La Taquiera is the place to go, but make sure you have cash on you because not only is it a tad pricey, it is cash only!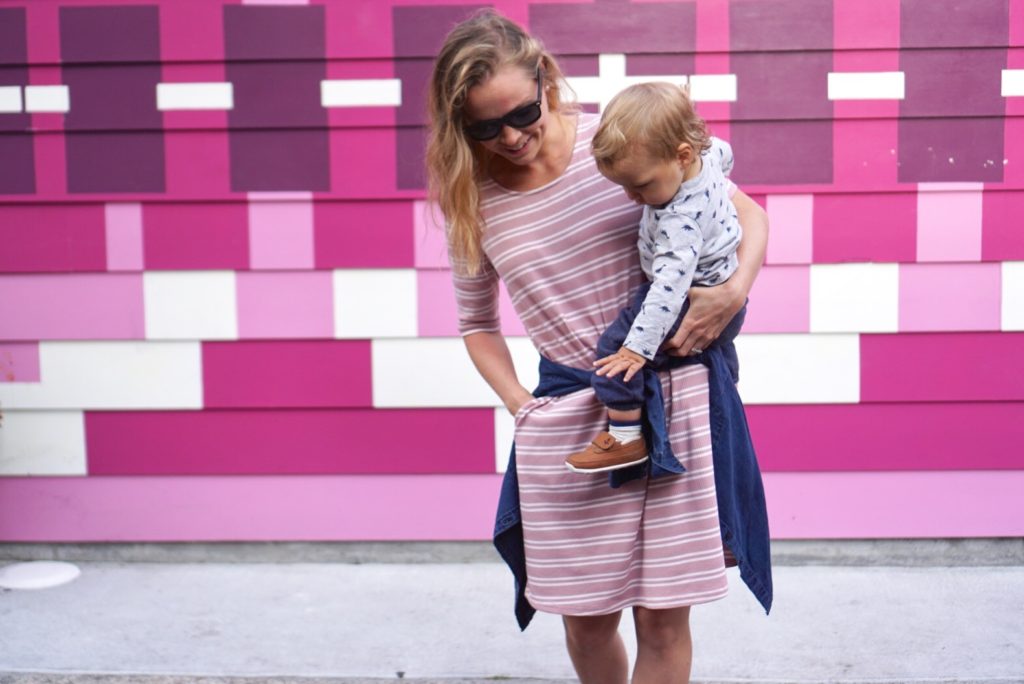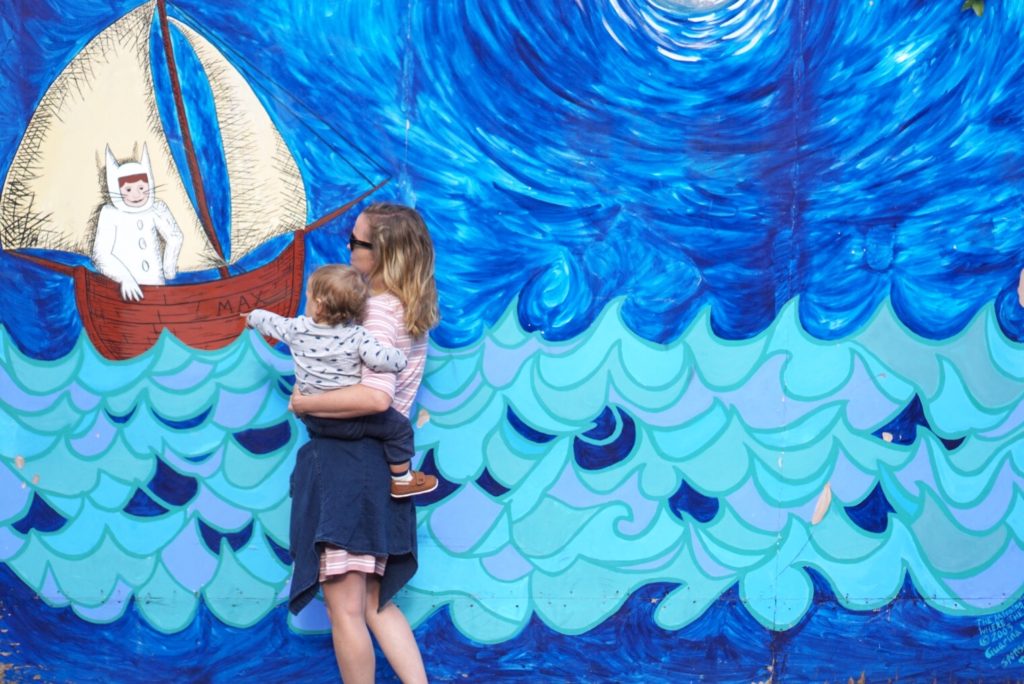 IS SAN FRANCISCO A GREAT PLACE TO VISIT WITH KIDS?
Absolutely! There is so much to do with kids of all ages. I would definitely like to go back there when Teddy is a little bit older. I think we would just do a long weekend next time, because I think 8 days was a little ambitious.
HAVE YOU EVER VISITED SAN FRANCISCO WITH YOUR KIDS?