This post may contain Amazon affiliate links. I received the Gabby Box backpack for free in exchange for my honest review. Read full disclosure here. 
Sending our son to daycare twice a week was one of the best decisions we've made for our family. He loves playing with other children and he learns so much. It also gives me a much needed break so I can get stuff done around the house and have some uninterrupted work time(I work from home part-time as a museum consultant).
Even though part-time daycare has made our lives much easier, it is still a lot of work to get things ready for daycare in the mornings. I hope my five tips will help you to make daycare life easier and more organized for you!
BACKPACK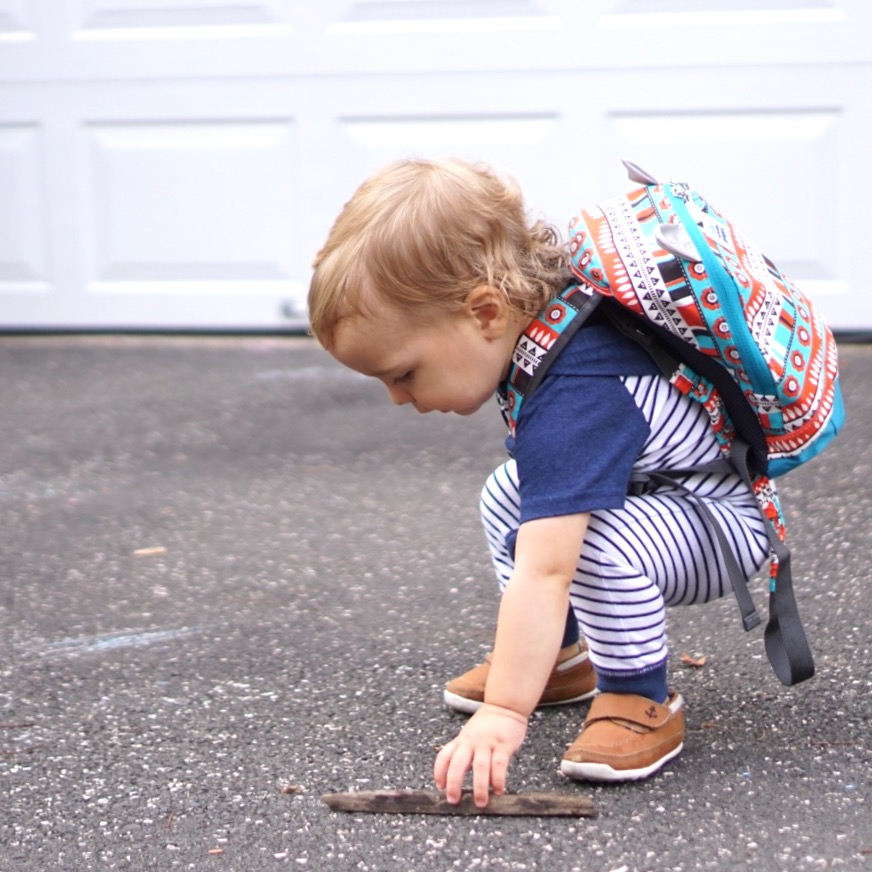 We started out daycare with a tote bag to transfer Teddy's supplies to and from daycare. Anything that needed to be brought home, the teacher would put inside the tote bag. It was a great system except I always ended up carrying a million things at pickup and drop off; the tote bag, Teddy, my car keys, his lunch box, the rogue shoe that fell off. As Teddy got a little bit older, I thought it was time he started carrying his own weight (literally and figuratively).
I thought getting Teddy a backpack would be a great idea to replace the tote bag. Not only would it free up my arms, it would give him some responsibility and help him prepare for preschool.  Every morning before daycare he "helps" me pack up his little backpack. Basically, I tell him what is going in the bag and let him drop a few things and let him try to zip it up.
We use this Scandipapa backpack from Gabby Box. It's got an awesome tribal pattern design in bright orange and turquoise and it has little tiny ears. Its the perfect size for Teddy and is just big enough to fit the essentials, a sweatshirt, a water bottle, a pacifier (yes, he is still using a pacifier...ugh). The best part about the Scandipapa backpack is that it has a safety harness and leash! That way when I really have my hand full with a new pack of diapers or nap mat Teddy can walk beside me to the car without me worrying about him getting run over in the parking lot!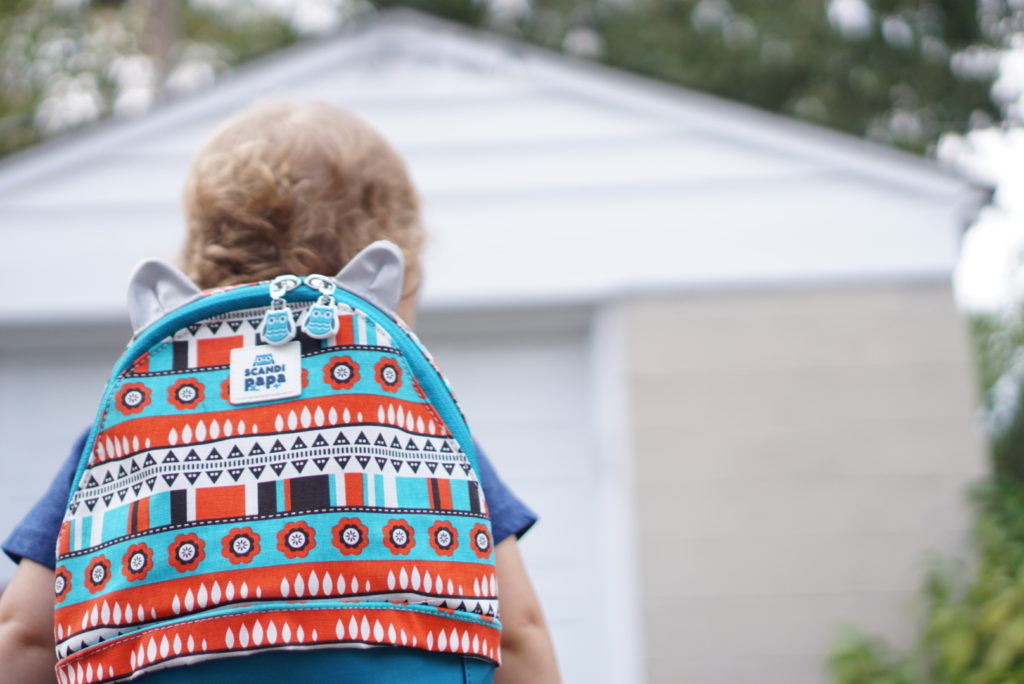 LABELS
It only took a few months of lost items and witnessing Teddy chew on mystery chew toys, drinking out of unknown bottles or coming home in someone else's bright green sweatpants to realize that I need to do a better job of labeling Teddy's things. The Sharpie rubbed off of his things or was not very easy to read.
I won some waterproof labels in an instagram giveaway from a company called NameBubble. I got some shark labels, donut labels, and write-on labels. They have done an awesome job sticking on everything from bowls, cups, bibs, sweatshirts, even after going through the wash! Now its easy for the daycare workers to know what is Teddy's.
LUNCH ORGANIZERS
Bowls and plates with dividers and lids make it easy for the daycare workers to separate breakfast and lunch. I use these Nuby Easy Go Section Bowls which are nice because they have a built in spoon attached. These Fit & Fresh Chilled Travel Bowls are also great because they have an attachable ice pack.
NAP MAT
For nap time a nap mat like this Olive Kids Nap Mat with its own carrying strap, attached blanket and a removable pillow will make your life a lot easier. Teddy sleeps really well on this mat. We also take it with us on vacations because its easier to travel with than the Pack N Play.
EXTRA CLOTHES
Extra clothing is super important to keep in the daycare cubbies for those emergency blow out situations. I hated having to leave good outfits at daycare, because it usually meant that Teddy never got to wear them.  I decided that instead of getting rid of all of those not-so-cute outfits with cartoons or cheesy sayings given by a well-meaning family member, I would use them as emergency daycare clothes!