I can't believe we just threw another first birthday party! It feels like just yesterday we were throwing Teddy's first birthday party and now Scottie is one and Teddy is almost three!
With Teddy's party we picked the PARTY ANIMAL FIRST BIRTHDAY theme because his nursery was a zoo theme and I wanted to reuse a lot of his decor. It worked out so well and saved us a ton of money so we did the same for Scottie. Scottie's nursery is a VINTAGE GARDEN THEME NURSERY with flowers and rabbits so at first I thought we would do Alice in Wonderland (garden tea party with white rabbits). I sent out Alice in Wonderland invitations and then we rewatched the movie for inspiration...I forgot how WEIRD that movie is! Teddy even thought it was scary, so like a crazy person, I changed the theme. Peter Rabbit seemed like a much better choice for a first birthday party and still had the flowers and the rabbits that I was looking for!
This post contains Amazon affiliated links for your convenience. All thoughts and opinions expressed are my own. See full disclosure here.
DECORATIONS
The Peter Rabbit theme worked out really well with the style of our restored farm house. We threw the party outside on our covered porch and our courtyard (the remaining stone walls of an 1800's horse barn). Instead of spending a lot of money on balloons and other decorations we spent most of the decorating budget (and our time) fixing up our gardens, and buying plants and flowers we could eventually plant in the ground.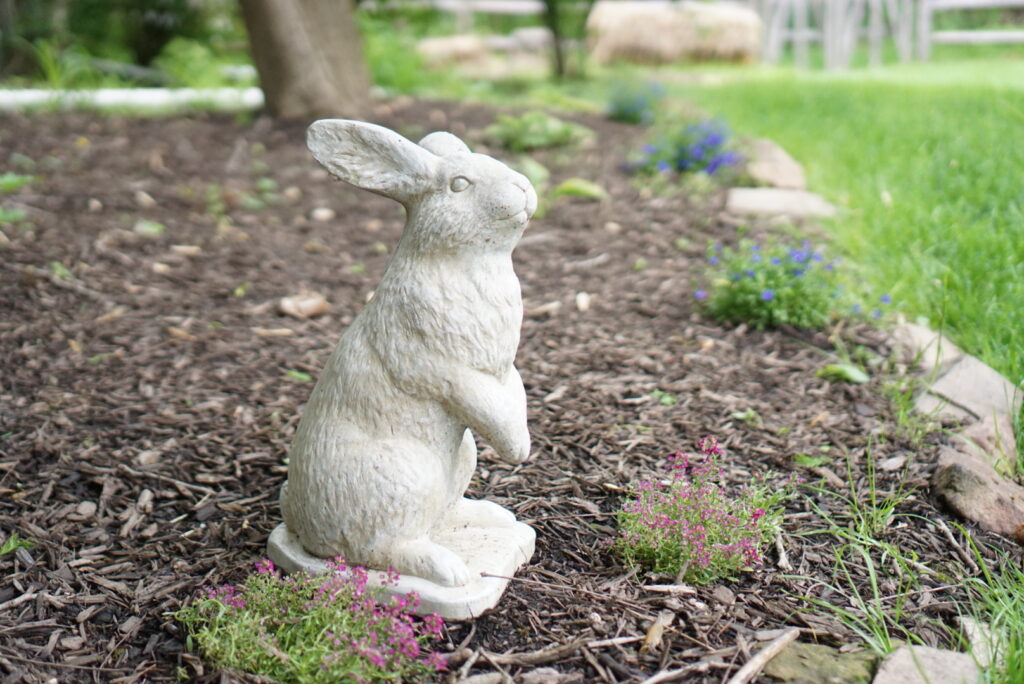 The great thing about an early May birthday was the Easter flowers were majorly discounted and so were a lot of rabbit things.  We decorated with the same light blue and purple colors from Scottie's nursery, greenery and florals, wood and galvanized metal. I rounded up all of the bushels, berry baskets, terra cotta pots, galvanized buckets and watering cans I could find (I had a lot of these around the house luckily so I didn't have to buy too much)
I did buy a new galvanized cake stand from Amazon and a tiered wood and metal stand from Target which I love and will definitely get a lot of use out of them. I found a few rabbit garden statues that I'll put out in the garden now that the party is over. I try not to buy party decorations that I'll never use again, but I did buy some cute Peter Rabbit paper napkins, plates and cups from Meri Meri.
MR. MCGREGOR'S GARDEN SIGN
The most time-consuming DIY project was the Mr. McGregor sign I painted. I wanted the wood to look weathered so I ripped apart an old wooden crate and nailed the pieces of wood (with a nail gun) to a piece of plywood. I painted "Welcome to Mr. Mcgregor's Garden" with white acrylic paint. The weathered wood made it difficult to paint smoothly so I smoothed out the outline of the letters with some chalk pencils. If I had to do this project again I would probably use my Cricut Air 2 to cut out white vinyl letters instead of hand-painting.
PETER RABBIT'S BLUE JACKET
What Peter Rabbit party would be complete without Peter's jacket hanging in the garden? I used two big sticks from our yard and tied them together with rope. For the little blue jacket I used Teddy's jean jacket from Baby Gap.
GARDEN STAKE FOOD LABELS
One of my favorite DIYs from the party were these cute garden stakes for food labels. This was a really easy and affordable DIY using wooden tongue depressors and alphabet stamps in black ink. If the food didn't have something to stick the stake into I used a little terracotta pot to hold it. I also used the same garden stakes in the party favors and we also made some for our actual veggie garden!
HIGH CHAIR FLORAL BANNER
Instead of a birthday banner to decorate Scottie's high chair I wanted it to go along with the garden theme. I was picturing something similar to Scottie's nursery mobile. I used a grapevine wreath and made a cut through it with branch clippers and then stretched it across the front of the high chair. It actually stayed there in place pretty well, but if for some reason it doesn't I think a command hook on the underside of the high chair would hold it in place.
Then I stuck some faux greenery and flowers into the grapevine wreath. I used galvanized letters  that were on sale at A.C. Moore, but wooden letters would have looked really cool too.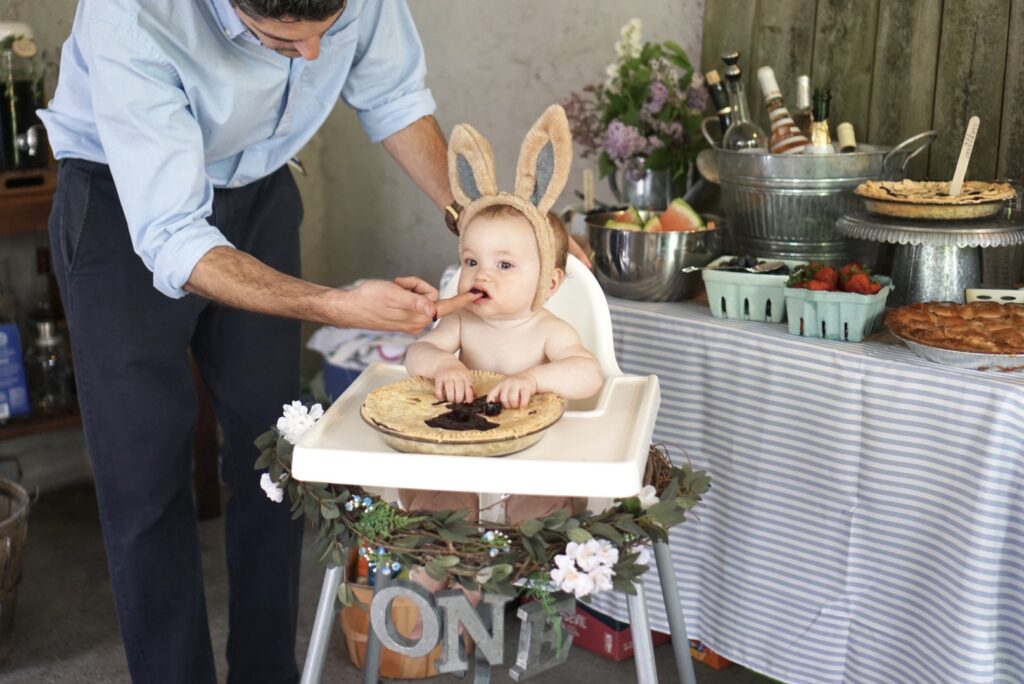 I saw so many intricate Peter Rabbit cakes on Pinterest with cute little fondant rabbits and marzipan veggies but because I'm too cheap to buy a cake and didn't feel like attempting a hilarious Pinterest fail, I decided to go a different route. Scottie really loves blueberries so I thought it would be really cute to bake her a blueberry pie for a smash pie instead of a smash cake. Pies worked perfectly for the Peter Rabbit theme but the problem was I had never actually baked a pie before.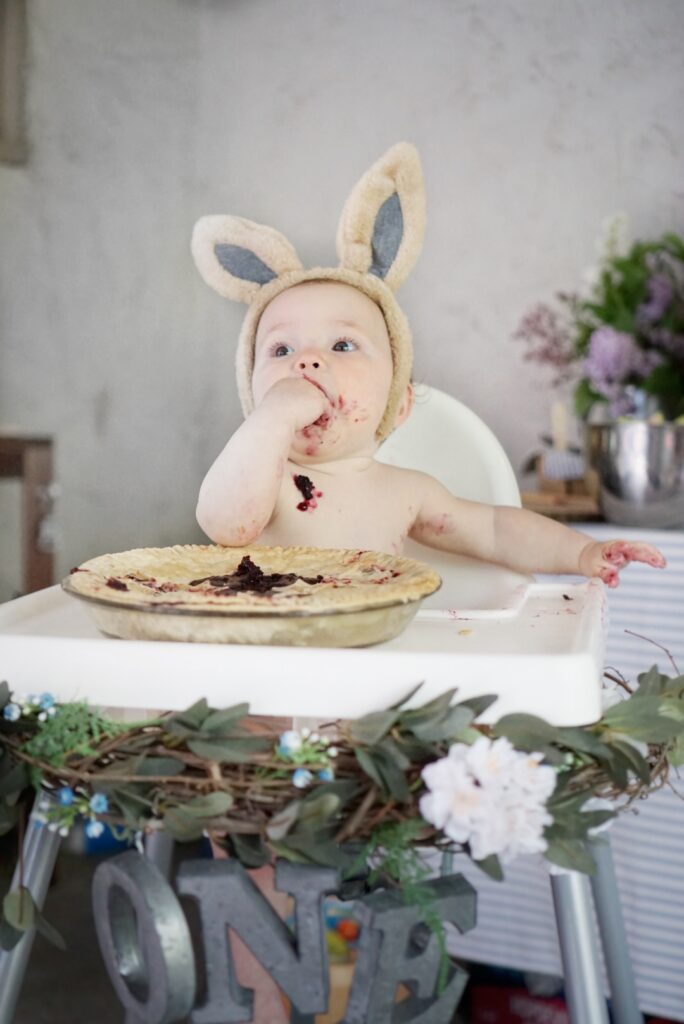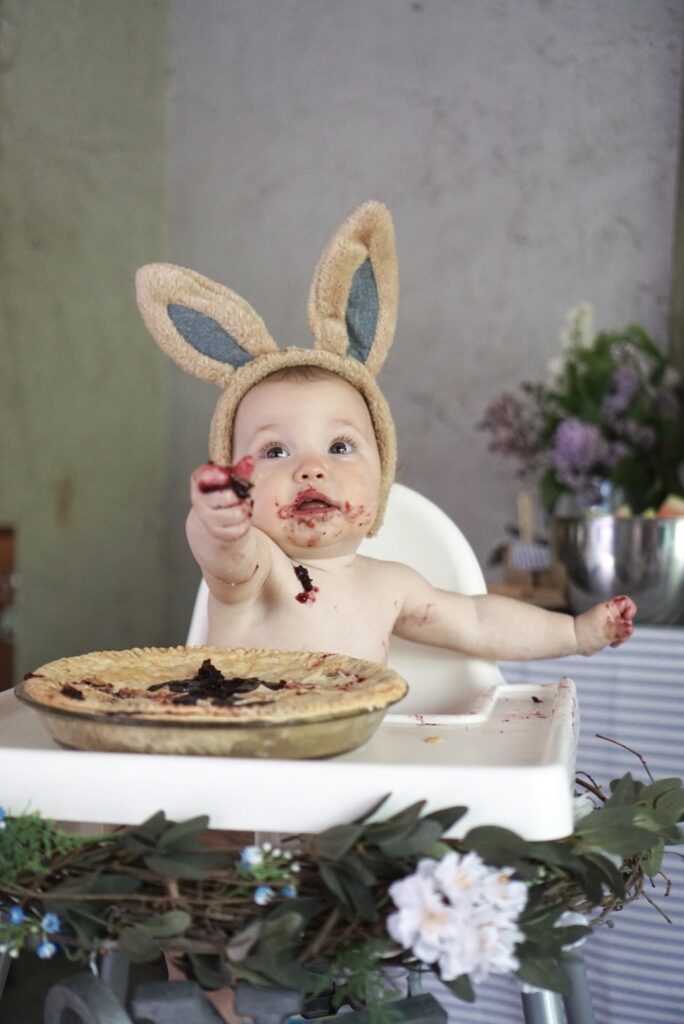 I bought all the ingredients to bake the perfect blueberry pie from scratch and then I stared at them for a few hours hoping maybe I could just will them to become a pie. Then I pushed them to the side and ran back out to the store for some pre-made pie dough. I made the crust look fancy with some rabbit and flower cookie cutters and filled them with my (half) homemade blueberry filling and they were delicious.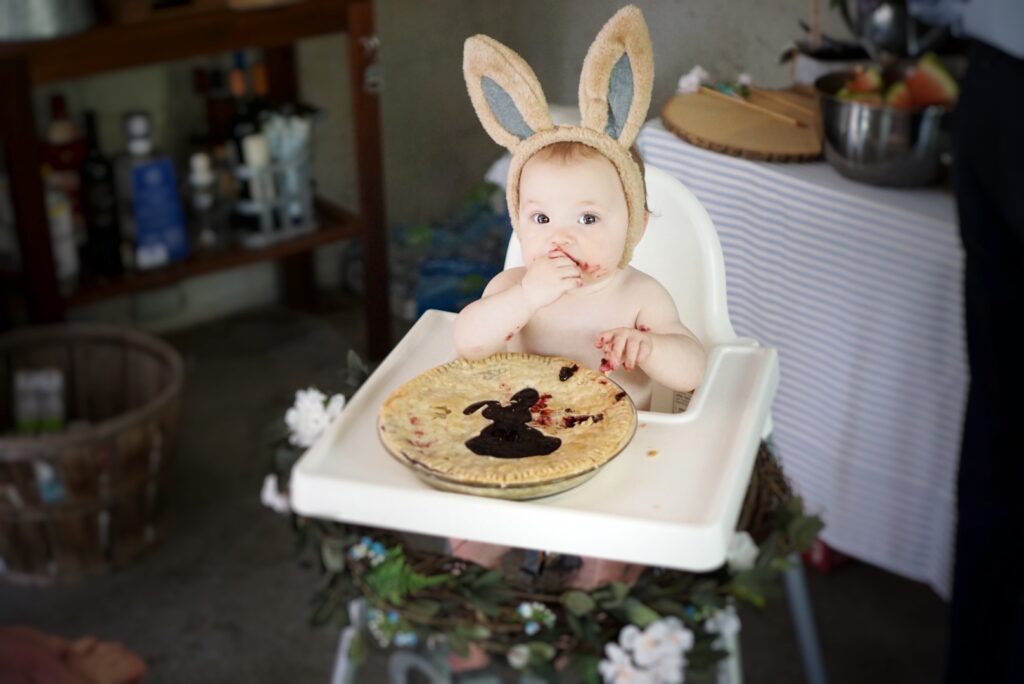 The pie smash ended up being a great idea and gave the same cute messy photo op you get from a cake smash. She took a quick little bath before returning to her guests!
THE CAKE TOPPER
I really like banner cake toppers like we had for our wedding cake topper and Teddy's birthday cake and I thought the added height would make the pie a little more interesting. I wanted it to say happy birthday, but the little wooden letters I bought were too heavy so I just used the two dowels with some leaf ribbon and some artificial flowers glued to the top of each dowel.
THE BRUNCH MENU
We picked an 11am party start time, so we could do a brunch menu. Great idea in theory, but I hadn't considered the fact that I'd only have 4 hours to cook, set-up and get myself ready...
ENTREES, SIDES + APPETIZERS
Chicken Salad on Rolls
Tuna Salad on Croissants
Deviled Eggs
Bacon Wrapped Piggies
Garden Salad
Mac and Cheese
Giant Cheeseboard
Garden Veggie Tray with Ranch Dip
DESSERTS
Blueberry Pie
Apple Pie
Carrot Cake
Cookie Tray
Fresh Berries and Whipped Cream
Watermelon
KID SNACKS
Peter Rabbit Organics pouches
Annies Cheddar Bunny Tails
Sun-dried Raisins
BEVERAGES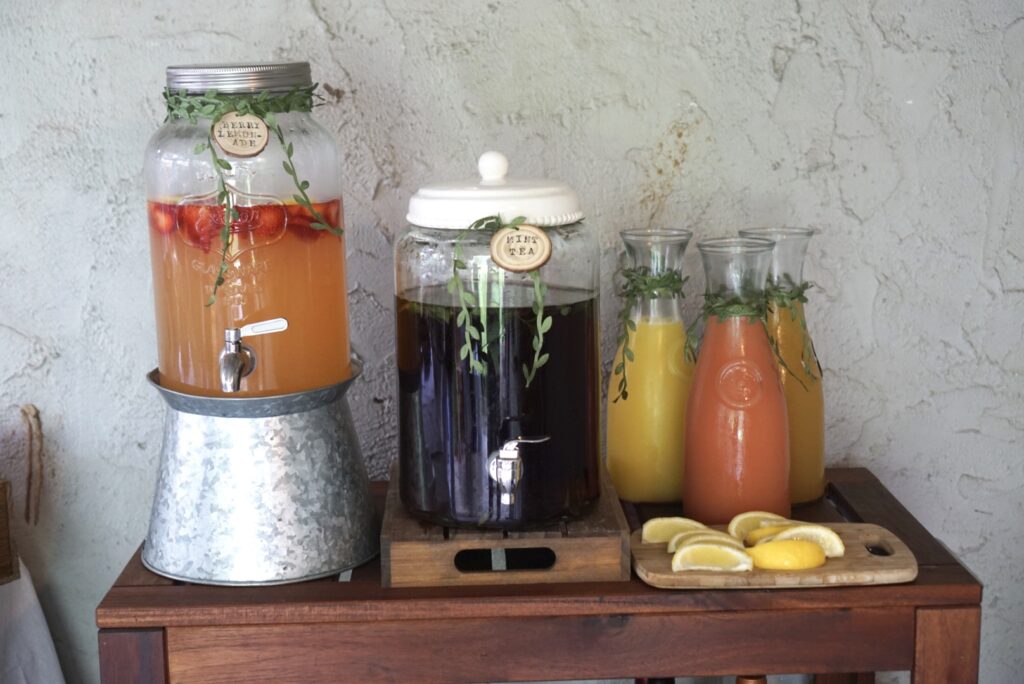 Strawberry Lemonade
Garden Mint Sun Tea
Mimosa Bar: Orange Juice, Peach Juice, Grapefruit Juice + Champagne
Water, Juice Boxes, Sodas, Beer, Wine, Liquor
ACTIVITIES
Do you really need activities for a one-year old's birthday party? Probably not, but I knew their were a lot of older kids coming to the party so I wanted to have a few fun things for them to do. We spent most of our time sprucing up the swingset and playground area which we've been meaning to do anyway. We mulched around the swingset and sandbox and added a few tree stumps for the kids to climb on, a potted lavender plant and some tiki torches to keep the bugs away.
PETER RABBIT CHALK COLORING BOARD
I wanted to do some Peter Rabbit coloring pages for the kids, but with it being an outside party I didn't want the paper to blow away. Since Chalkboard art is kinda my thing now, why not do a big chalk drawing for the kids to color with chalk? I used one of the big chalkboards from my MONTHLY CHALKBOARD BABY PHOTOS and I used a white chalk marker to draw an outline of a scene from the Peter Rabbit book. I put some colored chalk and a chalkboard eraser in a terra cotta pot. The kids could color the board and erase their chalk without erasing the chalk marker design.
RABBITS + VEGGIES SOFT PLAY AREA
This soft play area was wishful thinking on my part. I wanted to have a place where Scottie and any other babies could crawl around without parents having to worry about them getting dirty or eating grass. I laid some foam tiles down inside of an enclosed pen and tried to make it cute with a vintage quilt and some stuffed bunnies and plush fruits and veggies from IKEA. I don't think anyone babies actually used it. Scottie was being a stage 5 clinger so she didn't want to get down and play in it either.
PETER RABBIT THEMED PARTY FAVORS
I might have gone a little overboard with party favors because I had so many different ideas. The party was mostly adults so I wanted something for them, but also wanted something that older kids would like and something for any of Scottie's baby friends.
MINI HERB POTS
For the adults at the party I made little pots of herbs; mint and oregano. Mint and oregano grow like weeds in our garden, but they really are a useful herb to have. I used our garden mint to make the mint tea for the party and it makes a mean mojito, the oregano is great in all kinds of dishes.
I dug out a few of the smaller herbs and planted them in little terra cotta pots. I used the same garden stake DIY that I used for the food labels to label the mint and oregano.
PLAYDOUGH CARROTS + MINI PETER RABBIT BOOKS
For our little guests, I bought a set of mini Peter Rabbit books and we made some play dough. To fit the Peter Rabbit/Mr. McGregor's garden theme we made the play dough look like little carrots. Instead of putting the orange play dough in jars we put it into cake decorating bags. Then I tied the bags with some of the leaf ribbon to look like the tops of the carrots and put them in a produce basket (Definitely should have labeled them since one of our friends thought that it was orange frosting lol).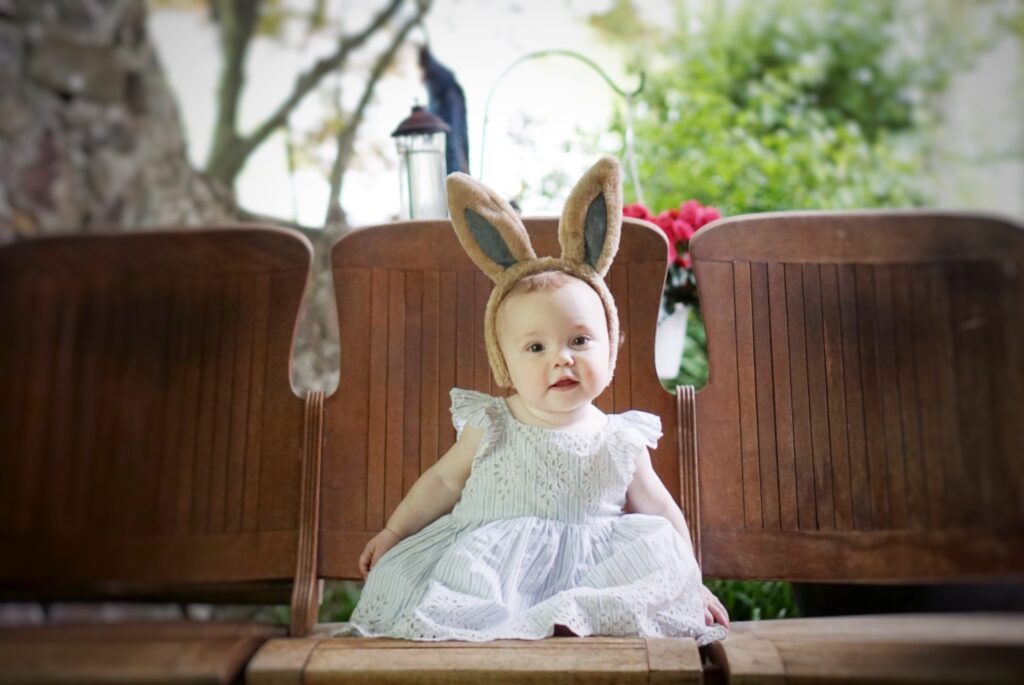 WHAT DO YOU THINK OF OUR PETER RABBIT PARTY?
Let us know what you think in the comments below. If you try some of our party DIYs, tag your photos with #ureadyteddy and we'll share our favorites in our stories!