Teddy was a pretty decent sleeper until the switch from his crib to his toddler bed. Once he had the ability to get out of the bed on his own he would wake up, crawl out of bed and bang on his door screaming until we went to get him. Then we moved to a new house where the doors don't shut all the way so he just pushes the door open and comes into our room and climbs in bed with us. Don't get me wrong, I love snuggling with him, but his version of snuggling involves a whole lot of ear clawing, hair pulling and sharp little toenails digging into our sides. We had to do something to get him back in the habit of sleeping in his own room, but crying out is a whole other story when you have a baby in the next room that you do not want to wake up.
I received the MELLA and KELVIN free in exchange for my honest review and social shares. I only write about products I love and all thoughts and opinions expressed are my own. For more information see Legal.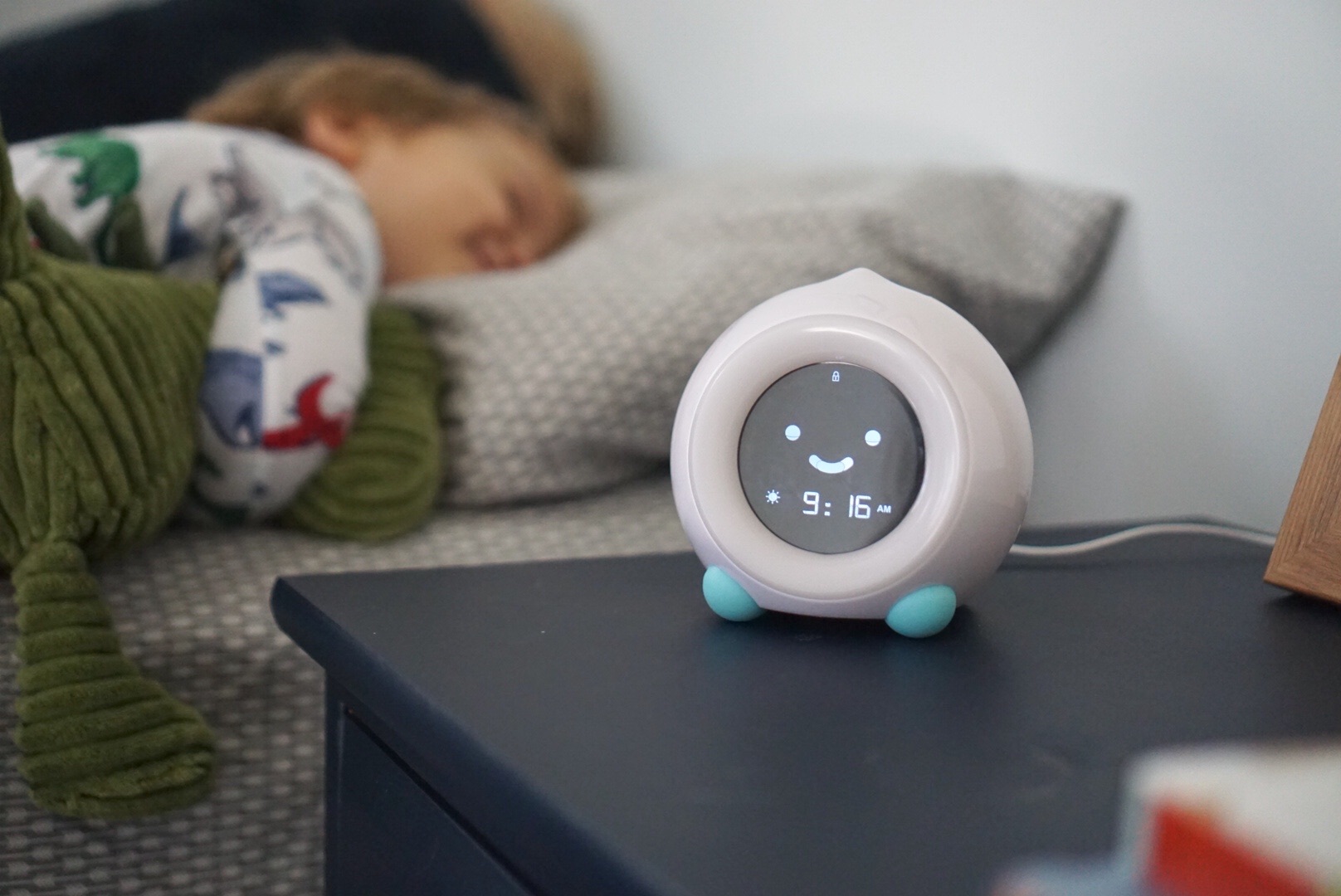 MELLA: MODERN KID'S SLEEP TRAINER CLOCK
I found the MELLA all-in-one Ready to Rise™ children's clock and sleep trainer on a facebook ad. I don't normally click facebook ads, but it claimed to "keep your kid in bed longer" for "parents who miss sleeping in."
Me! That's me! I miss sleeping in. Boy, do I miss sleeping in. Sleeping in is my favorite thing. So I clicked on the ad just out of curiosity.
I learned that MELLA is a cute little clock that helps kids understand when it is appropriate to wake up using color lights and the clock's "facial" expressions.
The website said the sleep trainer function is best used with children starting around age 2 when they can understand their colors, which was perfect timing for Teddy. If it didn't work well at least he'd have a cute alarm clock, timer, nightlight and sound machine. I decided to give it a shot!
BUY NOW on AMAZON
or www.littlehippo.com
DETAILS
The MELLA all-in-one Ready to Rise™ children's clock and sleep trainer comes with one MELLA clock, a 4 feet cable, an A/C wall adapter and an instruction manual.
They product is made with child-safe materials that have passed numerous testing to ensure compliance with consumer product standards. They are FCC, CE, RoHS, CA65, REACH and CPSIA compliant (No idea what that means but it sounds pretty good).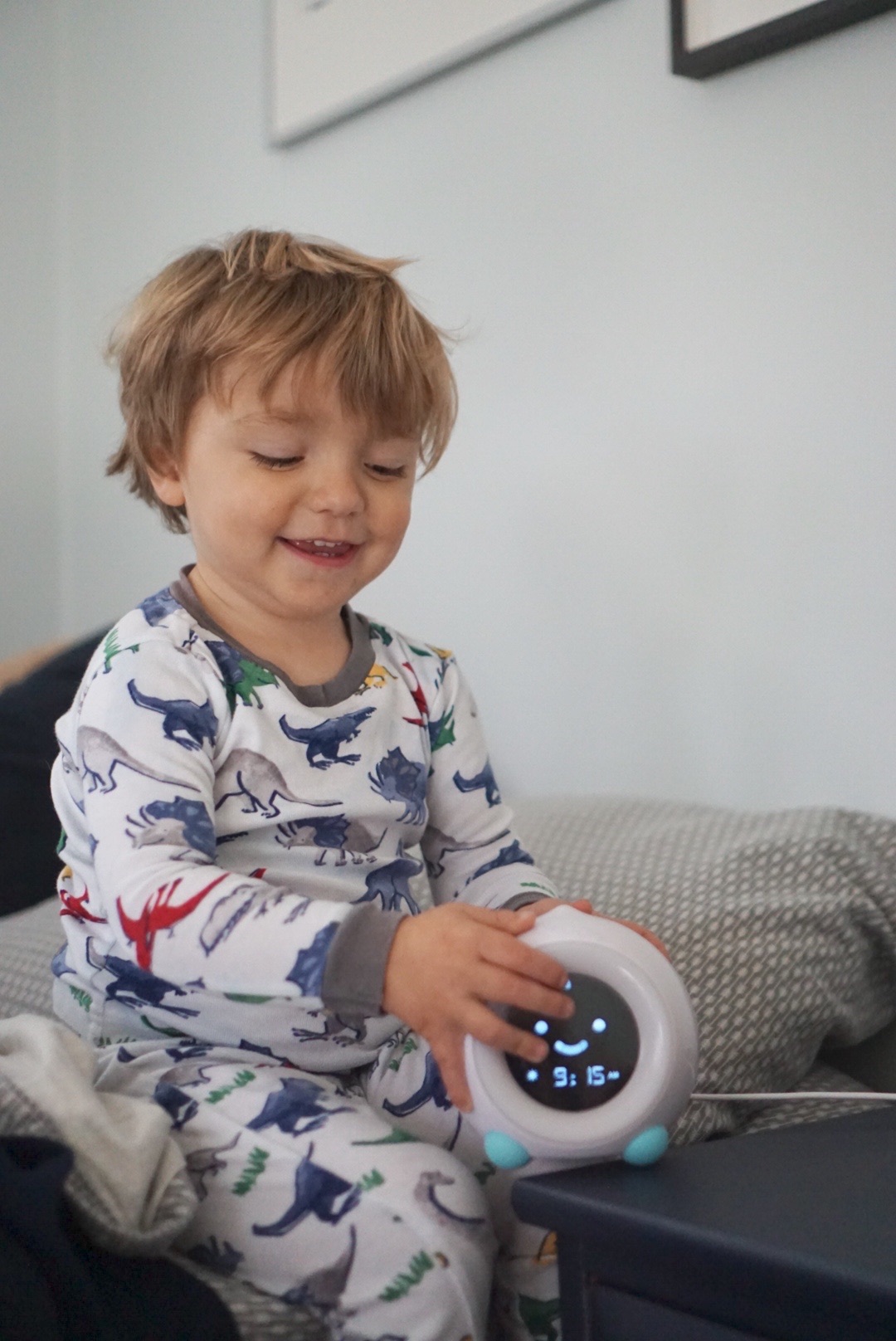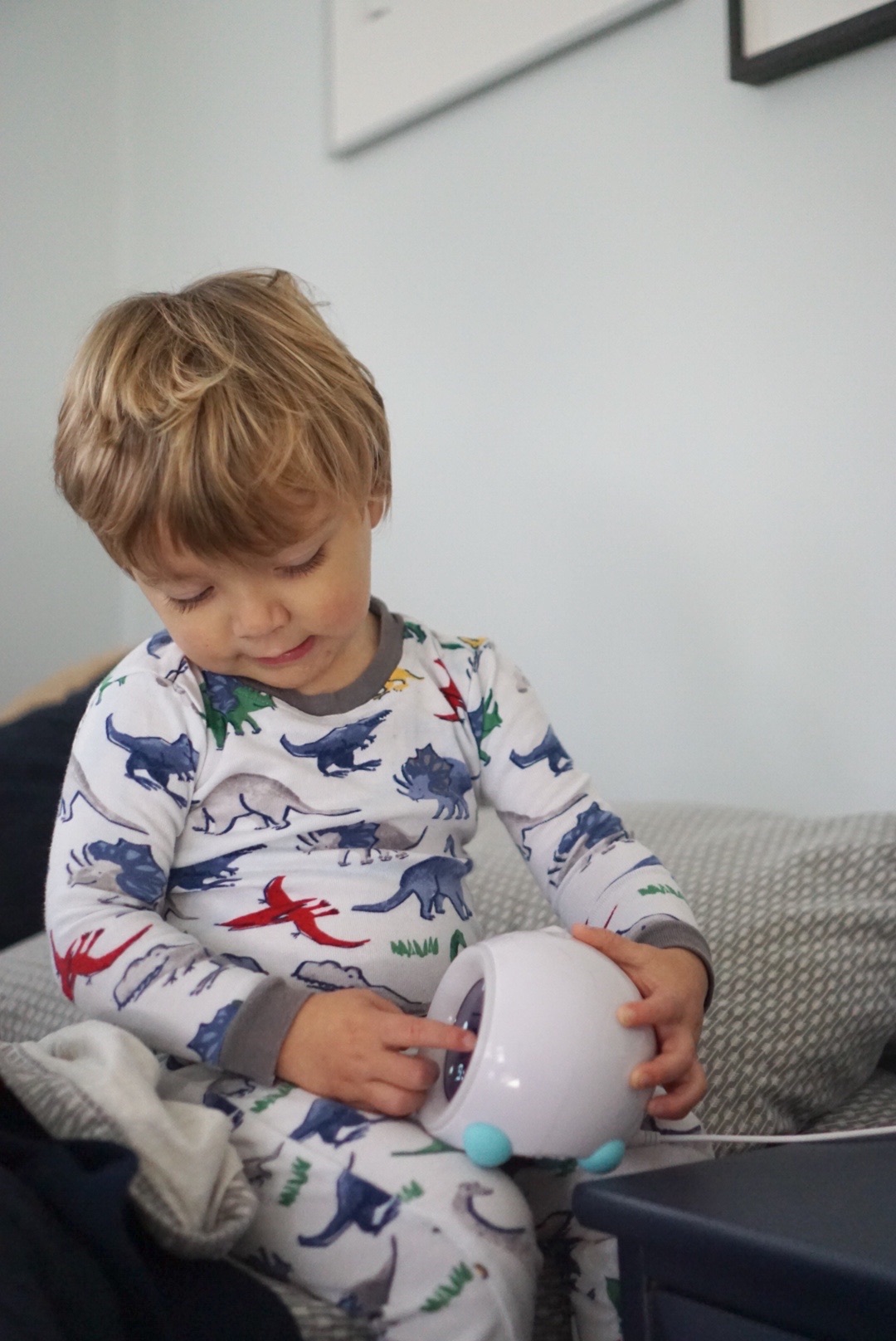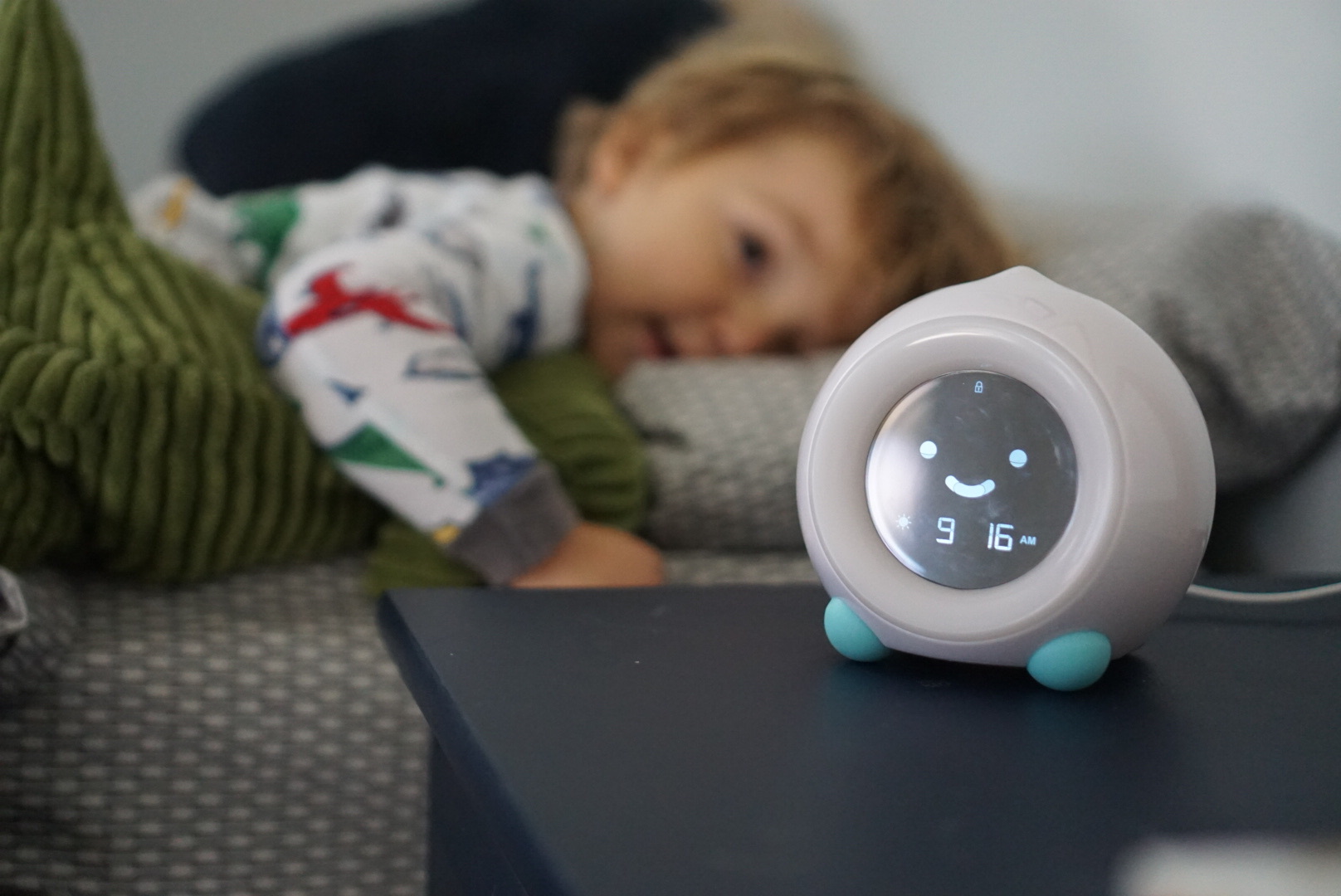 OUR SLEEP-TRAINING EXPERIENCE
We've been trying out the Mella for a few weeks now and we've been very pleased with the results.
We set the clock with our desired sleep/wake times. We had the Mella go to sleep (it actually closes its eyes) at 8:00pm. At 6:00am we set the Mella to turn yellow which means Teddy is allowed to start waking up, he can play or read quietly, but he can not leave his room until the light turns green at 6:30am. Eventually we'd like to push back those times because I still don't want to wake up at 6:30am, but baby steps.
First of all, Teddy was VERY excited to get his very own "robot." We plugged it in next to his bed where he could see it when lying down, and we explained to Teddy what the different colors meant, quizzed him on it and he nodded and said he'd see us "when the robot turn green."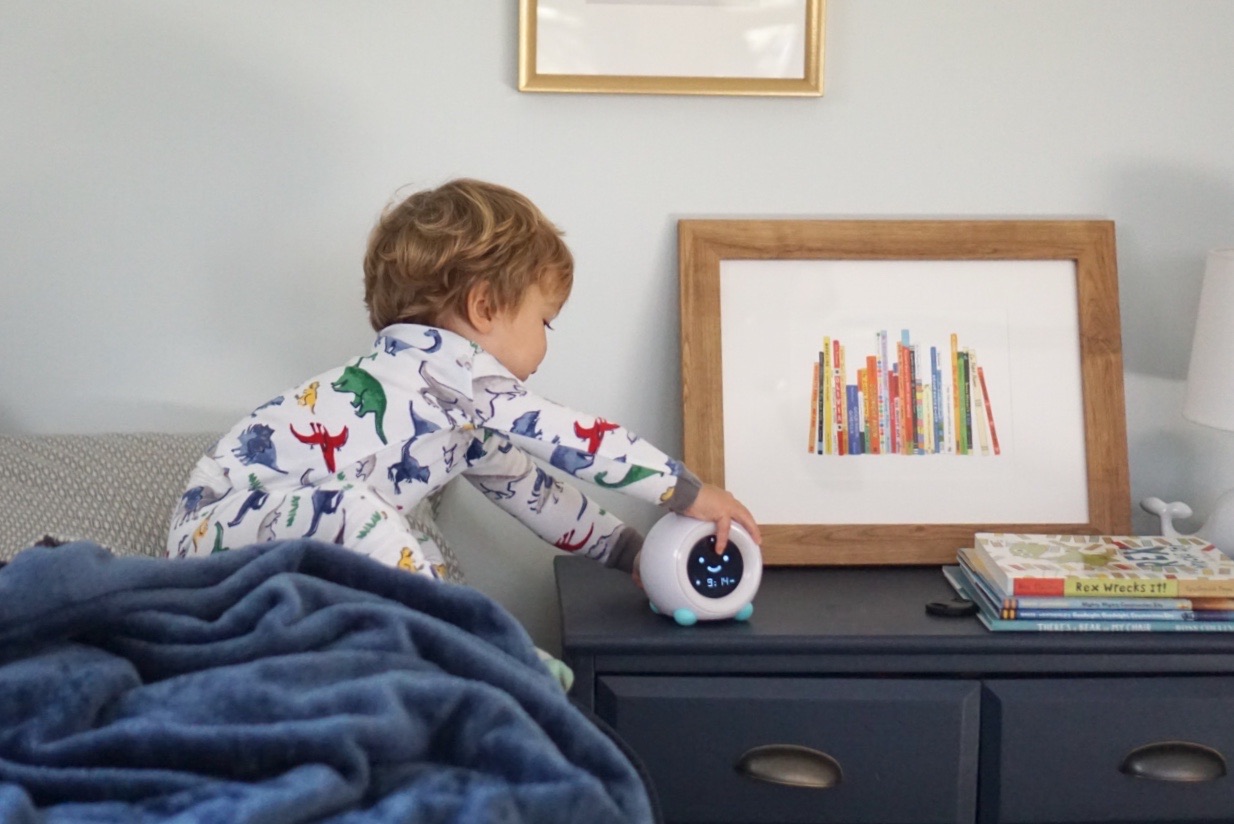 NIGHT #1
Teddy came into our room at midnight to tell us his robot is still sleeping. We sent him back to bed. He woke up at 6am to tell us that the robot was yellow and he was supposed to stay in bed. We walked him back to his room and stayed there with him until it turned green. Not quite understanding the whole thing yet.
NIGHT #2
Teddy slept until 5:00am and came into our room. We asked him if his robot was green and he said "No it not green" so we walked him back to bed and he excitedly sat up at 6am to tell me the light was yellow and that he could read a book. He read a book quietly until the light turned green.
NIGHT #3
Teddy slept until 6:30am and ran into our room to tell us "ROBOT WOKE UP!"
We checked the monitor and saw that he first say up around 6:00am, looked at his Mella and then went back to sleep. Yessss!
NIGHT #4
Halloween. He was exhausted, a sugar crash or the Mella? Either way he slept until the light turned green.
NIGHT #5
We got an Emergency Alert on our phones telling us to seek shelter from a tornado, so we woke both kids up at midnight to head down to the basement. He slept until 6:30. "Robot turn green!"
NIGHT #6
We had a funeral today so Teddy went without a nap and was exhausted. He went to sleep around 6pm and slept until around 6:30am. "Robot turn green, come on! I show you!"
NIGHT #7
I took Teddy and Scottie to my parents's house for the night so no robot. No sleep.
NIGHT #8
Teddy was up every few hours coughing and had a fever. He woke up at 5:30am, which was technically 6:30am because of Daylight Savings Time and we forgot to re-program his Mella. OOPS.
NIGHT #9
Teddy was still pretty sick. His fever got up to 104 and he fell asleep like a rock.
NIGHT #10
Teddy was still not feeling well, he came into our bed around 5:30 and we were too tired to take him back to his room.
NIGHT #11
Finally starting to feel better. Woke up crying around midnight but he didn't get out of his bed which was an improvement. Then he slept until after his robot woke up.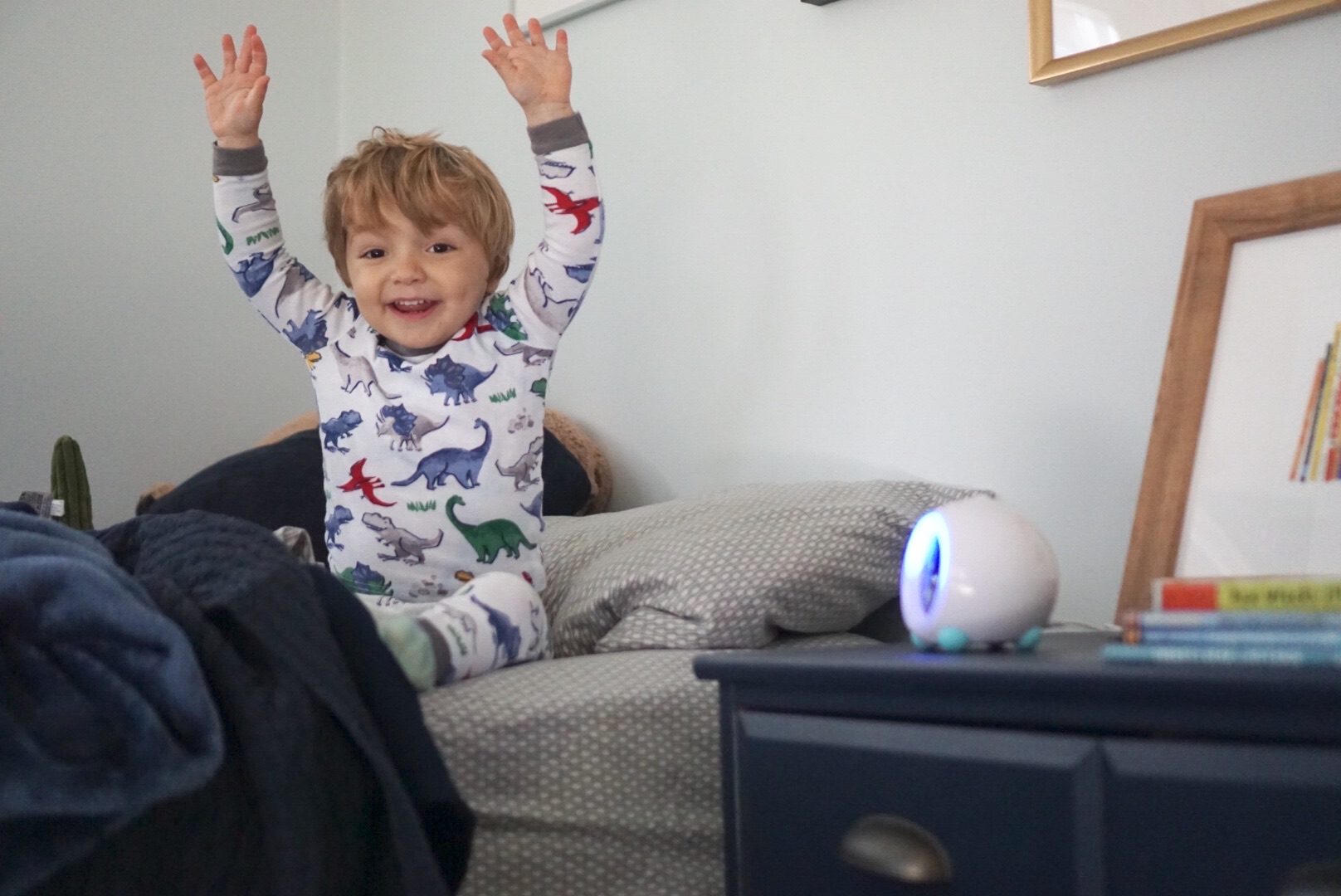 PROS
Versatile. I hate buying things that are only useful for a short amount of time, so I love that when he outgrows the sleep timer feature he can still keep on using it.
It looks super cute in his room.
Teddy is excited about it!
Helpful visual reminder to help toddlers understand time.
There is a great lock feature that stops toddlers from setting alarms at odd hours or changing the time.
Lots of colored night lights to choose from.
I think the price $49.99 is reasonable, although there are cheaper products that are similar, in my opinion the Mella has better features and is way cuter.
CONS
The ambient light is a little bright.
I wish there were more sound machine options.
I wish it was somehow combined with the Kelvin to also show temperature.
I wish kids could push the button on the top to check when they wake up.  It would be awesome if Mella could actually talk to say "Time to wake up!" "Go back to sleep!" "Stay in your room a little longer"
WHAT METHODS HAVE YOU TRIED TO SLEEP TRAIN YOUR TODDLER?
WHAT DO YOU THINK OF THE MELLA?