Books make the perfect gift for children of all ages, but with so many picture books out there how do you choose the perfect book to gift?
When buying books for babies and toddlers that are too young to display real interests in different subjects you want to buy books that are educational, visually stimulating and look great on their shelves.
This list of modern and stylish board books are sure to please any baby or toddler (and their caregivers!)
This post contains affiliate links for your convenience. I received My Favorite Color, Paper Peek Animals and This is a Book of Shapes free for review purposes, however I only write about products I love and all thoughts and opinions expressed are my own. For more information see Legal.

From the New York Times Best-Selling illustrator that brought us The Bad Seed and The Good Egg, Hike is a (mostly) wordless picture book about a father and son that go for a hike in the woods. The gorgeous illustrations capture the beauty of nature as we join them on their adventure. The pair climbs to the top of a mountain where they continue the family tradition of planting a tree.

New York Times best-selling author, Aaron Becker brings us My Favorite Color. A book that blends design, literacy and science into one very visually pleasing board book. The translucent windows throughout the book blend and change the colors as you turn the page. With so many beautiful color combinations how could you pick just one favorite color?

This fun and colorful alphabet book written by Jonathon Emmett and illustrated by Ingela P. Arrhenius is sure to be a toddler favorite! The fold-out lift-the-flap pages each feature a 2-story building along the street. The author uses each letter of the alphabet in creative ways. The illustrations are colorful and modern and my kids love folding the pages out at the end to show the entire street.
PIN FOR LATER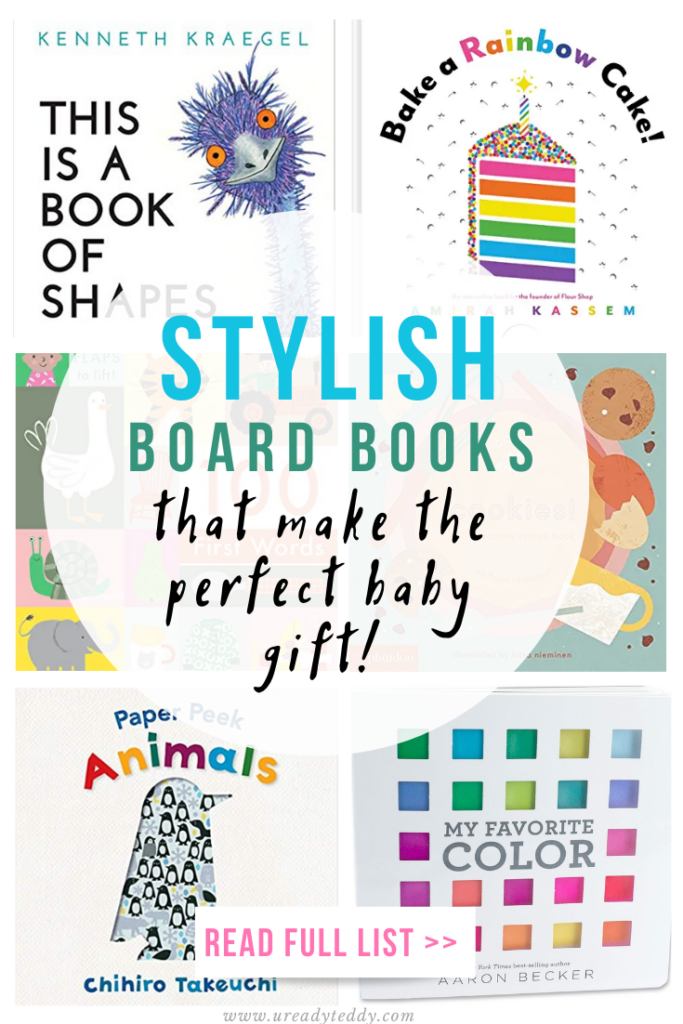 WHAT ARE YOUR FAVORITE GIFTABLE BOARD BOOKS?
Let us know your favorite picture books to gift in the comments. If you check out any of our recommendations be sure to tag your photos of your little ones reading with @ureadyteddy and we'll share our favorites in our stories!