Calling all parents and caregivers of kids age 2-7...
are you wondering what to do with your kids this winter now that the weather is colder? Traditional holiday activities canceled? Working from home while the kids are home from school? Just looking for some fun ideas to entertain kids on evenings and weekends? You have come to the right place my friend and you are definitely not alone!
I have created a FREE Home for the Holidays educational resource packet that includes 25+ holiday themed crafts and activities! I'm giving you 34 pages of themed arts, crafts and activity ideas and free printables. These activities include sensory play activities, STEM activities, fine motor/pre-writing activities, process art projects, kids' craft projects, tinker trays/play dough trays and dramatic play setups!
This resource packet is meant to be flexible. Do one project or do all 25! Don't have some of the materials? Swap them out with some of the suggested substitutions or pick a different project. The packet comes with a weekly planner so parents and caregivers can create their own flexible schedule to fit the specific needs of their child(ren). Many of the projects use common household items, recyclables or things from nature although it is helpful to have a few basic art supplies on hand!
Also did I mention this packet is FREE!? NO strings attached. NO registration required. Why? Because 2020 has been really really hard and I wanted to do something to make things a little bit easier for everyone...and I am a curriculum nerd and like to do things like this for fun. I hope you enjoy these activities and if you do decide to join our camp please follow along over on instagram to see more detailed instructions, videos, additional activities and let me know how your ureadykidscamp experience is going!
This post contains affiliate links for your convenience. I make a small commission on items purchased through these links at no additional cost to you. All thoughts and opinions are my own. For full disclosure see Legal.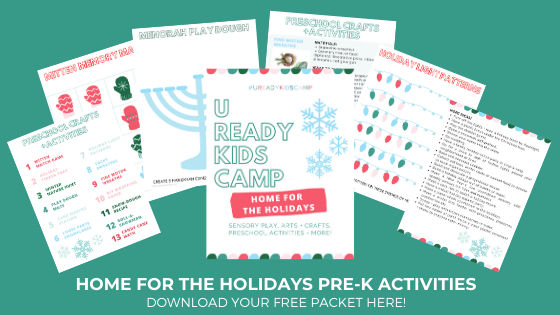 [CLICK THE IMAGE ABOVE TO DOWNLOAD YOUR FREE HOLIDAY PRE-K ACTIVITY PACKET!]
WHAT'S INSIDE THE PACKET?
FREE PRINTABLES
This packet features 14 FREE printables that include a winter nature scavenger hunt, 5 holiday play dough mats, 3 holiday push pin art sheets a mitten-themed memory game and some math/language worksheets.

SENSORY PLAY ACTIVITY IDEAS
I'm also sharing several fun sensory play ideas including a frozen pond sensory tray, snow dough recipe, snowy sensory bin, hot cocoa potions and holiday scissor practice (AKA reindeer salad!). All of these sensory play activities also have great STEM connections!
PROCESS ART + CRAFTS
You'll find several process art projects like an ornament print using muffin tins, winter tree watercolor resist, holiday push pin art, DIY stamped wrapping paper, a cardmaking station, wreath making station and a recycled snow globe craft.
LOOSE PARTS PLAY IDEAS
If you've been following my blog you know I love a good TINKER TRAY, so of course our holiday preschool activity packet would include a tinker tray and some loose parts activities. Some of my favorites include the jingle bell magnet play, tacky sweater decorating, Christmas tree play dough puzzle and loose parts snowflakes.
+ MORE!
Besides our 25 holiday crafts and activities you'll also find a list of simple no-prep family activities you can do this winter break.
DID YOU TRY SOME OF OUR HOLIDAY ACTIVITIES?
Let us know how its going in the comment section or show us photos of your camp activities in action by sharing your photos on Facebook or instagram and tagging @ureadyteddy or #ureadyteddy
We'll share our favorites in our stories!