My click-bait title worked! You are here, reading this post which must mean you love children's books, pretty things and the 'gram. Same!
Now don't get me wrong, I'm not always advocating for people to judge a book by its cover...but when I saw this cute cover (and the fact that it was by one of my favorite children's book authors) I knew this was going to be a good one. Then I took off the book jacket and somehow this book got even prettier. Like, so pretty that I immediately put it on the book shelf because it needed to be displayed.
Ok, ok enough already, I'll tell you what it is.
This post contains affiliated links for your convenience. I received Just Because free for review purposes, however I only write about products I love and all thoughts and opinions expressed are my own. For more information see Legal.
JUST BECAUSE
Just Because written by Mac Barnett and illustrated by Isabel Arsenault is a beautiful children's book that encourages creativity and imagination. A little girl is getting ready for bed but she has some questions first. I think many parents can relate to the story in Just Because. You are trying your best to get your kid to go to sleep, but suddenly they have a burning desire to know "Why is the sky blue?" In Just Because a little girl is getting ready for bed but her mind is racing with questions!
I don't know about you, but when you have work to do and dishes waiting in the sink (and a show on Netflix that you've been waiting all day to watch) it can be easy to give the quick answer and say "just because" now go to bed! Instead Mac Barnett indulges the little girl's curiosity with silly fantastical explanations.
My three-year-old looked at me skeptically after each answer and would giggle and say "nooo, that's silly!"  Of course, then he wanted to know the real answers so we decided that when he woke up we could look up the real answers together, although the made-up answers were more entertaining!
MORE INSTAGRAMMABLE BOOKS
If you liked Just Because you might want some of these other cute books sitting on your 'gram-worthy kid bookshelves. Here are some of the prettiest and most stylish children's book out there (in my opinion and in no particular order). The covers and the rest of the stories are beautifully illustrated by talented modern designers and illustrators and not only are they easy on the eyes but they are interesting to read!
SMART ABOUT SHARKS by Owen Davey
AQUARIUM by Cynthia Alonso
A RIVER by Marc Martin
PIN FOR LATER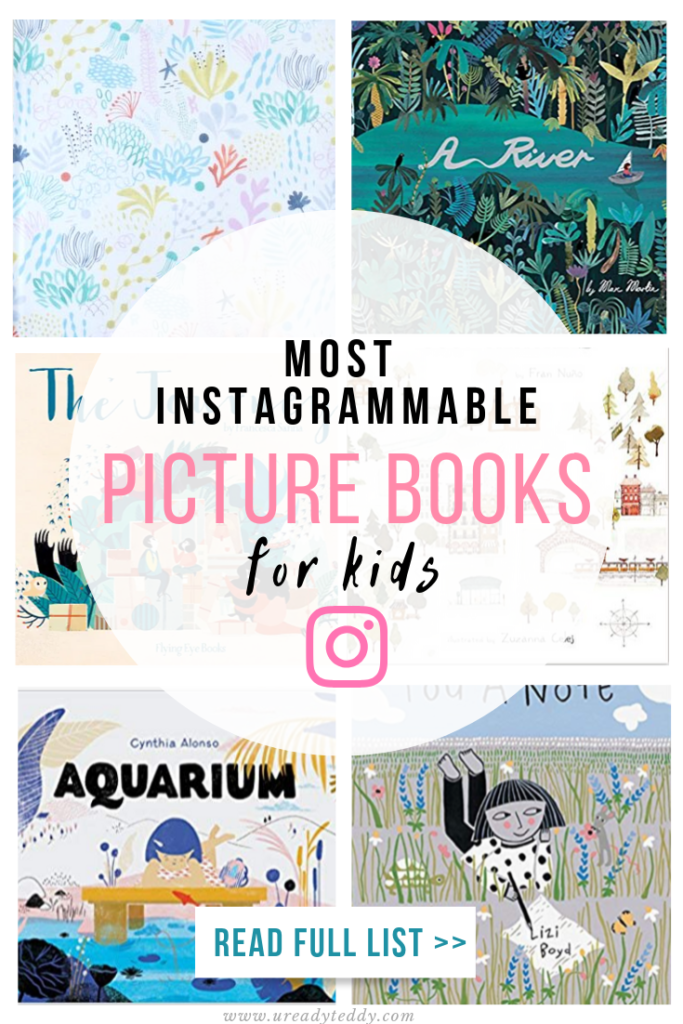 WHICH PICTURE BOOK IS THE MOST INSTAGRAMMABLE?
Let us know what you think is your prettiest picture book in the comments. If you check out any of our recommendations be sure to tag your photos of your little ones reading or your IG-worthy books displayed in your shelfie pictures with @ureadyteddy and we'll share our favorites in our stories!