I received comped tickets to the Bay Area Discovery Museum in exchange for my honest review. See full disclosure here.
The Bay Area Discovery Museum is a short drive from San Francisco right over the Golden Gate Bridge. If you are visiting San Francisco with kids it is must-see attraction! It worked out great combining our visit to Muir Woods and the bridge.
The building looked like more like a bunch of farm buildings set against a beautiful backdrop of mountains on one side and an amazing view of the Golden Gate Bridge on the other side. There are seven exhibition spaces and six or more daily drop-in programs.
The Bay Area Discovery Museum programs and exhibitions are research-based with inquiry-driven STEAM activities. The activities and exhibits were open-ended and did not dictate how students were "supposed" to play.  I really appreciated the BADM's mission to promote creativity and help children to develop conceptual thinking skills. I agree with their approach to education and I wish more museums and schools were like this.
SATERLEE WAY
We started out in the outside area of the museum called Saterlee Way. There were hula hoops, chalk and musical instruments. Teddy could have stayed there and played for the entire day. I need to go out and buy some hula hoops now, because who knew they could be so entertaining!?
 


IMAGINATION PLAYGROUND
Teddy was really excited to find these imagination playground blocks, because they are his favorite part of the PLEASE TOUCH MUSEUM we have at home.


DANIEL TIGER'S NEIGHBORHOOD EXHIBIT
We visited Daniel Tiger's Neighborhood: A Grr-iffic Exhibit where you could play inside a model of Daniel Tiger's neighborhood. There were toys, costumes and musical instruments. Teddy doesn't even watch Daniel Tiger and he liked the exhibit, so I am sure if you have a Daniel Tiger fan they would be in absolute heaven.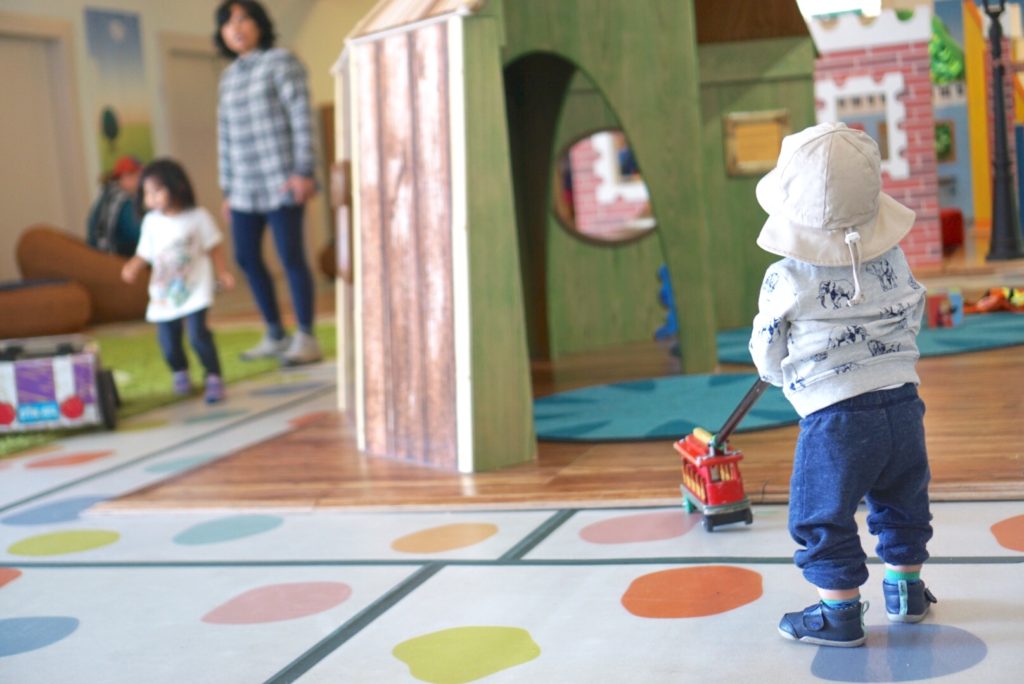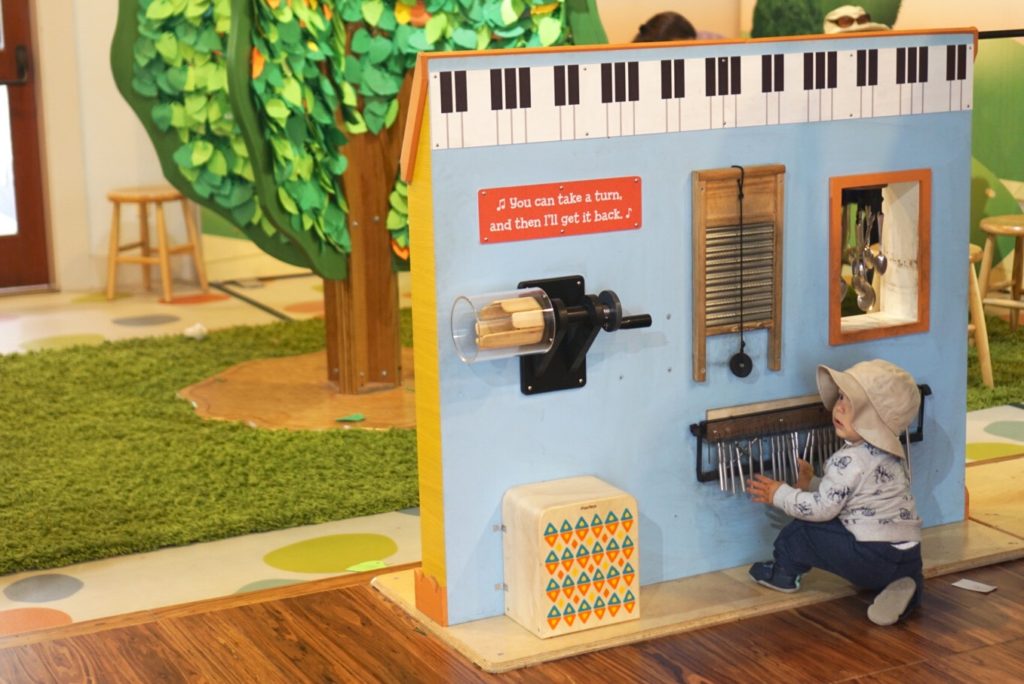 GAUDI VILLAGE
There were various art-making studios with open-ended art projects like the Gaudi Village. This art project was inspired by architect Antoni Gaudi. Kids could decorate a cardboard village with colorful paper mosaic shapes. Teddy immediately found a glue stick and some paper and started attempting to glue some pieces. There was no right or wrong way for the kids to create in here, which is how it is should be!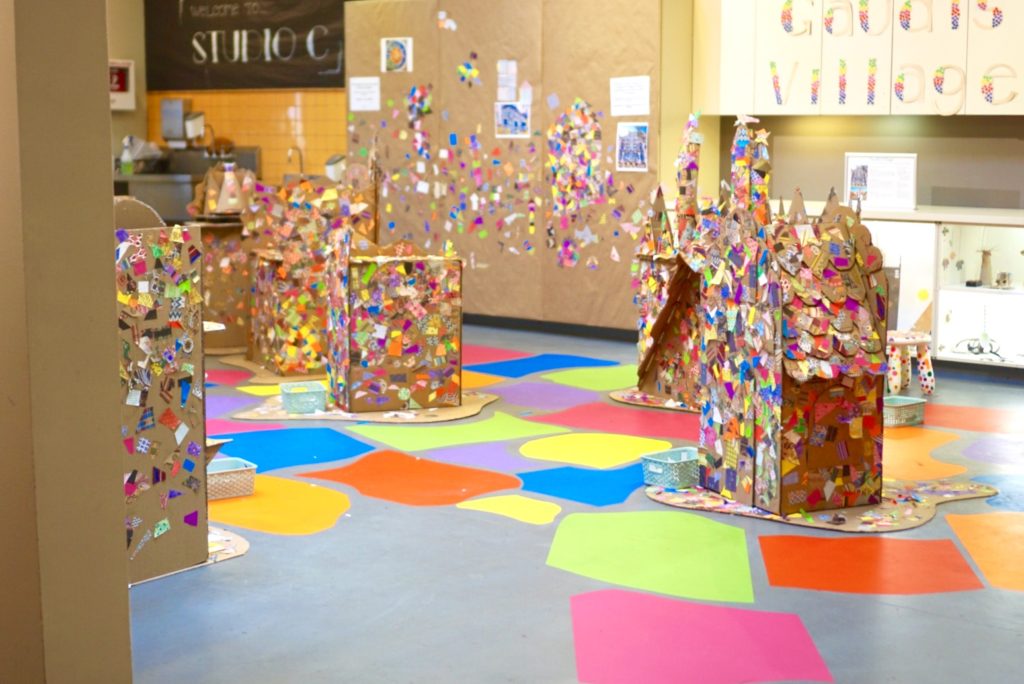 TOT LOT + STORY TIME
There was a tot spot for babies and toddlers under 42 inches. It had a little river with rubber frogs and fish and some paint brushes for the water. There was a little play area with some tunnels and a cool stick fort.
We attended a story time drop-in program with a very enthusiastic Museum Facilitator named Kyle. We sat on a little blanket in the tot lot and he read [Amazon Affiliate links] Llama Llama Red Pajama,  Ernest, The Moose That Doesn't Fit and Dear Zoo to Teddy.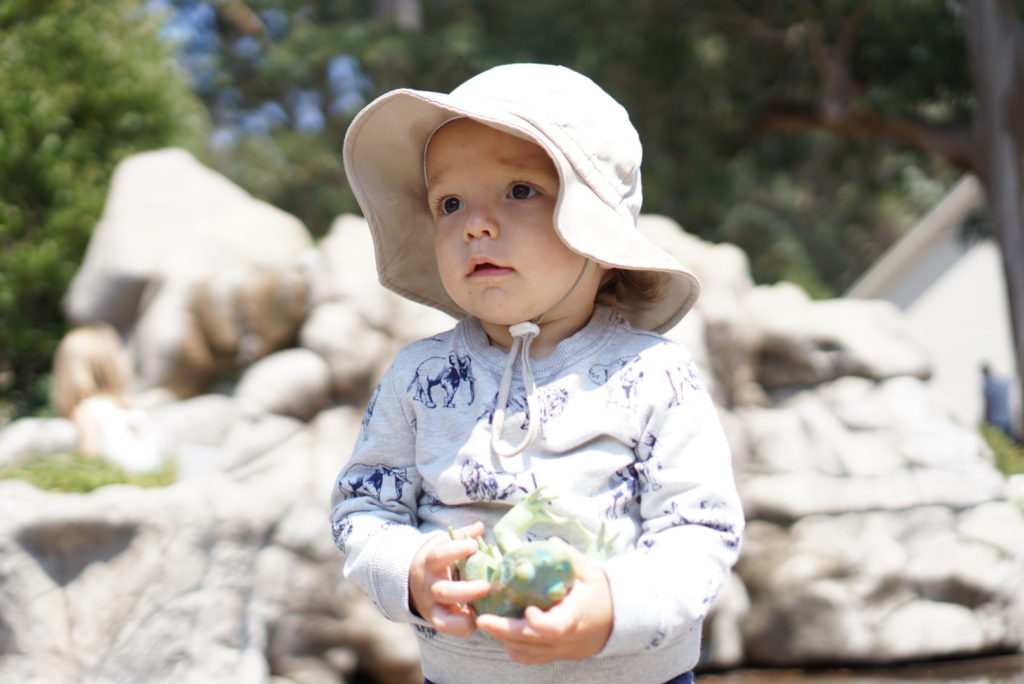 LOOKOUT COVE
The lookout cove was a really cool play area with a shipwreck that the older kids could climb up for an even better view of the bridge.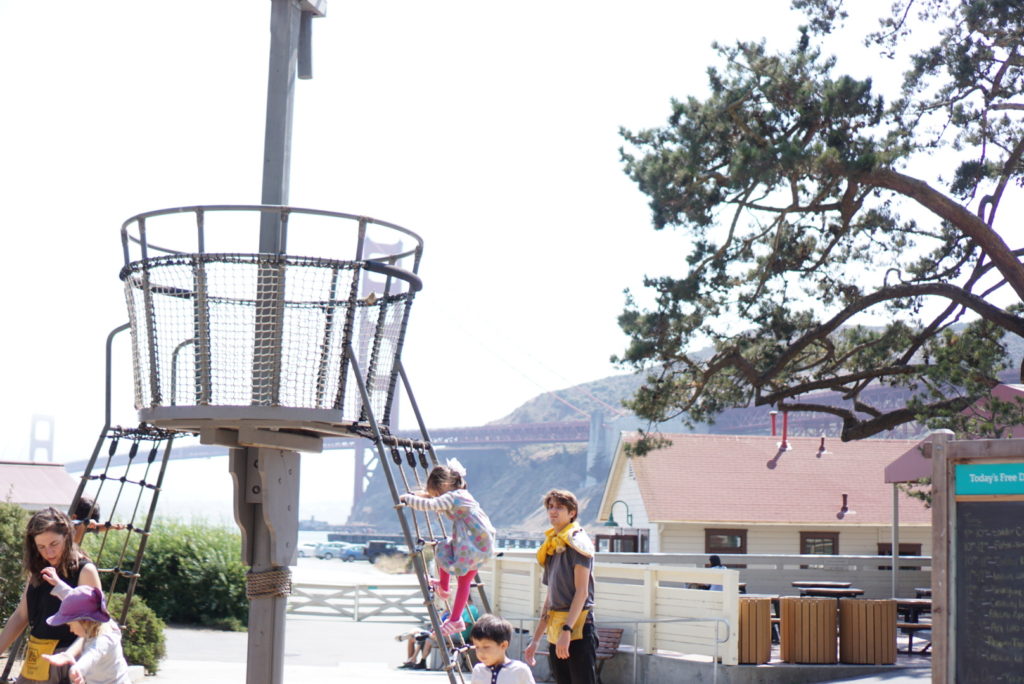 OTHER
The Bay Area Discovery Museum also had a really cool Fab Lab where kids could use iPads and other technology. It was a little advanced for Teddy, but it looked REALLY cool!  There was an area where kids were making their own musical instruments. We didn't eat at the Bean Sprout Cafe but they had a healthy kid-friendly menu with reasonable prices.
I don't think you will find a museum with a better view than the Bay Area Discovery Museum. Check out the view of the Golden Gate Bridge from the parking lot!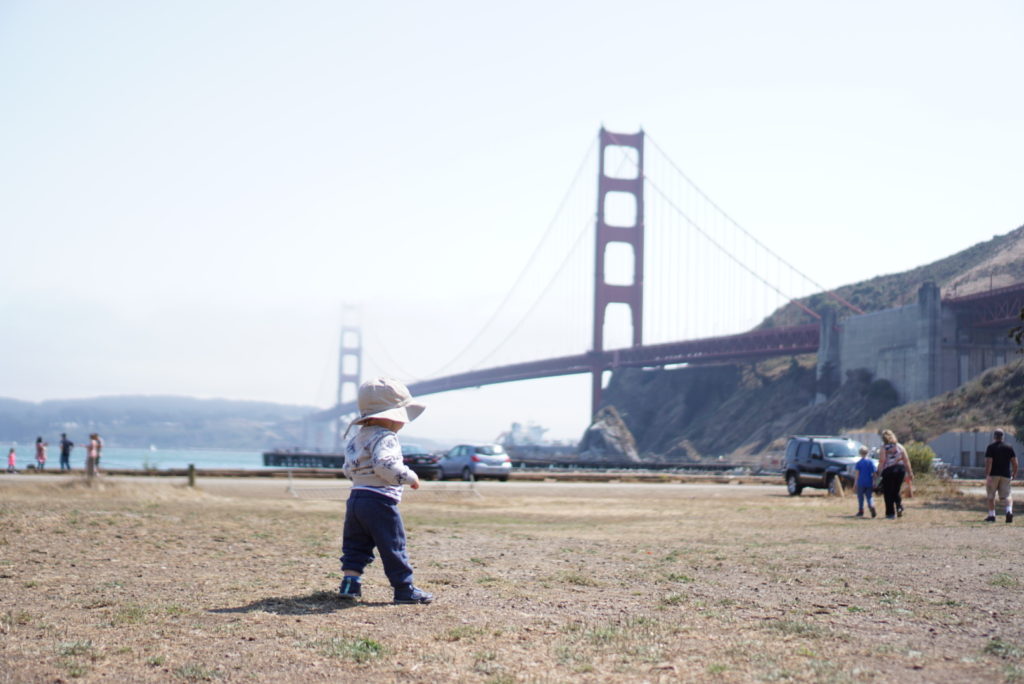 COST OF VISITING BAY AREA DISCOVERY MUSEUM
$14.95 Adults + Kids
$13.95 for Babies (6 mos-11 mos) + Seniors
FREE Babies under 6 months
FREE Parking
TIPS FOR VISITING BAY AREA DISCOVERY MUSEUM
Stroller-Friendly with Stroller Parking
Nursing Nook for Breastfeeding Mothers
Water Bottle Filling Stations
Don't Forget a Sun Hat or SPF
SHOULD YOU VISIT THE BAY AREA DISCOVERY MUSEUM?
Yes, yes, a thousand times yes. As a museum educator it was one of the best children's museums I have ever been to, and I could tell it was one of Teddy's favorite things we did. He was engaged in learning and discovery 100% of the time we were there and it was nice to be outside on such a beautiful day.

Read more about VISITING SAN FRANCISCO WITH A TODDLER and check out some other attractions that are great for kids.