Easter traditions may have to change a little bit this April while people are social distancing, but one tradition that can stay the same is reading together! We keep our holiday books in a box to take out around holiday time, so they seem extra special, but I really love finding books that fit the holiday theme but stay relevant all year long. For Easter, I especially love books about bunnies, ducks, chicks, and eggs. Check out our list below of Easter-ish Children's Books to read with your little one this Easter. They also make great additions to an Easter Basket!
Find more Easter gift ideas in our Amazon Shop: EASTER GIFTS FOR TODDLERS AND PRESCHOOLERS or our blog post FUN AND PRACTICAL EASTER BASKETS FOR TODDLERS
This post contains affiliated links for your convenience. I received Hoppy Floppy's Carrot Hunt, Follow Me, Flo!, The Lost Egg, Bathtime with Ducky Duckling and Guess How Much I Love You free for review purposes, however I only write about products I love and all thoughts and opinions expressed are my own. For more information see Legal.

From the illustrator that brought us Pick a Pine and Pick a Pumpkin, Follow Me, Flo! is a story about a Daddy Duck's instructions for his little duck, Flo, to follow him or else get lost. Daddy Duck makes up a song with all the directions for the journey, but Flo starts to make up the words, and ends up wandering off. A fox starts to follow Flo while she tries to remember Daddy Duck's directions and find her way back again. Jarvis's cheerful ducky illustrations and story are the perfect addition to your preschooler's Easter basket!

Mouse sisters Hazel and Twig discover an egg while playing in a meadow. Hazel and Twig want to keep the egg and hatch it together. They imagine all the ways they will take care of the egg once it hatches. Then the sisters start to wonder who might be missing the egg and they set off to find the egg's real family.

12. GUESS HOW MUCH I  LOVE YOU  by Sam McBratney
This 25th Anniversary Edition of the beloved Guess How Much I Love You book features a slipcase and keepsake art print.
PIN FOR LATER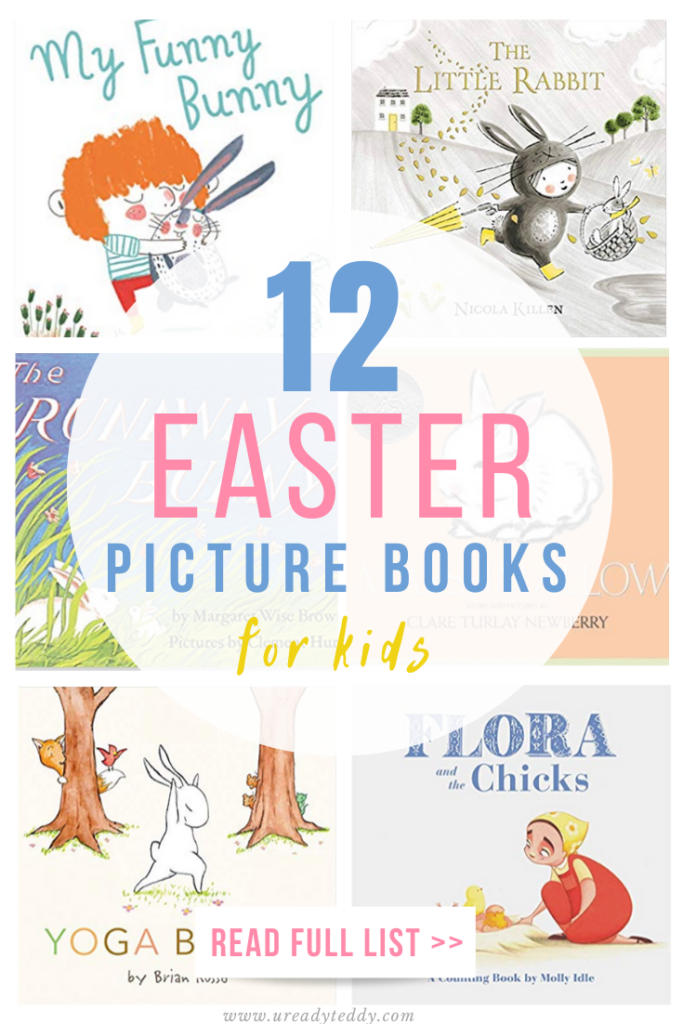 WHAT ARE YOUR FAVORITE EASTER PICTURE BOOKS?
Let us know your favorite children's books for Easter in the comments. If you check out any of our recommendations be sure to tag your photos of your little ones reading with @ureadyteddy and we'll share our favorites in our stories!