I received comped tickets to the Children's Creativity Museum + carousel in exchange for my honest review. Read full disclosure here.
I am really passionate about promoting creativity, especially from an early age, so I was excited to check out a whole museum dedicated to children's creativity. The aptly named Children's Creativity Museum, located in the SOMA district of San Francisco, is full of and surrounded by fun activities for kids. The museum is right next to the historic LeRoy King Carousel and in the middle of the Yerba Buena Children's Gardens.
For such a small museum, there was plenty for Teddy to do with so many things to build and create. I'd love to bring him back to the Children's Creativity Museum when he is a little bit older so he could participate in more activities in the robotics lab, animation studio and in the various craft projects throughout the museum.
IMAGINATION LAB
The Imagination Lab had several different materials for kids to build with. Teddy is obsessed with the Imagination Playground foam blocks and connectors so he didn't want to leave that area. He also loved the magnetic building tiles, Tegu wooden magnets and the kinetic sand.
There were two large sandboxes called the Augmented Reality Sandboxes. My husband and I thought the AR Sandboxes were really cool. As you raked the sand into mountains the colors changed to correspond to the height like a topographical map. Teddy was still in his 'hating sand' phase but liked moving the sand around with his rake.
Storybook Park was a nice place to have a seat and relax. They had a lot of great books to choose from. The Storybook Park had cool tree bookshelves and a sensory alphabet on the wall. There was also a puppet theater where kids could retell stories using puppets. I always look at museum book nooks, story programs and gift shops for children's book suggestions, because they always have new, unique books with great illustrations.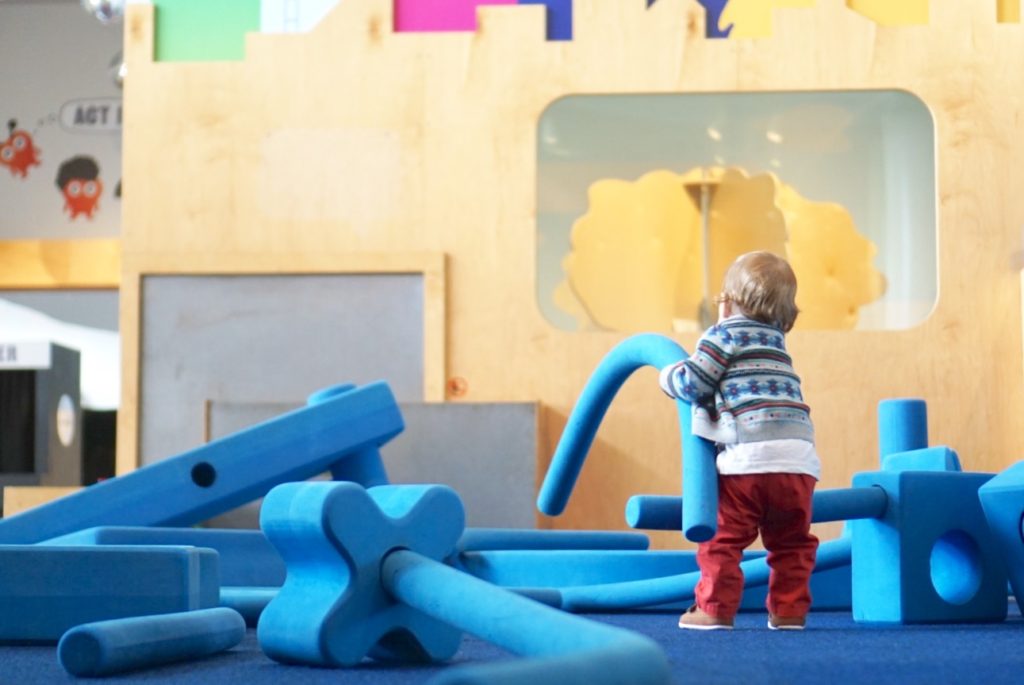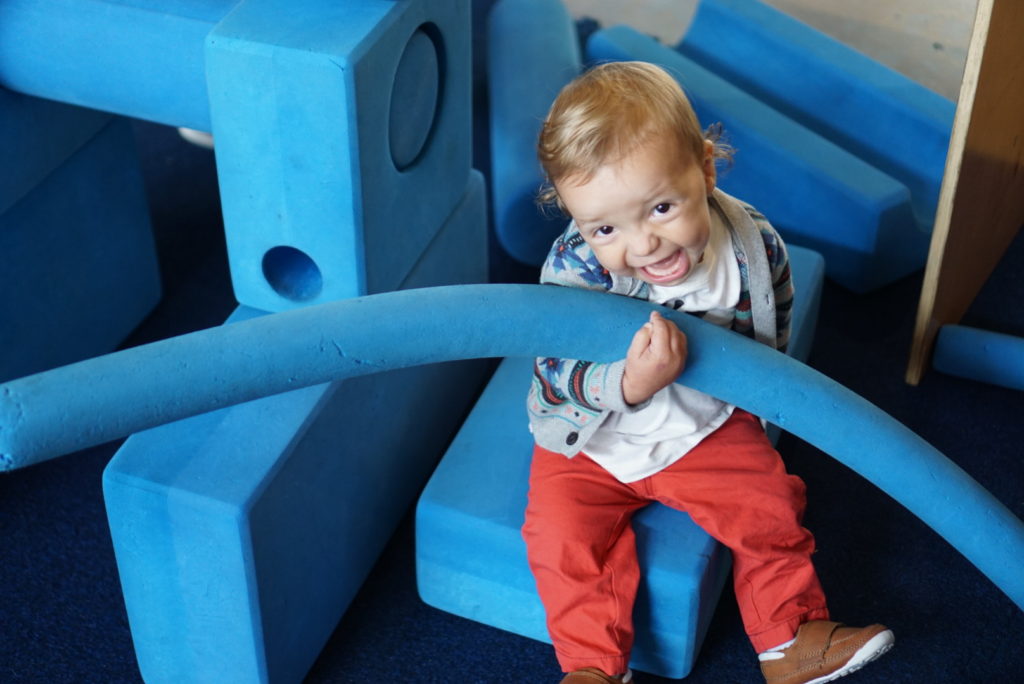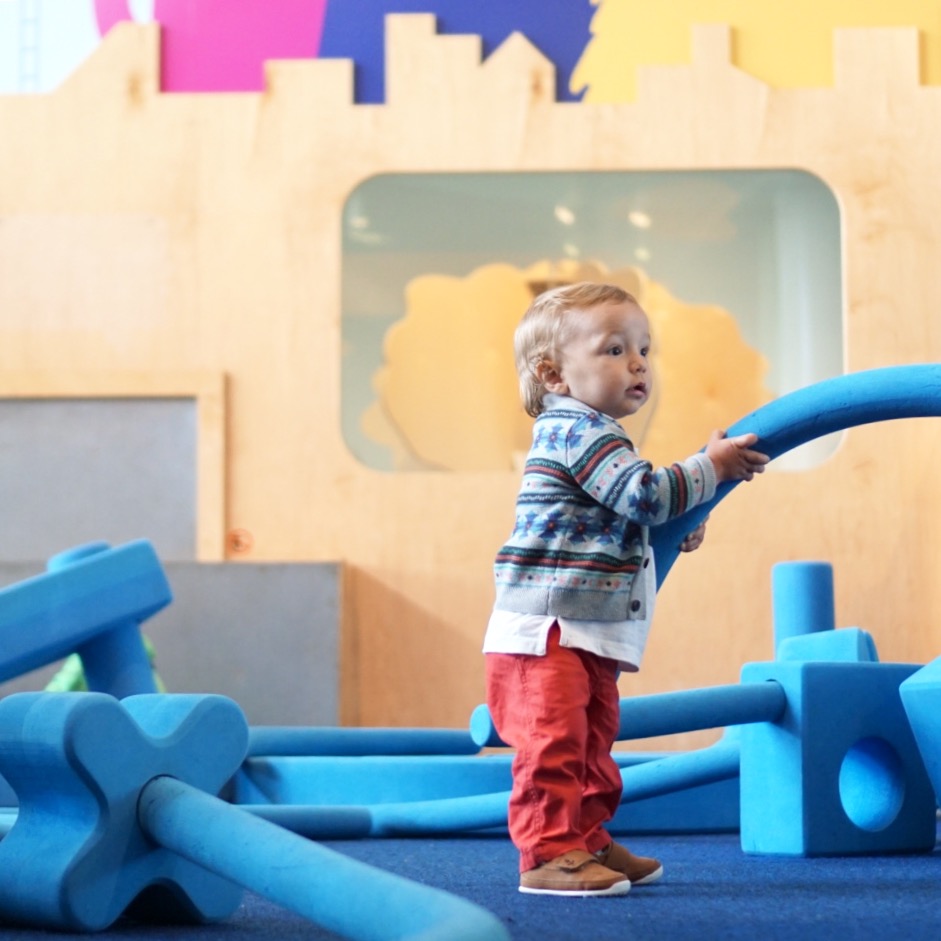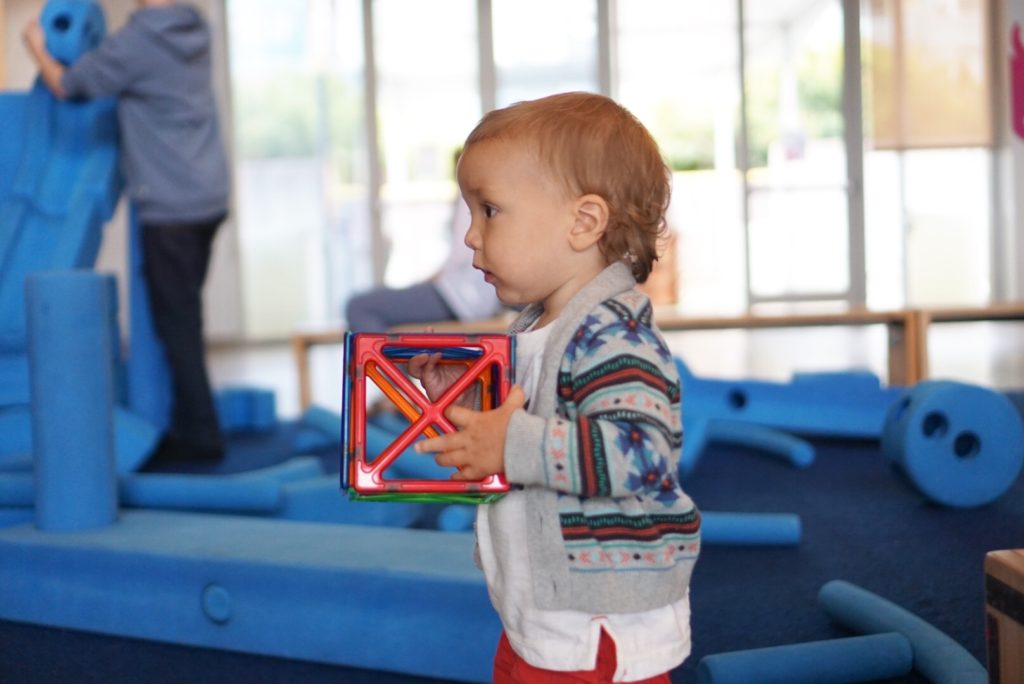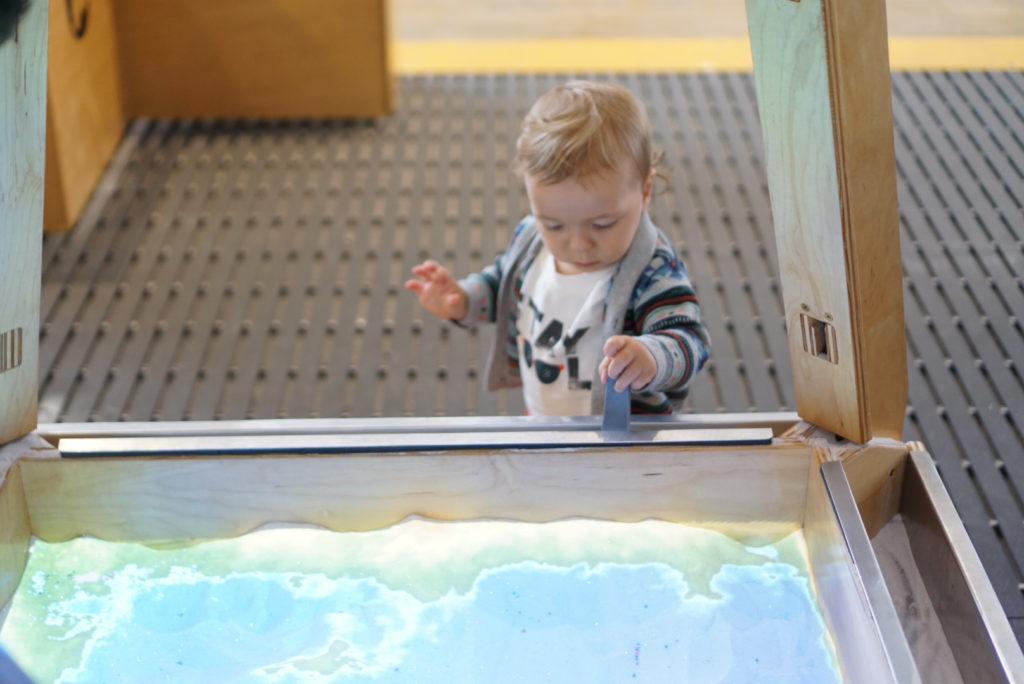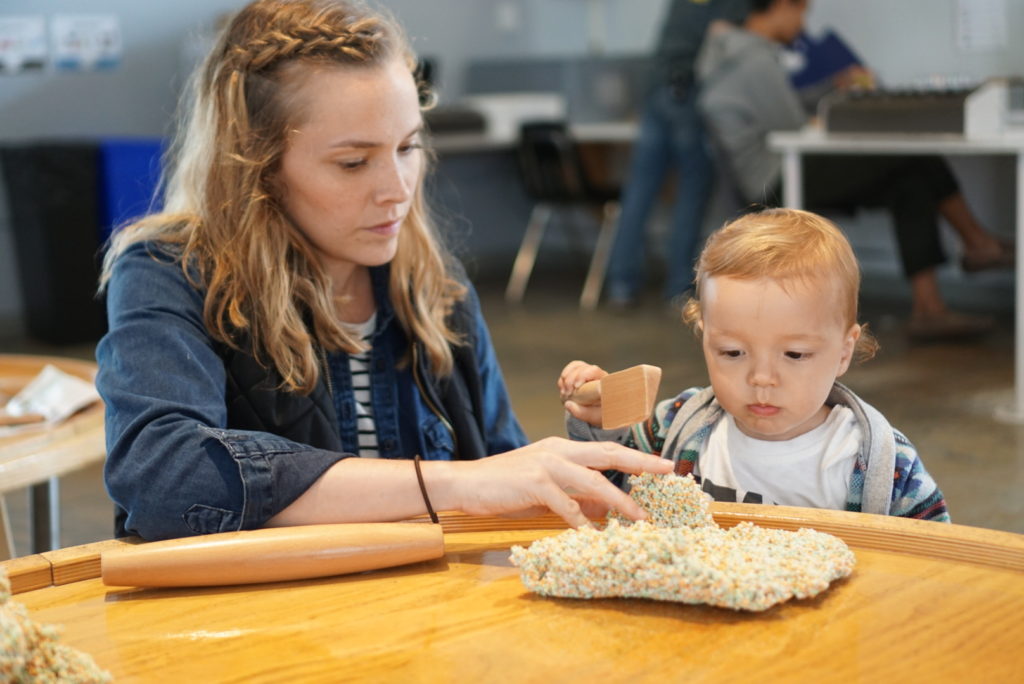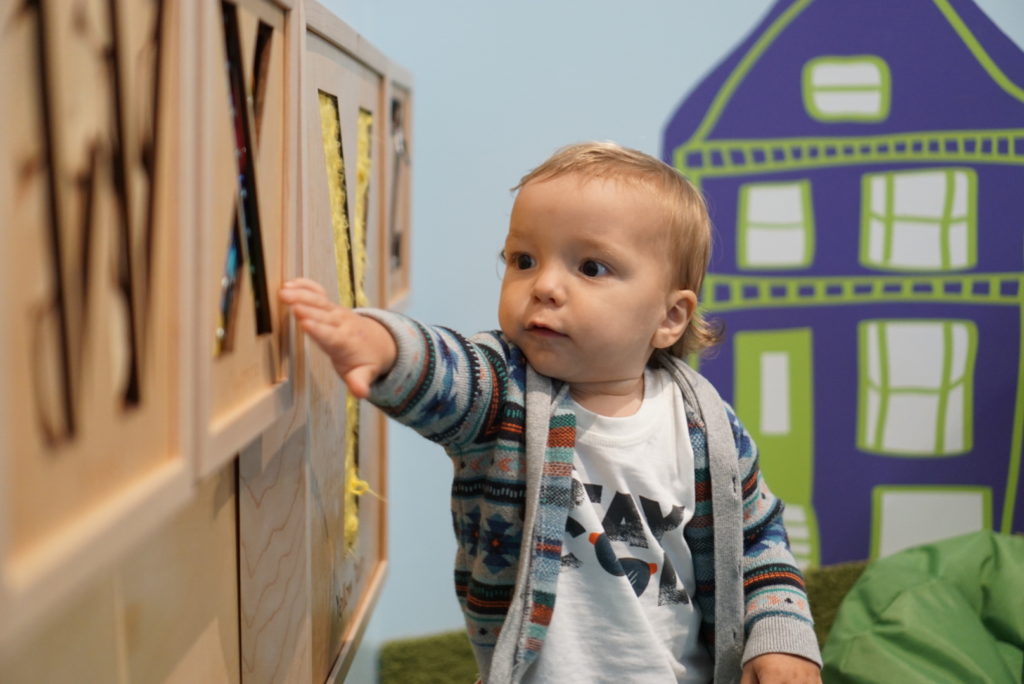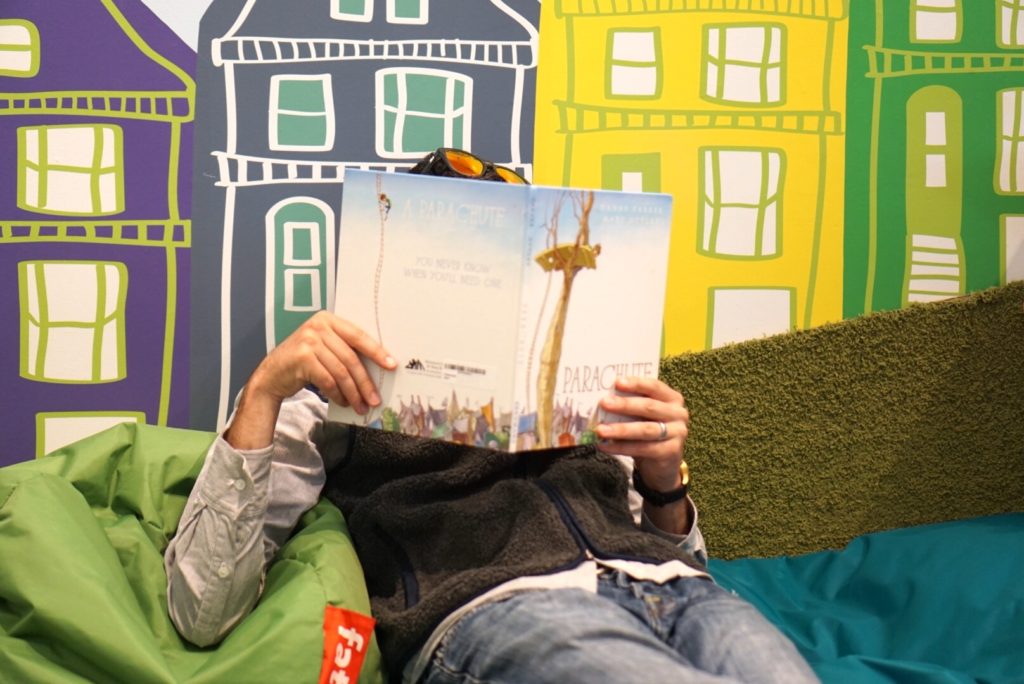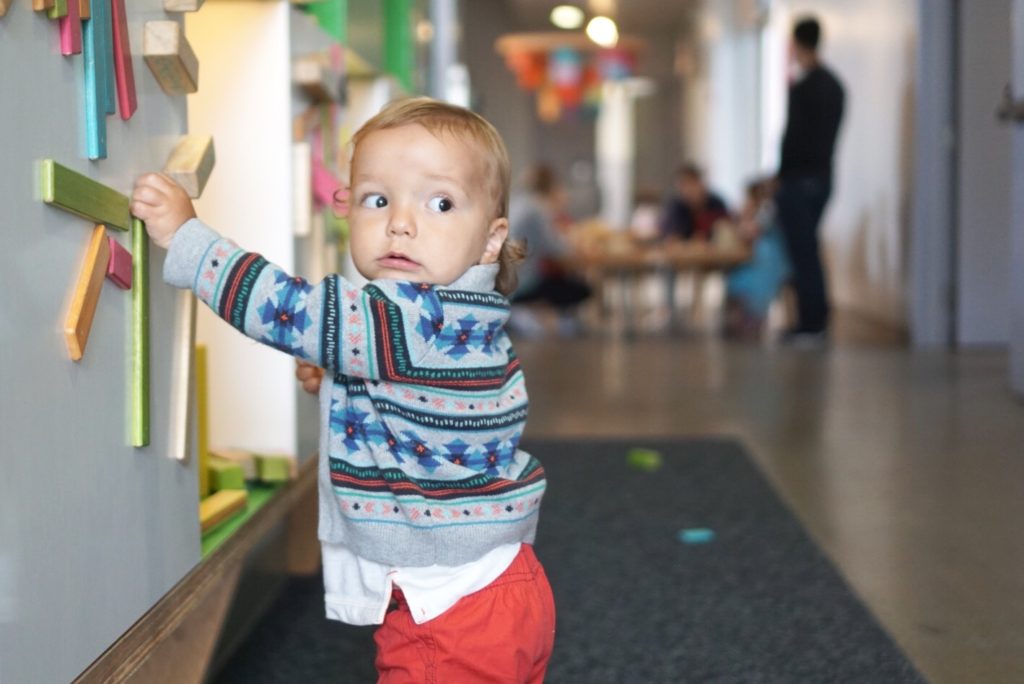 PLAY PATIO
The Play Patio had the coolest giant Lincoln logs. Kids were building all sorts of fort creations, some working independently and others working together to build structures with complete strangers. It amazed me how Teddy could take one look at these and without any instructions get right to work building.  Now I just need to convince my husband to make some of these blocks....

MUSIC STUDIO
One of our favorite memories from the Children's Creativity Museum was visiting the Music Studio. The music studio had tons of costumes and musical instruments to help kids really feel like rockstars. Then they got to choose a song and either sing karaoke or dance in front of a green screen. We thought Teddy would probably be too young to participate, but he loves music so we picked out Happy by Pharrell and the staff member cleared out the microphones so he had space to dance.
She put a cool beach scene behind him and he had a blast watching himself dance and clap on the screen. It was unbelievably cute. When he was finished with his dance/got too distracted by the other music equipment, we were able to email ourselves a copy of the music video.

COMMUNITY LAB
We didn't get to spend much time in the Community Lab, but the Sketchtown exhibit was AWESOME! Kids could decorate a building or form of transportation, scan it, and then watch it appear in an interactive virtual neighborhood projected around them. When you touched the pictures they would spin around or move in some way. Teddy wanted to draw on his T-shirt and face instead of the house coloring page, so we literally had to drag him away kicking and screaming.
Time to go.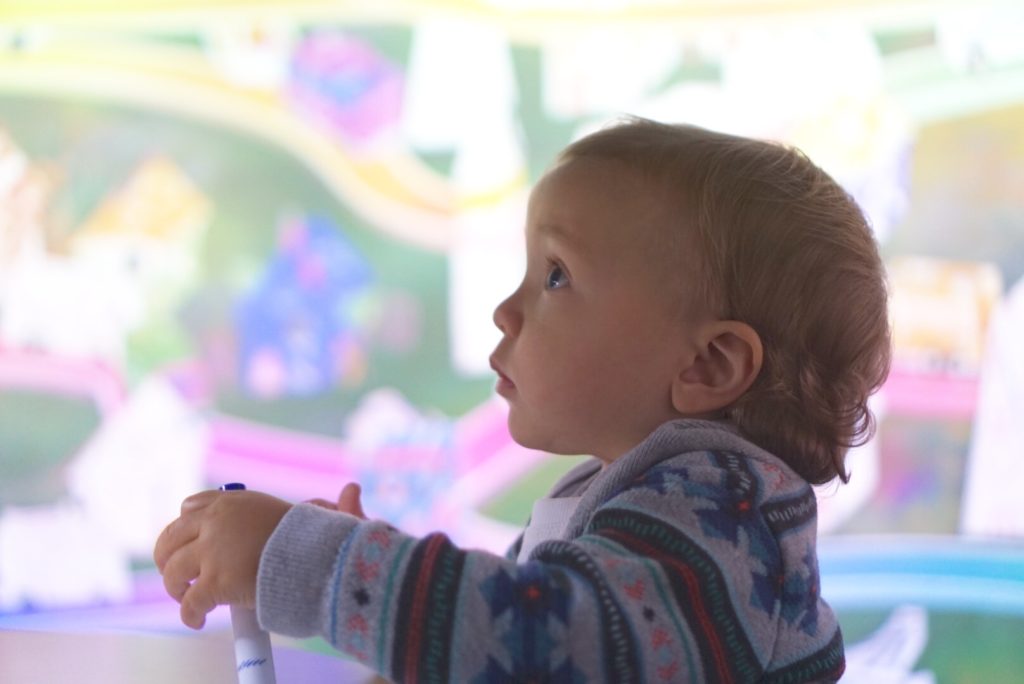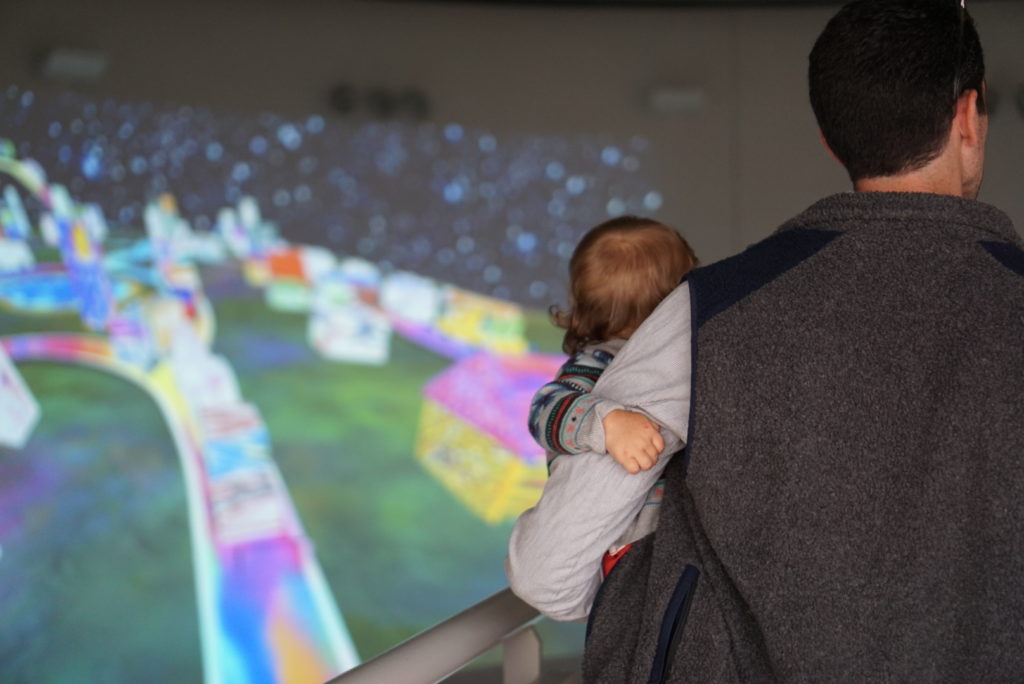 OTHER EXHIBITS
We peeked our heads into the Innovation Lab, Tech Lab, and Animation Studio to see what the other kids were up to. In the Innovation Lab, kids were working on a STEM challenge. It looked like they were creating some kind of invention. The Tech Lab had a drop-in program where they were programming little robots using iPads and in the Animation Studio kids were making their own stop motion claymations.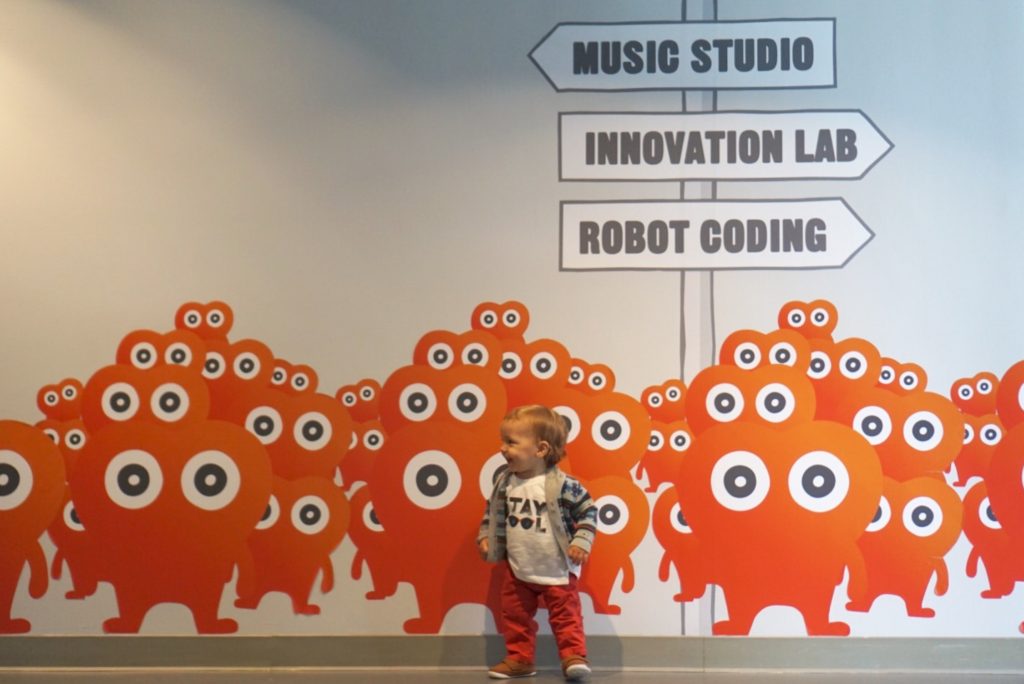 LEROY KING CAROUSEL
With museum admission, the LeRoy King Carousel is only $3 a person. The historic carousel is over 100 years old and had beautiful painted horses. Teddy loved riding on the carousel. I, on the otherhand, thought I was going to barf. I used to love riding rides and carousels and now I can barely ride in the car without getting motion sickness...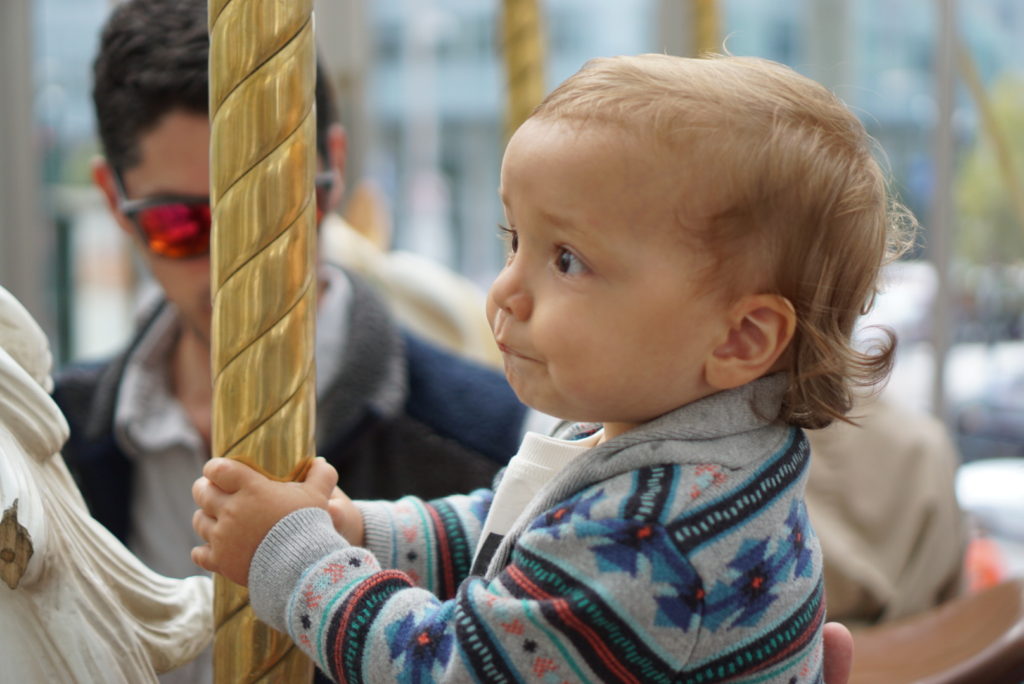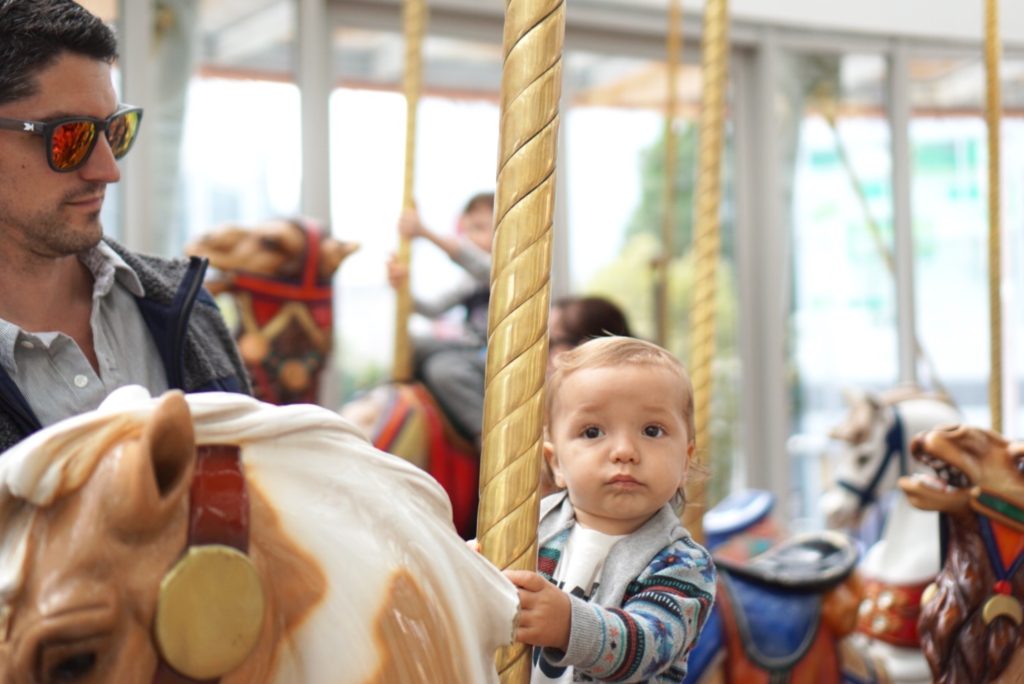 COST + ADDITIONAL INFORMATION
$12.95 , FREE for Children under 2
Carousel tickets are $3 with museum admission and are good for 2 consecutive rides.
Walkable from many hotels, limited parking can be reserved online before visit
Stroller-friendly
Don't forget to visit the Yerba Buena Children's Gardens next door!
SHOULD YOU VISIT THE CHILDREN'S CREATIVITY MUSEUM WITH A TODDLER?
Yes! The Children's Creativity Museum has many activities to inspire creativity and encourage imagination in toddlers. The fun building activities introduce toddlers to early STEM concepts and they will have a blast! I think older kids would definitely have a richer experience, and would learn even more at the Children's Creativity Museum. Bring the whole family!