There is something about Valentine's Day that gets me in a super crafty mood. I love doing Valentine crafts with the kids and making Valentine treats and I especially love making Valentine gifts for their daycare and preschool classes. Their classmates love getting something cute that they will actually want to play with and the parents love when they come home with a gift that isn't candy or some piece of plastic junk.
Last year, Teddy brought these BEACH BALL VALENTINES FOR TODDLERS and the year before he brought these RUBBER DUCKY VALENTINES FOR DAYCARE. He still plays with both of these toys so I hope his friends do as well.
This year, I had the idea to give his friends Kinetic Play Sand for a Valentine, because Teddy and I have been playing with the sand almost everyday. Read more about WHY WE LOVE KINETIC SAND. It is tactile, engaging, not-messy (unless used on a shag carpet according to my sister-in-law), and it never dries out! There are so many fun uses for the sand that I wanted to share with his friends.
This post contains affiliate links for your convenience. All thoughts and opinions are my own and I only write about products I love. For full disclosure see Legal.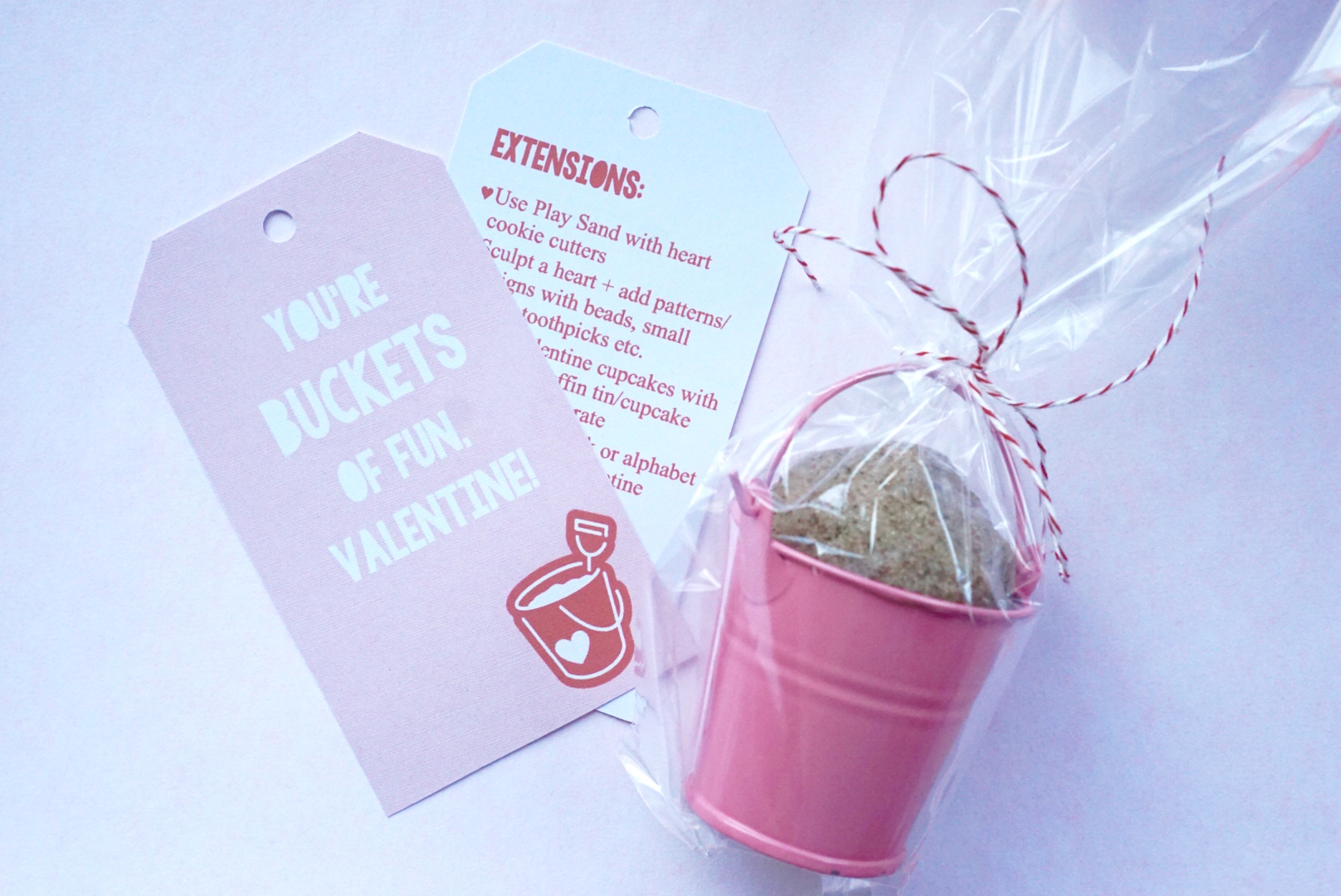 HERE'S WHAT YOU'LL NEED:
Baker's Twine or Ribbon
Hole Puncher
"You're Buckets of Fun, Valentine" Free Printable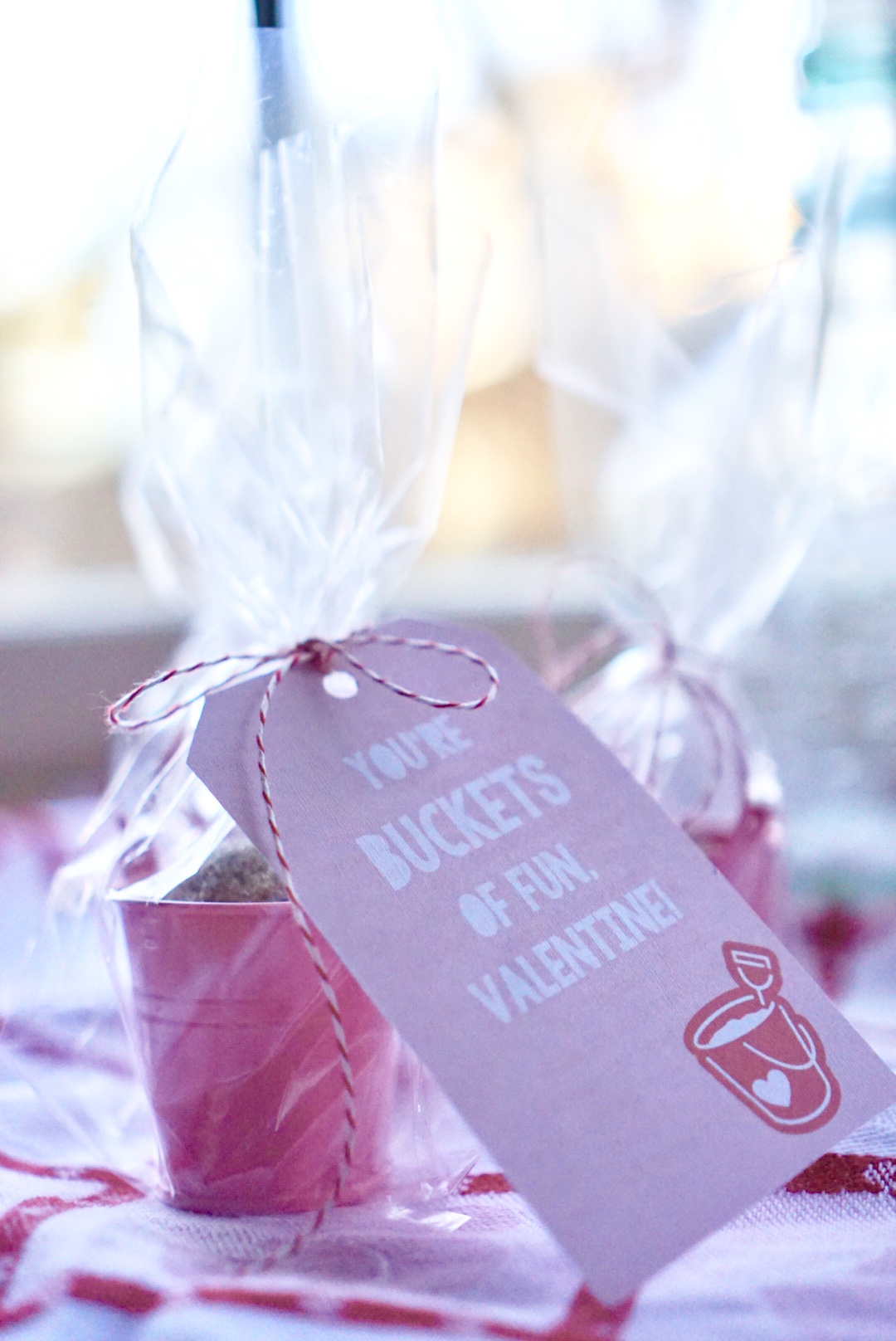 HOW TO MAKE KINETIC SAND BUCKET VALENTINE
Print and cut your free printable tags.
Use a hole punch to punch the hole out of the top of the tag.
Scoop your desired amount of play sand into buckets. This can be a great job for your little one to help with. TIP: I think it looks nicer if you roll the sand into a ball first, because it looks nice and round on top!
Stick bucket of sand into cellophane treat bag.
Tie the top of the treat bag with baker's twine or string.
Attach the tag to the gift with the string and tie a bow!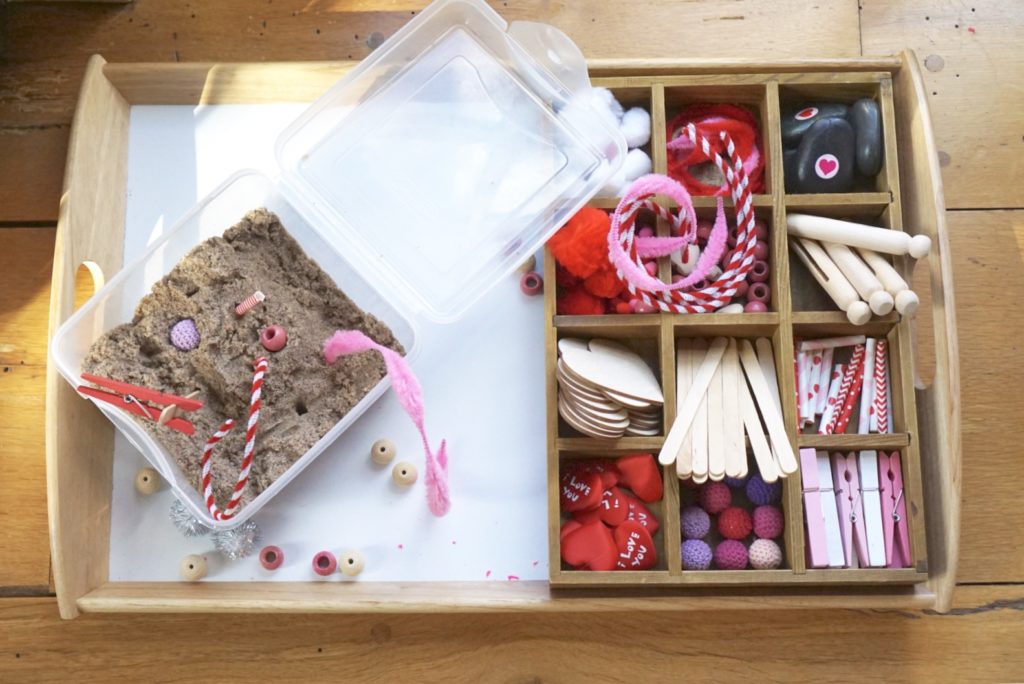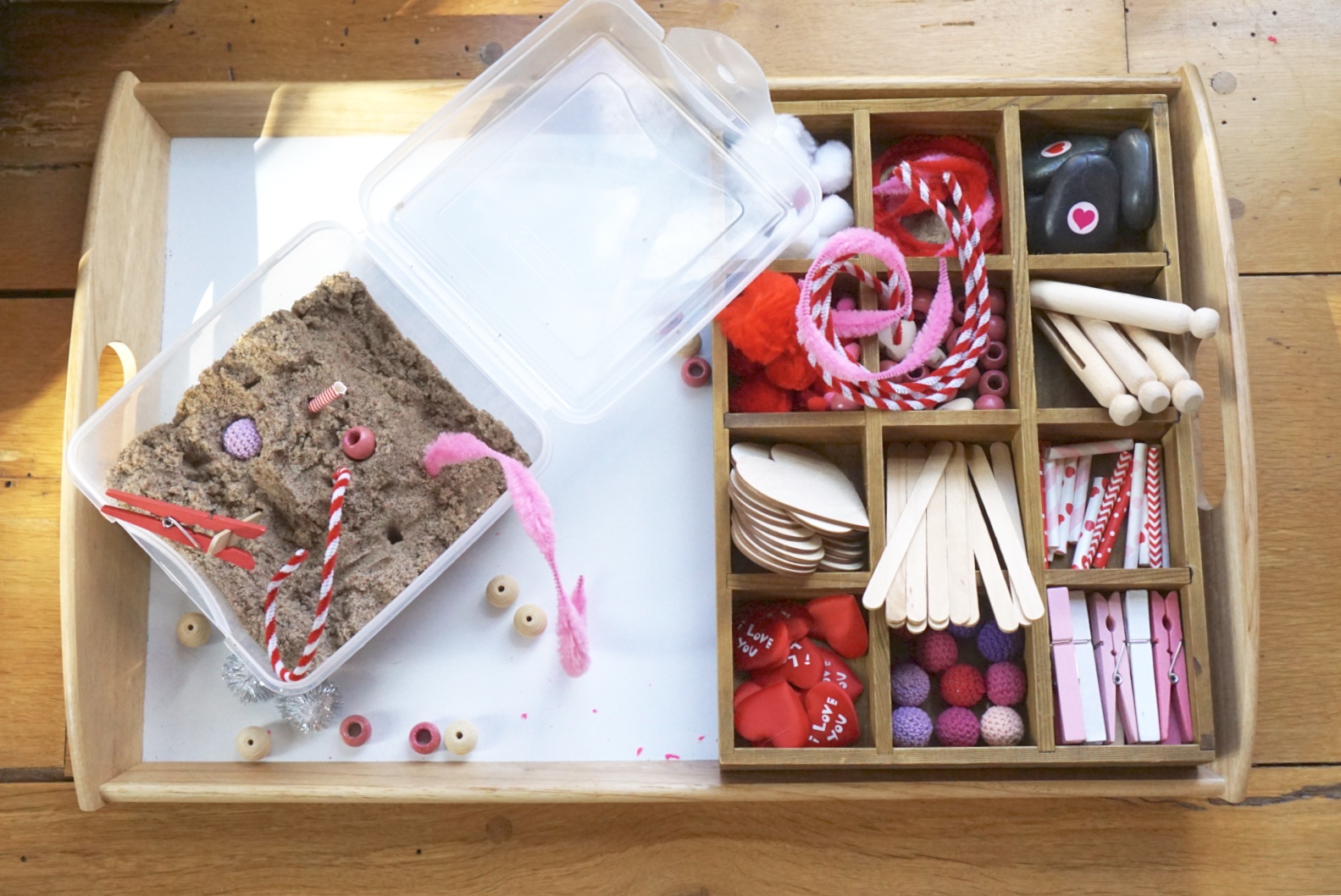 MORE IDEAS
Print a list of "extensions" or suggested kinetic sand activities on the back of the tag (Free Printable below!)
Put the sand directly in the treat bag and put the bag of sand IN the bucket.
Put sand in a bucket with a lid instead of using the cellophane treat bags.
Tie a bag of sand to a plastic beach shovel instead of using a bucket and make a tag that says "I DIG you, Valentine!"
"YOU'RE BUCKETS OF FUN, VALENTINE!" FREE PRINTABLE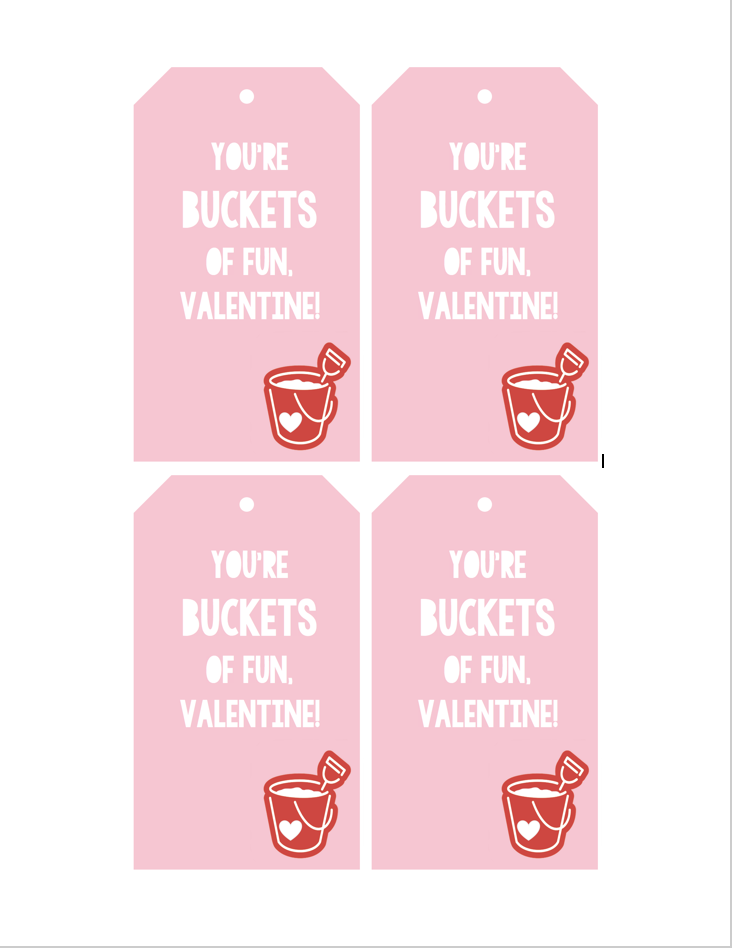 Download and print this "You're Buckets of Fun, Valentine!" free printable as a PDF or JPG.
If you have a Cricut machine you can use the print and cut option to save yourself some cutting and hole punching. Just upload the JPG into Cricut Design Space as a complex image type, select the white background and the hole on top of each tag with the magic eraser. If you wanted to select the other white areas as well I bet that would look really cool too. Then size the image to fit your desired size and print the tags using your deskjet printer (It will print with black guide lines) Then attach the printed sheet to your Cricut mat and feed it into your machine like you would usually. The sensors will do the rest of the work for you!
If you want to include a list of fun and educational extensions to give your child's classmates ideas for Valentine's Day activities I've included that free printable below. You can print your tags double-sided with the list of activities on the reverse side. You could also cut and glue to the back of the tags if you don't like double-sided printing.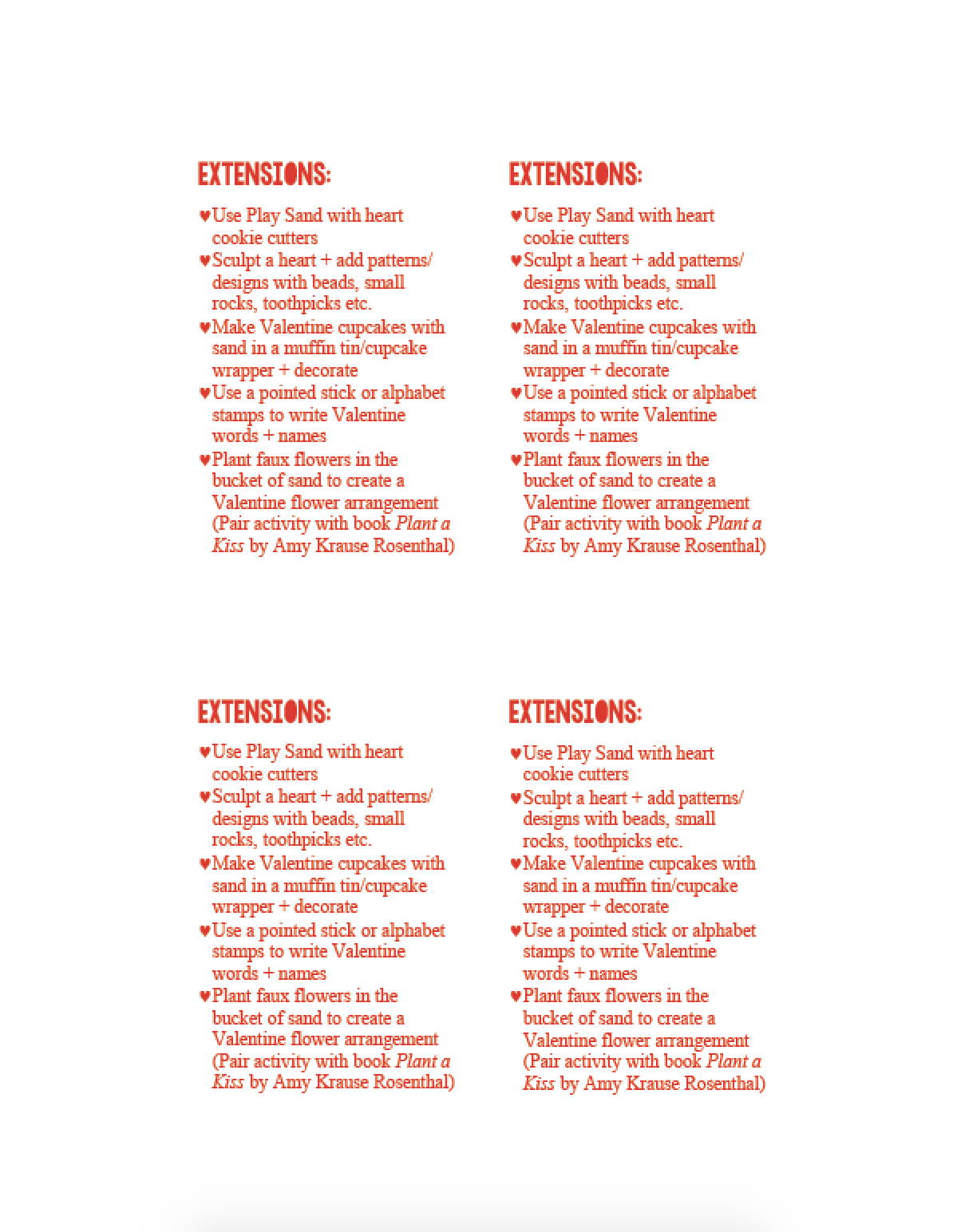 DID YOU TRY IT?
Let us know how they turned out in the comment section or show us how you used the free printable(s) by sharing your photos on Facebook or instagram and tagging @ureadyteddy
We'll share our favorites in our stories!