I love incorporating objects from nature whenever I can, so our Flower Week would not be complete without getting outside and interacting with real flowers!
The kids had so much fun exploring the backyard and looking for flowers. I was impressed by their observation skills as they found flowers in places that I didn't even notice. Most of the flowers they found were weeds but to the eye of a child they are just as beautiful as any other flower. We also included different leaves and grasses in our weavings and I let each of them pick one of my special flowers from the flower garden to add to their weaving.
These cardboard flower monograms are a fun way to display their nature collections, practice fine motor skills and learning weaving basics. The monogram letters help with letter recognition and helped them distinguish their weaving board from the other.
This post contains affiliate links for your convenience. I make a small commission on items purchased through these links at no additional cost to you. All thoughts and opinions are my own. For full disclosure see Legal.
MATERIALS FOR MONOGRAM FLOWER WEAVINGS
Flowers + leaves (preferably real)

Cardboard

Scissors

String
HOW TO MAKE A MONOGRAM FLOWER WEAVING
[Parents] Cut out the first letter of your child's name from a piece of cardboard. Cut a notch near the top and the bottom. The cardboard monogram will be your weaving loom.
Starting at the first notch, begin wrapping a string tightly around the cardboard monogram. End with the string in the last notch. Tape to the back if necessary.
Tuck flowers and leaves into the strings. Weaving over and under the strings will hold the leaves and flowers in place more tightly.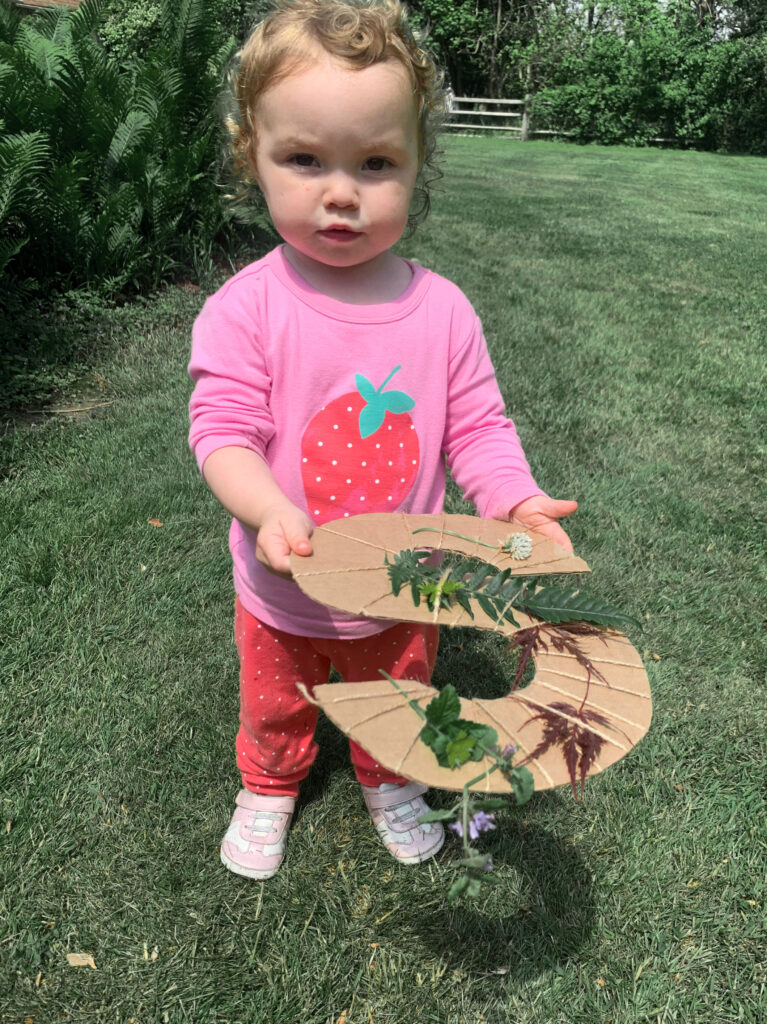 WAYS TO CREATE YOUR FLOWER WEAVING
Have a nature scavenger hunt! Hunt for certain flowers or colors.

Go outside and collect flowers + leaves

Color the cardboard monogram with paint or paint sticks before weaving

Use rubber bands instead of string

Try cutting a different shape out of the cardboard
DID YOU TRY IT?
Let us know what your little one thought of these flower monogram weavings in the comment section or show us your weaving craft by sharing your photos on Facebook or instagram and tagging @ureadyteddy or #ureadyteddy
We'll share our favorites in our stories!