This post contains affiliated links for your convenience. I only write about products I love and all thoughts and opinions expressed are my own. For more information see Legal.
SHAPE TRILOGY
The Shape Trilogy by best-selling author/illustrator duo Mac Barnett and Job Klassen is made up of three books about a group of shape friends. The books are named after the three shapes respectively, Circle, Square and Triangle. Each shape has their own unique personality. Triangle is mischievous, always playing sneaky tricks on the others. Square is kind of...well, square. He doesn't like to stray from his routine. Circle is a little bit bossy. Even though the shapes are all very different, they are great friends. New antics and adventures happen in each book.
CIRCLE
The third book in the trilogy is Circle. It is all about Circle and his friends playing a game around a waterfall. Circle tells his friends the rules and sneaky Triangle breaks the rule and ends up in a little trouble. When Circle goes to rescue Triangle he finds a mysterious shape in the darkness. What is the new shape? You'll have to use your imagination, because the book's ending is to be continued.
WHAT YOU NEED FOR MUFFIN TIN MONOPRINTS: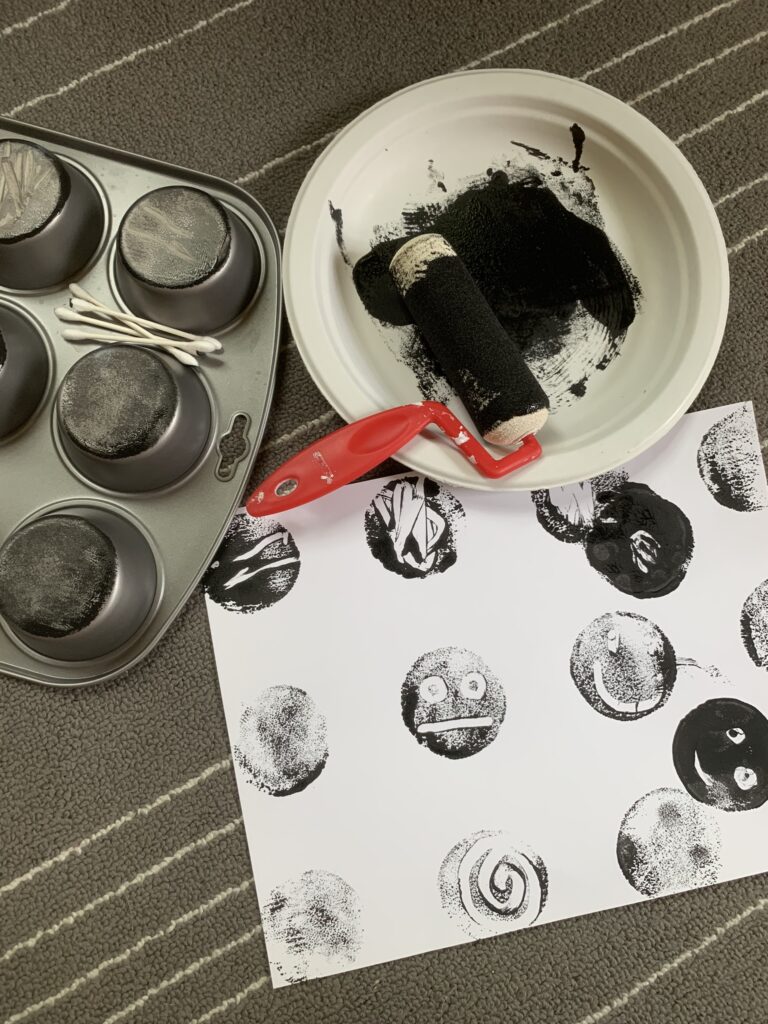 HOW TO MAKE MUFFIN TIN MONOPRINTS:
Squirt a small amount of black paint on a paint tray or paper plate.
Roll the paint roller through the paint until saturated.
Use the roller to spread black paint on the underside of the muffin tin.
Use a q-tip to draw smiley faces into the black paint circles.
*Now is a great time to make connections to the story. Talk about different feelings Circle has throughout the book and encourage your child to draw the different emotions.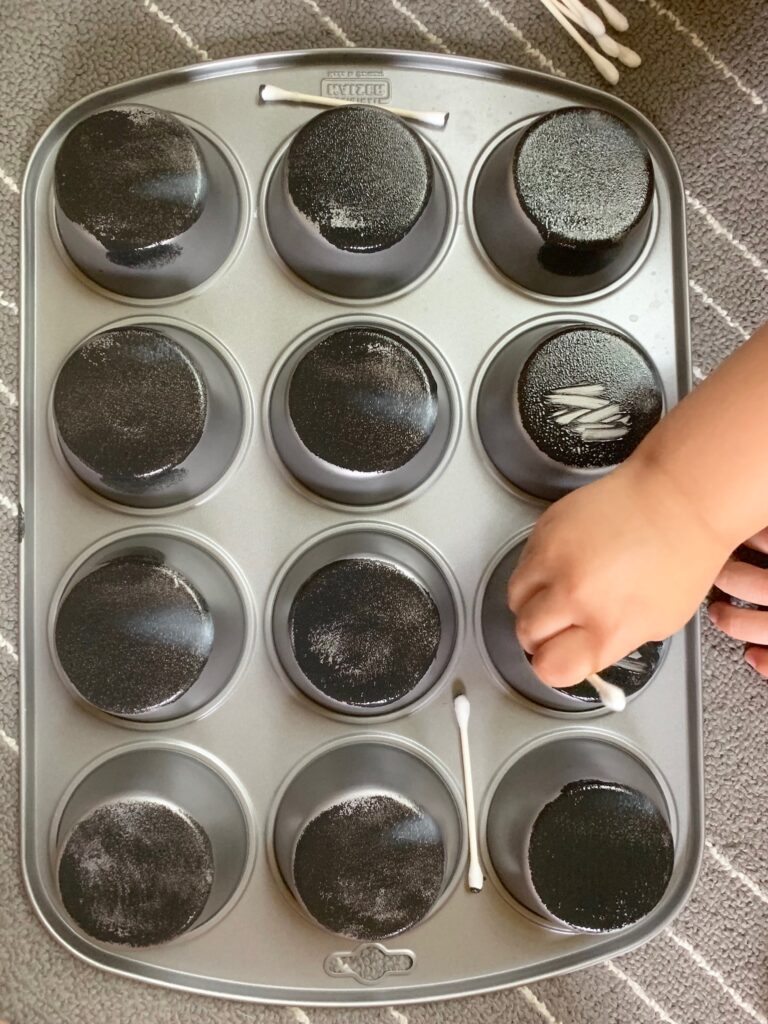 Lay a piece of paper on top of the black circles. Rub the back of the paper.
Peel the paper off of the muffin tin to reveal your black circle faces.
HOW WILL THIS ACTIVITY BENEFIT MY CHILD?
Shape recognition
Experiencing a new material: paint or ink
Beginning printmaking (monoprinting)
Practicing fine motor skills
Emotional intelligence vocabulary
Early art appreciation
Promote story comprehension and connections.
EXTENSIONS
Draw a scene around the circle faces.
Cut out the circles and glue to a popsicle stick to make STORY BASKET PUPPETS.
To create other shapes tape off the shapes on the muffin tin before painting. Then remove before printing. You can also cut out the shapes from the paper after the paint dries.
Check out other Shape Trilogy activities on Walker Books' Shape Trilogy Activity Kit.
SHOW US YOUR MUFFIN TIN MONOPRINTS!
Tag your photos of your muffin tin monoprints and other Circle (Shape Trilogy) activities with #ureadyteddy and we'll share our favorites in our Instagram stories!