What do you give infants for Valentine's Day? They don't eat candy, they'd try to eat flowers, they don't wear jewelry.... I searched Valentine Baby Toys and lo and behold I found a 12-pack of rubber ducky valentines on Amazon. Teddy is obsessed with tubby toys, so I thought it would be the perfect gift for his little daycare friends.
This post contains affiliated links for your convenience. I only write about products I love and all thoughts and opinions expressed are my own. For more information see Legal.
Now what to write on the card? Anyone that knows me knows that I love a good pun, so I thought it would be really cute to write "I'm so ducky you're my friend." I was really excited about my cute "original" idea then I searched Pinterest and realized it wasn't such an original idea.
Darn you Pinterest! Anyone else have a love/hate relationship with Pinterest?
Anyway, the other ideas I found had sayings like "I'm a lucky duck to be your friend" or "you quack me up." If you prefer these slogans, check Pinterest for the free printables.
Click the button below to download the FREE PRINTABLE "I'm so ducky you're my friend" heart tags to pair with your rubber ducky valentines. Just print on sturdy paper, cut, hole punch and tie around the ducks' necks with a cute piece of baker's twine. Then if you need to address them you can write the names on the back of the heart.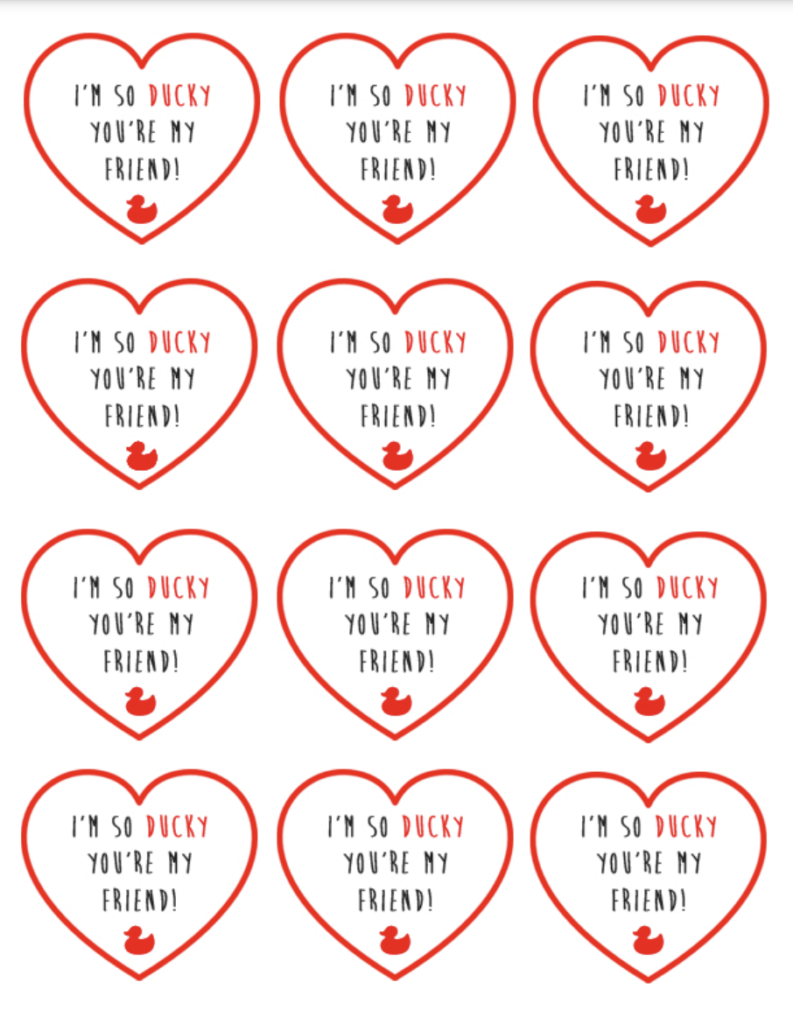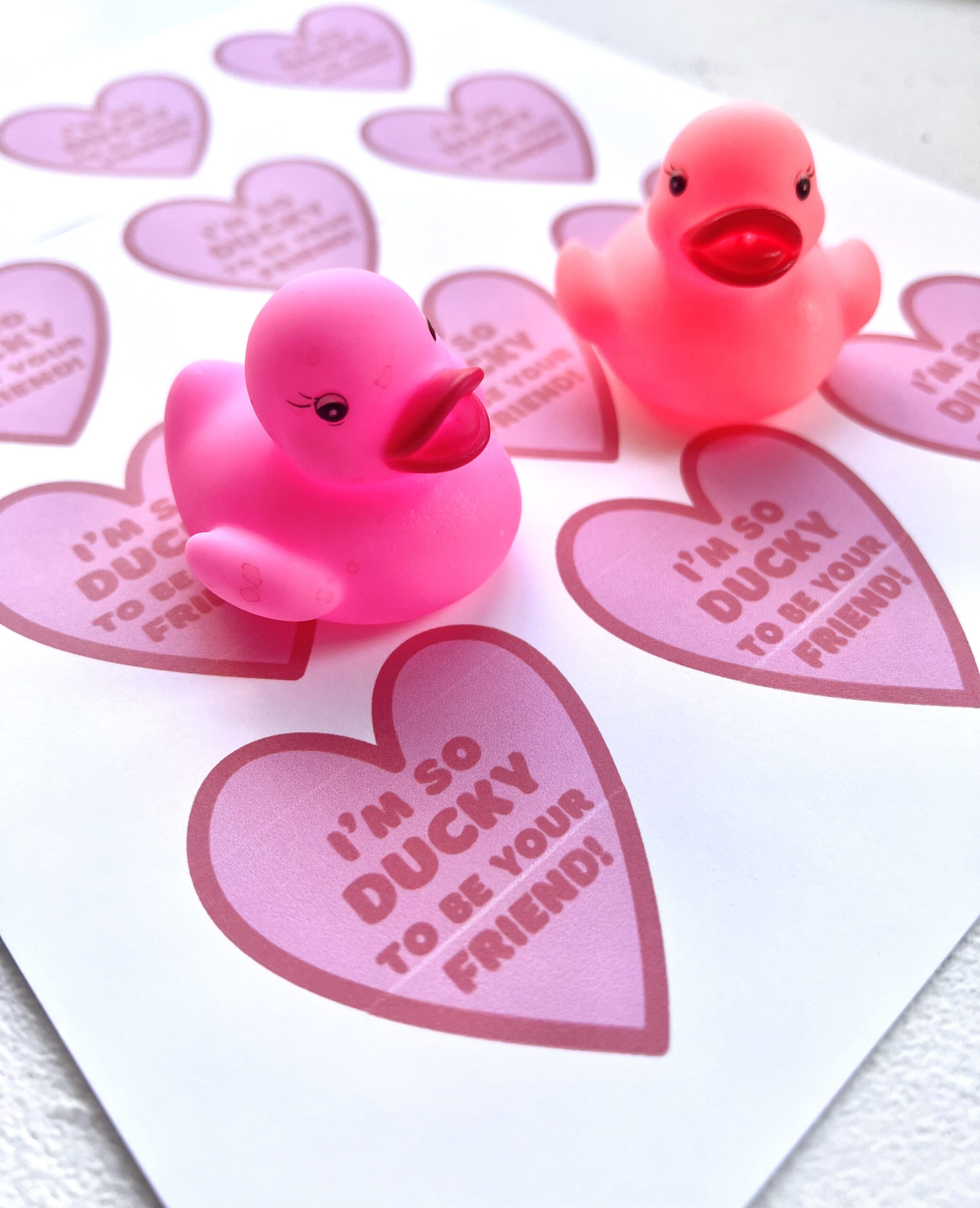 UPDATE FOR RUBBER DUCKY VALENTINES
Now that this blog post has become one of our most popular posts, I thought it could use a little update with a cuter printable (6 years later!)
Our first "I'M SO DUCKY YOU'RE MY FRIEND!" is a great option for saving your printer ink, but if you are looking for something a little more colorful, check out our new, updated version.
The new printable says "I'M SO DUCKY TO BE YOUR FRIEND! and is in red font on a pink background. Print and cut out hearts and use a hole punch in the corner of the heart and bakers twine or ribbon to attach around the neck of the rubber duck. Add your child's name to the back of the hearts with colored pencil, stamps or a with a label.
To make these tags even more adorable I recommend cutting them out with pinking shears leaving a white scalloped border.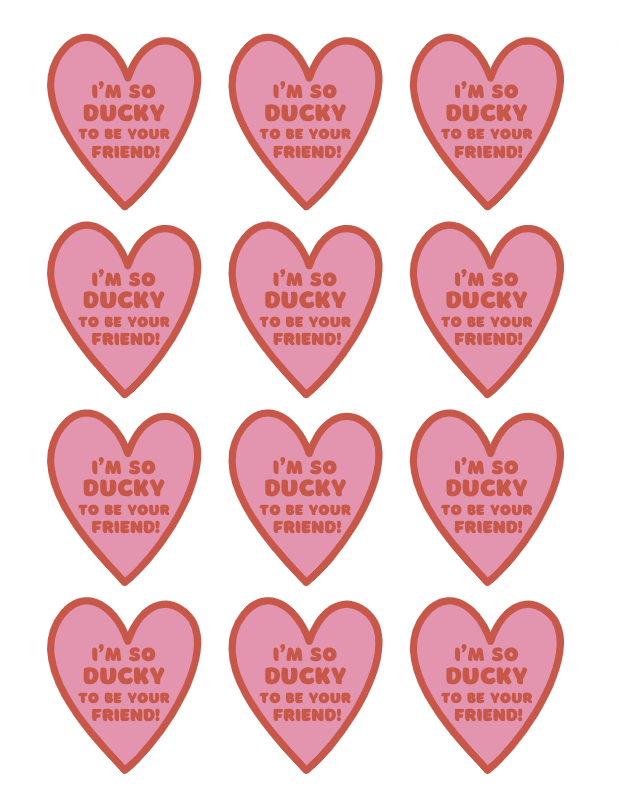 DID YOU TRY IT?
Let us know what your babies and their friends thought of these Rubber Ducky Valentines and Free Printable "I'm so DUCKY to be your friend!" tags. Tell us in the comment section or show us by sharing your photos on Facebook or instagram and tagging @ureadyteddy or #ureadyteddy
We'll share our favorites in our stories!