If you've been following U Ready, Teddy? You know I love Tinker Trays!
Tinker trays are also called Loose Parts tray and are typically found in a Reggio Emilia Learning environment. They are inexpensive, versatile and promote open-ended creativity.
The Valentine's Day tinker tray we made was a huge hit, so I decided to make a green tinker tray for St. Patrick's Day! (If you want to be even more festive throw in some rainbow colors and gold coins!)
Darling Readers and I teamed up this month to make an activity inspired by the book Green by Laura Vaccaro Seeger and I thought it would be the perfect book to pair with our green tinker tray!
This post contains affiliated links for your convenience. I only write about products I love and all thoughts and opinions expressed are my own. For more information see Legal.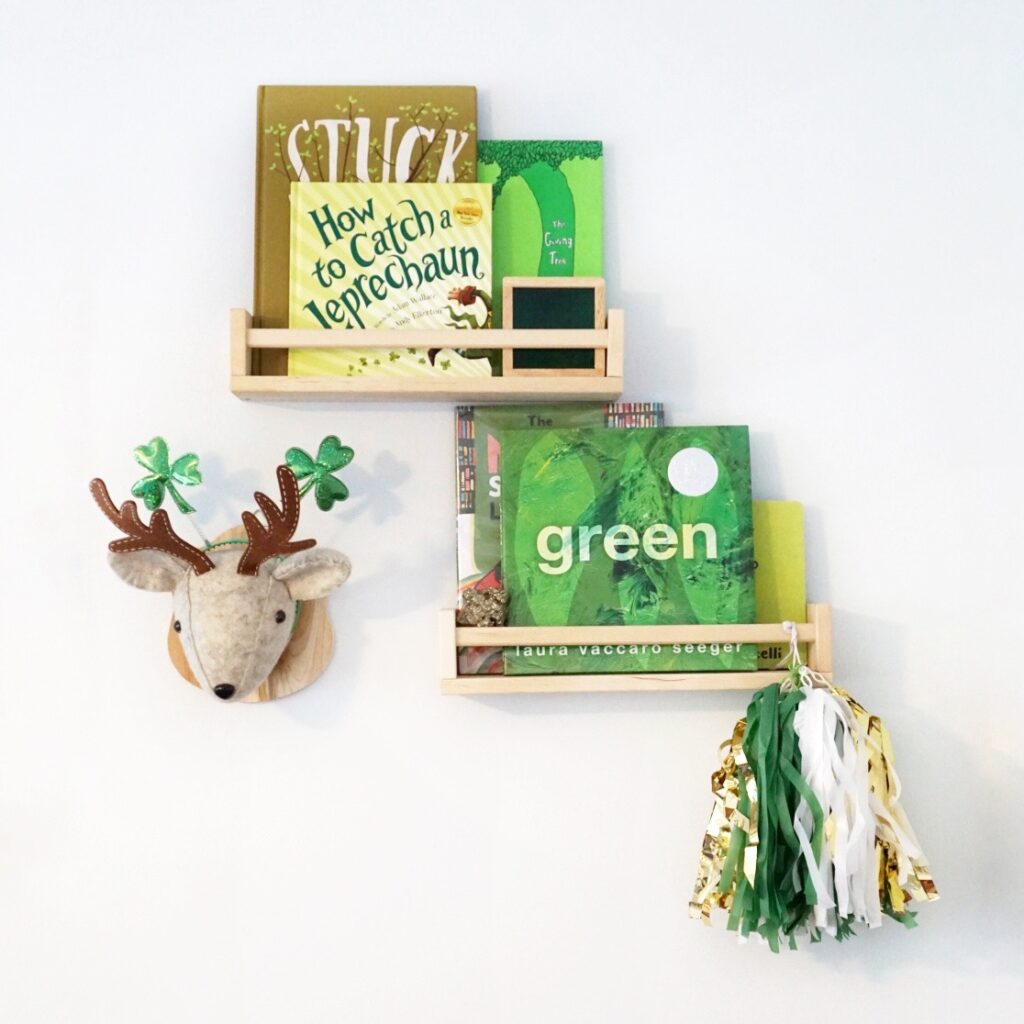 GREEN BY LAURA VACCARO SEEGER
Green by Laura Vaccaro Seeger is a Caldecott Winning book with beautiful illustrations. Each page spread shows different variations of the color green like forest green, khaki green and sea green. It has little peek-a-boo cutouts on each page that give you a hint of the page to come.
I love using Green to teach about color theory and tints and shades. Color mixing with paint is a great extension to the book and tinker tray activities. I like to give toddlers just 2-3 colors at a time to avoid every color they mix from being brown. You can keep it simple with just green with white and green with black or try green with yellow, green with blue, green with a little red etc. Kiddos can try to match the colors in the book OR create and name their own shade of green.
Darling Readers was inspired by the forest illustration on the forest green page of Green. She had her little ones make a forest by wrapping a canvas in string and mixing their own shades of green! Check it out on her Instagram @darlingreaders.
HOW TO MAKE A ST. PATTY'S TINKER TRAY
Collect multiples of green objects. For a more engaging tinker tray look specifically for objects that can interact with each other in interesting ways. I suggest finding things that clip or stick together, can fill or be filled, things with holes, long skinny objects, things you can stack or bend. For more ideas on what to put in your tinker tray, see Tinker Trays For Your Toddler.
To include your toddler in making the tinker tray, play a color scavenger hunt with them. Ask them to search through their toys and craft materials for things that are green. Read Green to show them different variations of green before they start searching or they might overlook a lot of shades.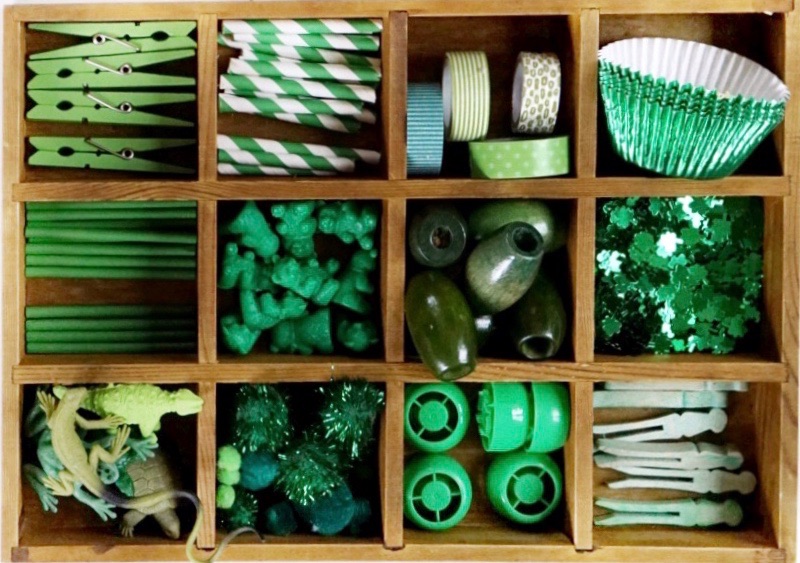 WHAT'S IN OUR ST. PATTY'S TINKER TRAY
Green clothespins (you can soak plain wooden clothespins in food coloring + water)
Green applesauce pouch lids
Green counting bears
Assorted green washi tapes
Green counting sticks
Frogs and lizards
Assorted green pom poms
Green macrame beads
HOW TO USE YOUR ST. PATTY'S TINKER TRAY
Tinker trays can be used on their own or paired with other material like play dough or string. I recommend introducing the tinker tray for the first time without any prompts. Just see what your child does with it without any adult interventions.
Then, introduce the tinker tray again with an "invitation to create" set-up. For example, if you want your child to create a leprechaun face like in the activity below you could set out the tinker tray next to a face shape with an almost-finished example (maybe it has eyes, a mouth and some hair but no nose or ears etc.).
Your child will look at your set-up and do one of several things. Your child might look at your example and decide to finish it. They might make their own, but copy yours exactly (less creative, but still practices valuable replication skills). They could create their own face inspired by the example OR they could use the objects to make something that is not even a face at all. ANY of these options are good options. There is no wrong way to use a tinker tray and no wrong way for a child to respond to an invitation to create.
LEPRECHAUN FACES: Start with a face shape like a face shape drawn on a mirror with dry erase marker, a construction paper face oval, a paper plate, or a round wood slice (a bonus for incorporating something from nature lol). Make creative faces using the objects in the tinker tray.
LEPRECHAUN TRAP STEM CHALLENGE: Build a leprechaun trap with the objects. You can pair the tinker tray with a cardboard shoe box.
PLAY DOUGH: Use with green play dough and shamrock cookie cutter (You can use a heart cookie cutter to cut out the four leaves of the clover). Check out THE BEST PLAY DOUGH RECIPE.
COLOR MATCHING: Match the different green objects to the closest shade in Green
KINETIC SAND: Use with kinetic sand. See our VALENTINE'S DAY KINETIC SAND ideas.
GREEN RAINBOW: build a green "rainbow" with the different shades of green in your tinker tray.
ST. PATTY'S JEWELRY: Design a piece of St. Patrick's Day jewelry or accessory. You can pair the tinker tray with string, plastic lacing, green plastic bead necklace or a pair of cheap plastic sunglasses.
OPEN-ENDED LOOSE PARTS PLAY: Let your little one create whatever they want! Somehow our tinker trays are always being used to make airplanes and jets haha. The possibilities are endless!
SHOW US HOW YOU USED YOUR ST. PATTY'S DAY TINKER TRAY!
Tag your photos of your tinker trays and tinker tray creations with @ureadyteddy and we'll share our favorites in our stories!