It's that time of year again...Valentine's Day! Valentine's Day is one of my favorite holidays to celebrate the kids. I love coming up with fun Valentine's Day activities like VALENTINE TINKER TRAYS and VALENTINE KINETIC SAND ACTIVITIES. One of my favorite parts is coming up with cute ideas for the kids' class valentines.
I like to think of non-candy valentine treats because I  hate when the kids bring candy home from school. 1-because I have zero will power and want to eat it all and 2-they almost always have a meltdown because they want to eat it immediately.
Last year, Teddy brought these KINETIC SAND VALENTINES in to his preschool class. We've also done these BEACH BALL VALENTINES FOR TODDLERS and these popular RUBBER DUCKY VALENTINES FOR DAYCARE. This year, I wanted to do something personalized for each kid because I wanted an excuse to use my Cricut machine.
This post contains affiliate links for your convenience. I make a small commission on items purchased through these links at no additional cost to you. All thoughts and opinions are my own. For full disclosure see Legal.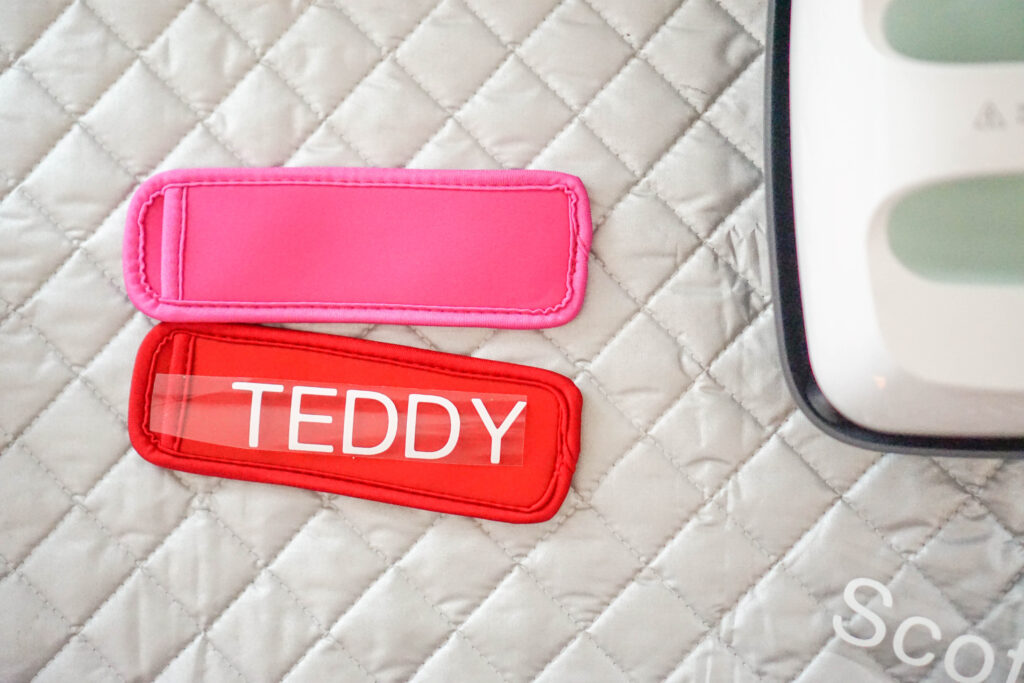 I searched Amazon for inexpensive items I could decorate with the kids' names and I came across these neoprene freeze pop holders for just over 30¢ a piece. My kids love their freeze pop holders and use them all the time to keep their hands warm while popsicle eating so I thought it would be perfect to gift to their classmates. They were also the perfect size for me to try out my new Cricut Easy Press 2!
The exact freeze pop holders I purchased are no longer available but check out these similar neoprene popsicle holders:
PERSONALIZED FREEZE POP HOLDERS
HERE'S WHAT YOU'LL NEED:
*You don't need the fancy Cricut tools to personalize these freeze pop holders. You can also use Iron-on transfer paper for your Ink Jet printer or Iron-on letters like these silver glitter letters. You can also make these freeze pop holders without the personalization and just use the free printable inside!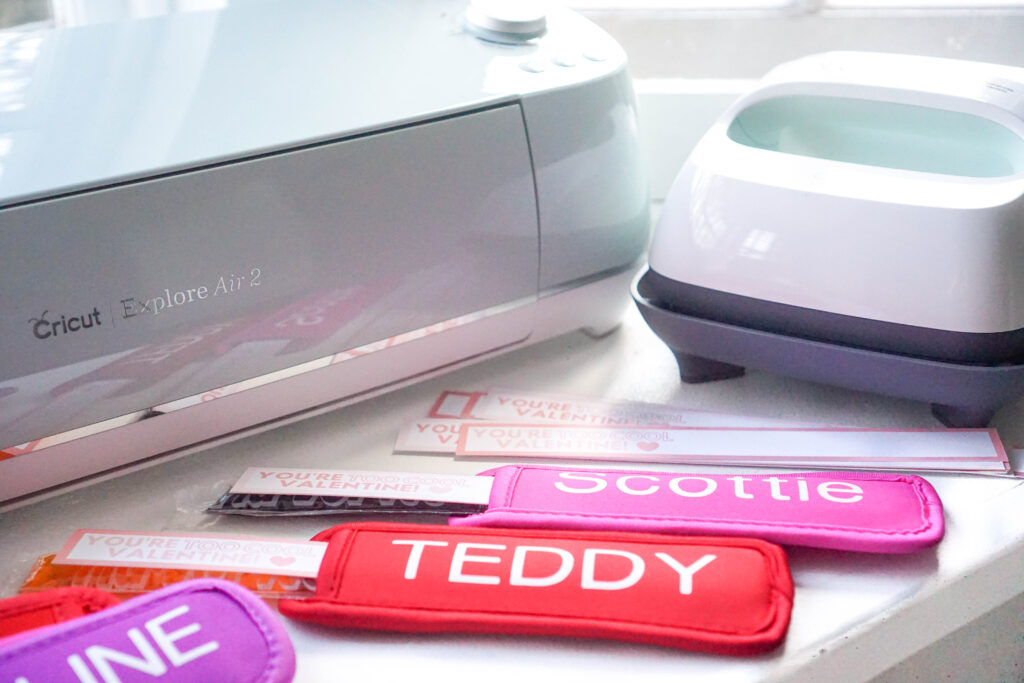 HOW TO MAKE PERSONALIZED FREEZE POP HOLDERS:
Open Cricut Design Space software and create a rectangle shaped guide 1.5"x6". Create text boxes (cut style) for each kid's name, making sure they will fit within the rectangular guide. I used the font Alte Haas Grotesk.
Set up Cricut Machine with Everyday Iron-on shiny side down on a standard grip mat. Set the material dial to 'Iron-On.'
Click "Make it" in Design Space. Set the size to 12x12 and make sure the Mirror setting is turned to ON or your names will transfer backwards.
Feed the mat into the Cricut Machine and hit the blinking Cricut Button.
Weed out the negative space around the letters leaving behind the names stuck to the shiny transfer paper. Cut the individual names out with scissors.
Set Cricut Easy Press 2 to 300º.  On top of a Cricut Easy Press Mat or ironing mat place 3 of the neoprene popsicle holders (side-by-side) and preheat for 5 seconds. This gets rid of any moisture and wrinkles.
Center one iron-on name strip to each freeze pop holder so that the shiny side is on the top and the name reads correctly. I think they look better assembled if you put the freeze pop opening to the left, but it really doesn't matter.
Set the Easy Press to 15 seconds and press it firmly on top of the three holders. When the timer beeps, flip them each over and press the backside for another 7 seconds to really secure the letters.
Test the edges of the letters and if they are securely adhered go ahead and peel off the shiny transfer paper. If they still seem a little loose, go ahead and press for another few seconds.
Repeat until you've finished personalizing all of your popsicle holders. Then check out our free printable "YOU'RE TOO COOL VALENTINE!" to put inside!
"YOU'RE TOO COOL VALENTINE!" FREE PRINTABLE
If you've been following this blog at all, you know I love punny sayings so I had to think of the perfect Valentine's Day saying to go along with the personalized freeze pop holder valentines. It was a no-brainer... You use a popsicle holder to keep your hands from getting too cold so "You're too cool Valentine" was just about perfect!
I created a free printable Valentine card/tag that says "YOU'RE TOO COOL VALENTINE!
with a heart and a blank space for your child to write their name. The tag fits inside the freeze pop holder which helps attach them, but also gives a little hint as to what the heck the holder is for, if some of the parents have never seen them before.
Open the Free Printable PDF
Print on white card stock paper.
Cut the individual strips.
Have your little one sign their name on the blank part of the tag.
Put the printed strip inside the popsicle holder so the printed text is still visible.
[optional] Stick a non-frozen freeze pop inside the holder behind the printed tag.
DID YOU TRY IT?
Happy Valentine's Day to you and your little ones! Let us know how your personalized freeze pop holder valentines turned out in the comment section or show us how you used the free printable(s) by sharing your photos on Facebook or instagram and tagging @ureadyteddy or #ureadyteddy
We'll share our favorites in our stories!