WHAT IS A TINKER TRAY?
A tinker tray is a tray filled with loose parts or found objects. They are commonly used in the Reggio Emilia approach to learning. Tinker tray materials can be used for a variety of activities or art making projects. I love tinker trays because they promote open-ended art making, critical thinking and process over product.
They can be used with children from toddler age (as long as they are well supervised or loose parts are larger so they don't pose a choking hazard) all the way to middle school age. Heck, even teenagers and adults can find some entertainment in a tray of cool stuff to build with.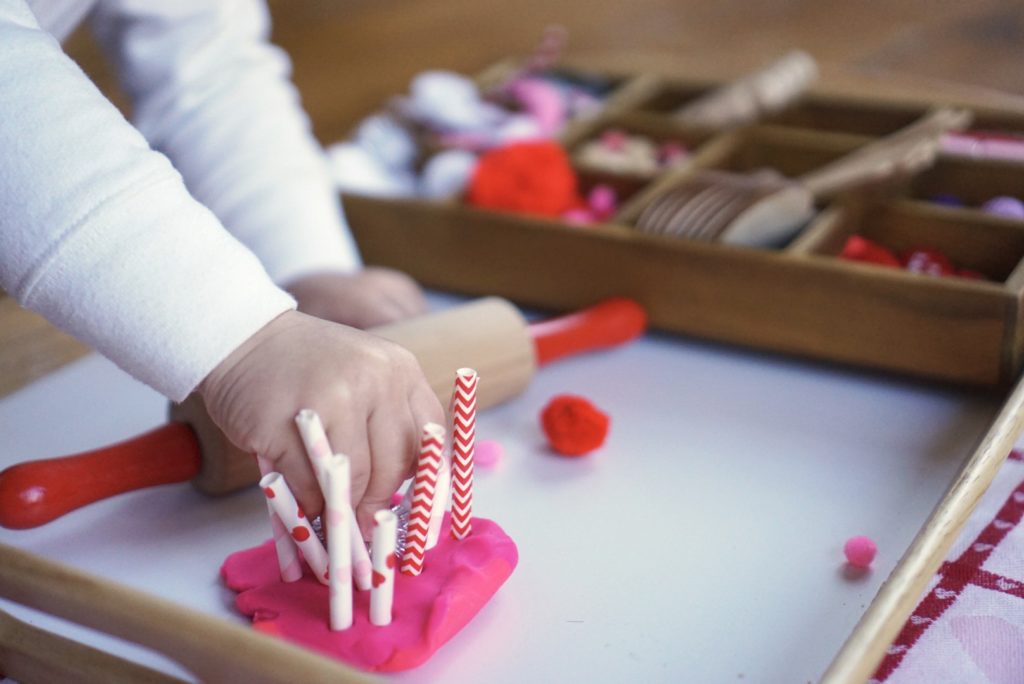 This post contains affiliated links for your convenience. I only write about products I love and all thoughts and opinions expressed are my own. For more information see Legal.
BENEFITS OF A TINKER TRAY
A tinker tray is inexpensive and versatile. You can use tinker trays for sculptures, collages, math manipulatives, STEM challenges, pre-writing and more. Tinker trays promote open-ended play and learning and naturally inspire creativity, critical thinking and problem solving. The small nature of the objects helps children practice their dexterity and fine motor skills.
BEST TRAYS FOR A TINKER TRAYS
You can use any kind of divider for a tinker tray. I prefer wooden trays, because they are durable, look nice and are made of a natural material. Part of the Reggio approach involves incorporating nature and natural materials into learning because it appeals to children on a primal level. Natural materials also make great loose parts to put inside the tray!
Silverware organizers and desk drawer dividers make great tinker trays. They can be found at thift stores, IKEA and Amazon.
You can also try muffin tins (especially great for edible loose parts), cafeteria trays, plastic bead containers, tackle boxes or tool boxes, or ice cube trays for smaller parts.
For a more disposable tinker tray you can try plastic or cardboard egg cartons or plastic/paper cups in a basket.
BEST MATERIALS FOR A TINKER TRAY
WOODEN OBJECTS
Toothpicks
Chopsticks
Wooden Beads
Golf Tees
OTHER NATURAL MATERIALS
Sticks
Corks
Sea shells
Acorns
Pinecones
RECYCLABLE MATERIAL
Paper straws (or give a second use to your plastic straws)
Corrugated cardboard
Paperboard
Crumbled aluminum Foil
Cut up toilet paper/paper towel rolls
Tops of applesauce/yogurt pouches
Plastic lids
FOUND OBJECTS
Marbles
Game Pieces
Legos/Blocks
Old buttons
Nuts and bolts
Rubber bands
Paper clips
Binder clips
Brads
Playing cards
Dried pasta
Sponges
Bottle Caps
CRAFT ITEMS
String (I prefer plastic lacing cord because it is stiffer and easier for toddlers to use)
Cotton balls
Beads
TIP: For a more engaging tinker tray try to choose a variety of objects that can connect to each other in someway, things that can clip, or wrap, or stack, be strung together, fit into each other etc.
You can change the materials out with each season/holiday to keep the materials fresh and exciting for your preschooler or create tinker tray themes to go along with what they are learning in school. See our VALENTINE'S DAY TINKER TRAY for inspiration.
WHAT TO DO WITH YOUR TINKER TRAY
For toddlers, I like to start off by introducing the tinker tray without any direction or influence. Let your child just explore the materials freely and take note of what materials they gravitate to. For example, when Teddy was first given the tinker tray he immediately pulled out the paper straws and then some sparkly pom-pons and started trying to balance the pom pons on top of the straw opening. Then he pretended to hit the ball off the top like a baseball and tee. 
After observing Teddy's play I made a mental note that I could include more sports-related materials like some wooden golf tees and other ball-shaped things.
TIP: Try asking, "Can you tell me a little about what you are making?" "Can you show me how to do that?" "What made you think of that creative idea?" because it shows children you are interested and gives them a chance to verbalize their process.
The next time you introduce the tinker tray, those same exact materials can be used an entirely different way with an open-ended provocation. A provocation is a used often in the Reggio Emilia approach to early education as a way to extend the ideas of the child by choosing specific materials or arranging materials in a certain way.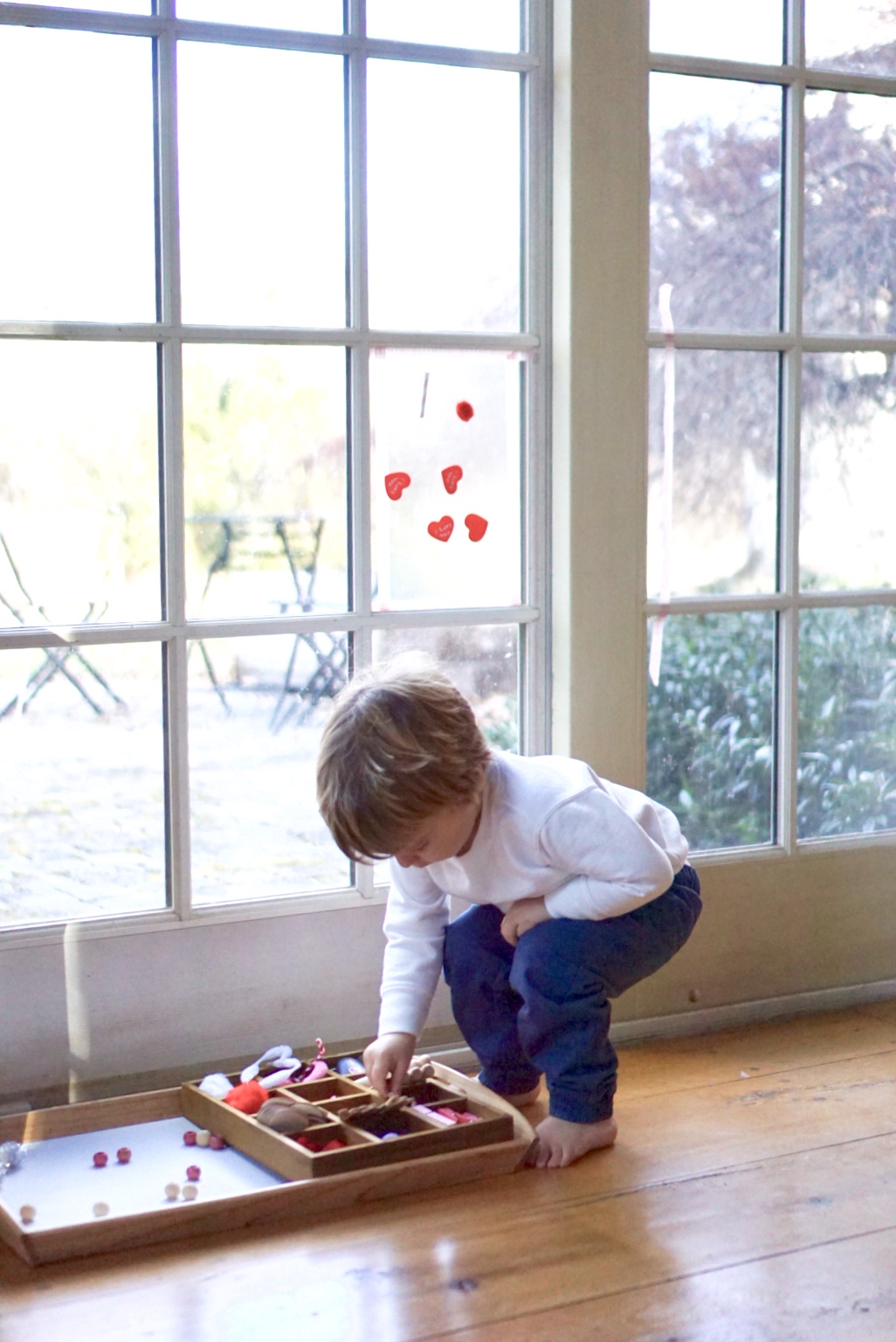 SAMPLE PROVOCATIONS FOR TINKER TRAY
USE WITH A MIRROR
Scatter a few items from the tinker tray onto a mirror. The mirror lets children see objects from different perspectives. Mirrors are great to use with any building activity because it lets children see their creations from all sides.
USE WITH STRING
String a few objects that have holes (beads, paper straws, buttons etc) onto a piece of string or plastic cord. Children may choose to continue stringing the objects together, or they might try wrapping objects with string, or laying the string down to create lines. Maybe they would see the strung together objects as a necklace, or a snake and fashion some other accessory or animal from the objects in their tinker tray.
USE WITH PLAY DOUGH
Stick some objects into the play dough and press some of the objects into the dough to make a mark. This might inspire children to try to make a mark with other objects or use the stick things in the dough to create a sculpture.
USE WITH KINETIC SAND
You can use the kinetic sand pretty much how you would use the play dough. Find out more about WHY WE LOVE KINETIC SAND and check out some VALENTINE'S DAY KINETIC SAND ACTIVITIES, FALL KINETIC SAND ACTIVITIES, and CHRISTMAS KINETIC SAND ACTIVITIES.
USE WITH CONTACT PAPER
Tape a piece of clear contact paper to a wall or window so that the sticky side is facing out. Stick a few objects up there to get started. Children might stick more objects to the contact paper to create a design, or they might experiment with what objects stick or don't stick.
USE WITH CLIPBOARD + PAPER
Trace a few of the objects onto the piece of paper using a washable marker. Your child might follow suit and trace more objects, or they might try to match up the object with their tracing.
USE WITH TEMPLATE
I sometimes use tinker trays with templates, although it is a little less open-ended, but leads to a specific learning objective such as pre-writing or math. You can use cards with alphabet letters, numbers, words, shapes, lines or patterns etc. and then prompt your child to use the tinker tray objects to "trace" or recreate what was on the card.
USE WITH STEM CHALLENGE PROMPTS
For older children, tinker trays work great for STEM challenges. Prompt children to do a specific task: build a contraption that will protect an egg if you drop it, build a bridge across two places, build a building as high or as strong as you can with the materials provided etc.
SHOW US HOW YOU USED YOUR TINKER TRAY!
Tag your photos of your tinker trays and tinker tray creations with @ureadyteddy and we'll share our favorites in our stories!