I am excited to finally share the details of baby Scotland's vintage garden nursery with all of you. I planned this nursery for months before I was ever able to start decorating and I am so happy with how it turned out. We recently moved into our  dream house, a converted early 19th century farmhouse. It was full of character and vintage charm but even more full of projects and problems. The room for the nursery needed electrical work, a paint job, and new doors and windows. The room wasn't ready to be decorated until about a week before my due date.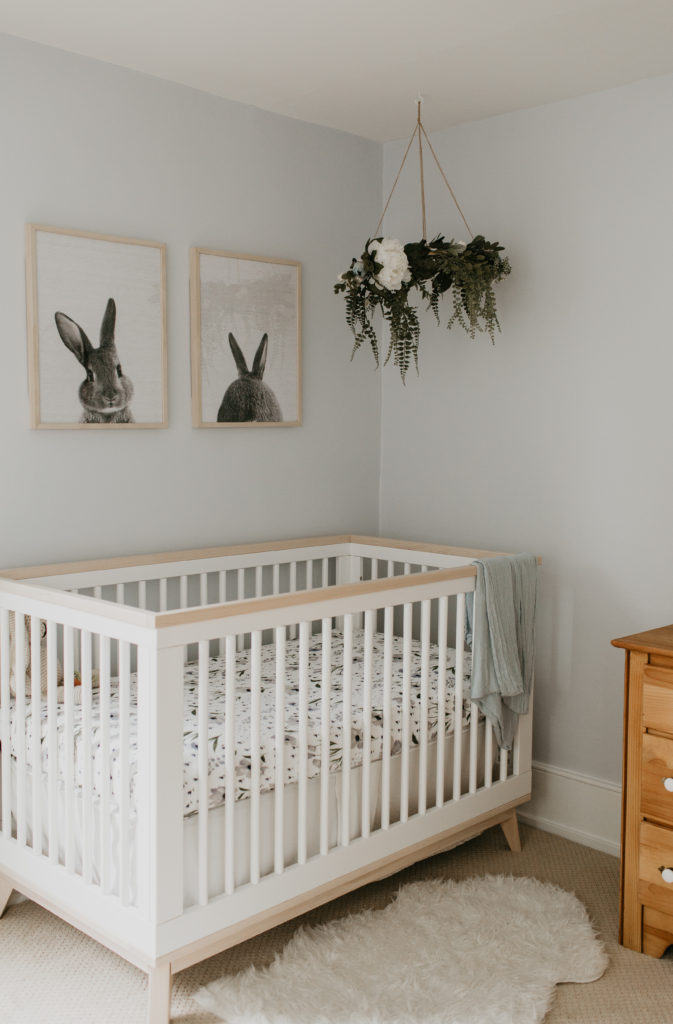 This post contains affiliated links for your convenience. I only write about products I love and all thoughts and opinions expressed are my own. For more information see Legal.
We re-used the Babyletto Scoot crib, antique dresser and glider from our son Teddy's nursery, but I wanted to style everything differently than his bright zoo-themed nursery. I wanted the room to have a feminine touch without being pink and girly so I went searching for something sweet and floral in a blue color. After searching and searching I found this adorable blue windflower quilt from Little Unicorn which I used as the inspiration for Scottie's vintage garden nursery design.
The photographs of the quilt online made it look much bluer than it was in real life so when I received the quilt, crib sheet and swaddle I was a little disappointed at how purple the flowers looked. I had already bought other things in blue so I was worried they wouldn't match. To help the colors match a little better I chose a paint color that was a mix of the blue and the purple and settled on a light burple called Aster Petal from PPG.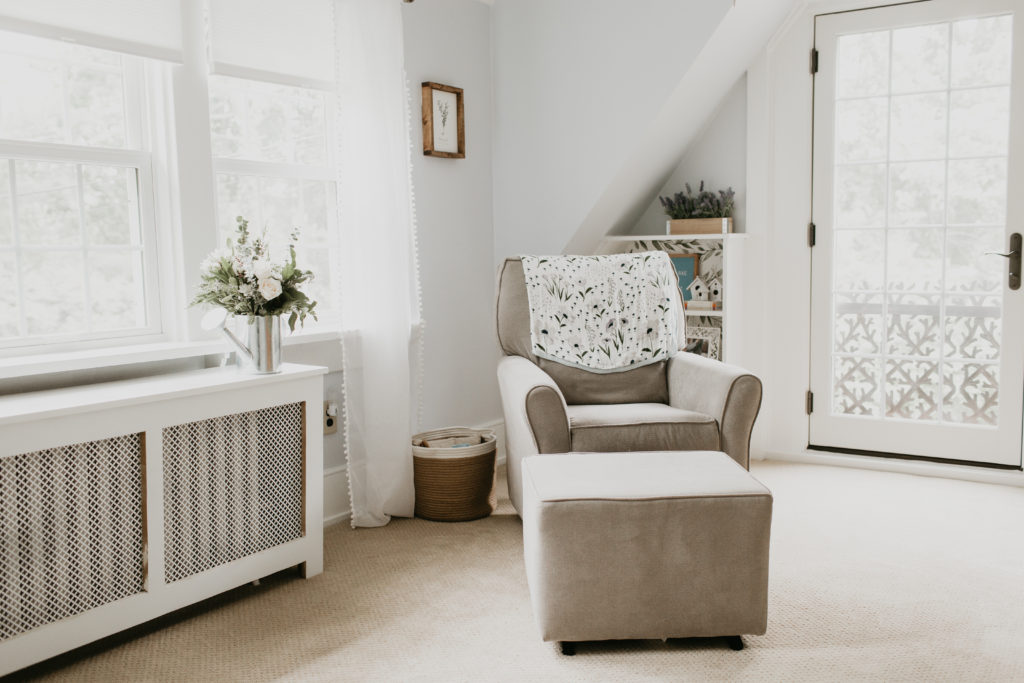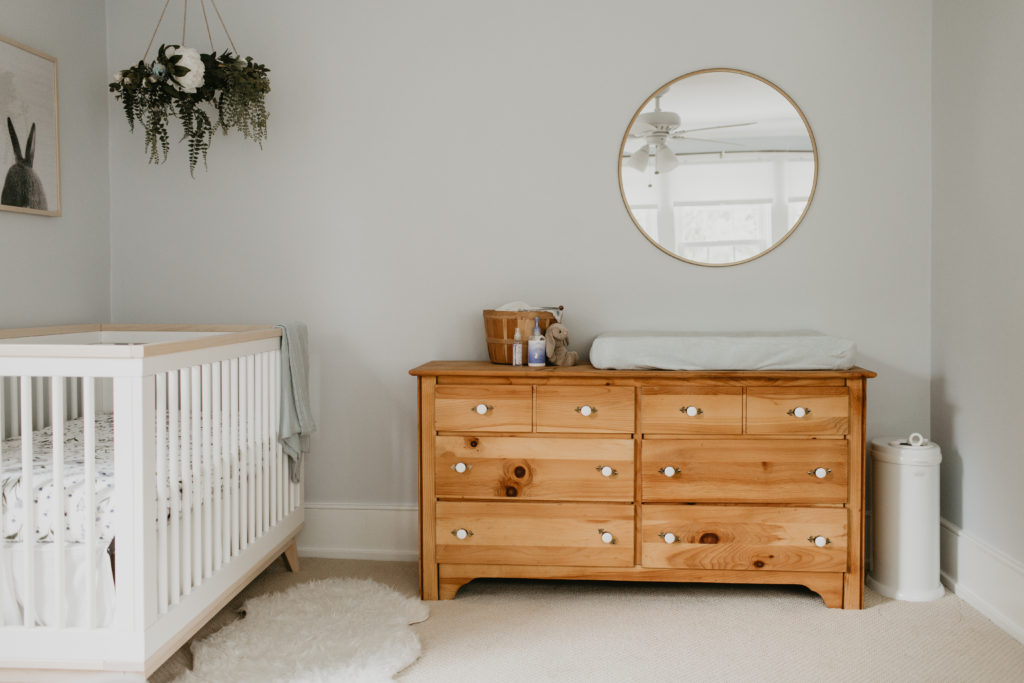 I had a hard time finding other florals that complimented the blue windflower design so I decided to incorporate some bunnies into the decor for a little bit of a Peter Rabbit/Beatrix Potter kind of vibe. I found these awesome bunny posters on Etsy and put them in some cheap Ikea frames. I still can't forgive myself for accidentally cropping out the rabbit's tail when I printed these...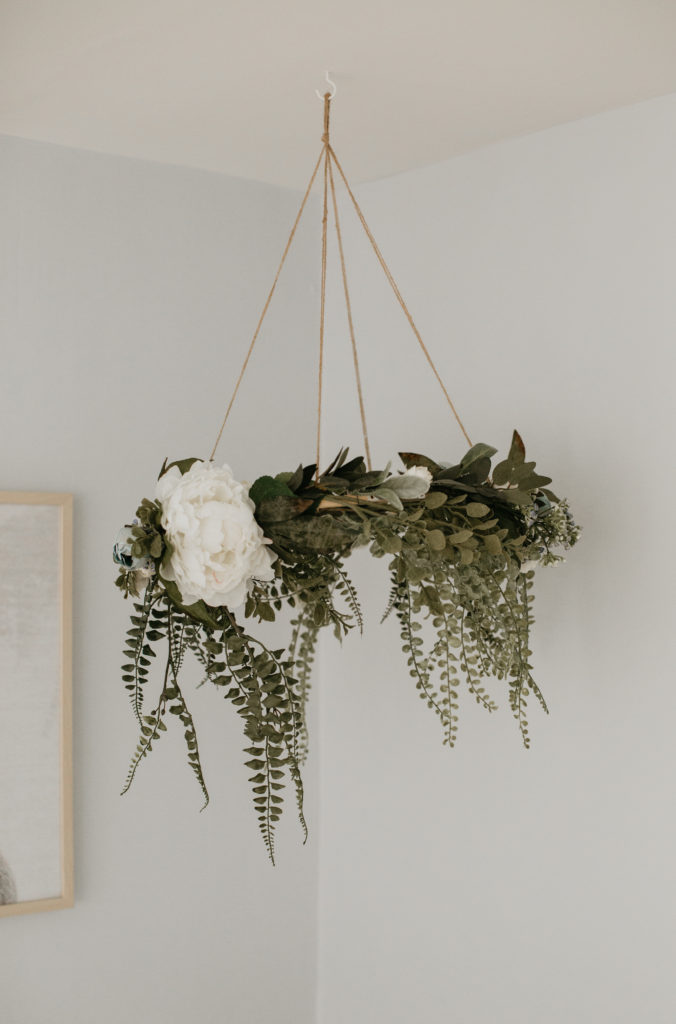 Of course I needed at least one DIY project to satisfy my crafty side, so I made the this pretty floral mobile to hang above her crib. Making it myself gave me the option to choose exactly the right flowers and leaves to match the decor. I ended up using mostly greenery with some white flowers and added just a few small blue and purple flower accents. I used a large crochet hoop as the base and attached the plants to the hoop using floral wire and hot glue. I tied a few pieces of twine to the hoop and hung it from the ceiling with a little hook.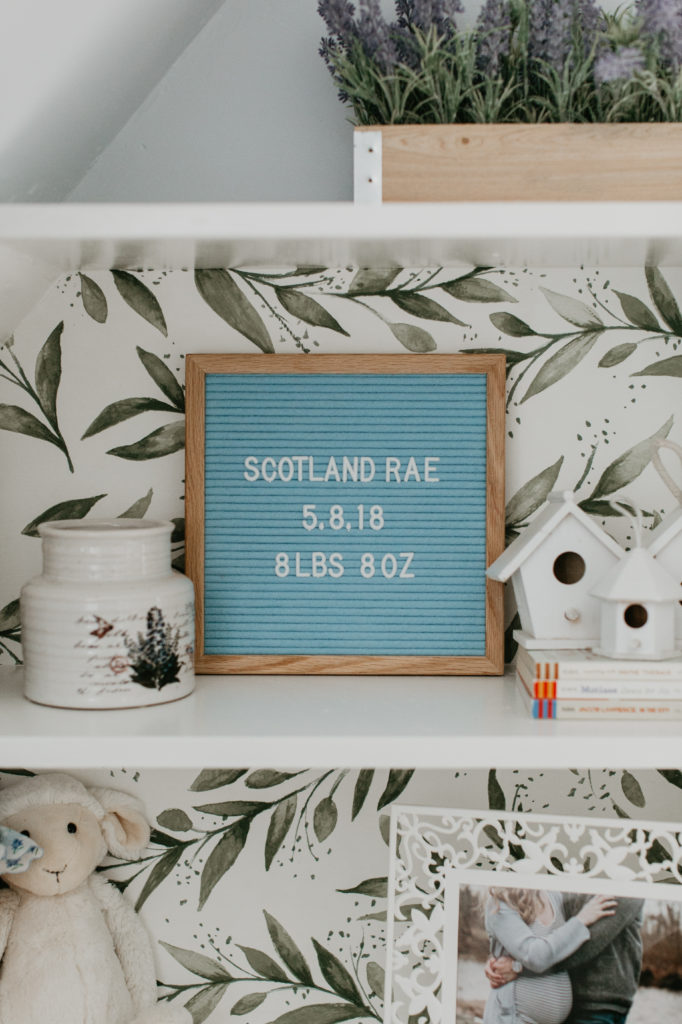 One of my favorite parts of the nursery, is the built-in shelves that I added wallpaper to the back of. I was so excited when I found this botanical wallpaper that matched the greenery in blue windflower quilt so perfectly. Of course it happened to be designed by Joanna Gaines the master of farmhouse decor and my fixer upper inspiration. It was my first time wallpapering but it was easy to apply using a spray bottle of water, a utility knife and a little Pampered Chef nylon pan scraper.
To style the shelves I layered in some blue accents and kept everything else white or neutral. I love the colored letter board and used the little vase next to it to store the letters. The craft store bird houses were left over from my garden-themed baby shower and I borrowed some pretty frames and toys from other places in the house. I incorporated more wooden accents with the bushel and used blue vintage floral handkerchiefs to conceal not-so pretty but necessary baby items.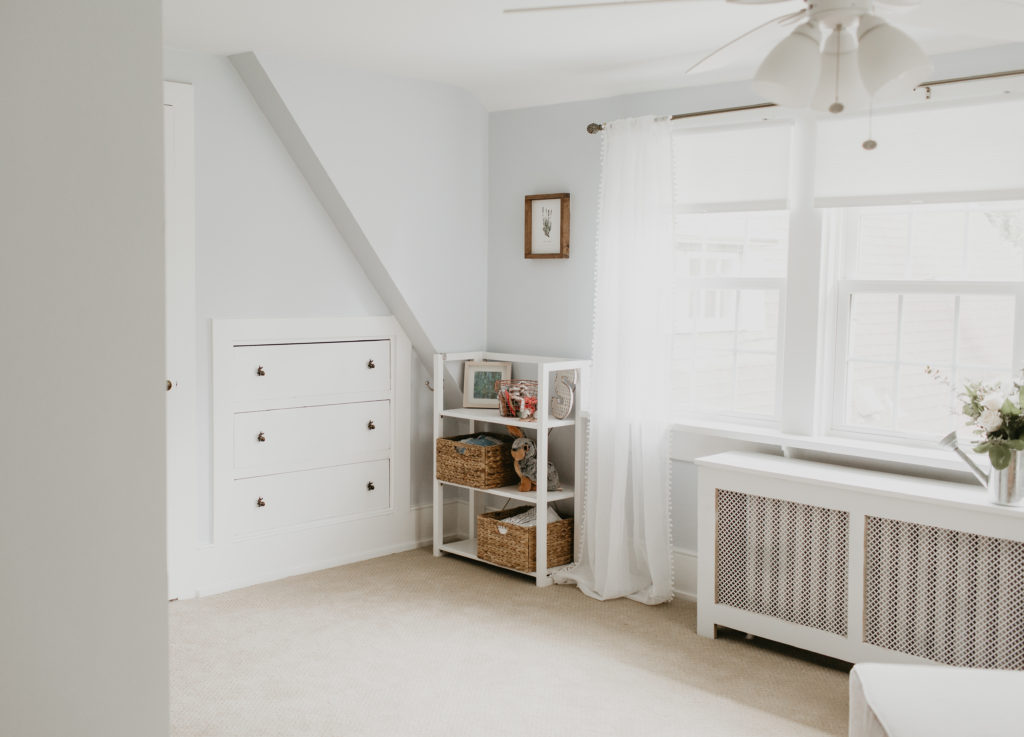 These Target shelves need a little bit of help in the styling department but I love those water hyacinth baskets from Amazon. I have them in almost every room in my house because they are the perfect size for shelves and closets and coffee tables and they match almost everything. The pom pom curtains were unbelievably inexpensive from Target and the accordion blinds were from Ikea. The two botanical prints (Chamomile and Lavender) on either sides of the windows are from Etsy and are framed in barnwood. Another one of my favorite details from the nursery are the vintage rabbit knobs I used for the built-in drawers.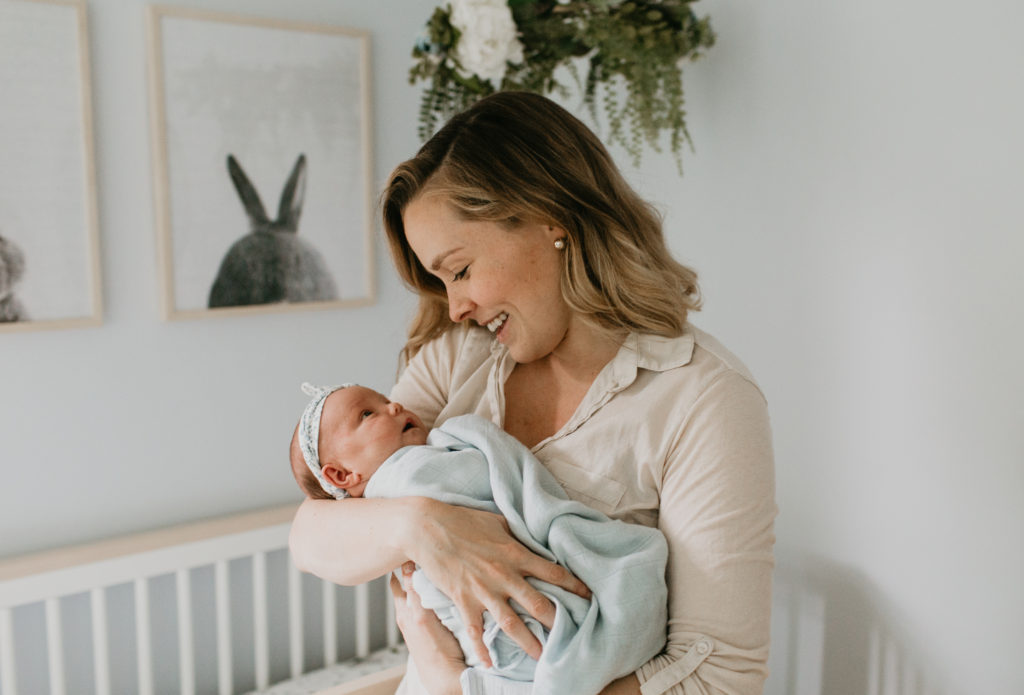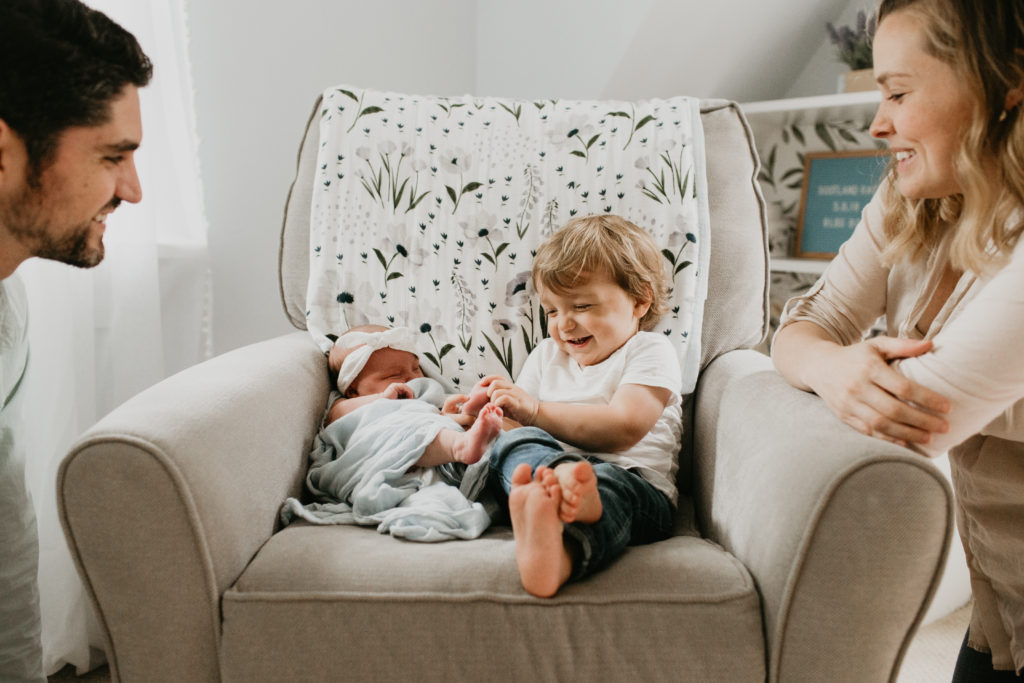 The most adorable part of our vintage garden nursery is definitely baby Scottie. Even though she has no clue if her nursery is stylish or not I hope the tranquil colors and botanicals designs create a peaceful place for her to sleep. At the very least, I have a pretty room for late night feedings and poopy diaper changes.
Thank you to the very talented Laura Olivia Photography for capturing these awesome photos! Check out her website or follow her on insta @lauraa.oliviaa
What do you think of our vintage garden nursery? Let me know in the comments!