Lack of sleep has got to be one of the hardest parts of having a newborn. Sleep deprivation can be brutal and lead to maternal (and paternal) stress and anxiety. Luckily both of our children were decent sleepers, although for some reason none of our babies liked sleeping in their bassinet and they really don't like sleeping on their backs.
We resorted to some not-so-safe sleeping habits with our first baby. We'd let him sleep in the carseat, prop him up in the Boppy on our bed or let him lay on top of us. This time around we needed a better and safer sleeping situation.
This post may contain affiliated links for your convenience. I received products compliments of Dockatot in exchange for my honest review. I only write about products I love and all thoughts and opinions expressed are my own. For more information see Legal.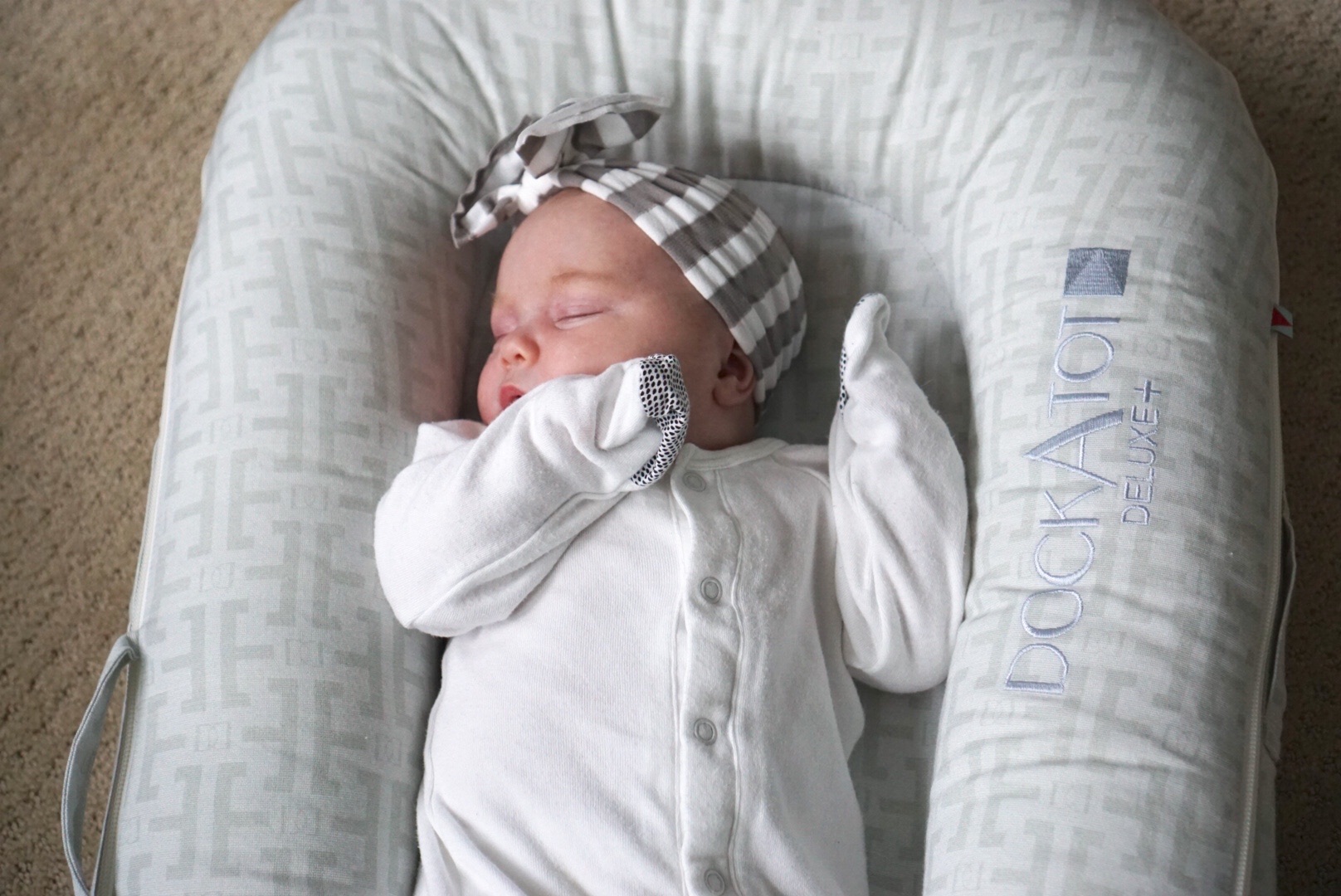 THE DOCKATOT
The DockATot is a sturdy but comfy little bed that can go in the middle of the bed without having to worry about them getting smushed or covered in blankets. It is even better for naps and those moments when you just want to set a baby down somewhere. It is easy to move from one room to another and is awesome for travel instead of needing to haul around a portacrib.
DETAILS
DockATot is a multi-functional lounger, co-sleeper and playtime lounger. It comes in two sizes the Deluxe for 0-8 Months and the Grand for 9-36 months. It is breathable, OEKO-TEX certified and made of all natural, machine-washable 100% cotton.
HOW WE USE THE DOCKATOT
I know people have a lot of opinions on co-sleeping, and we tried a bassinet but the truth is it is just so much easier having the baby in the bed with us especially while breastfeeding. The DockATot makes co-sleeper safer because the sides help prevent the baby from rolling over or rolling off of the bed. It also helps prevent parents from rolling on top of the baby. The lower sides make it easy to comfort the baby and take them out to nurse. The sleeping surface is firm for correct back positioning.
I mainly use the DockATot as a docking station to set the baby down whenever I'm not wearing or holding her. It can also be used like a Moses Basket that can be carried to a different room while she is napping (like the bathroom floor while you attempt to take a shower...).
We also use it instead of a travel crib because it is smaller and more portable than the Pack N Play. It can also be used as a play mat of sorts. On the DockATot website they also sell soft play gym attachments to go over top of the DockATot.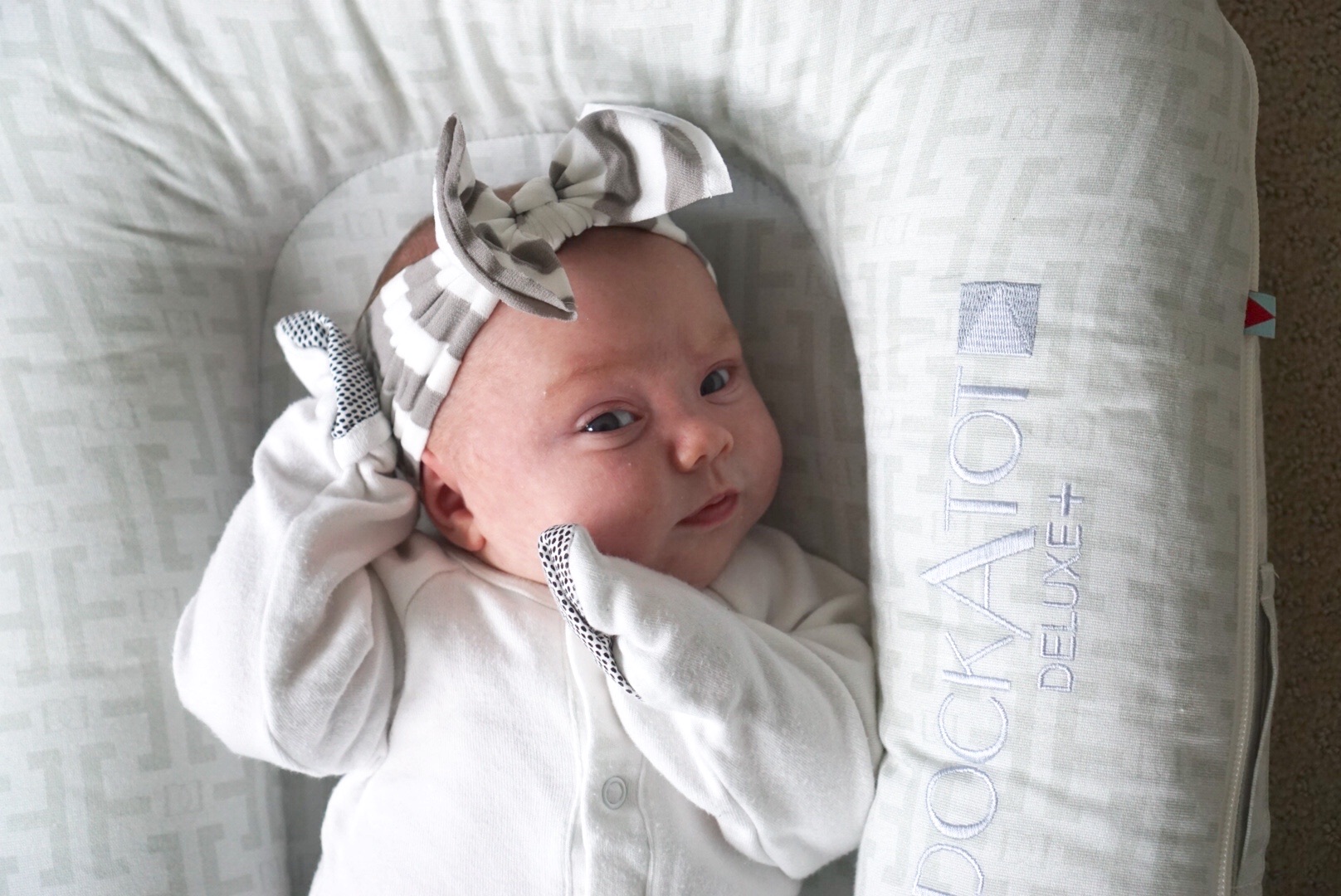 PROS
PORTABLE
The DockATot is smaller and lighter weight than a traditional bassinet. It also has handles on the side and comes in a plastic zippered carrying case.
WASHABLE FABRIC
The fabric on the DockATot is breathable and comes in adorable patterns and colors. I chose the Signature Gray pattern because is cute, subtle and hides any stains. If the cover gets stained it can be easily zipped off and thrown in the washing machine. Read how to care for your DockATot here.
SAFE
The DockATot makes co-sleeping safer because it is firm and has sides that keep the baby from rolling over or being rolled over on. If you plan on co-sleeping with the DockATot please be sure to read Sleep Safety tips from the company's website.
COMFY
The mattress and the sides are soft while still being firm. The border surrounds the baby for a snug fit reminiscent of their former uterine apartment. It must be pretty comfortable because my toddler always tries to steal it!
CONS
REFLUX ISSUES
Flat surfaces are not great for Scottie's reflux. I  wish the DockATot was slightly inclined. On the website it says "If your little one has reflux and needs to sleep slightly elevated, you can place a small folded towel or blanket underneath the top of the dock to elevate their head slightly." When I tried this she seemed to slide down towards the bottom of the DockATot in an uncomfortable position.
PRICE
The DockATot is on the pricey side and I wish the covers were more affordable. To buy a new cover is about the same price as buying a brand new DockATot! However, in my opinion it is worth it, ditch the bassinet for the more versatile DockATot and you can save $10 now with my link below.
Check out @dockatot on instagram!
WHAT DO YOU THINK OF THE DOCKATOT?
Let us know in the comments! If you like the DOCKATOT you would also love the OLLIE SWADDLE and the BINXY BABY SHOPPING CART HAMMOCK. Check out the rest of the baby products that I bought for baby #2 WHAT I NEEDED FOR A SECOND BABY.