Grocery stores have never been my favorite place. To be honest, grocery stores always gave me a ton of anxiety. Too many people. Too many carts. Too many choices. Then I had a kid and it was like adding a ticking time bomb to the equation. There was always some sort of meltdown as soon as we got into the checkout line, stuff pulled off of the shelves and half-eaten bananas thrown across the store.
When I found out we were having a second baby, one of my biggest concerns was "How the heck do I go grocery shopping with them?" There is usually only one seat in a shopping cart and that seat is occupied by my toddler. If I put the car seat in the cart then I wouldn't have any room for groceries.
First, I avoided grocery shopping altogether and tried curbside pick-up. Then I tried wearing Scottie in a wrap and pushing Teddy in the cart which was great until Teddy would squirm out of his car-cart and go running down the aisle grabbing candy off of shelves and I couldn't bend down to wrestle it out of his hand. There had to be a better way...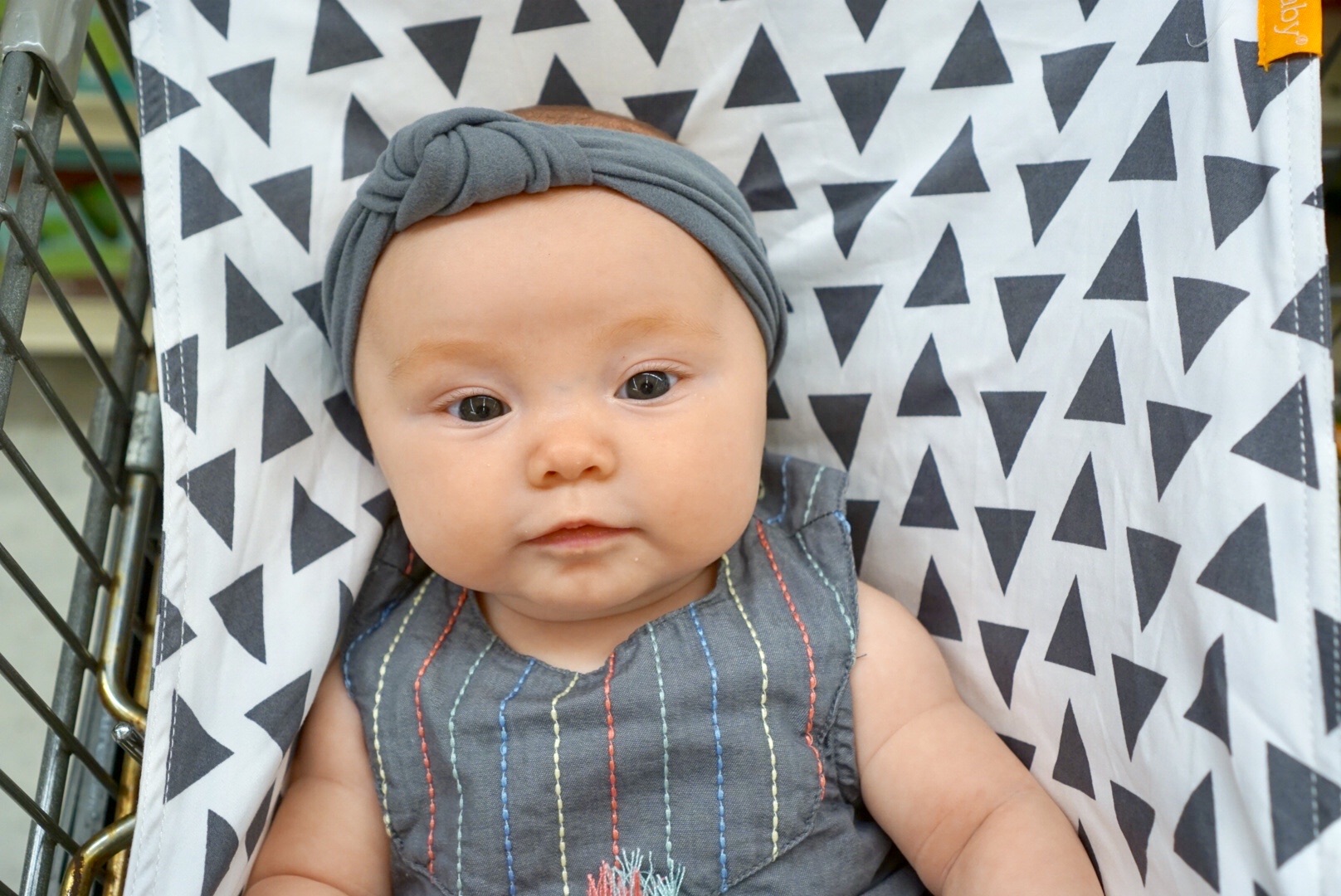 I received this Binxy Baby Shopping Cart Hammock free in exchange for my honest review and social shares. I only write about products I love and all thoughts and opinions expressed are my own. For more information see Legal.
BINXY BABY SHOPPING CART HAMMOCK
When Binxy Baby reached out for me to try their Shopping Cart Hammock I was skeptical at first, but I was willing to try anything to make grocery store trips more bearable. The shopping cart hammock is a piece of fabric that stretches across a standard sized shopping cart so the baby is elevated. It has two plastic bars that fit on the cart's edge and are secured with a velcro strap. There is a lap belt for sitting the baby directly in the hammock and another strap for strapping the car seat into the hammock.
For our trial run of the Binxy Baby hammock we put Scottie directly in the hammock. She LOVED it. She was so happy and smiley and if you've read anything about our troubles with colic you know this is no small feat.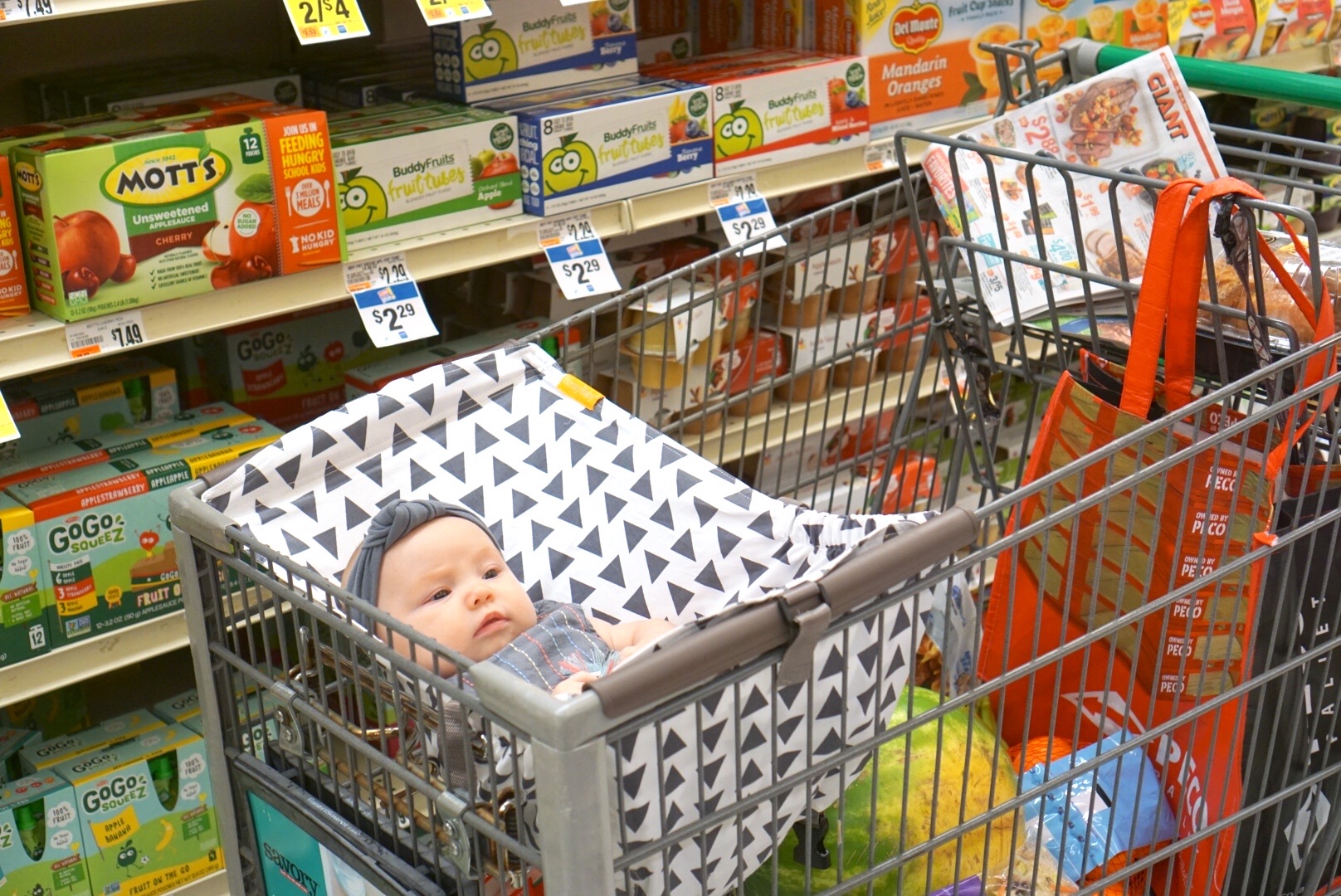 PROS
Light-weight and can fit easily in a diaper bag.
Soft fabric and cute patterns (The one featured here is Gray Triangles, but I love the Tropical Pattern and the Indigo Dream too!)
It seems to be secure and safe. I wasn't worried about her rolling out or anything!)
Freed up space in the shopping cart for groceries
Kept baby calm with the gentle rocking motion of the hammock and kept her entertained with the view of the grocery store
Easy to take baby in and out
Free U.S. Shipping!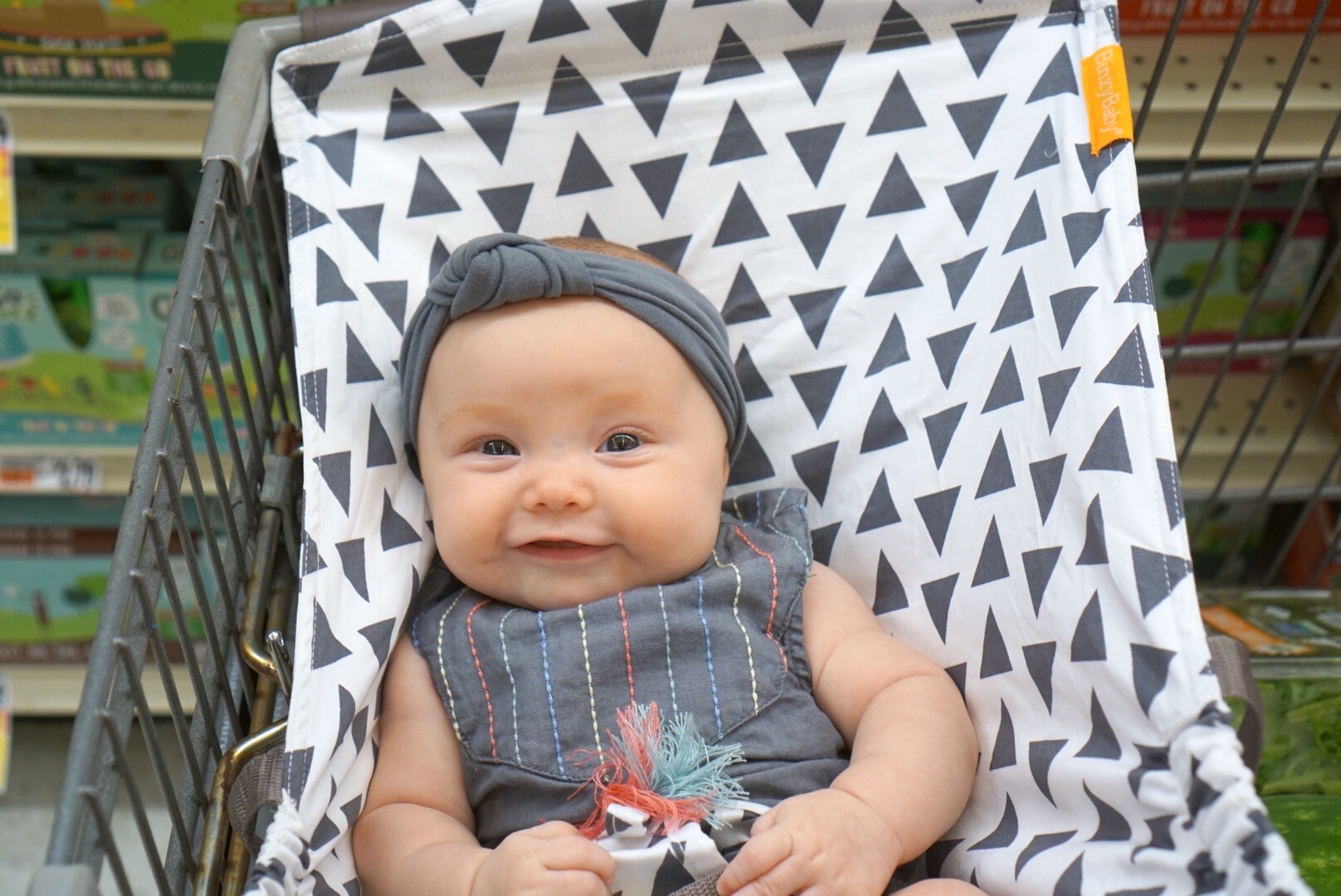 CONS
Do NOT use this product if you don't feel like talking to anyone at the grocery store, because we had at least five different people come up and talk to us about the hammock or ogle at AKA breathe their germy breath on my cute baby.
Doesn't fit on a Costco cart.
Baby tilts to the back of the hammock in certain grocery store carts.
Limited options for colors and patterns.
You must discontinue use once the baby can sit up unassisted or weigh over 50 lbs