I wanted to do something creative for Teddy's monthly baby pictures. I have a background in art, and I wanted pictures that combined drawing and photography. I've seen sidewalk chalk drawings with kids done before, but I wanted to put a new spin on it! I love thinking of new and funny ideas every month, and until about 10 months Teddy loved posing for them.
Taking these monthly chalkboard photographs are easier than you might think, and won't cost you much money to create. Follow these simple directions to make the board, draw your background and set-up the shots.
This post contains some Amazon Affiliate links for your convenience. See full disclosure here.
SUPPLIES:
A 3'x3′ Square of Plywood
Chalkboard Paint (Chalkboard spray paint is the easiest, but you can also mix your own chalkboard paint using any color of latex paint and some un-sanded grout.)
Chalk
Chalkboard Eraser
Assorted Costumes and Props
OPTIONAL: For an extra challenge use a second smaller piece of plywood. Paint the plywood piece(s) according to the directions, then rub a piece of chalk all over the board back and forth in all directions, and then erase to prime the surface.
DIRECTIONS:
THE BOARD
Choose a flat piece of plywood without many knots or cracks.
Cutting the board into a 3'x3′ square so it is easier to crop and put on Instagram.
Paint the board with several layers of chalkboard paint. You can use chalkboard spray paint mix your own DIY CHALKBOARD PAINT using latex paint mixed with un-sanded grout.
Prime the board with a layer of chalk before drawing.
THE DRAWING
Draw your chalk background with a piece of chalk. Lay a pair of footie pajamas down to use as reference for where the baby will be positioned. Make sure parts of the drawing that are important won't be covered by the baby.
THE PHOTOGRAPH
Put your board in a well-lit place and put a ladder next to the board where it won't cast a shadow on your board.
Lay the baby on the board, climb the ladder and take photos from overhead. If you have someone to help you it will make things so much easier, because they can place the baby on the board while you are already in position.
Snap A LOT of pictures quickly because if you have a wiggly baby you don't have a lot of time before the baby rolls over and messes up your chalk drawing. If you have a helper they can keep the baby entertained by standing around the board where you want the baby to be looking, but making sure they don't cast a shadow on the board.
To make something look like it is in front of the baby (like in the Christmas picture or Thanksgiving picture) use a second smaller board and have a helper hold it on top of the baby.
Get creative!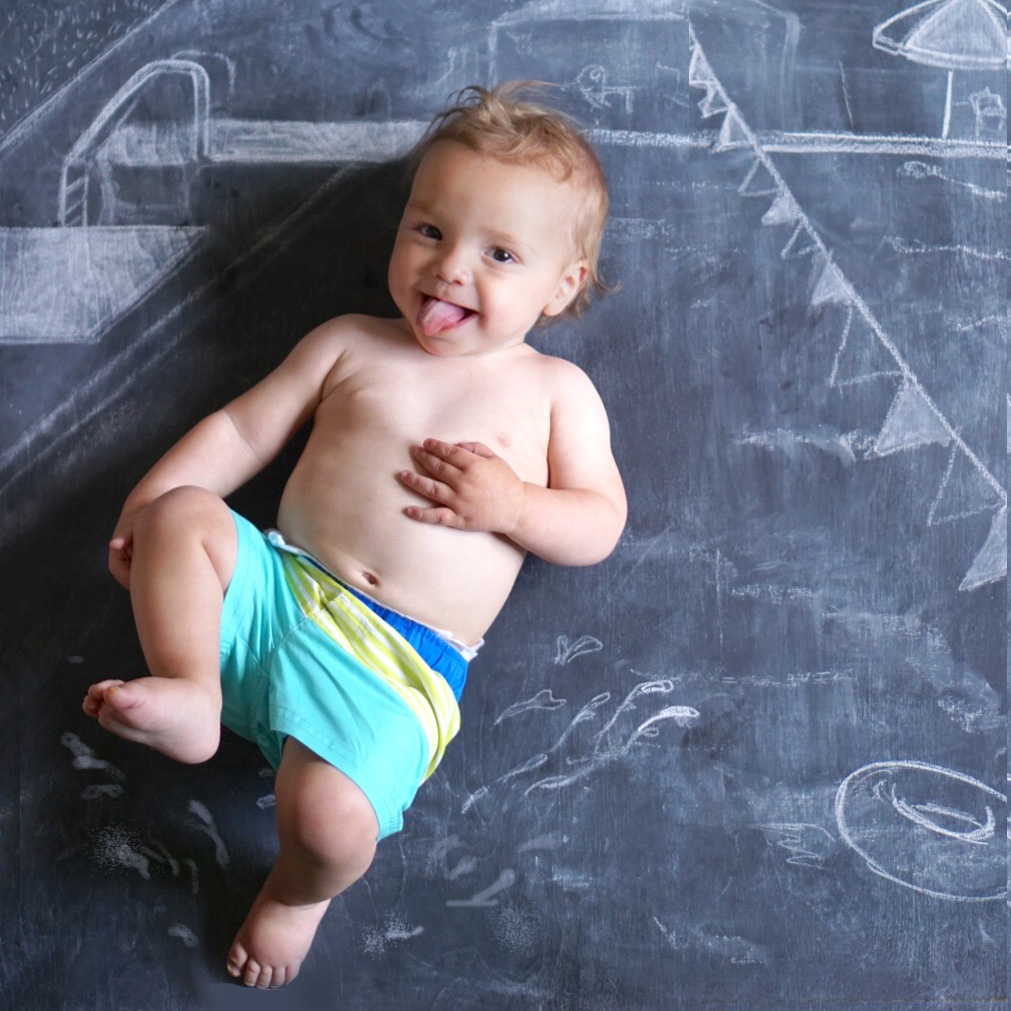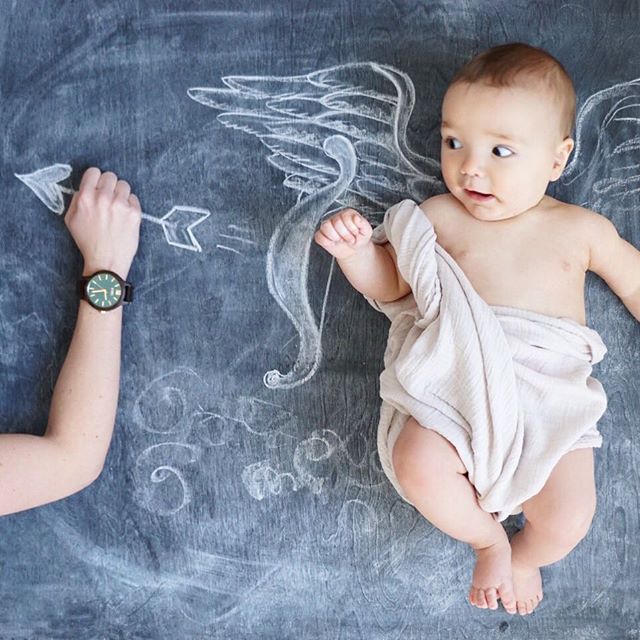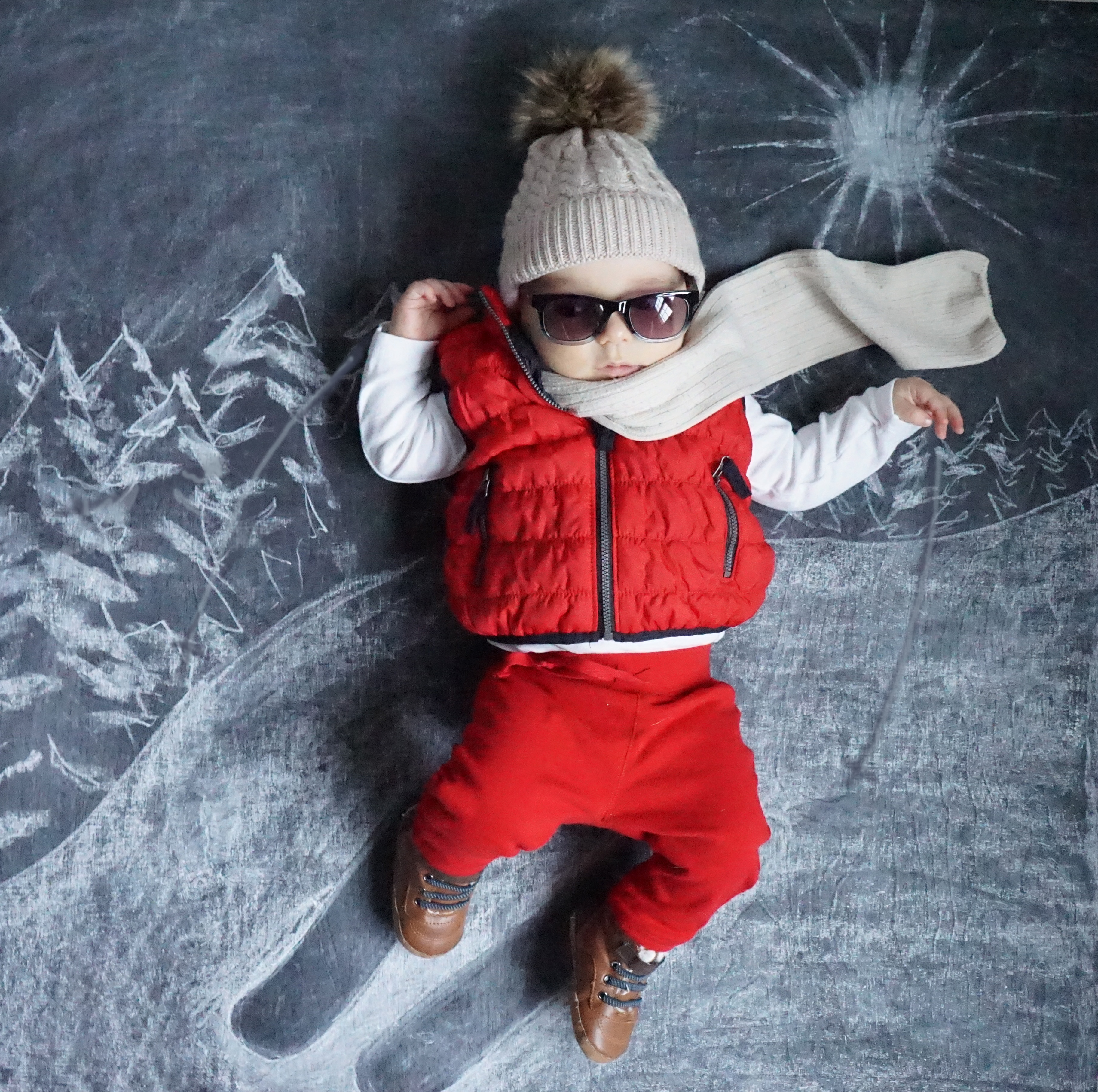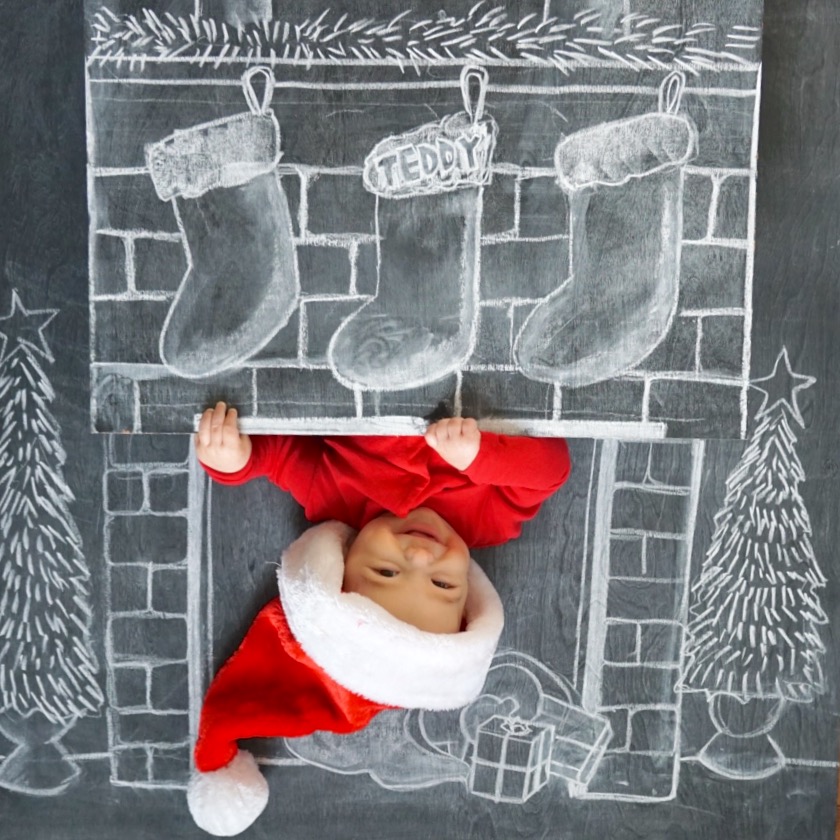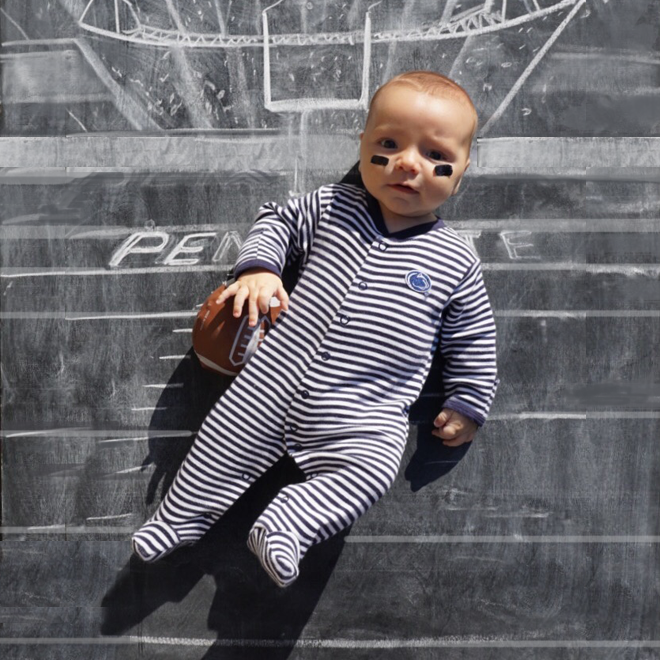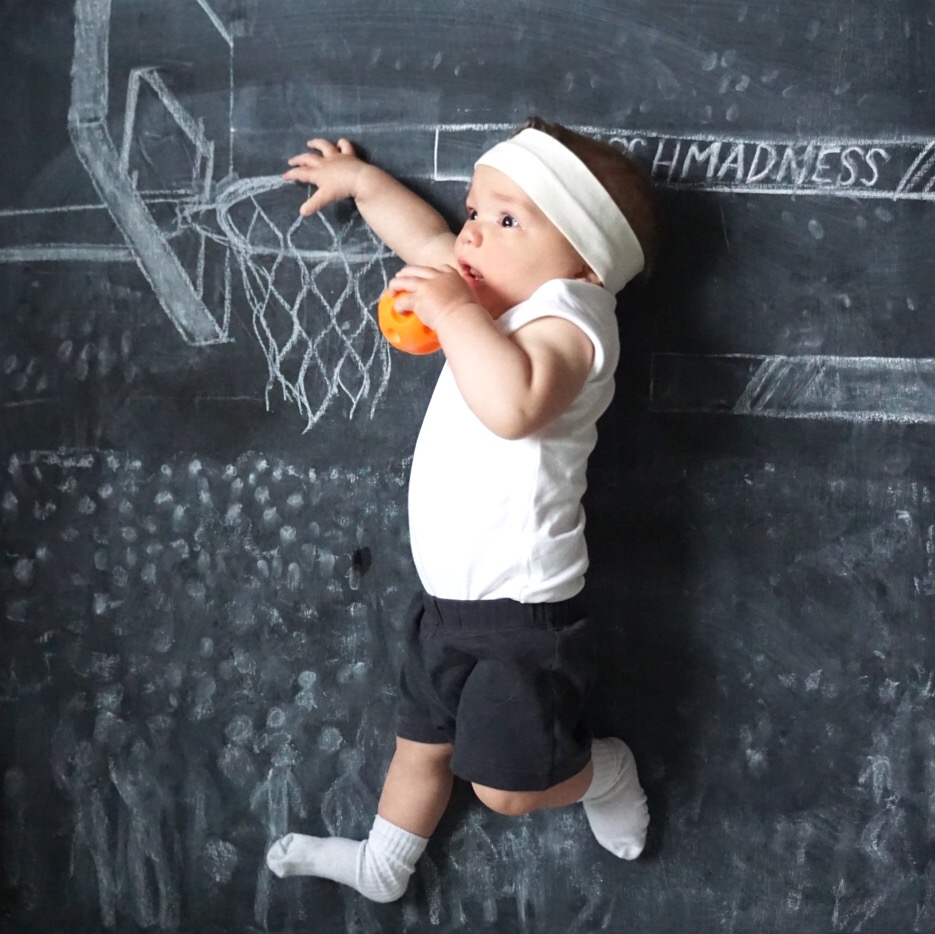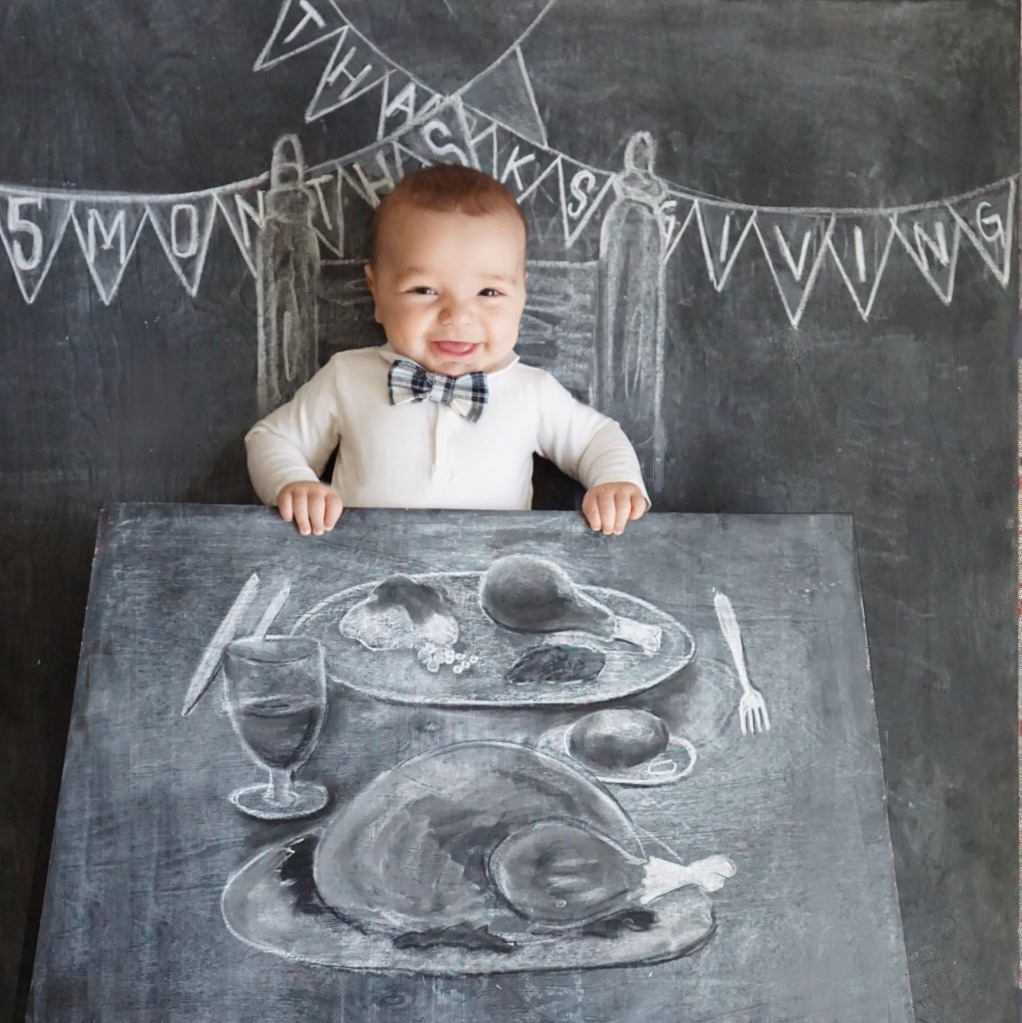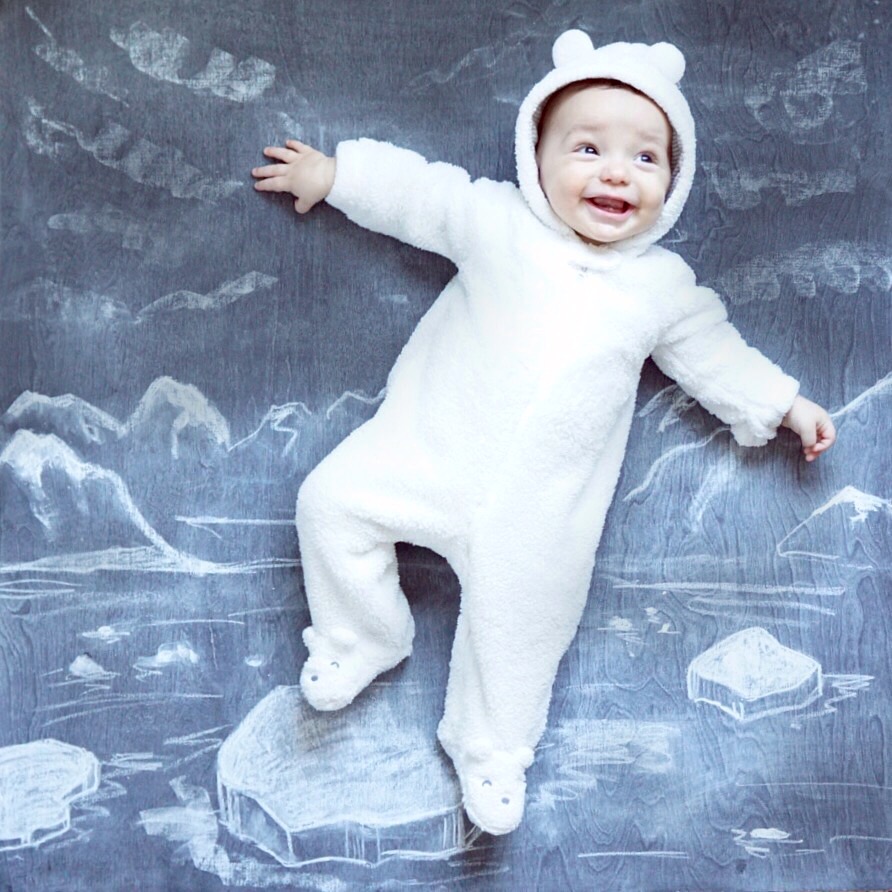 IDEAS
Astronaut in space
Superhero flying over buildings
Soccer player
Baseball player
Skydiving
Hanging off of a cliff
Doing cartwheels
Being lifted up with balloons
Walking on a tightrope
Swinging from a trapeze
Going fishing
On a fashion runway
In prison
Behind a presidential podium
More monthly baby photograph ideas at Baby Caston on Board:
http://babycastanonboard.com/monthly-milestone-photos/