Calling all parents and caregivers of kids age 2-7...
are you wondering what the heck to do with your kids this summer? Traditional summer camps canceled? Still working from home and nervous to send your kids to camp or daycare? Just looking for some fun ideas to entertain kids on evenings and weekends? You have come to the right place my friend and you are definitely not alone!
I have created a FREE virtual summer camp for kids that includes ideas for everything you need to give your kids as close to a real camp experience as you can from home! I'm giving your 45 pages of themed arts, crafts and activity ideas along with snacktivities, children's book connections, online resources and free printables. These activities include sensory play activities, STEM activities, fine motor/pre-writing activities, process art projects, kids' craft projects, tinker trays/play dough trays and dramatic play setups! In addition to the many activities found in the packet you can also find more themed activity ideas from our guest counselors over on instagram and through our #ureadykidscamp
This summer camp is super flexible. Do one project or do ten. Don't have some of the materials? Swap them out with some of the suggested substitutions or pick a different project. The packet comes with a weekly planner so parents and caregivers can create their own flexible schedule to fit the specific needs of their child(ren). Many of the projects use common household items, recyclables or things from nature although it is helpful to have a few basic art supplies on hand!
Also did I mention this camp is FREE!? NO strings attached. NO registration required. Why? Because 2020 has been really really hard and I wanted to do something to make things a little bit easier for everyone...and I am a curriculum nerd and like to do things like this for fun. I hope you enjoy these activities and if you do decide to join our camp please follow along over on instagram to see more detailed instructions, videos, additional activities and let me know how your ureadykidscamp experience is going!
This post contains affiliate links for your convenience. I make a small commission on items purchased through these links at no additional cost to you. All thoughts and opinions are my own. For full disclosure see Legal.


FLOWER WEEK (June 8-12)
Week 1 is all about flowers! Get your real or faux flowers ready for a fun week of crafts and activities. Get outside and get up close and personal with them! Learn about the types of flowers, parts of a flower, how they inspired artists, how they grow, how they smell and more!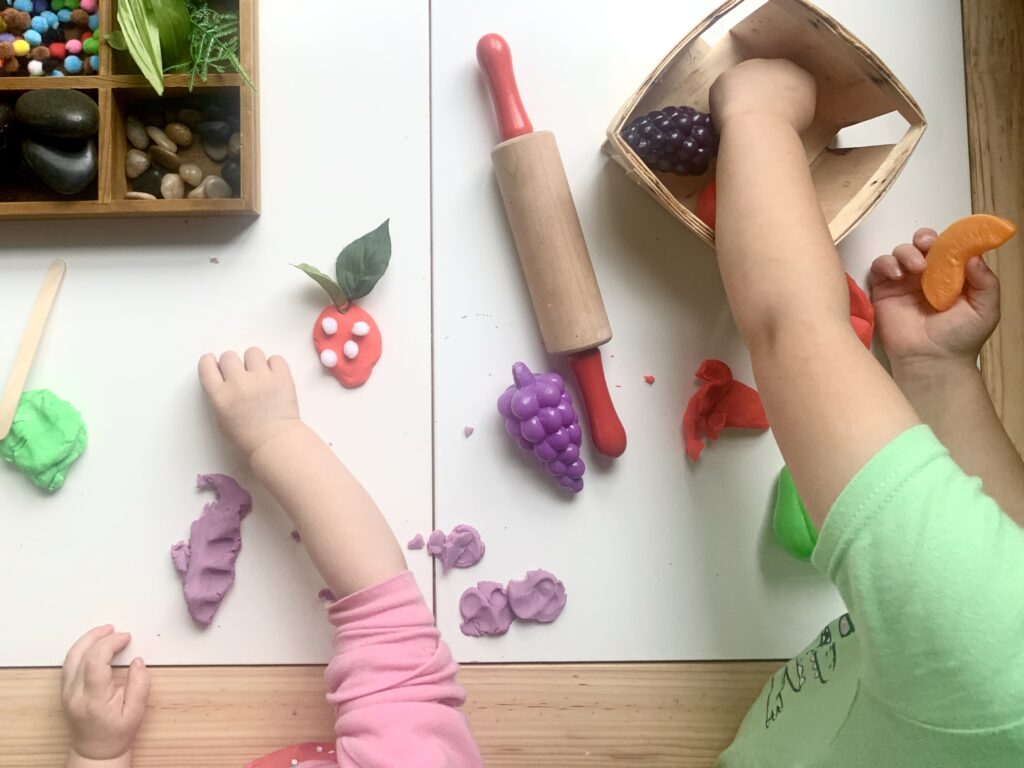 FRUITS + VEGGIES WEEK (June 15-19)
Week 2 we are learning all about yummy fruits and veggies! Let's learn about where fruits and veggies come from, how they grow, what they taste like, smell like, feel like and how they are used in recipes and in art. Get ready for some tasty learning!
FARMER'S MARKET PLAY
FRUIT + VEGGIE PLAYDOUGH
FRUIT + VEGGIE STAMPS
FRUIT + VEGGIE FINE MOTOR
POP ART FRUIT COLLAGE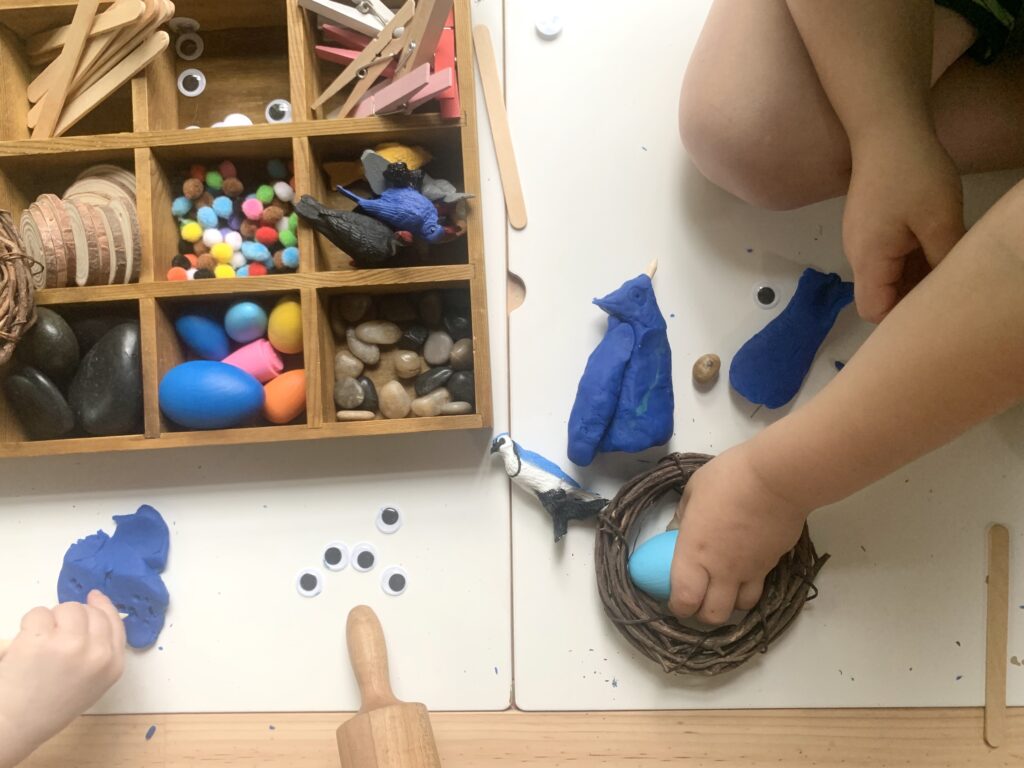 BIRDS WEEK (June 22-26)
Welcome to week 3! It is Bird Week! We will be learning all about our feathered friends. Let's find out where birds live, what they eat and how they fly. We'll also explore feathers, nests and eggs.
BIRD WATCHER PRETEND PLAY
BIRD PLAY DOUGH TRAY
BIRD SEED SENSORY BIN
RECYCLED BIRD HOUSE
BUILD A NEST CHALLENGE
FEATHER FINE MOTOR
BIRD WING COLLAGE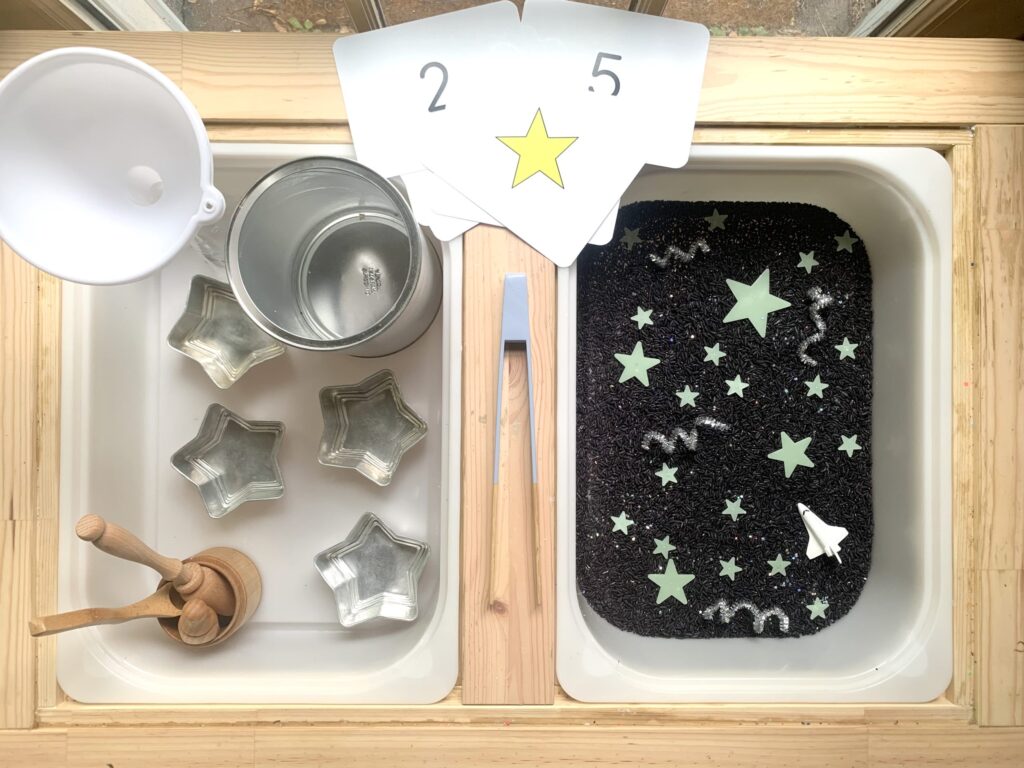 STARS WEEK (June 28-July 3)
You've made it to our last week of our June Session! Week 4 is all about stars. Time to put on your astronomer hat (that's a person that studies space!) and learn about those twinkly stars in the sky. What are they? Why do they shine? What are the constellations? For our U.S. friends we'll throw in some red, white and blue for some patriotic fun!
ASTRONOMER PRETEND PLAY
STARS TINKER TRAY
STARS SENSORY BIN
PAPER ROLL TELESCOPES
FIZZY STARS STEM
GLITTER STARS WRITING TRAY
WATERCOLOR STARS ART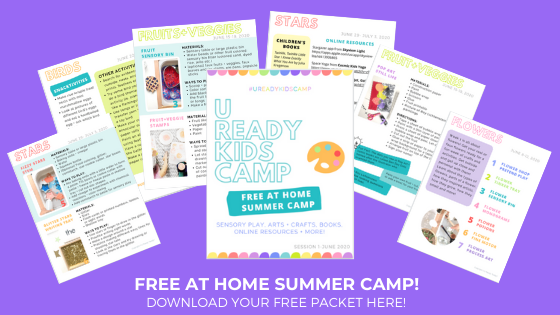 WHAT'S IN THE FREE CAMP PACKET?
Download your FREE U READY KIDS CAMP-JUNE Packet to find FAQs, materials, weekly activity planners, 7 lesson plans for each week, along with many other activity ideas, snacktivities, children's book connections and online resources. Online resources include virtual field trips, apps, online games, movement activities, videos and songs! This packet also contains a free printable (a coloring page, template, worksheet and cut-outs).
The July Camp Packet is available now! U READY KIDS CAMP-JULY
Check back later for August!
ARE YOU JOINING US FOR UREADYKIDSCAMP?
Let us know how its going in the comment section or show us your camp activities in action by sharing your photos on Facebook or instagram and tagging @ureadyteddy or #ureadyteddy
We'll share our favorites in our stories!