What do you get for the toddler who has too much?
I love holidays but hate when they mean we end up with a ton of random crappy toys that clutter up our house!
The best gifts are both practical and fun. I like to use a variation of the holiday gift-giving strategy "something they want, something they need, something to wear and something to read." I do "something to play with, something they need, something for learning and something to read...also something I want them to have and somethings to eat"...
Not very catchy, but effective!
WHAT'S IN MY TODDLER'S EASTER BASKET?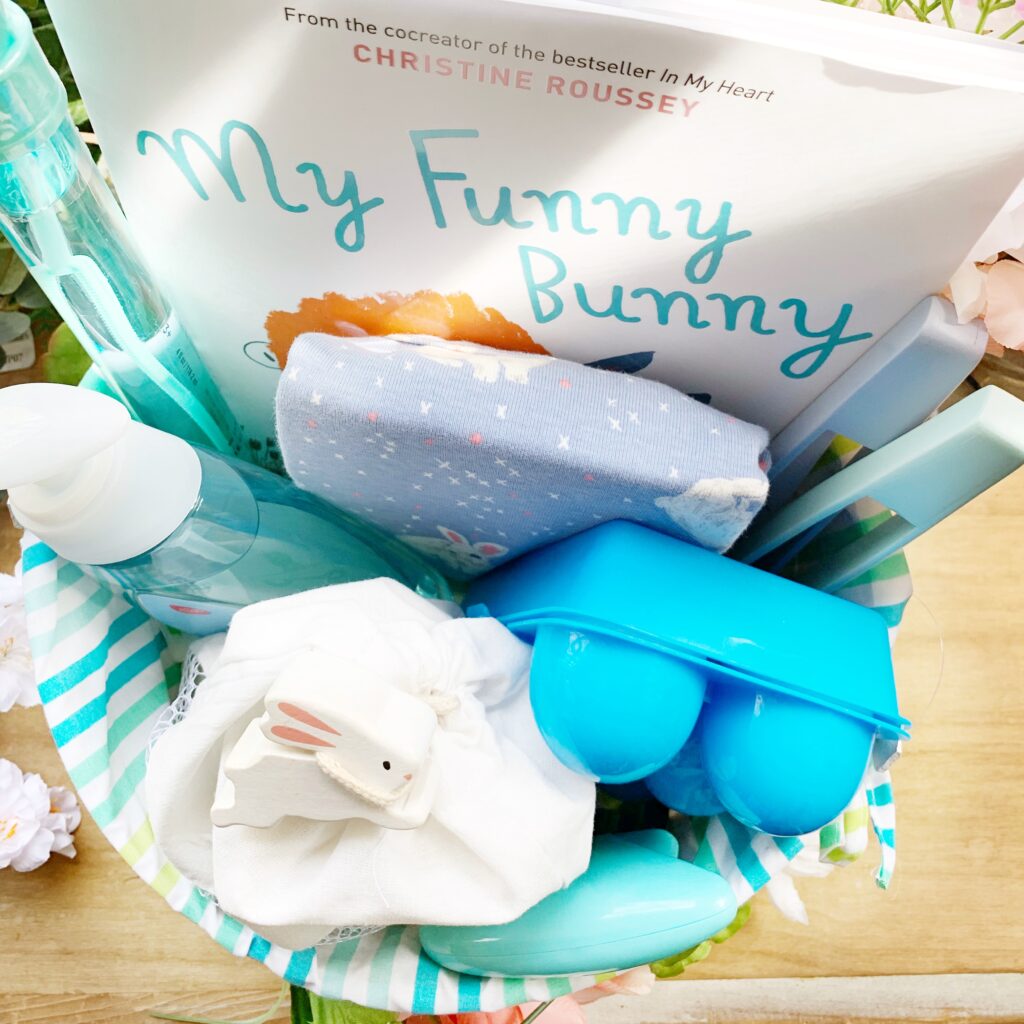 EASTER-ISH BOOKS

In my opinion you can never have too many books!
I think the best kind of books are books that stay relevant all year round. There are a lot of cute spring books and books with bunny characters that look adorable in an Easter basket but are not specific Easter books.
My Funny Bunny is a great example of an Easter-ish book. Its a got a cute bunny and enough Easter-y colors to make it festive. My Funny Bunny is by Christine Roussey, the same author as In My Heart, it is supposed to help teach toddlers how to deal with big emotions.
Here is a list of Easter-ish books perfect for your toddler's Easter basket.
EDUCATIONAL TOYS
Just like I prefer books that can be used all year round, I look for toys that can also be played with anytime. This woodland stacking toy was our "something to play with". It's not super Easter-y but it's got a little white bunny, so I tied the bunny to the outside of the canvas bag the pieces come in. This toy is great for stacking, small world play, and story baskets.
There are a ton of great egg-shaped educational toys too! I found these really cool egg shape sorters that are great for matching and learning shapes, but can also be used for making stamps in play dough! You can also find great egg shaped crayons, sidewalk chalk, stamps and musical shakers!
Other toys that are educational and Easter-ish are puzzles, blocks, stacking STEM toys, push/pull toys, play kitchen food and gardening tools. Find my full list educational Easter toys here.
SPRING CLOTHING
Let's face it, no toddler really likes getting clothing as a present, but they need clothing to wear so why not use it to help fill their basket? My toddler actually loves pajamas so I found adorable  bunny pajamas from Baby Gap. They are definitely from the girl's section, but I know he is going to like them.
If your kid likes bows, sunglasses, hats, shoes etc. go ahead and find something festive and toss it in the basket. One of my readers recommended giving bathing suit/water shoes for a beachy themed Easter basket!
FINE MOTOR ACTIVITIES
I've been trying to build my son's fine motor skills by doing different fine motor and sensory activities. I've been meaning to buy a few things for activities so I figured I'd throw those into his Easter basket too.
I found these pretty pastel tongs and couldn't resist. I know it sounds like a weird thing to put into an Easter basket but I know my son's going to love them, because he loves to steal my cooking tongs and pretend they are alligator mouths or that he has "pinchy lobster hands."
I also included a vegetable crinkle cut chopper so he can help in the kitchen. He is always asking to help me so the crinkle cutter is a safe way for toddlers to help with food prep (very Montessori).
Other ideas for fine motor/sensory play could be art materials, safety scissors, fun pencil grips or tracing boards.
HEALTHY SNACKS
Instead of filling Easter baskets with candy, I pick healthier snacks that are still special in some way. For example, my toddler is always begging to eat his baby sister's yogurt bites and snacks that are specifically for babies. Those things are kind of expensive and come with hardly anything in the bag, so we usually tell him no or let him just have one. For his Easter basket he'll be excited to get some of those "baby" snacks all for himself along with some special Peter Rabbit pouches and freeze-dried fruit that we don't usually buy because they are too expensive for daily eating.
Also, think about if your little one could use any new plates, bowls, cups etc. and find some in pretty spring colors for their Easter basket. I like to give my little guy special holiday paper straws like these bunny paper straws, because he loves straws but we've stopped buying plastic straws to be more eco-friendly.
SELF-CARE ITEMS
Again, you are probably thinking what kid wants "self-care items" in an Easter basket, but think outside the box. Our kids go through so much bubble bath and that stuff is expensive!! My toddler is going to be really excited to see a fresh bottle of bubble bath in his stocking.
Toothpaste and toothbrushes are another self care item that is great for an Easter basket. Teddy got special watermelon toothpaste and an electric toothbrush in his Christmas stocking, and it was seriously one of his favorite things he got. Special bandaids are always a big hit too, but don't be surprised when your little on suddenly has a lot of "boo boos" that need bandaids. Target has some cute Easter bandaids in the dollar section!
WHAT IS IN YOUR TODDLER'S EASTER BASKET?
Did you find something amazing for your little one's Easter basket? Let us know in the comments!