Our IKEA Duktig Kitchen hasn't been getting a lot of love lately. Teddy doesn't pay much attention to it anymore, and Scottie likes to open the cabinets and pull out all of the stuff and throw it all over the floor. I thought it was time for a little makeover to make the play kitchen exciting again and encourage more dramatic play.
There are so many awesome IKEA kitchen hacks and makeovers on Pinterest, but none were exactly what I wanted. Teddy was really into this ICE CREAM SHOP TINKER TRAY activity I made for him so I wanted to turn the kitchen into an ice cream shop. I also wanted it to be versatile so if we wanted to use it as a regular kitchen we could do that, or we could turn it into a coffee shop or another dramatic play center.
Toys with multiple uses are always a win in my book because they save space, money and encourage more open-ended and creative play.
This post contains affiliated links for your convenience. I only write about products I love and all thoughts and opinions expressed are my own. For more information see Legal.
I decided to leave the front of the kitchen exactly the same for now (might get a little upgrade later on) and give the backside a little makeover. Then, I made a cute little awning to cover the top part of the kitchen and painted the bottom half with chalk paint. The chalkboard sign can change with whatever dramatic play center we are doing at the time and can also be used to write a menu.
MATERIALS:
White Fabric Sheet
Cardboard
Wooden Dowel Rod
Chalkboard Paint
Foam Brush
Paint Roller
Scissors
White Primer
Double-Sided Duct Tape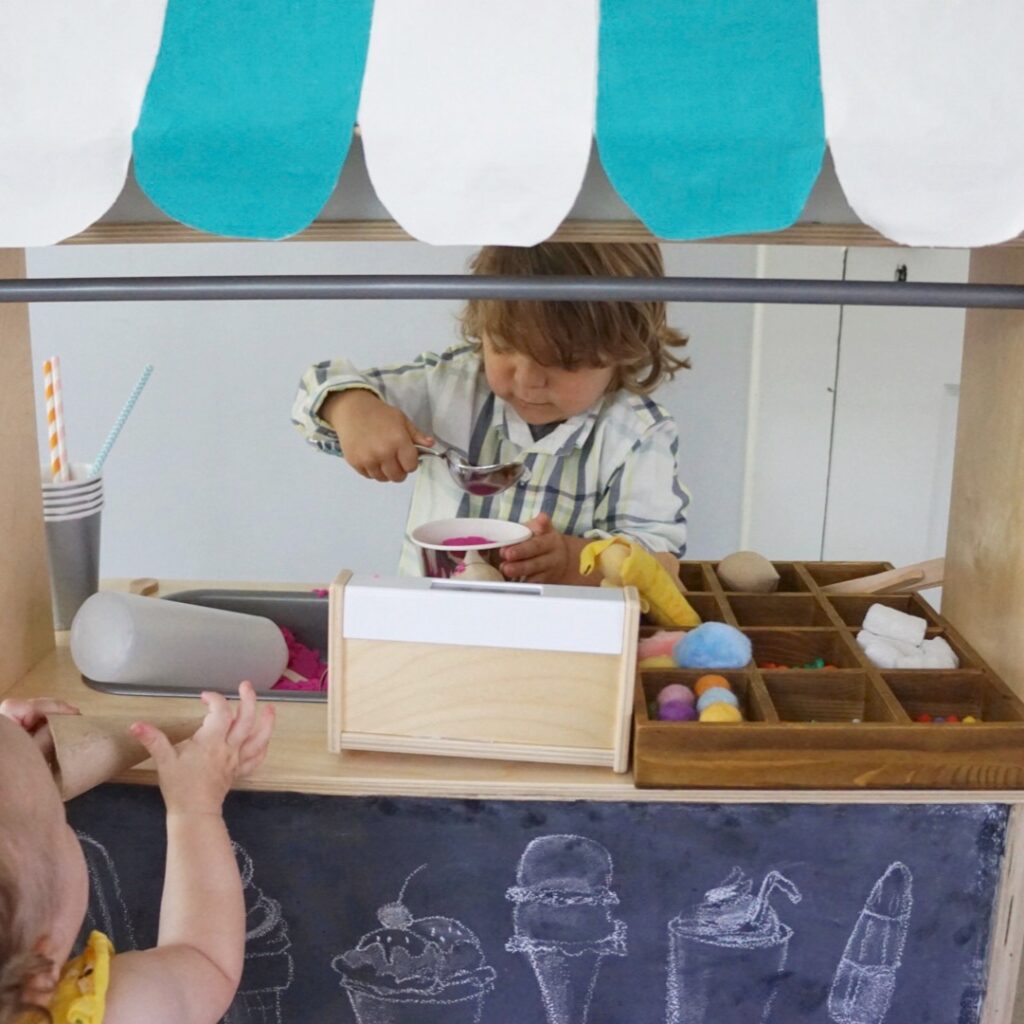 HOW TO TURN KITCHEN INTO ICE CREAM SHOP
STRIPED AWNING
Step 1. Cut a piece of white fabric (I used an old white sheet) into 16"x30" (iron out the wrinkles)
Step 2. Create a template using paper or cardboard. Trace the template and repeat to create the stripe pattern.
Step 3. Use painters tape around the edges of every other stripe and choose a fun color to paint. Make sure you have newspaper down underneath the fabric so you don't get paint on your table!
**If you want to avoid painting altogether you could buy a piece of patterned fabric instead of painting the white fabric.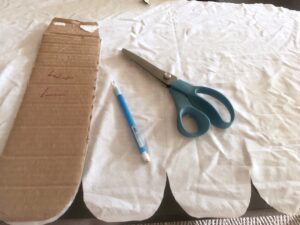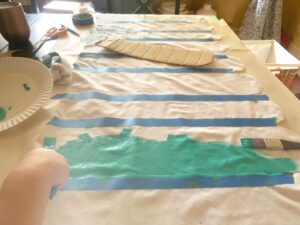 Step 4. Cut two cardboard pieces shaped like in the photos below (Paint them the color of your awning before attaching). Attach to the top of the kitchen sides with double-sided duct tape (I replaced the regular duct tape with the double-sided after I decided to paint the sides instead of wrap with fabric).
Step 5. Cut a notch near the pointed tip so the wooden dowel rod can rest there. You can glue or tape to secure.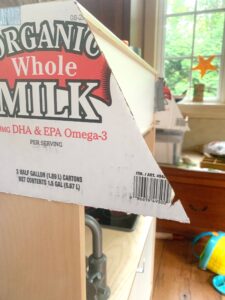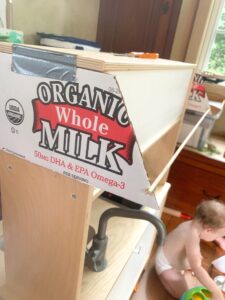 Step 6. Using double-sided duct tape attach the fabric awning to the top of the kitchen and let it hang down onto the dowel; securing wherever necessary with more double-sided tape. I folded the ends for a nice clean look, but you could also use pinking sheers or sew the edges if you are really fancy.
CHALKBOARD PAINTED SIGN
Step 1. Cover the edges of the kitchen's backside with painter's tape.
Step 2. Paint with a primer. Let dry.
Step 3. Use a foam brush and roller to paint the area with chalkboard paint. Let dry for 48 hours.
Step 4. Carefully remove the tape and season the board. To season, color the entire chalkboard area with a white crayon, using the side of the chalk. Then erase with a chalkboard eraser. If you do not do this step, whatever you draw on your chalkboard will not erase!
Step 5. Decorate your chalk sign using chalks, chalk pencils, chalk markers or vinyl decal!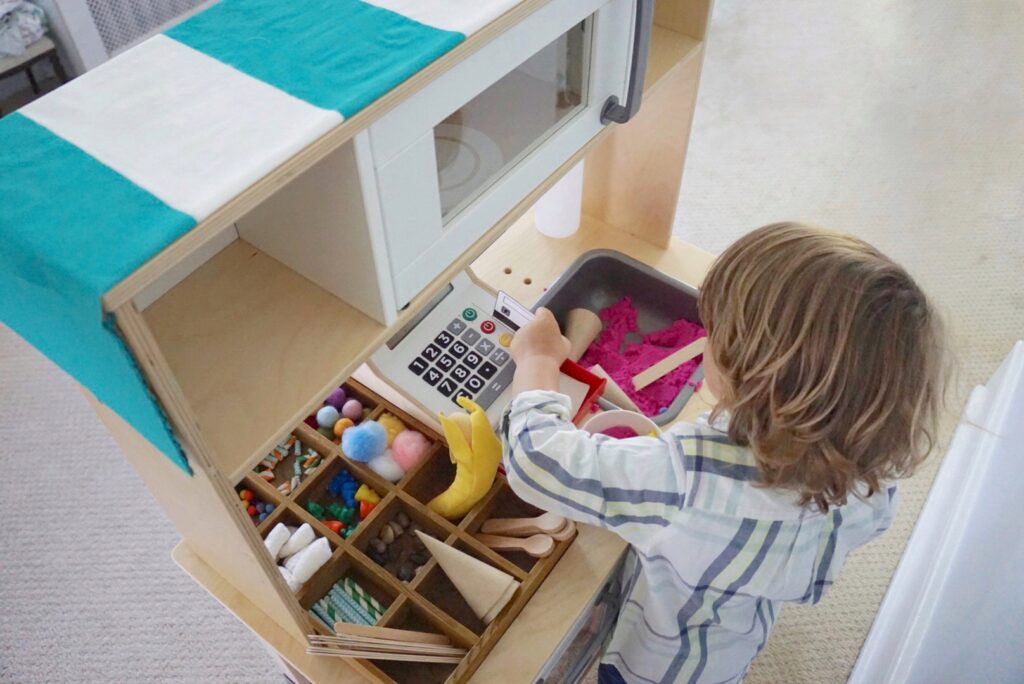 STYLING YOUR ICE CREAM SHOP
The sink in the Duktig Kitchen makes the perfect ice cream tub. If you unscrew the sink nozzle from underneath you are left with two small holes. Teddy thought they looked like perfect ice cream cone holders and I think he was right!
The toy cash register from IKEA is perfect for dramatic play. Stock your ice cream shop with cups, cardboard cones, pretend toppings or some cool wooden ice cream toys. We used the ice cream shop with a TINKER TRAY and pink kinetic sand.
Check out our blog post to learn more about our ICE CREAM TINKER TRAY (coming soon).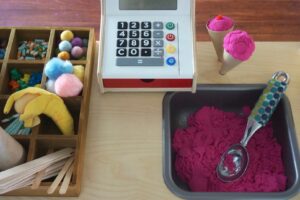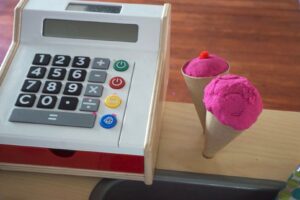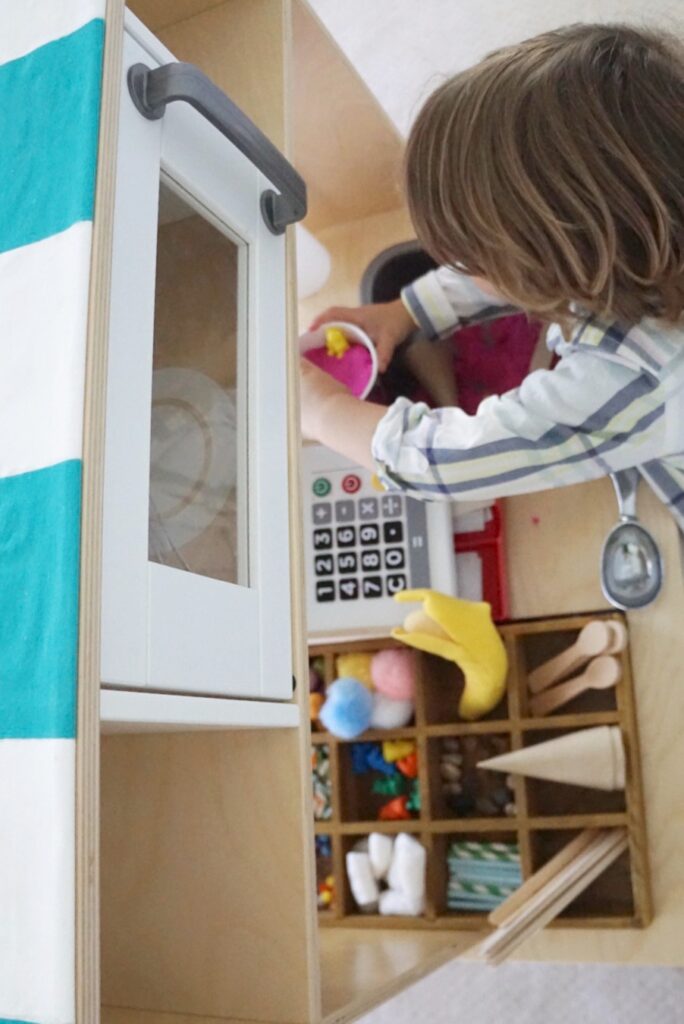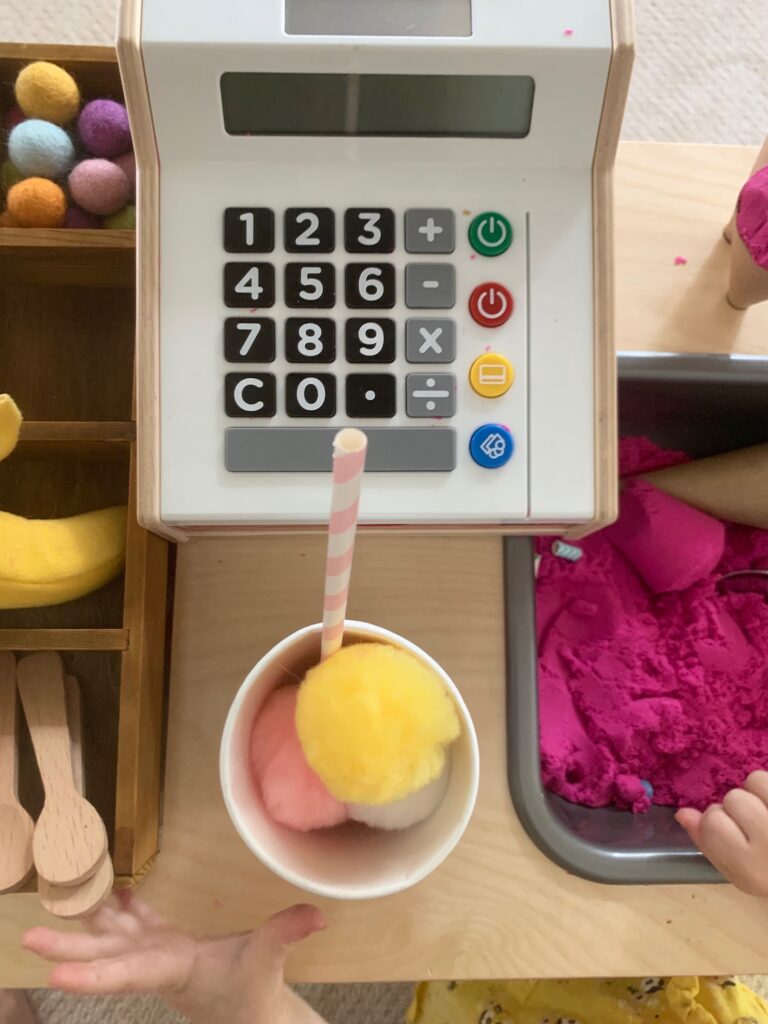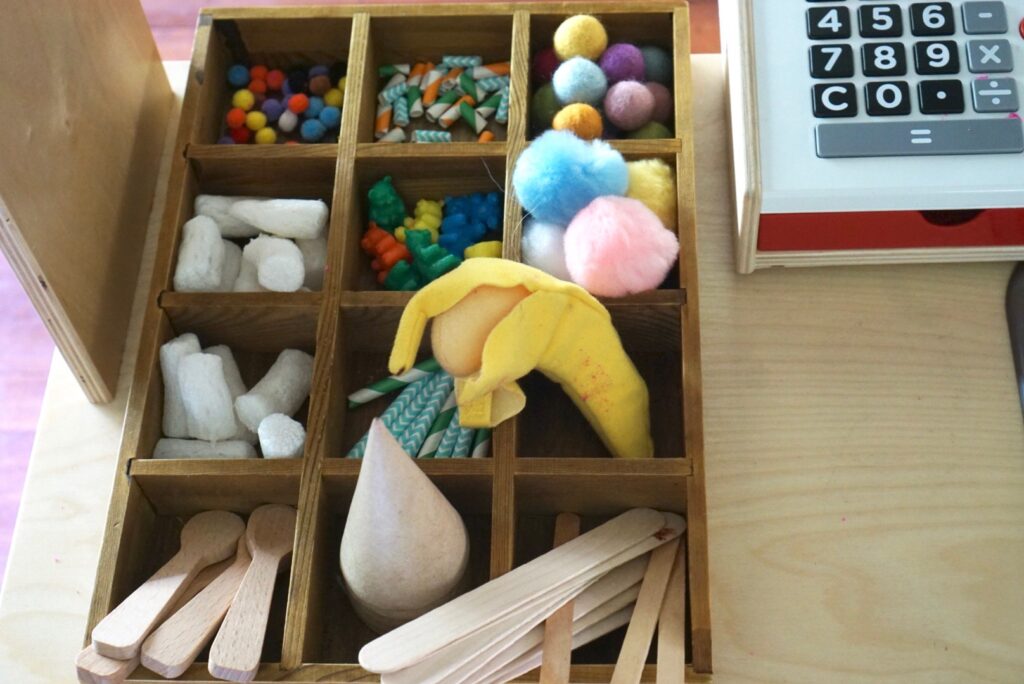 SHOW US YOUR ICE CREAM SHOP!
I hope you'll try this IKEA hack. If you do, please share your photos of your updated IKEA kitchen and tell us how your little one likes their new ice cream shop! Tag your photos on instagram with @ureadyteddy or DM us and we'll share our favorites in our stories!