I think we might have found our favorite Osmo game...
We like all of the Osmo games we've tried so far but the Osmo Coding games takes the cake. My six-year old was SO into this game. It sounds silly but I never really understood what exactly coding was and watching him play this game actually made it easy for both of us to understand.
Read our review below to find out what is to love about the Osmo Coding Starter Kit and the coding games. See what is included in the kit and what it can help your little one to learn.
This post contains affiliate links for your convenience. I make a small commission on items purchased through these links at no additional cost to you. I also received Osmo Coding Kit for free in exchange for my honest review and coverage. All thoughts and opinions are my own. For full disclosure see Legal.
WHAT IS THE OSMO CODING KIT?
Osmo Coding Kit is an interactive program that helps children (recommended for ages 5-10) learn to code. The connect colorful blocks that send commands to the characters in the games.
Coding Awbie is the beginner game and our personal favorite. Coding commands send Awbie through a journey to eat all of the strawberries left behind by a rabbit while avoiding obstacles like lakes and bushes.
The intermediate game is called Coding Jam. In this game, the coding blocks are used to compose your own music with loops and patterns.
Coding Duo is the most advanced of the coding games. It is apparently side-by-side logic puzzles that can be done solo or with a friend. We'll wait until we get a little more coding practice before we try this one!
WHAT'S INCLUDED
Coding Blocks
Stackable Storage Case
[Optional:] iPad Base and Reflector
*Tablet not-included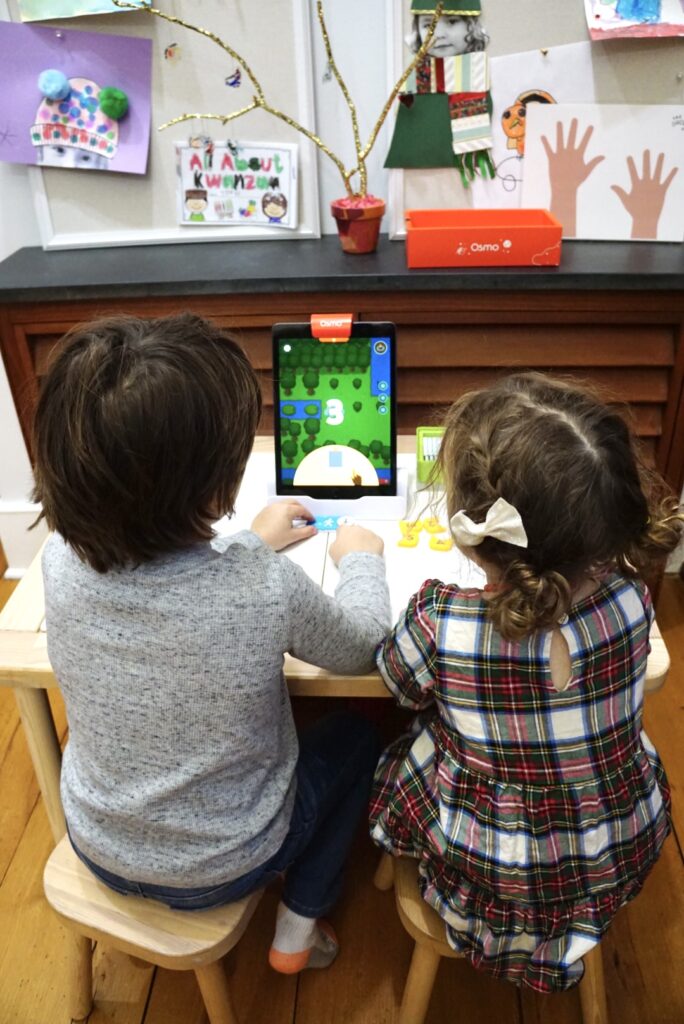 OUR REVIEW OF OSMO CODING KIT
I think the Osmo Coding Kit is awesome. Not only were my six and four-year-olds really engaged in the games, but they were learning a brand new skill. Coding seems like such a tricky concept, but the way the Osmo "teaches" it is simple and fun. I use teaching in quotations because nothing is really being taught in a didactic way, kids just learn from playing and experimenting.
We started with Coding Awbie and my son picked it up really quickly. I love that coding requires kids to think ahead which is a skill we've really been working on to curb impulsiveness. It was also teaching some math skills like counting and multiplication. Coding is a valuable 21st Century Skill and can be beneficial for future careers in the STEM field.
The materials themselves were great quality. The tiles were sturdy and easy to identify. The way tiles clicked together were a really satisfying feature and the kids loved spinning the arrows.
I recommend Osmo Coding Kit to everyone. I think age 6-7 is the perfect age for the beginner game but it was interesting enough for my 4-year-old and I think even kids 8-12 would find it interesting.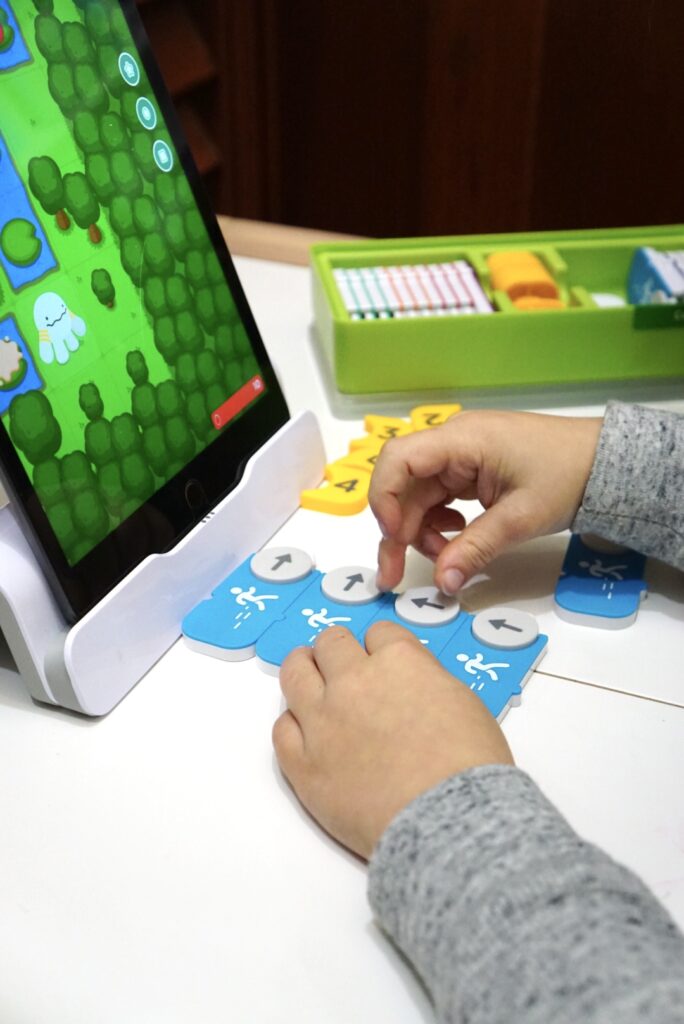 OUR OTHER FAVORITE OSMO GAMES
We love all of our Osmo games but my children's favorite games are Reading Adventure, the Detective Agency game, the Creativity Starter Kit especially Newton and Monster. They also love the Little Genius Starter Kit with their favorite game Squiggle Magic that uses the sticks and rings accessory.
DID YOU TRY IT?
Do your little ones love Osmo? Have you tried the Osmo Coding Starter Kit? We'd love to know your thoughts. Comment below or let us know over on instagram at @ureadyteddy!