We've been really enjoying our Osmo Reading Adventure. We started with the Level 1 Reading Kit for New Readers and it was a little too difficult for my 4-year-old and a little too easy for my 6-year-old. Even though my 6-year-old could easily read the Level 1 books independently, the program was still beneficial for helping him practice combining sounds. He also still enjoyed watching the characters and playing the games.
We were excited to receive the next box with some more challenging books. The Level 2 Reading Kit is for Early Readers and is a much better fit for his reading level. The Level 2 books had more complex spelling patterns like diagraphs and I loved that it contained just enough challenging words to keep it interesting for him.
This post contains affiliate links for your convenience. I make a small commission on items purchased through these links at no additional cost to you. I also received Osmo Reading Adventure for free in exchange for my honest review and coverage. All thoughts and opinions are my own. For full disclosure see Legal.
WHAT IS THE OSMO READING ADVENTURE?
Osmo Reading Adventure is an interactive program that helps 5-7 year-olds learn to read. The game features the characters Oliver and Nebula, who join your child on a quest to catch "Dreams" and return them to the Kingdom of Slumber. Together they use physical books, interactive read aloud/phonics games and a crystal wand to complete their quest.
Reading Adventure speech recognition technology creates a customized learning experience that adapts to your child's specific reading level and provide feedback.
This Osmo program is especially unique because it has a monthly subscription that delivers 4 new books at your child's skill level.
WHAT'S INCLUDED
Crystal Wand Tool
4 Physical Books
-Mine!
-Where is Fig?
-The Bear in Bed
-I Am Big
[Optional:] iPad Base
*Tablet not-included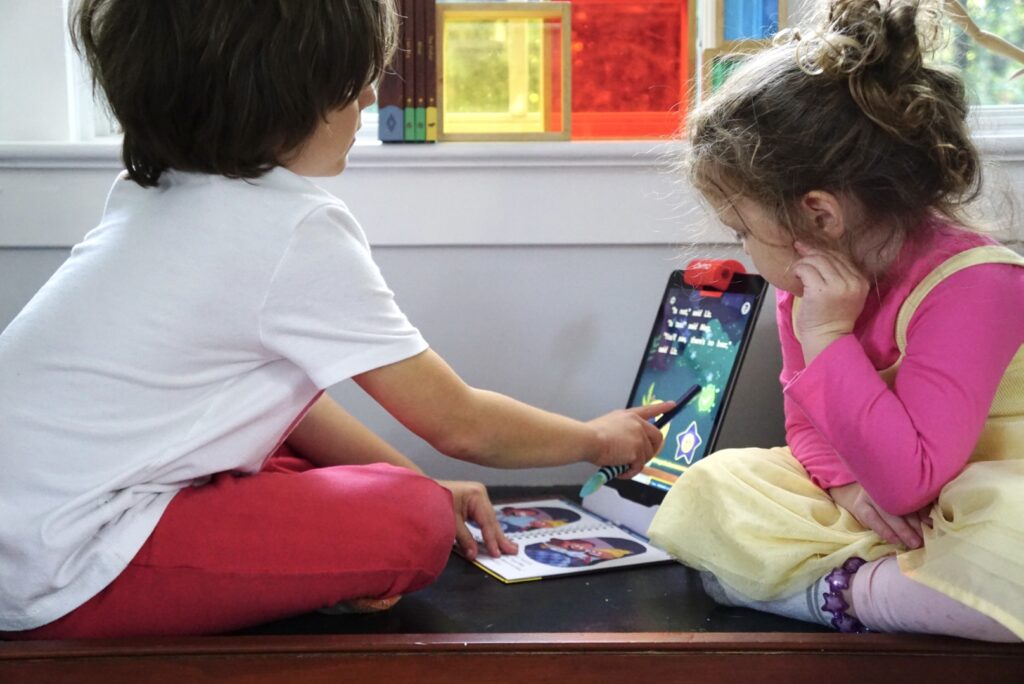 OUR REVIEW OF OSMO READING ADVENTURE
Now that we found the appropriate level of books my son is excited to come home from school and play his Osmo Reading Adventure. He can read the most of the text independently, but the game challenges him to isolate and identify specific sounds.
Through Osmo Reading Adventure he is learning more reading skills than he would from just reading alone. The games are fun and engaging so it doesn't feel like "homework." His younger sister even likes to just sit and watch him play and she's starting to learn some of the reading skills as well.
I recommend Osmo Reading Adventure to any children learning to read and I believe it would be especially beneficial for children that might not show any interest in reading otherwise. The game and the tech is a great entry point for young readers.
DID YOU TRY IT?
Do your little ones love Osmo? Have you tried the Reading Adventure program? We'd love to know your thoughts. Comment below or let us know over on instagram at @ureadyteddy!