I cannot believe my little baby just turned one year old!
I really stressed about finding the perfect theme for Teddy's first birthday party. Since I had Teddy I always pictured us having a "Baby Bear" themed outdoorsy party for him, but as we got closer to his birthday it seemed like every single person on Instagram was having a "Wild One" woodland theme party. I wanted to do something more unique, but still involved bears somehow because we call Teddy our little bear. That is when I thought of a Party Animal theme.
I finalized my decision, made the invitations, sent them in the mail and then my sister tells me that my "creative" party animal theme was in the Target Dollar section, which meant every Target-obsessed mom would be doing the same party theme in the near future. I was bummed for a little bit, but decided just to embrace it and expand on it. It just so happens that everything was the EXACT colors I wanted, so I bought everything they had!
This post contains Amazon affiliated links for your convenience. All thoughts and opinions expressed are my own. See full disclosure here.
THE INVITES
For my invitations, my go-to place is Vista Print, it is fast, easy to upload your own design and really cheap. The recycled matte paper is my favorite, because it is nice and thick for invitations. I designed the invitation myself using Adobe Illustrator. First, I created a PNG of the cute little Panda Bear available for free download here. The envelopes were addressed with a fun lettering style using The Lettermate to help with spacing. I embellished the back of the invite with some pretty washi tape across the flap, stamped it with a custom return address stamp and chose a pretty stamp that matched the color scheme of the party.
DECORATIONS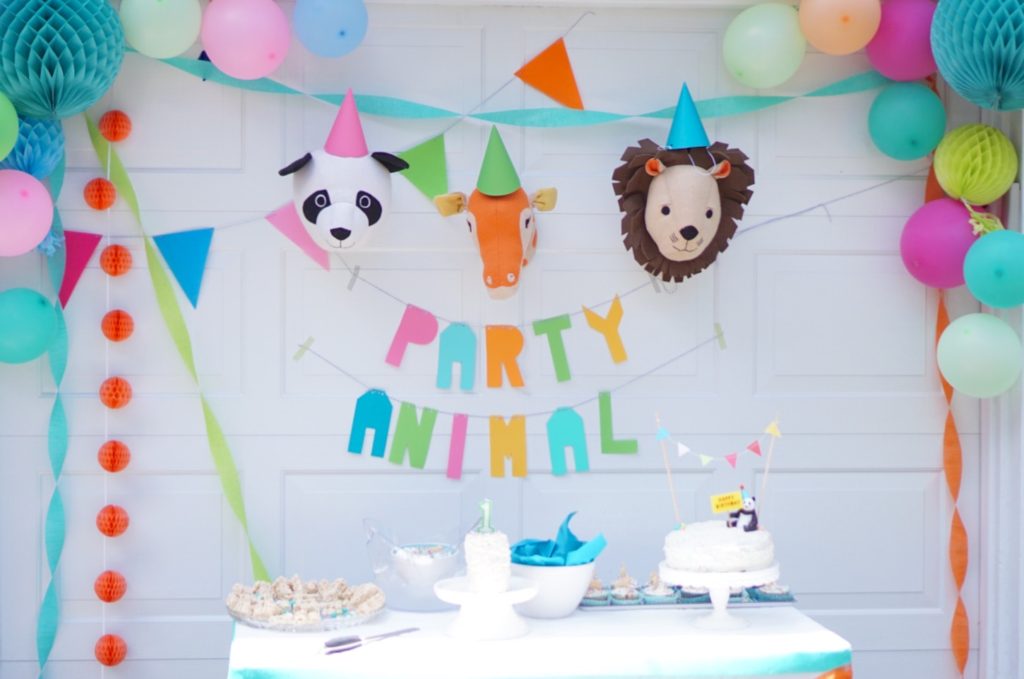 I wanted the decorations to be bright, colorful and fun, similar to the colors in Teddy's zoo themed nursery. I wanted the decorations to look more like animals were throwing a party instead of looking like a safari/animal print theme. Most of the decorations were from Target and IKEA and I made the rest. The cake table was meant to be the focal point with the three stuffed animal heads in party hats and a a mix and match of crepe paper, tissue paper balls, balloons and garlands.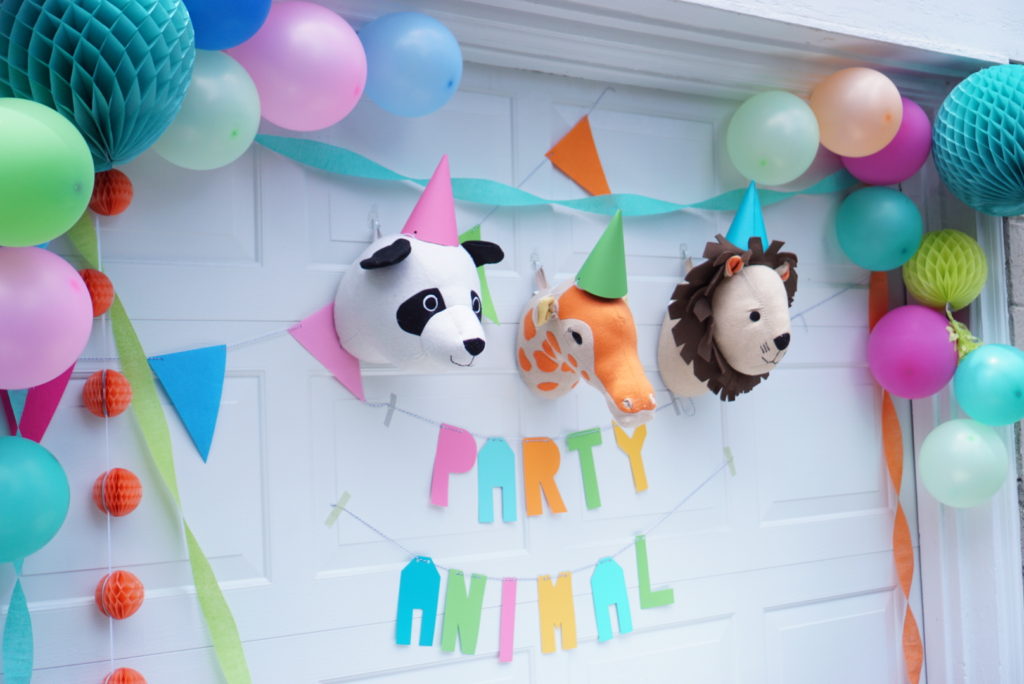 The banners were made using a simple block letter cut out of a rectangle of colorful cardstock. Each letter got two hole punches towards the top and I strung them together with a piece of baker's twine. Washi tape was a colorful alternative to clear tape, and we found that it stuck much better to the fence and garage door. We had animals toys scattered all through out the party wearing little paper party hats we made, and two pink lawn flamingos in hats greeting party guests at the entrance.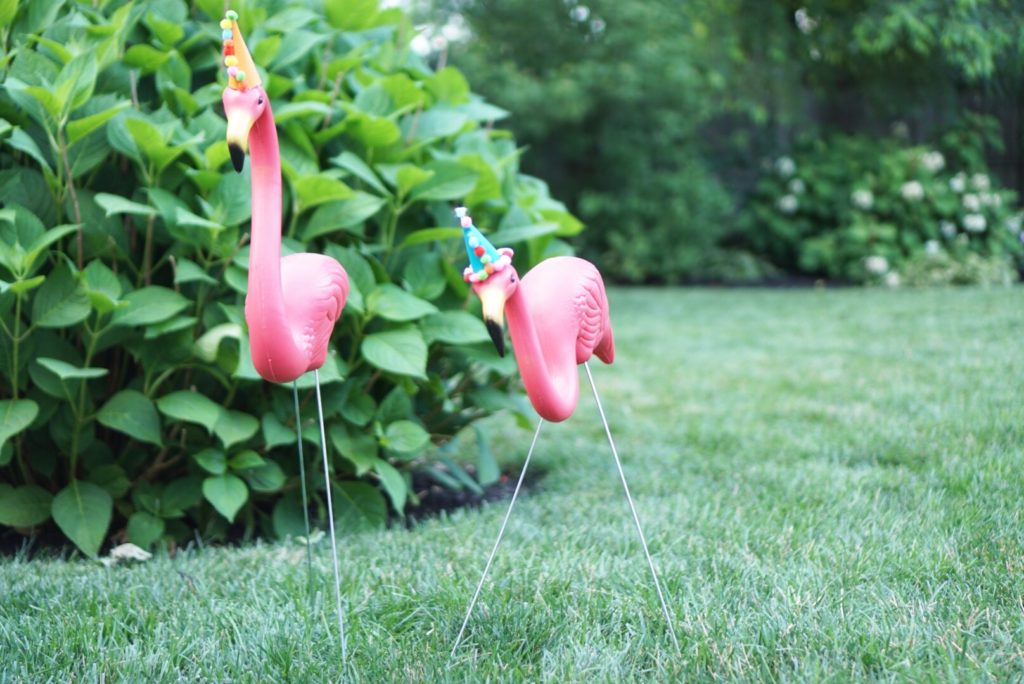 THE CAKE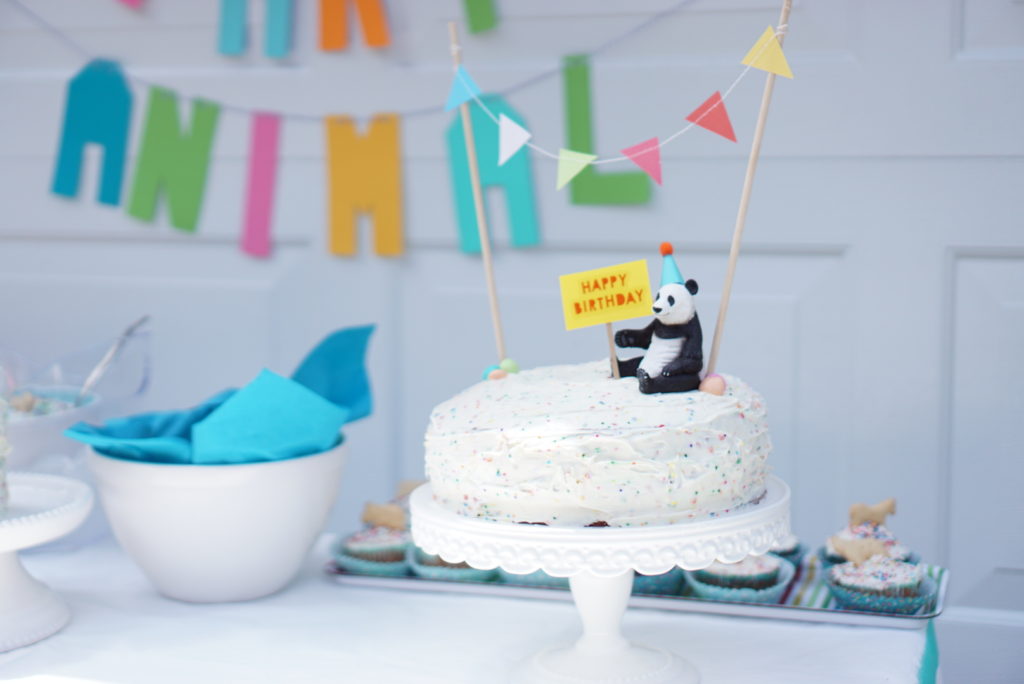 Alright, now I am NOT a baker. I like getting creative with recipes, which is great for cooking, but not for baking. I've ruined pretty much everything I have ever tried to bake, but for some reason I was determined to bake Teddy's cake myself (much to my husband's dismay).
I'd like to pretend that I baked the cake from scratch, but I used 1.5 box cakes and just spruced them up a little. My "recipe" used one box of yellow cake and used melted butter instead of oil, milk instead of water and added an extra egg for added flavor and fluffiness. I also added some vanilla extract and some orange zest and baked it according to the instructions in two nine-inch round pans. Then, I baked a box Funfetti cake using the same substitutions but I added a tiny drop of food coloring. I used half of the mix in another nine-inch round pan (the remaining half was used for the smash cake).
When the cakes cooled I used a bread knife to slice the rounded tops off of each of the cakes. I attached the layers of cake with Funfetti frosting and then frosted the exterior of the cake.
THE CAKE TOPPER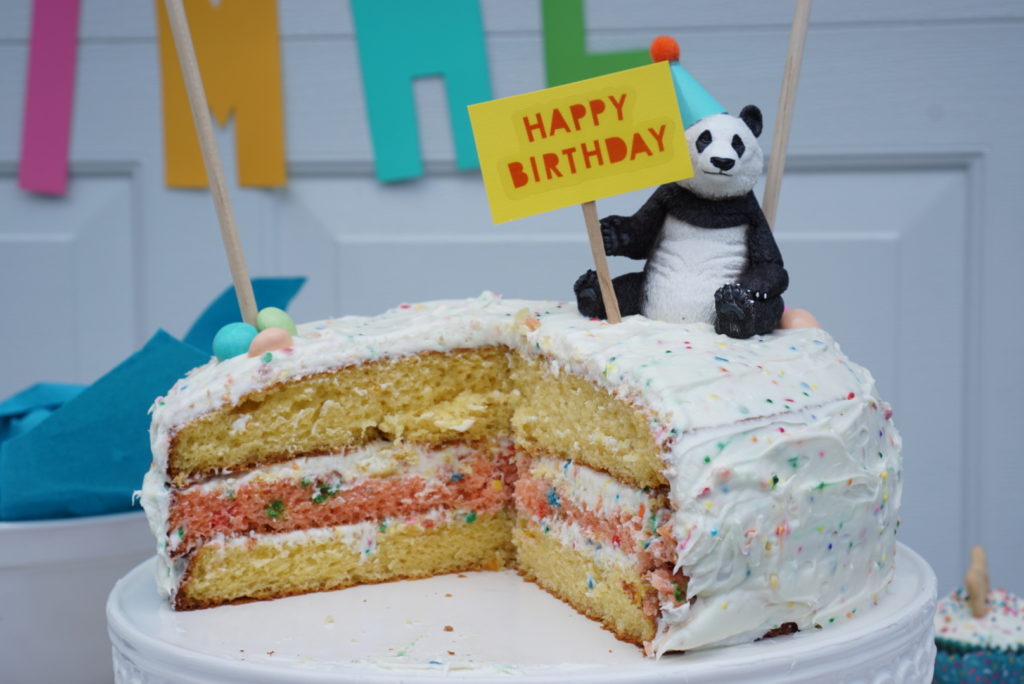 The cake topper was just a panda figurine with a tiny paper party hat. The sign was a birthday sticker on a tiny piece of paper and a flat tooth pick. I planned to make the cake banner myself like I did for our wedding cake topper, but I ran out of time. I used one of the mini paper banners I bought at the Target dollar section and tied it to two dowel rods.
THE MENU
Pulled Barbecue Chicken Sliders with Cole Slaw
Mac and Cheese
Tortilla Chips and Guacamole
Naan Mini Pizzas
Veggie Platter with Hummus and Pretzel Crisps
Soft Pretzel Tray
DESSERTS
Funfetti Dip and Animal Crackers
Funfetti Cupcakes with Animal Cracker toppers
One-shaped Rice Krispie Treats
TEDDY'S FAVS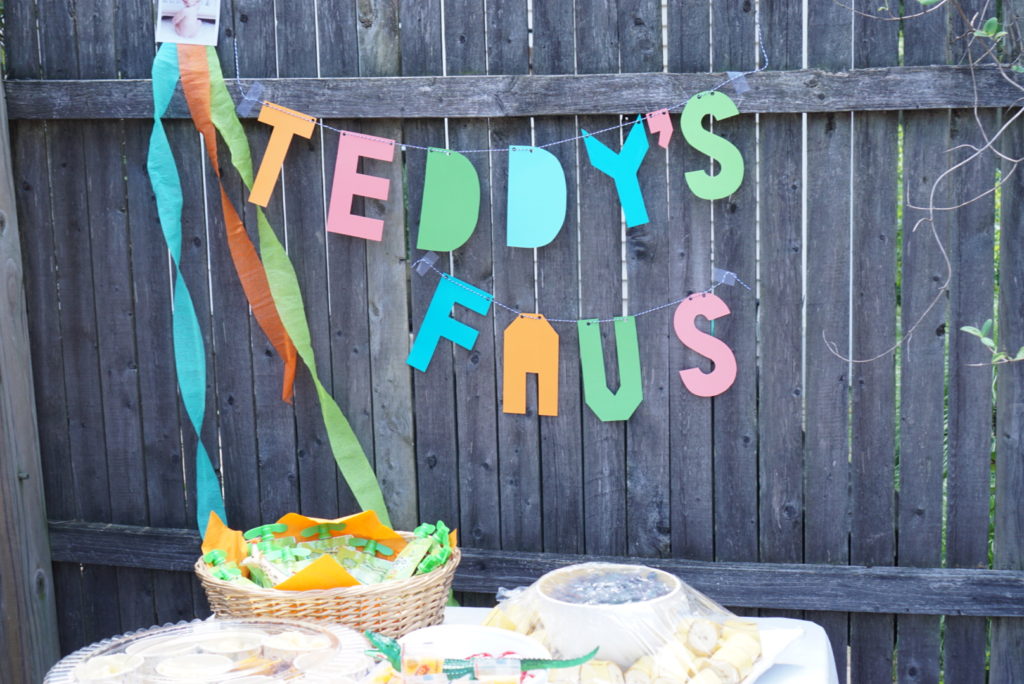 I wanted there to be a little table with all of Teddy's favorite foods that would double as a kids' food table. Of course, I left off the breast milk and spaghetti and kept it to easy grab-and-go foods.
Bananas
Blueberries
Little Cups of Goldfish Crackers
Little Cups of Pirate's Booty
Applesauce Pouches
Babybel Cheese
Land O'Lakes CoJack Cheese


ACTIVITIES
In my party planning insanity I started brainstorming games and activities for the party…then I realized that Teddy is one and there wouldn't be many older kids there, so while it may have been "cute" and totally blog worthy it was NOT an appropriate use of my time. I thought about what Teddy actually likes to do: play with balls, climb on things, and scribble. So I found a ball pit, we put together his play fort from his Gigi and Papi early and put out some sidewalk chalk.
PHOTOBOOTH
For the "photo booth" I had a crepe paper background and a basket of props. I had a feather boa, animal noses, animal ears, animal masks and some signs with funny animal puns. Download 14 colorful party animal signs here.

PARTY FAVORS
Again, I wanted this party to be about Teddy and what he would like so we gave out bubbles as party favors. I decorated little plastic jars with a spray painted animal toy attached to the lid and tied a bubble wand to each with baker's twine. There were also crazy straws and party hats for everyone!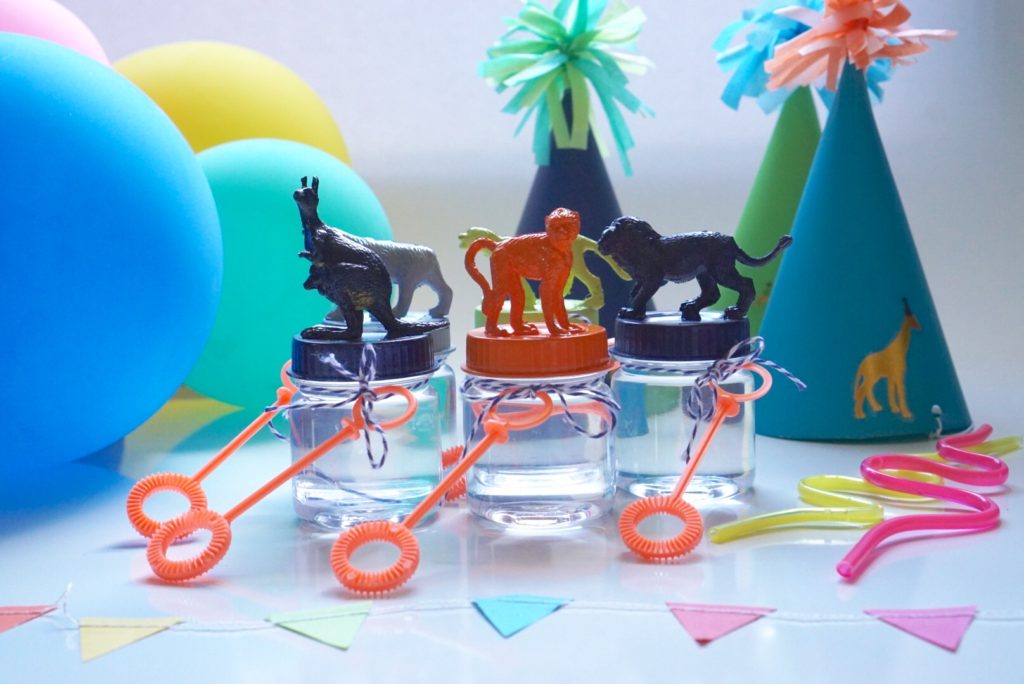 THE AFTERMATH
All in all the party was a success! Teddy had a great time and so did his friends. Some of the details that I stressed over ended up not even being worth it. I think only a few people used the photobooth, and kids forgot to take their party favors with them. My "pretty" cake tables ended up getting rearranged and things moved in the shade because it was so hot plastic trays were actually melting! My freeze pops displayed in a pretty arrangement in a bucket of ice melted within minutes of being outside, and decorations were blowing everywhere, but in the end I didn't care. Teddy won't remember any of the party anyway!
What did you do for your child's first birthday party? Did it go the way you had planned?