Sensory Bins.
What are they, why you should use them and how to use them successfully and everything in between.
Here is everything you've ever wanted to know about sensory bins! If I  haven't answered all of your questions, addressed your concerns, alleviate your fears and convinced you to give sensory bins a chance let me know and I'll write a follow up post answering any additional questions!
This post contains affiliate links for your convenience. I make a small commission on items purchased through these links at no additional cost to you. All thoughts and opinions are my own. For full disclosure see Legal.
WHAT IS A SENSORY BIN?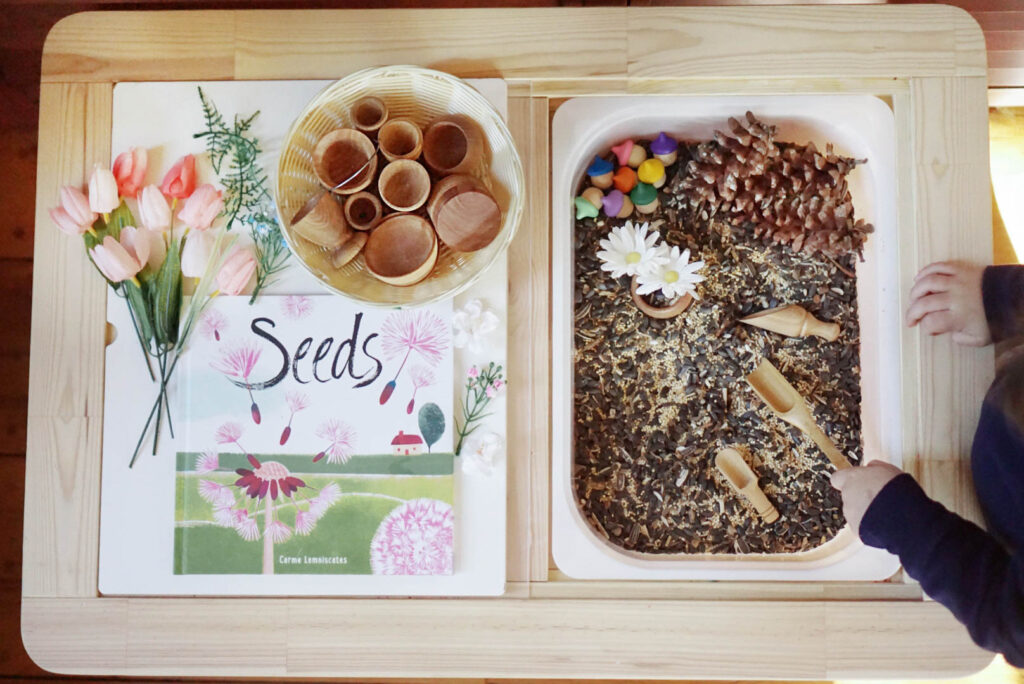 A sensory bin is a form of sensory play where a container is filled with materials that stimulate two or more of the five senses. Sensory bins provide a visual and tactile experience for children and can also incorporate the senses of sound, smell and even taste! Sensory play is used often in Early Childhood education as a way to help build nerve connections during the critical period of brain development, supplement the curriculum and teach a variety of other important skills.
WHY ARE SENSORY BINS BENEFICIAL?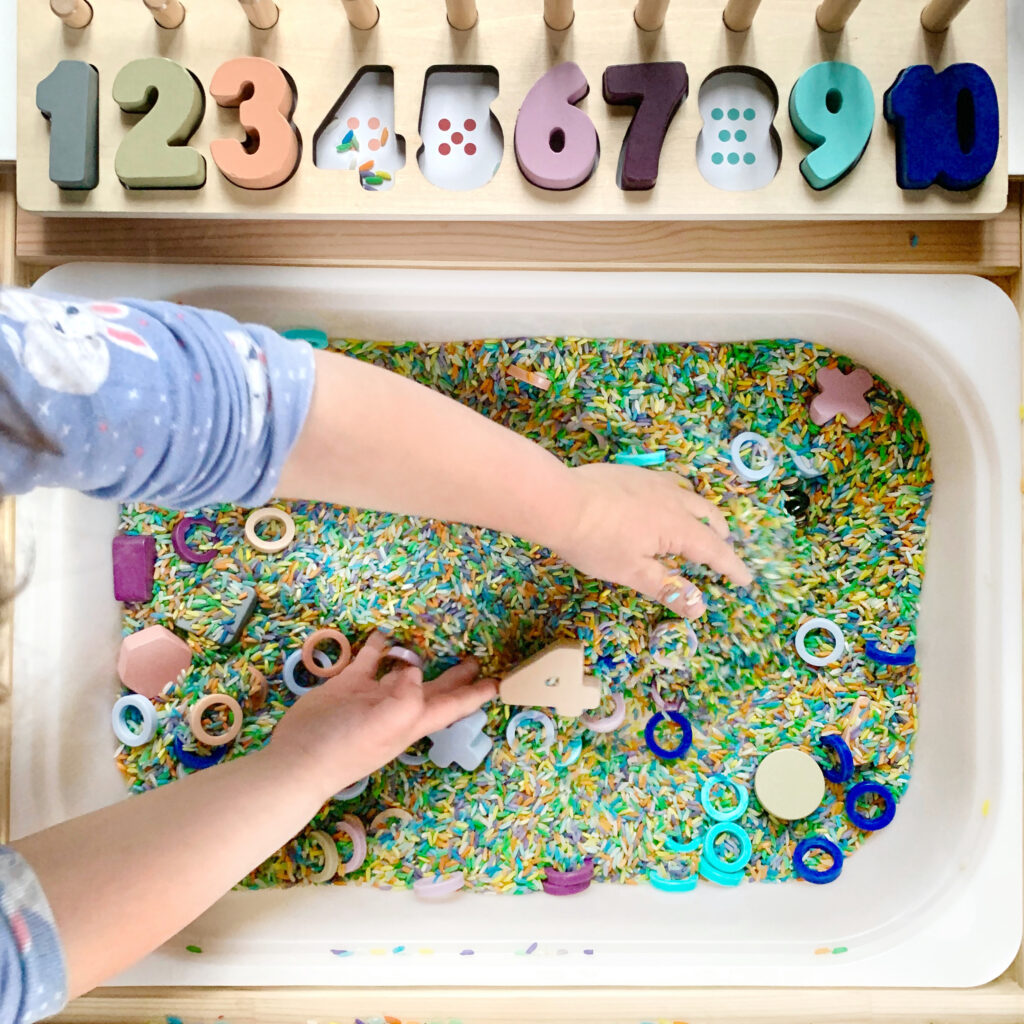 Sensory bins are a fairly inexpensive, versatile play activity that can be modified to fit all different topics, supplement curriculum and inspire free play. As you probably know play in general is SO beneficial for children, but sensory play has even more benefits and helps children develop valuable skills.
FINE MOTOR SKILLS
Sensory bins generally require using fine motor skills to manipulate small objects and tools. It often involves exploring materials through squishing, grasping, pinching, scooping, pouring, molding, threading etc.
LANGUAGE + PRE-WRITING SKILLS
Exposing children to sensory-rich experiences helps them to expand their vocabulary and language skills by describing new textures, smells, tastes, etc. The fine motor skills discussed above also help children develop pre-writing skills by building pencil grip muscles and hand-eye coordination.
SOCIAL SKILLS
When children engage in sensory play with others they develop important social skills by communicating, sharing, playing, learning from one another and working to accomplish a common goal.
SCIENCE + STEM
Sensory bins help develop important observation skills as well as problem-solving, critical-thinking and decision-making skills that are important in science and STEM education. Children practice experimentation and experience cause and effect as they are discovering the sensory materials. Some sensory bins can also involve observing chemical reactions like the melting of ice or the mixing of colors.
PRE-MATH SKILLS
When children pour and measure sensory materials they are actually beginning to understand measurement and volume. Sensory bins can also include objects like numbers and shapes, to help children explore pattern, shape and number recognition.
LIFE SKILLS
Using tools in the sensory bins is a great way for children to practice practical life skills but in a fun low-expectation environment. An activity pouring water beads into a container can lead to a child being able to pour their own milk in their cereal bowl. Sensory play can also be combined with dramatic play/role-playing ike the ice cream sensory bin lets children act out the role of an employee at an ice cream shop.
CREATIVITY
Sensory bins should be presented as an invitation to play where the activity is open-ended and child-led. Child-led play involves more creativity and imagination because they have the power to choose how they use the materials which is more important than what they actually make. The emphasis here is on the process and not the product.
EMOTIONAL-REGULATION/MINDFULNESS
Studies have shown sensory experiences have many therapeutic benefits. Therapists use sensory bins and activities to help children process trauma, decrease agitation and restlessness. Children with Autism and other sensory processing disorders can really benefit from sensory bins because it lets them experience new textures and experiences in a non-threatening environment. Sensory play has even been used as therapy for seniors with Dementia to improve communication, memory and general mood.
Even without all of the studies showing how sensory bins can benefit emotional-regulation and mindfulness-just spend a few minutes raking your hands through a tray of lavender-scented rainbow rice and see how it makes you feel!
OVERALL BRAIN DEVELOPMENT:
Sensory play stimulates different areas of the brain and helps build nerve connections. By incorporating several senses into a learning activity it appeals to children with different learning styles. Associating new information with the 5 senses improves memory and helps retain information.
WHAT ARE THE BEST SENSORY BIN FILLERS?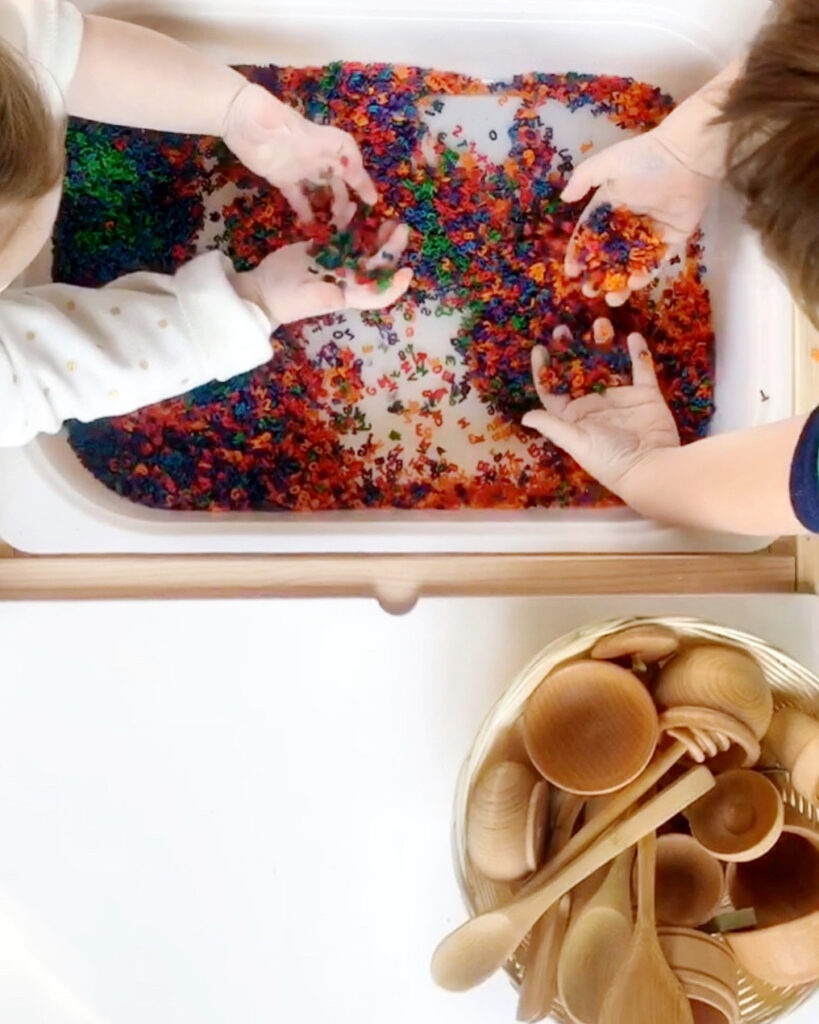 There are so many options for sensory bin fillers. You can use food, recyclables and things from around the house anything that you have a lot of that might feel interesting to touch.
FOOD:
Uncooked Rice (dyed or natural)
Uncooked Beans (dyed or natural)
Uncooked Chick Peas (dyed or natural)
Dry Cereal
Uncooked Pastas (dyed or natural)
Uncooked Corn (dyed or natural)
Cooked Spaghetti (dyed or natural)
Dry oatmeal (dyed or natural)
Coffee (beans or grounds)
Salt (dyed or natural)
WET:
Water
Shaving Cream
Soap Foam
Jello
Ice cubes
CRAFT:
Pom Poms
Cotton Balls
Buttons
String
Bead necklaces
Tinsel
Polyfill stuffing
Acrylic Gems
Ribbon
Confetti
Easter grass
Crumpled tissue paper
NATURE:
Gravel (colored aquarium gravel or natural)
Seashells
Rocks
Sand (dyed or natural)
Grass clippings
Moss (real or fake)
Acorns/seeds
Flower petals
Leaves
Mulch
Bird Seed
Wood shavings
Dirt (real or fake sensory play dirt)
Mud (real or fake: coffee grounds +cocoa powder)
Snow (real or fake sensory play snow)
TRASH/RECYCLABLES:
Cut up Plastic Straws
Pouch lids/bottle caps
Shredded Paper
Packing peanuts
Wine corks (anyone else have a lot of these laying around the house these days? 🍷)
MISCELLANEOUS:
Water Beads
Play Dough
Cloud Dough
Kinetic Sand
Slime
Blocks/Legos
Puzzle pieces
If had to pick a favorite sensory bin filler I'd pick dyed rice. It's got a great sensory feel and it's a really versatile base that can be used over and over again. To change the theme of the sensory bin just pick different colors of rice and add new objects to mix in. Dyed Alphabet pasta, Kinetic Sand, ice and water beads also make our top 5!
Check out our list of Sensory Bin Materials in our Amazon shop to order some of our favs!
WHAT SENSORY BIN TABLE DO I USE?
We use the FLISAT table from IKEA. It has several different size bins (TROFAST) that fit in the two openings so it is very versatile. You can have as many as four bins in the table at a time. It also has a table top cover so we use it like an art table and a snack table. We even turned ours into a light table.
If we are playing outside we'll use our water table, a flexible laundry basket we got at IKEA or the TROFAST bins inside an empty baby pool to contain the mess. One of these days we'll build an outdoor mud kitchen which will be perfect for messy sensory play!
Any large shallow box or bin can be used as a sensory bin. Foil baking pans, cardboard box lids, paint roller trays work great if you have just one child playing. For more than one child or something really messy I'd recommend using a large under-the-bed storage bin or a bin large enough to give each child some dedicated space. A sink or bathtub can also be a great place for sensory play (for messy fillers that won't clog your drain)
HOW TO GET KIDS TO PLAY WITH A SENSORY BIN FOR LONGER?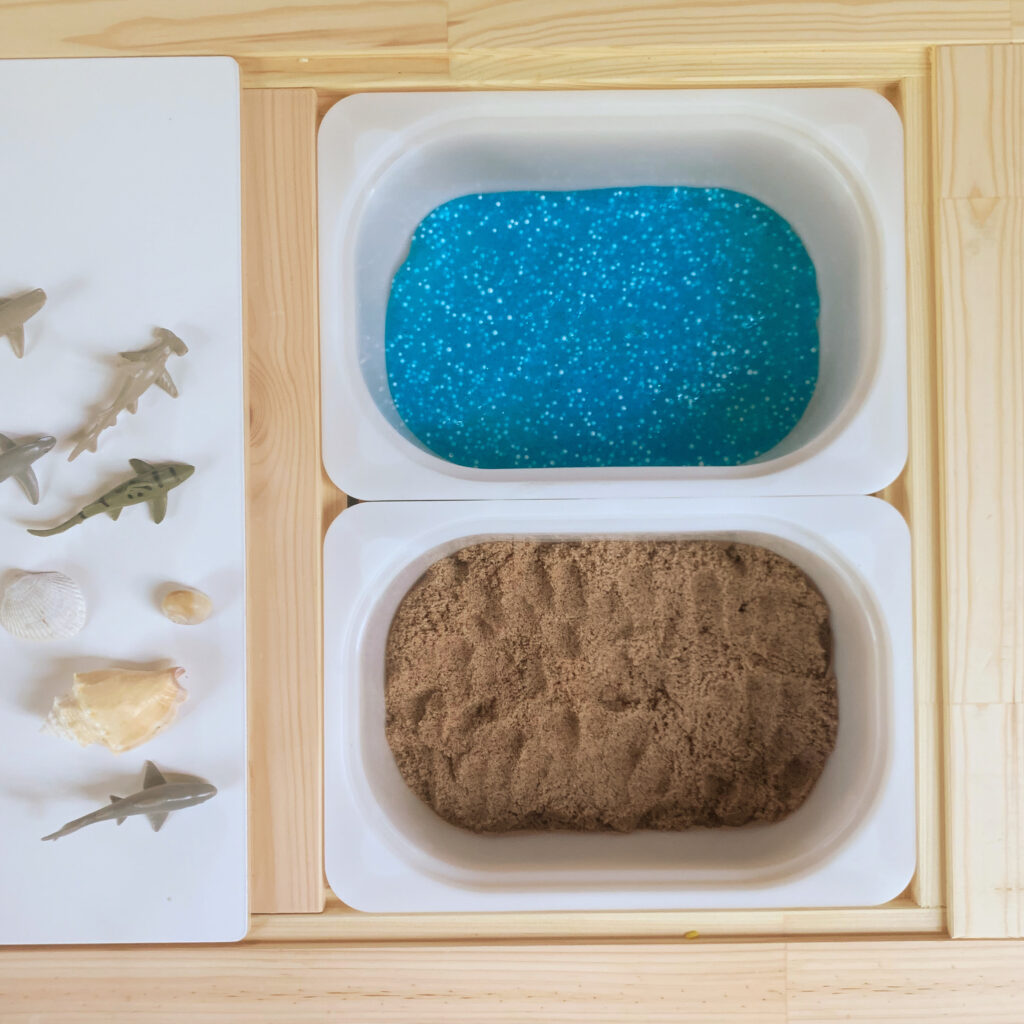 I'm so glad someone asked this because nothing is more frustrating then setting up an activity you think your kid is going to love and then they play with it for five minutes while you spent an hour setting it up/cleaning it up afterwards.
SET REALISTIC GOALS
My first tip is to adjust your expectations and set realistic goals for yourself and your child(ren). A typical four-year-old is not going to play with a sensory bin by themselves for an hour. Attention spans are about 3-5 minutes for each year of age so you could expect an average four-year-old to play with a sensory bin for about 15 minutes before wanting to switch activities or requiring some sort of parental intervention.
If you use that as a rule of thumb and try to spend less than 15 minutes between set-up and clean up you won't feel as disappointed if the play period seems short. Remember sensory bin set-ups don't have to be elaborate or "instagram-pretty" to be engaging. Involve children in the set-up/clean-up process and include that in their total playtime.
CREATE OPEN-ENDED SENSORY BINS
My second tip is to make sure your sensory bins are open-ended with more than one way to play. This will help ensure that your little one will want to revisit the same activity more than once. An engaging sensory bin should include a fun-to-touch filler, some objects that are of interest to your child (plastic animals, toy trucks, etc.) tools and containers (funnels, jars, scoops, toothbrushes etc).
INTRODUCE NEW MATERIALS
My third tip is to introduce another new material to the sensory bin after you are noticing your child losing interest. For example, if you have an ocean bin of water beads, plastic fish and seashells introduce something like ice cubes, a magnifying glass, a small net, a toy boat or fish bowl to inspire new play themes and extend playtime for maybe another 10-15 minutes 🤞🏼🤞🏼
HOW TO DO A SENSORY BIN WITHOUT A HUGE MESS?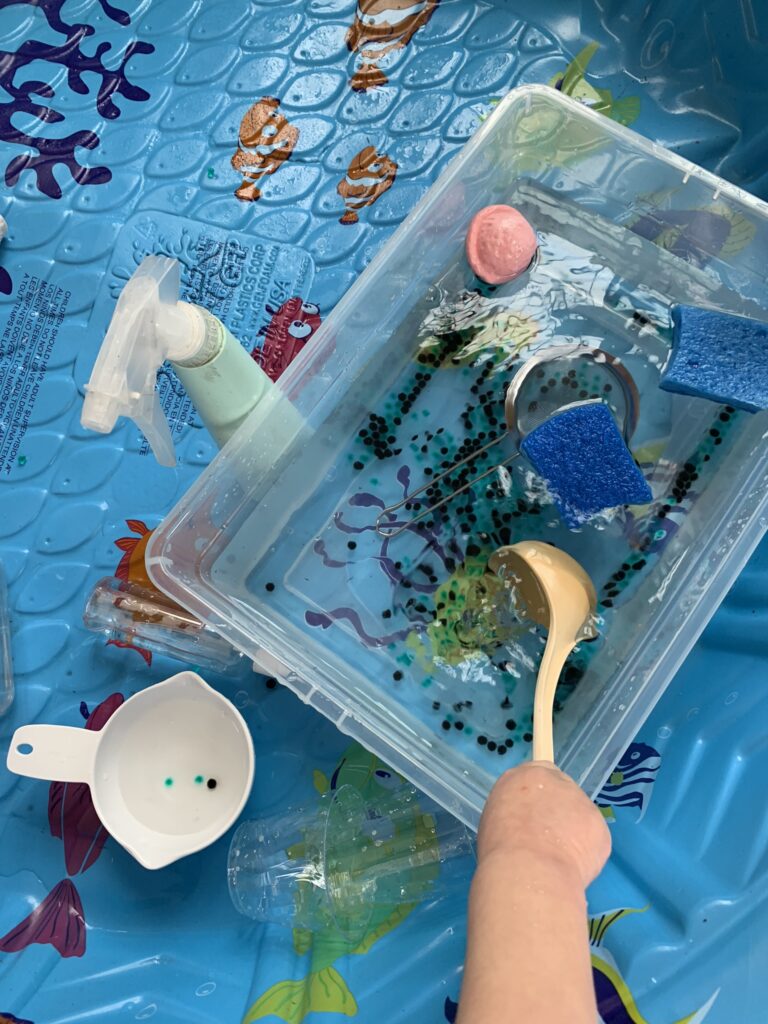 Don't be discouraged if you try a sensory bin and it is a complete mess. If your child isn't used to playing with sensory bins it might take a little practice.
SET RULES + BOUNDARIES
While I recommend leaving sensory bins open-ended and giving children freedom to play and create the way they choose it is important that they learn to do this within appropriate boundaries. Keep the rules simple such as:
Keep sensory bin materials IN the sensory bin
Clean up any messes
Keep sensory bin materials and hands out of your mouth (unless your sensory bin is meant to be tasted)
Share and wait your turn (if playing with a sibling or friend)
Besides those four rules they are free to do what they want with the sensory bin.
SHARE IN CLEAN-UP RESPONSIBILITIES
I keep a small dustpan and broom next to the sensory table and a damp sponge and dish towel if we are using messy or wet materials. Knowing they will be responsible for cleaning up any mess will hopefully influence them to be more careful with materials.
COVER THE FLOOR
Even the most careful preschoolers are bound to make at least a little bit of a mess during sensory play. Putting a waterproof mat or shower curtain down underneath the table will protect your floors and make clean up a little easier. If you aren't using a sensory table you might also want to consider putting your sensory bin inside of a larger bin or inside an empty baby pool or large tray.
DON'T OVERFILL BINS
One of the the most common "mistakes" I see when it comes to sensory bins is too much sensory filler and too small of a container. Water beads for example are SO bouncy. Those suckers will pop right out of a shallow bowl and bounce all around your floor. You want to make sure you have enough filler for kids to cover their hands but you want to have at least two inches of space at the top.
START SMALL
If you are new to sensory play, I'd recommend starting small and simple. Water is a very forgiving material and a great sensory experience (just think about how much your little one has fun in the bathtub). It doesn't stain, it won't hurt anyone if it goes in the mouth and they are already familiar with it. A few measuring spoons, squirt bottles and jars are all they need to practice scooping and pouring. Start off with close supervision, playing together and practicing your rules. Eventually move on to different sensory fillers, adding in other objects and giving a little more independence each time.
TAKE IT OUTSIDE
If the whole idea of giving your child a messy sensory bin is still making you nervous...I get it! Try a sensory bin outside in the grass and see how they do. My kids are pretty feral so they usually do their messy play outside in just diapers and undies but sometimes we'II throw on smocks or old clothes and rubber rain boots and the mess really can't be that bad. If it is...you can always just hose them off 😬
ARE YOU WORRIED ABOUT TODDLERS CHOKING ON SENSORY BIN MATERIALS?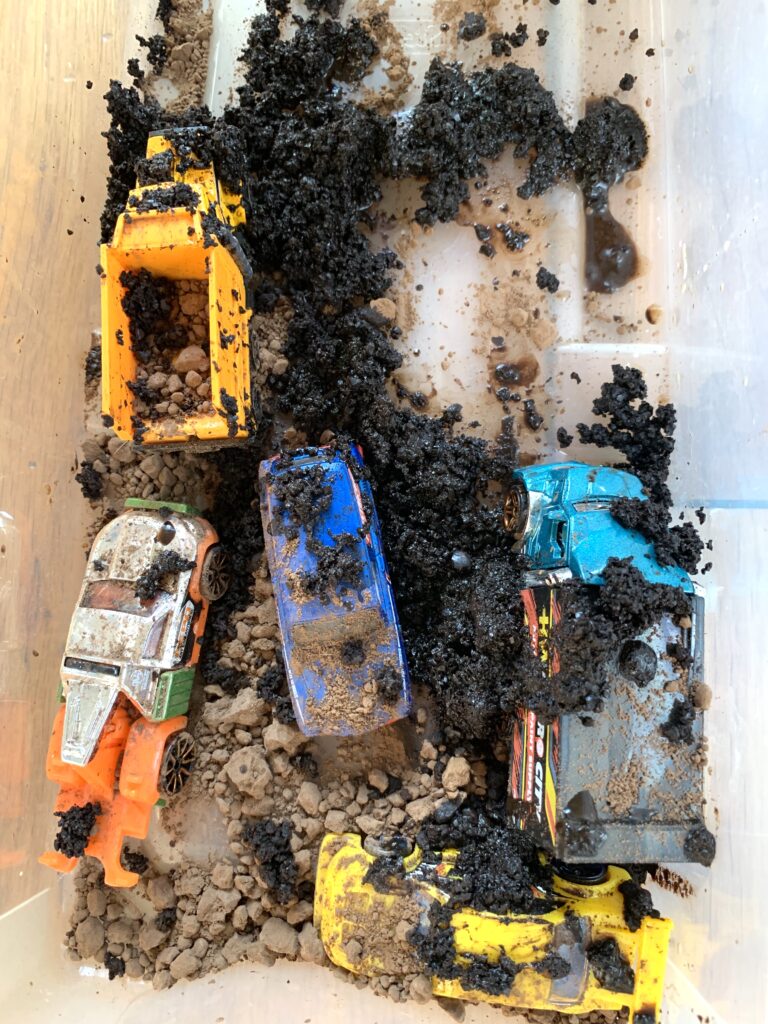 One of the biggest concerns I hear about sensory bins is that parents are worried about their little ones choking on small pieces or ingesting something harmful. I think most sensory bins work best for ages 3+ for that reason, but with close supervision many sensory bins can still be appropriate for babies and toddlers.
Remember, you know your child the best so if you know your little one loves to put things in their mouth you'll want to play extra close attention and maybe skip the pom poms, waterbeads and other throat-sized objects. For safest results, stick to some of the sensory bin fillers listed below.
BABY-SAFE SENSORY BIN FILLERS
Water
Rice (taste-safe with food dye and vinegar- not paints, rubbing alcohol or hand sanitizer)
Sand (taste-safe; recipe from Surviving a Teacher's Salary)
Play scarves
Fabric scraps
Dry cheerios
Mud (taste-safe with cocoa powder)
Crushed ice
Oats (dyed or natural)
Jello
Cooked spaghetti (dyed or regular)
Whipped Cream
Play Dough (taste-safe; recipe from A Crafty Living)
HOW DO YOU STORE SENSORY BIN MATERIALS?
STORING FILLERS
Dry sensory bin fillers like rainbow rice, pasta, gravel, sand and beans can be used over and over again, so we keep them in clear plastic pretzel containers because they are see-through, un-breakable, easy to pour into our bins and they have lids.
Some of our fillers are "borrowed" from other places around the house like the bird feeder or the craft closet. Others can only be used a few times before they get moldy so they usually stay in a bin in the table with the table lid on when not in use and they get thrown away or composted afterwards.
Water beads can sometimes get moldy if the kids don't clean their hands before playing so we'll sometimes toss them after a few plays and sometimes we'll let them dry out and keep them in a plastic mason jar.
We keep a lot of the pretty fillers out on display in our kitchen play room, but if you are short on space ziplocks are great for saving space because they are flexible and you can store several bags inside of a container or a drawer.
TINKER TRAYS
The most common objects for us to mix-in with our sensory fillers are loose parts like wooden peg people, clothes pins and wooden letters. We keep these loose parts organized in TINKER TRAYS on a shelf near the sensory table where the kids can reach easily.
STORING TOOLS
I have a basket of pretty wooden tools from Chickadees Wooden Toys (Use code READYTEDDY10 for 10% off) that we sit out next to the sensory table or store inside of the table. Other tools like measuring cups, jars, funnels, and old kitchen tools have a clear plastic container where they live.
STORING OTHER OBJECTS
Sensory bins are a great way to MAKE OLD TOYS FEEL LIKE NEW so we'll often borrow toys like puzzles, figurines, toy cars and plastic animals from the toy closet to include in our sensory bins. Then when we are done using them for sensory play they get cleaned up and put back in the closet (well, in a perfect world...usually they lay around on the kitchen floor for a few days first)
WHERE DO WE BUY OUR SENSORY BIN MATERIALS?
I love IKEA for our table and bins and trays and containers...okay basically I just love everything from IKEA. A lot of sensory bin materials can be bought at the grocery store or on Amazon. I  have a list of sensory bin materials in my Amazon Shop  The craft store is also a great place to pick up some sensory bin fillers like pom poms and ribbons for really cheap. We collect a lot of little treasures for our sensory bins from outside in nature. We also try to repurpose and recycle things we use in the house like cutting up and saving our plastic straws (which we try our best not to use). Like I mentioned before, we borrow a lot of things from the toy closet and the kitchen!
For heirloom quality wooden tools and wooden loose parts I recommend supporting a small business like an Etsy shop. Chickadees Wooden Toys is a great place to shop for sensory play, loose parts and small world play. The Chickadees shop also sells packaged pre-made play dough and pre-dyed fillers so you don't have to DIY. Use code READYTEDDY10 for 10% off!
DID YOU TRY IT?
Let us know if we answered all of your questions in the comment section or show us how you used these tips at home by sharing photos of your sensory bins on Facebook or instagram and tagging @ureadyteddy or #ureadyteddy
We'll share our favorites in our stories!