WHAT IS A TINKER TRAY?
A tinker tray is a tray filled with loose parts or found objects. They are commonly used in the Reggio Emilia approach to learning. Tinker tray materials can be used for a variety of activities or art making projects. I love tinker trays because they promote open-ended art making, critical thinking and process over product.
They can be used with children from toddler age (as long as they are well supervised or loose parts are larger so they don't pose a choking hazard) all the way to middle school age. Heck, even teenagers and adults can find some entertainment in a tray of cool stuff to build with.
Read more TINKER TRAYS FOR TODDLERS and Reggio Emilia here.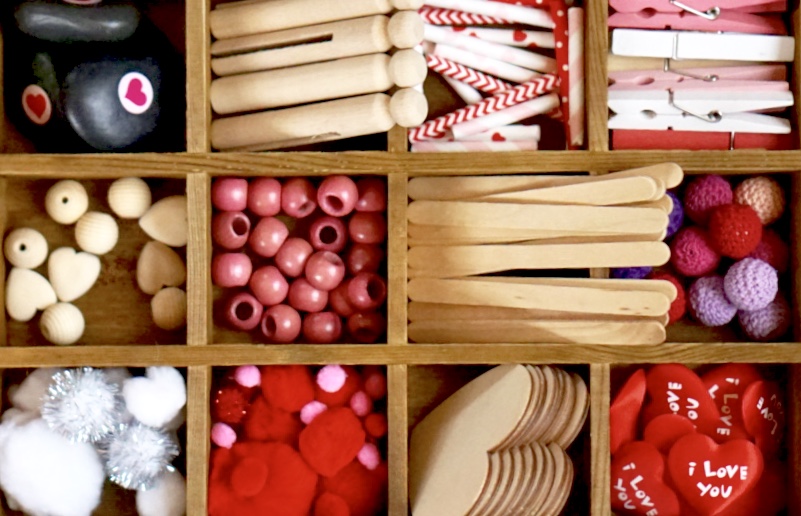 This post contains affiliated links for your convenience. I only write about products I love and all thoughts and opinions expressed are my own. For more information see Legal.
WHAT'S IN OUR VALENTINE TINKER TRAY?
Your tinker tray shouldn't cost you a lot of money. I'd recommend buying just one or two special items (like the paper straws) and then use things that you have in your home from leftover craft projects, objects found around the house (game pieces, buttons, clothespins, toothpicks etc.)
Pick items that are pink, red, purple, white or heart/flower shaped and pair them with some natural items. Use paint, or valentine stickers to jazz up some natural materials.
Tinker trays shouldn't take a lot of prep either. We all know you'd rather be watching your DVRed shows and relaxing on the couch after the kids go to bed (I know I would!) and not prepping a tinker tray. Let the kids do their own stinkin' prep! Even toddlers can cut paper straws to help practice scissor skills, paint/draw hearts, stick stickers, use a heart hole puncher to cut card stock hearts etc.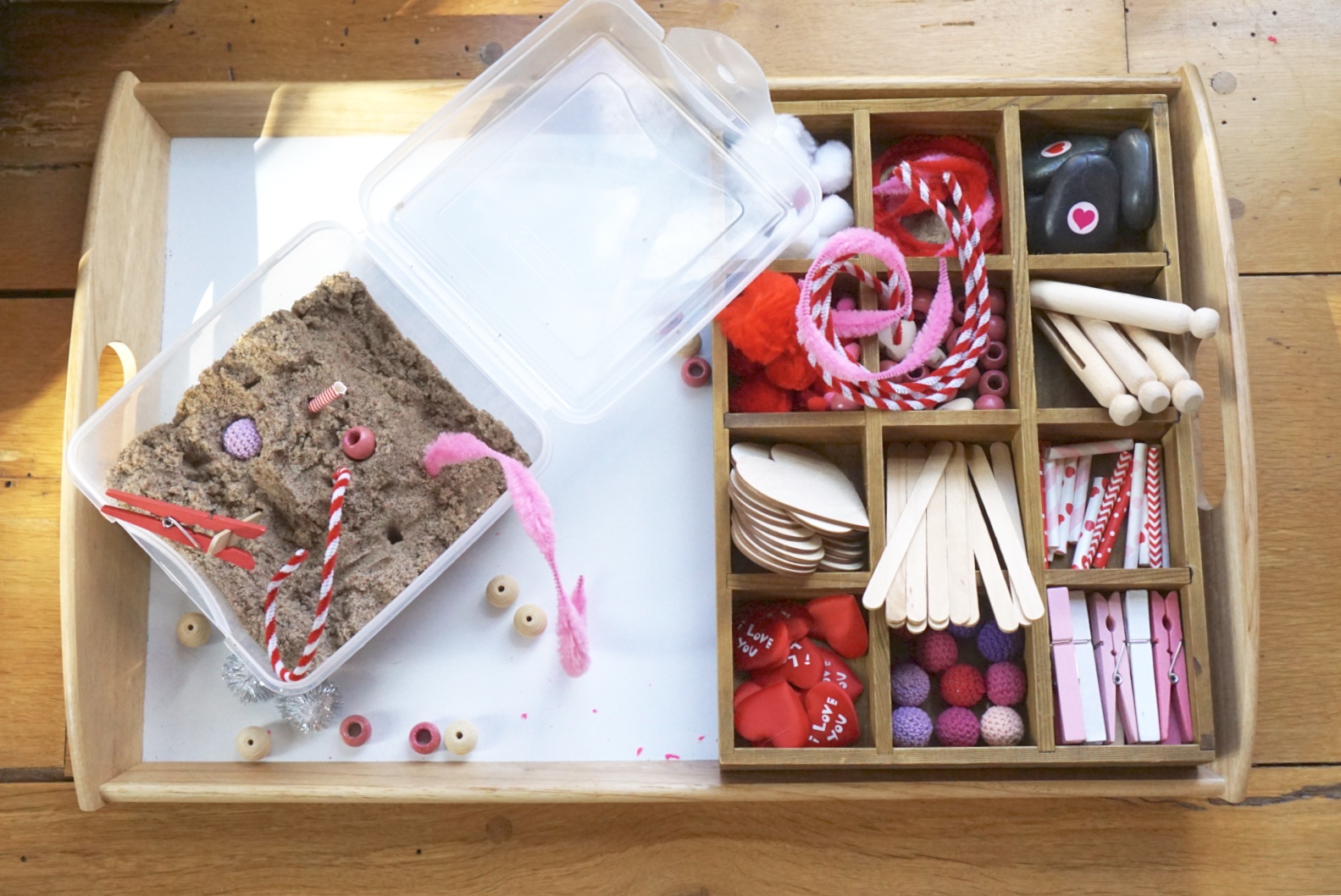 ACTIVITIES FOR YOUR VALENTINE TINKER TRAY
Tinker trays should ideally be used in a way that is open-ended where the process is more important than the final product. If multiple children used the same tray with the same activity it should yield completely different results. Instead of specific detailed activities I, along with many early educators that follow the Reggio Emilia approach, use "provocations." A provocation is more of a non-verbal suggestion made by offering the tinker tray along with another material like play dough, kinetic sand or a mirror. The arrangement of the materials can also influence how they are played with. A partially started sample project can inspire kids to use the materials in a certain way, but it shouldn't be limited to that way only. To learn more about provocations read REGGIO EMILIA.
GENERAL TINKER TRAY PROVOCATIONS/ACTIVITIES
For a list of general tinker tray provocations read TINKER TRAYS FOR YOUR TODDLER. Then, if you wanted to, you can adapt them to be more Valentine-related.
FLOWER MANDALAS
Using a mirror background put a heart shape in the middle of the mirror (I like heart doilies, or just cut-out construction paper heart). Using the objects create a radiating pattern around the heart.  The mirror background adds an element of interest and lets them view the objects from different perspectives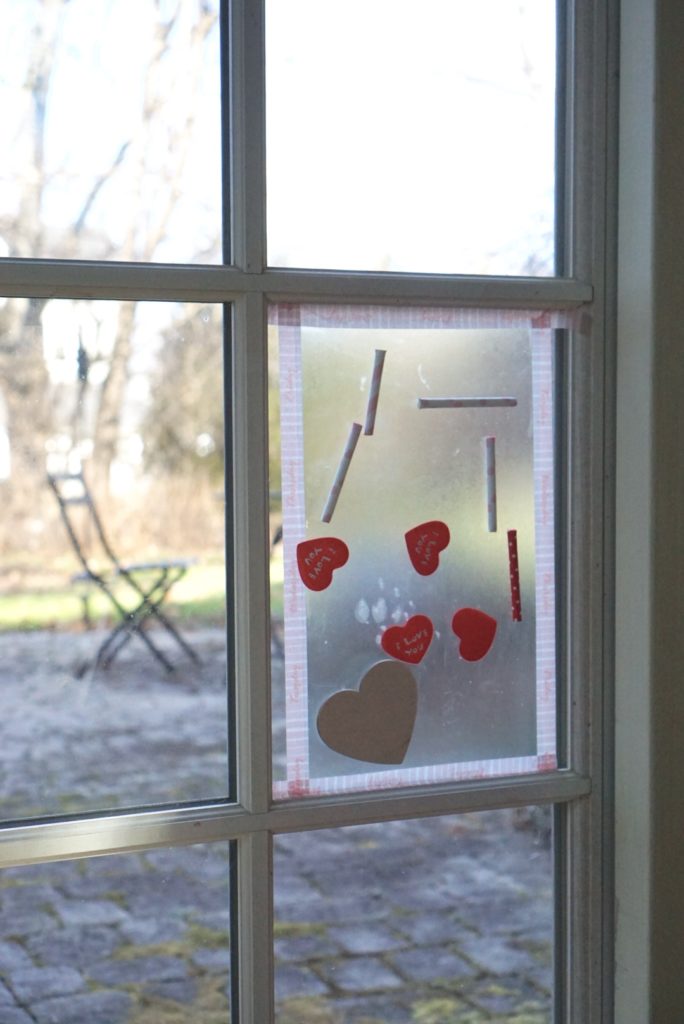 VALENTINE "STAINED GLASS"
Tape a sheet of contact paper to a window with the sticky side facing out (Optional: Draw a heart on the non-sticky side of the contact paper with black Sharpie). Stick a few objects from the tinker tray onto the contact paper in a pattern to get them started. Children may choose to continue the pattern, place objects randomly, or experiment with what objects will stick and which objects will fall. You can add a few pieces of cut tissue paper or construction paper hearts if you happen to have a really heavy tinker tray.

LOVE LETTERS
Draw Valentine words with black Sharpie onto construction paper and have students "trace" the letters by placing objects along the black outlines. This is a great pre-writing activity. You can also stamp or draw the letters in kinetic sand and fill in the letters with the loose parts.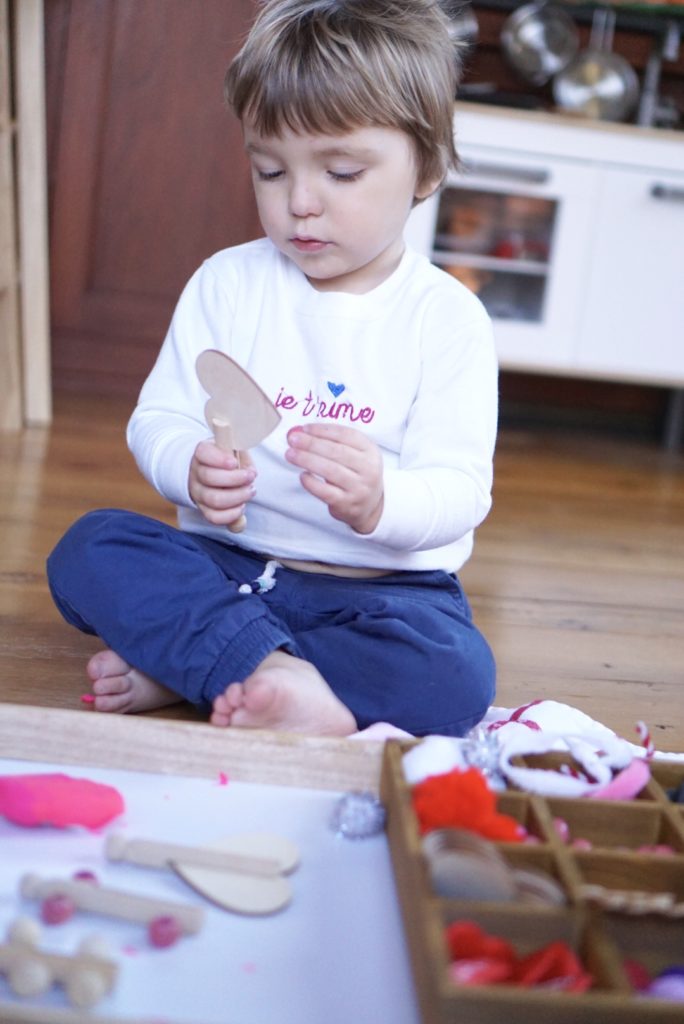 LOVE BUGS
You could put some plastic bugs out with your tinker tray and assemble some "love bugs" to serve as inspiration.
VALENTINE JEWELRY
Give kids some string along with their tinker tray. String a few objects with holes (beads, paper straws, clothespins, etc.) to give them the suggestion. You can offer your child colorful washi tape if they want to attach some of the other items to the string as well.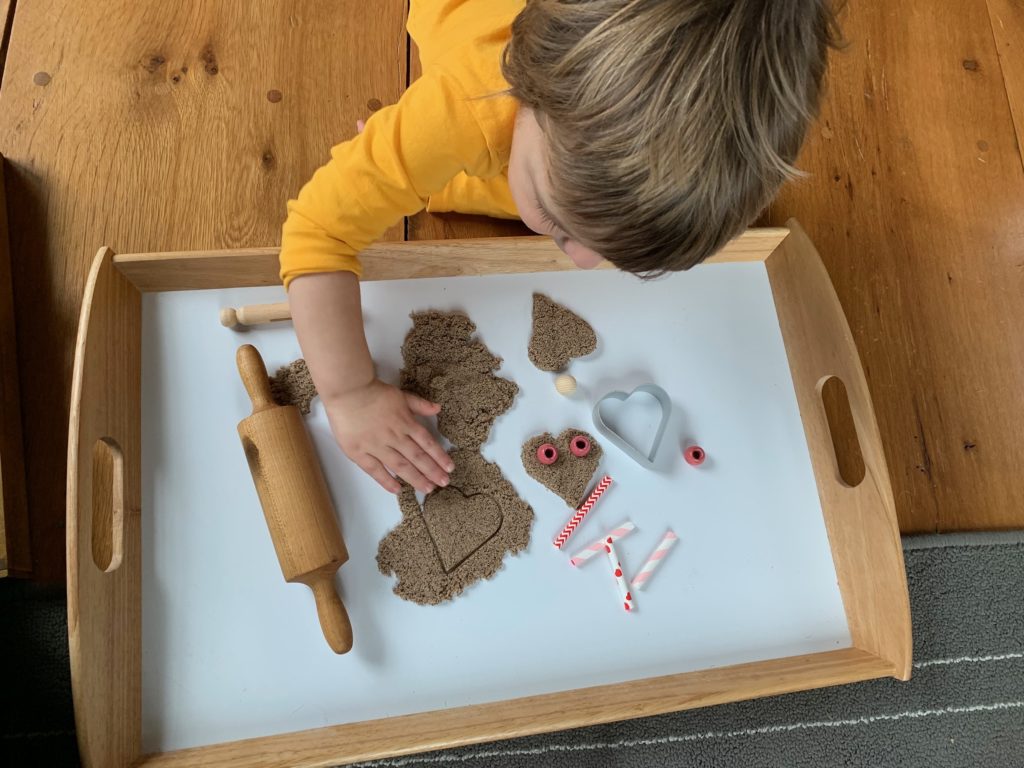 VALENTINE "COOKIE"/"CUPCAKE" DECORATING
Use a heart-shaped cookie cutter to cut sand/Play dough cookies and decorate with the tinker tray objects. Fill a muffin tin or cupcake wrapper with the Kinetic Sand/Play dough and decorate.
Check out more VALENTINE KINETIC SAND ACTIVITIES here.
SHOW US HOW YOU USED YOUR VALENTINE TINKER TRAY!
Tag your photos of your tinker trays and tinker tray creations with @ureadyteddy and we'll share our favorites in our stories!